Staples Center Hosts 5th Straight SummerSlam: Reliving the Past 4 Years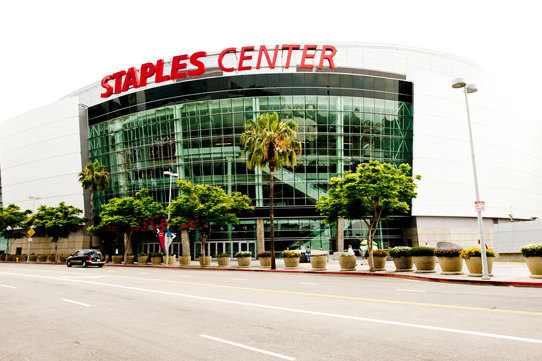 wwe.com
The TNA Asylum and Impact Zone housed the core of the Total Nonstop Action pay-per-views over the past 11 years. Often dealt with major scrutiny, many felt that the repetitiveness of hosting them in those arenas was hurting the company.
Interestingly, the WWE—since 2009—has hosted its second-biggest pay-per-view of the year at the Staples Center in Los Angeles, Calif. Forget about WrestleMania IV and V both in Trump Plaza. This really takes the cake.
However, in contrast to why TNA hosted its PPVs in the same venue due to financial deficiencies, WWE willingly decided to make this venue its home for SummerSlam due to the huge numbers and support of the western U.S. crowd.
The past four SummerSlam events have given us some memorable moments. Here are a few.
Begin Slideshow

»
The return of DX was a focal point of the WWE in 2009. Additionally, the continual emergence of CM Punk as a true main event star, as well as the Legacy assisting Randy Orton being the top heel, were all components that set up the SummerSlam card.
WWE Championship
2009 was one of the best years of Randy Orton. Not only did he win the Royal Rumble, but his group Legacy became a major threat in the WWE, mostly aiding Orton to success. In fact, three of Orton's six WWE Championship reigns occurred throughout this year.
At SummerSlam, John Cena vowed to dethrone Orton after winning a No. 1 contender Beat the Clock match on an episode of Raw.
At the PPV, Orton made several attempts to elude Cena and use his heel tactics to keep the title. After shoving referee Scott Armstrong which led to a DQ, walking away from the match which led to a countout and having Brett DiBiase attack Cena which led to another DQ, Vince McMahon demanded the match to restart every time. Even still, Orton managed to weasel his way to a pinfall victory and retain the title.
World Heavyweight Championship
CM Punk really began to hone his character in 2009. After winning his second Money in the Bank match and subsequently cashing it in against Jeff Hardy at the Extreme Rules pay-per-view, he slowly began his straight-edge heel turn that made him one of the most hated men in the WWE.
Jeff Hardy would regain the title at the Night of Champions pay-per-view, which resulted in Punk coming into SummerSlam as the challenger.
The stipulation for this match was Tables, Ladders & Chairs, something that Hardy is an expert in. However, Punk was able to overcome Hardy's expertise and win his second World Heavyweight Championship.
SummerSlam also gave us the return of The Undertaker. The gong hits, CM Punk is expecting to still be hovered over Hardy, but Undertaker pulls a switcheroo and chokeslams Punk as the PPV ends.
Other Notable Matches
Rey Mysterio (c) d. Dolph Ziggler: Intercontinental Championship
Jeri-Show (c) d. Cryme Time: Unified WWE Tag Team Championship
DX d. Legacy
2010 saw the debut of the Nexus—a group of NXT outcasts who vowed to earn respect from the WWE superstars and audience. Fronted by Wade Barrett, they attacked a number a superstars, including chairman Vince McMahon. This led to the WWE assembling a team to end their reign of terror.
WWE Championship
The feud going into SummerSlam 2010 was Randy Orton and Sheamus. Sheamus proved to be one of the only superstars in WWE history to have John Cena's number. He defeated him at TLC in 2009 to win his first WWE Championship, at Fatal 4-Way in June of 2010 to win his second WWE Championship and at Money in the Bank in a cage match to retain the title.
Orton earned the No. 1 contenders spot by defeating Chris Jericho and Edge in a Triple Threat match on an episode of Raw.
At SummerSlam, Orton failed to win the WWE Championship. Sheamus was disqualified due to Sheamus attempting to use a steel chair on Orton. Orton would eventually gain retribution, winning the title a month later in a six-pack challenge at the Night of Champions pay-per-view.
World Heavyweight Championship
2010 was arguably the most successful year for Kane. On SmackDown, The Undertaker was booked as falling victim to a "vegetative state." Kane was commissioned to find out who caused him to be in this condition.
Along the way, he won the World Heavyweight Championship Money in the Bank briefcase, and he became the first and only superstar to cash it in the same night and also win.
The two most notable names Kane targeted in his investigation were Jack Swagger and Rey Mysterio. At SummerSlam, Mysterio was granted a rematch from losing the title to Kane a month before by defeating Swagger on an episode of SmackDown.
Kane eventually funneled his accusations to only Mysterio, and he began to slowly turn heel. He defeated Mysterio at SummerSlam, and he later revealed himself to The Undertaker as the one behind the attack all along.
Other Notable Matches
Team WWE d. Team Nexus
Dolph Ziggler d. Kofi Kingston: Intercontinental Championship
Big Show d. Straight Edge Society: Handicap match
2011 was deemed the "Summer of Punk." Fresh after being the leader of the New Nexus, Punk cut a scorching promo talking about real-life issues, including current and former WWE Superstars. This promo was later coined the "pipe bomb."
WWE Championship
CM Punk's contract expired at midnight right after the Money in the Bank pay-per-view. He became the No. 1 contender for John Cena's WWE Championship and vowed to leave the company with the title. Punk defeated Cena and became champion. He also left the company for a few weeks before returning on Raw after Cena won a one-night tournament to become the new WWE champion.
Also during this time, there was a power struggle. Chairman Vince McMahon was told by COO Triple H that by popular vote, his services were no longer required to run the company. Instead, he would be the person to relieve him from those duties.
At SummerSlam, Triple H was special guest referee between two superstars who claimed to be champion. As a result of Punk's return, the two reigning champions were now fighting to become the undisputed titleholder. At the end of the match, Punk defeated Cena once again (being the other person, similar to Sheamus, who has Cena's number), leaving no doubt who the real champion was.
However, Alberto Del Rio had other plans. After a surprise appearance by Kevin Nash which led to a powerbomb on Punk, ADR cashed in his MITB briefcase and became champion.
World Heavyweight Championship
For the first time ever in 2011, Christian accomplished his dream and became world heavyweight champion. He won the ladder match against Albert Del Rio at Extreme Rules but lost it within a week to a newly SmackDown-defected Randy Orton. Soon after, Christian turned heel and commenced a heated rivalry with Orton.

He would gain the title back in a stipulation at Money in the Bank that stated he could become champion even if Orton was disqualified, which he was due to punting Christian in the groin.
Their match at SummerSlam, similar to the other series of matches, was very good. It also helped that steel chairs and kendo sticks were used to add an element of passion in the match. The finish of the match was one of Orton's best RKO counters to date. As Christian launched off the second rope, Orton executed his finisher atop half of the steel stairs and once again became world heavyweight champion.
Other Notable Matches
Kofi Kingston, Rey Mysterio, John Morrison d. Alberto Del Rio, R-Truth, Miz
Wade Barrett d. Daniel Bryan
SummerSlam 2012 was mainly built around Brock Lesnar's surprising return the night after WrestleMania 28. After losing to John Cena, Lesnar made it known that he was the one who lorded over his WWE tenure. At the time, John Laurinaitis was the general manager of Raw. Lesnar bullied Laurinaitis to approve the outlandish conditions included in his contract.
However, Triple H had to come in to stop the tyranny.
This led to Paul Heyman being involved, Lesnar executing a Kimura lock (kayfabe) to break HHH's arm and a match finally being agreed upon for SummerSlam.
WWE Championship
During John Laurinaitis' reign as GM, both CM Punk and John Cena fell victim to mistreatment.
Punk overcome the odds and continued his long title reign, but Cena was forced to defy the odds throughout the year. Cena lost to Laurinaitis at Over the Limit but defeated Big Show at No Way Out to dethrone Laurinaitis from his position. However, the Cena/Big Show feud did not end, and they both were vying for the WWE title.
A month before SummerSlam, a year into his WWE title reign, CM Punk shocked the WWE Universe by turning heel as a result of applying his GTS on the Rock at the Raw 1000 episode. This led Punk to accuse the WWE Universe for not respecting him, and he vowed to prove why he should be the top billing of the company.
At the PPV, Punk managed to escape with a victory after throwing Cena outside following an AA to the Big Show. He remained champion until Royal Rumble 2013.
World Heavyweight Championship
After winning the 2012 Royal Rumble, Sheamus went on the defeat world heavyweight champion Daniel Bryan in 18 seconds at WrestleMania 28. Prior to SummerSlam, he would go on to successfully defend the title against Randy Orton, Chris Jericho, Alberto Del Rio and Dolph Ziggler.
Alberto Del Rio earned a shot at the WHC heading to the No Way Out PPV, but he was replaced by Dolph Ziggler as a result of suffering a concussion.
As SummerSlam, Sheamus managed to retain the title, but in an odd way. After a hard-fought match that also involved ADR's personal ring announcer Ricardo Rodriguez, Sheamus applied his Irish Curse backbreaker and won the match after removing Del Rio's foot from the bottom rope. The referee did not see his foot on the rope, and the decision remained.
Other Notable Matches
Brock Lesnar d. Triple H
Chris Jericho d. Dolph Ziggler
Miz d. Rey Mysterio: Intercontinental Championship
The marquee matches for this year's pay-per-view are as follows:
WWE Championship: John Cena vs. Daniel Bryan
After the resounding crowd support received by Daniel Bryan, he was granted a WWE Championship shot due to Brad Maddox giving Cena the honors of choosing anyone to be his opponent at SummerSlam. Bryan continues to be impressive and is destined to overcome the odds—especially Vince McMahon, who has no confidence in Bryan—and earn his first WWE Championship.
However, Randy Orton is lurking in the shadows, hoping to capitalize on any weak spot he sees in order to become champion again.
World Heavyweight Championship: Christian vs. Alberto Del Rio
Christian has really shown over the past few weeks that he is determined to become WHC for the third time. After defeating Randy Orton and RVD to become No. 1 contender, coupled with multiple victories over Alberto Del Rio, he is on the hot seat to become the next champion.
Albert Del Rio has revived his mean streak by turning heel at Payback, as well as beating down his ring announcer, Ricardo Rodriguez. He hopes to extinguish any hopes of Christian coming out of the PPV as the victor.
"The Best vs. The Beast": CM Punk vs. Brock Lesnar
This feud stems all the way back to last year. Shortly after his heel turn, CM Punk aligned himself with Paul Heyman, and it proved to be a beneficial decision. He was champion for nearly five more months, a total of 434 days, and made history as being the longest-reigning WWE champion in the modern era.
Upon his return at Payback, CM Punk commenced his return as a babyface. To solidify this turn, he informed Heyman that his managerial services were no longer required. Although he reacted as if he was supportive, Heyman's disapproval of the decision eventually led to him costing Punk the Money in the Bank contract at the PPV.
As a result, Punk was on a mission to take out Heyman. However, Heyman was not going to allow that to happen. Brock Lesnar returned as Heyman's muscle, and now we have a match set for the PPV.
We should be in for a great show. Enjoy.
Which SummerSlam from the Staples Center was your personal best? Comment (civilly) below.
Chris Featherstone is a writer for WrestlingInc.com. Follow on Twitter and Facebook, and check out the the PandPWrestling Show on BTR Tuesdays at 11 p.m. ET.