You Don't Want to Tangle with These Toughened-Up Saints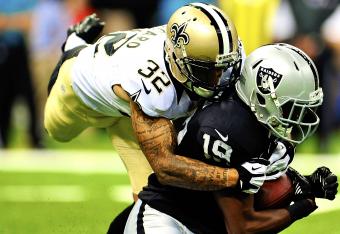 Back in 2004, New Orleans Saints linebacker Will Smith did something that embodied toughness—a toughness that would propel him through the NFL, help him stare down the league's commissioner and become the hardened catalyst of a team that has positioned itself for a dramatic comeback after a precipitous fall.
That year, Smith's rookie season, Smith was feeling ill, so he lay down on a training table to rest. It didn't take long for teammate Victor Riley, a veteran offensive lineman, to start mocking him. The mocking would escalate into throwing of objects at Smith.
Not in a gaming mood, Smith asked Riley to stop. Riley refused.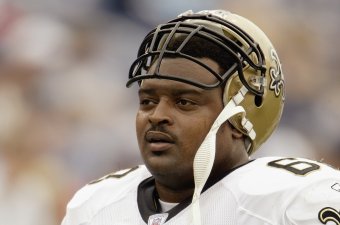 Elsa/Getty Images
Riley's actions were not as jocular as they were asinine, which does not come as much of a surprise. Only a few years earlier, Riley had been charged with aggravated assault and criminal damage to property after running his car into another that contained his wife and infant daughter. He had also faced a DUI charge in the past.
Riley kept pushing, and Smith kept asking him to stop. Push, stop. Push, stop.
Then came the explosion. Smith arose from the table, approached Riley and threw a flurry of punches, all of them hitting the 6'5", 340-pounder in the face. Riley fell to the ground unconscious—all according to a person with knowledge of the incident.
After the beatdown, Smith calmly traversed back to his earlier resting spot and lay down again. The story has become something of a legend in the Saints locker room.
Fast-forward to the present day and the beginning of Saints training camp. The toughness of Smith, and the toughness of the entire team, was again on display. Head coach Sean Payton had the team doing what some players say was the toughest camp-opening conditioning test not just in the NFL this year, but in recent NFL history.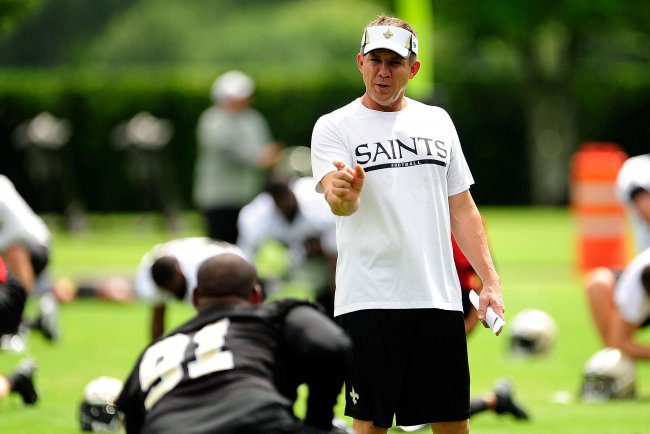 Stacy Revere/Getty Images
Payton didn't want players talking about the test, so few would provide exact details, but it became known that the coach used a CrossFit-style approach. There were multiple circuits that included a long suicide shuttle run.
Though all of the Saints (including Smith) did well on the test, Payton was clearly sending a message: We're going to get back to being us, and that's a physically and mentally tough team.
"I will not confirm or deny the conditioning test," joked Smith. "It was definitely tough. It was intense, but the good thing is everyone did well. I think (Payton) did that because he wanted to challenge guys on the first day."
Super Bowl favorites routinely mentioned from the NFC are the San Francisco 49ers, Atlanta Falcons, Seattle Seahawks or a few others. The Saints, who finished 7-9 in 2012, aren't, but they should be.
Underestimate New Orleans at your own risk.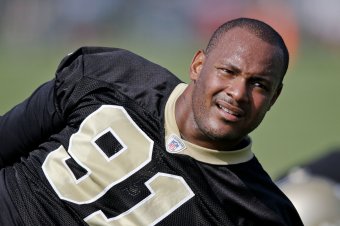 Derick E. Hingle-USA TODAY Sport
"Last season we didn't get the job done as a defense or a team," Smith said. "We weren't the same team we were in the past. We didn't finish. Our message this year is finish and be accountable."
He added, "We're over the bounty stuff."
The bounty stuff.
The scandal once consumed not just the Saints but the entire NFL, and in many ways all of sports. The NFL alleged that from 2009 to 2011, Payton, then-defensive coordinator Gregg Williams and several of the team's players created a bounty system for hits that injured opponents. The league suspended Payton without pay for the 2012 season and suspended Williams indefinitely (he is back now, as the Titans' senior defensive assistant).
The NFL also suspended linebacker Jonathan Vilma for the entire 2012 season, while docking defensive end Anthony Hargrove eight games, Smith four and linebacker Scott Fujita three.
What happened next was something the NFL didn't expect. The players challenged the league—and the media that condemned them. I was one of those media members who thought the Saints were guilty, but just as much as myself and others furthered that narrative, the players protested their innocence.
What started to change my mind was an impassioned e-mail from Fujita, who said I would regret some of the things I wrote. Fujita would later be completely exonerated.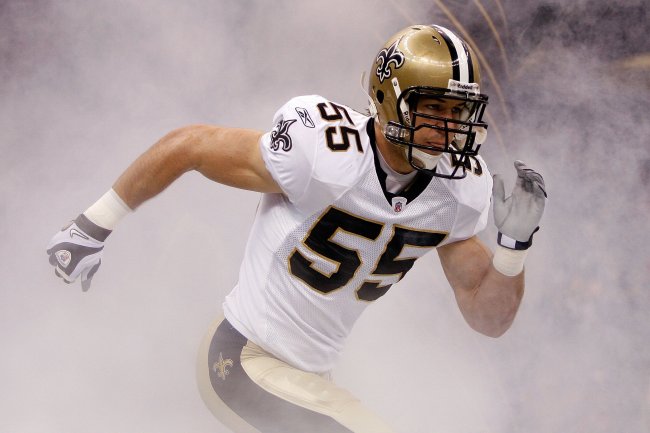 Chris Graythen/Getty Images
The case ended when former commissioner Paul Tagliabue, appointed by Roger Goodell as a special prosecutor of sorts, vacated all of the player suspensions.
Tagliabue agreed that the Saints ran a bounty program, that a number of players participated in it and that some of the team's coaches and players misled the league's investigators.
But Tagliabue also disagreed with Goodell's method of punishment. He believed his successor utilized selective enforcement and punishment. One passage of Tagliabue's ruling uses Smith to make that point:
Within the Saints defensive unit, Smith was one of approximately two dozen Saints defensive players who participated in the (bounty system). Although Commissioner Goodell found Smith's role as a defensive leader to be a basis, at least in part, for singling Smith out for discipline, this is inappropriate when most or all of the Saints' defensive unit committed the same or similar acts as those underpinning the discipline of Smith. In addition, I am not aware of previous League discipline that similarly rested on whether or not a player was a team leader.
The original suspensions, protesting the league office, being labeled as villains—all took their toll on the Saints. Williams is still out of the league. Hargrove is out of football after being cut by the Cowboys this summer. Fujita has retired.
The Saints were 7-9 last season without coach Sean Payton. How will they do this season with Payton back?
Despite all of that, the Saints, and Smith, still stand. The experience has left them hungry, and maybe even bitter, though they would never admit the latter.
While the team says publicly that it has put Bountygate in the past, that isn't quite true. Privately, with the return of Payton, the Saints want to prove they can win again.
The team's postseason prospects will rest heavily on the performance of usual stars like Drew Brees and Jimmy Graham, but Smith will also be critical to whatever success they have. He's moving from defensive end to outside linebacker as the Saints shift from a 4-3 defense to a 3-4, and he's already making the change rather easily.
"Will is one of the better combinations of toughness and smarts in a defensive lineman that I've ever been around," said Fujita, who spent a decade in the NFL and played with Smith before Smith's switch to linebacker. "You never had to worry about Will. In fact, he was always one step ahead of the rest of the pack, with the ability to identify formations and tendencies as the offense would approach the line of scrimmage."
There are those two words people use the most when describing Smith: tough and smart. But especially tough. That's Smith. And that could be the Saints once again this season.
This article is
What is the duplicate article?
Why is this article offensive?
Where is this article plagiarized from?
Why is this article poorly edited?

New Orleans Saints: Like this team?