The New England Patriots hosted the Tampa Bay Buccaneers in Week 2 preseason action, and while the score was close the game really wasn't, at least when the starters were on the field.
Patriots quarterback Tom Brady put on a show Friday night, and New England dominated the line of scrimmage on both offense and defense.
Here's a look at game analysis and grades for the Patriots' victory.
Final

New England - 25
Tampa Bay - 21

New England Patriots Grades

| | | |
| --- | --- | --- |
| Position Unit | !st Half Grade | Final Grade |
| QBs | A+ | A+ |
| RBs | A | A |
| WRs | A | A |
| TEs | B+ | B+ |
| O-Line | B | B+ |
| Run Defense | B | B- |
| Pass Defense | B+ | B |
| Special Teams | C- | C |
| Coaching | A | A |
vs. Buccaneers preseason Week 2
Game Analysis for the New England Patriots
QB: Tom Brady's 11-of-12 performance was a masterpiece, and Ryan Mallett was effective, completing 60 percent of his passes and throwing a touchdown pass. Tim Tebow was what Time Tebow usually is…more effective on the ground than through the air.
RB: Stevan Ridley fared well, but the big story among New England running backs was Shane Vereen. The third-year pro racked up 75 total yards in the first half alone, and Vereen could be headed for a breakout season in 2013.
WR: Danny Amendola shined, with six catches for 71 yards and a touchdown. As to the competition to start beside him, not much clarity was gained, although Julian Edelman looks to be headed for a role in the slot.
TE: With Rob Gronkowski's Week 1 availability very much in doubt, the play of Zach Sudfeld has to be seen as a big plus. Sudfeld hauled in two catches for 32 yards in the first half and made a two-point catch, and the rookie appears set for an increased role moving forward.
O-Line: The New England offensive line was dominant throughout the game, opening holes for the ball-carriers and affording the quarterbacks tons of time in the pocket. A couple of miscues early were the only down points in an otherwise stellar performance.
Run Defense: The 150+ yards that the Patriots allowed on the ground is misleading. Peyton Hillis and the Buccaneers had much more success running the ball in the second half than they did in the first, and the line of scrimmage belonged to New England when it mattered.
Pass Defense: Whether it was four first-half sacks or the interception returned for a third-quarter score by rookie cornerback Logan Ryan, the New England defense played an excellent game against the pass However, there were enough long completions allowed to cost the unit an "A" grade.
Special Teams: If there was one facet of the game that might be somewhat concerning for fans of the Patriots, it's the mental lapses and penalties that led to a couple of long returns and three points coming off the board. It didn't cost the Patriots here, but it could when games begin to count.
Coaching: The Patriots showed on the first drive of the game why they have won 10 games or more in 10 straight seasons. That crispness of execution and sense of purpose is a testament to both their quarterback and coaching staff.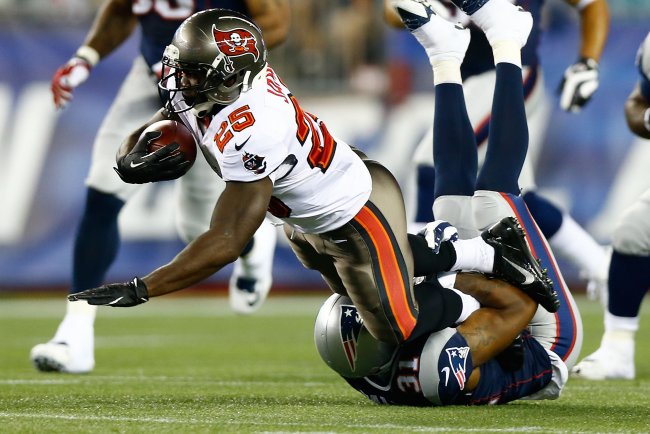 Jared Wickerham/Getty Images
First-Half Analysis for the New England Patriots
QB: Tom Brady only played during two possessions Friday, but they were vintage Brady. He certainly showed no ill effects from last week's knee injury on the first drive, completing all eight of his attempts for 72 yards and a touchdown before adding a two-point pass as the proverbial cherry on top.
RB: The Tampa Bay Buccaneers were one of the stoutest teams in the NFL against the run last year, but Stevan Ridley ran well with the first team, gaining 17 yards on four first-quarter carries. Shane Vereen showed once again that he can be a dangerous weapon both as a runner and a receiver, gaining 75 total yards in the half.
WR: Danny Amendola was heavily involved in the game's first drive, making four catches for 42 yards and a touchdown. Rookie Kenbrell Thompkins continues to be the apparent leader in the competition to start opposite Amendola, drawing two targets in Ryan Mallett's first series under center.
Aaron Dobson got into the action a bit later, but he appears to have fallen behind Thompkins on the depth chart.
TE: Rookie UDFA Zach Sudfeld continued his solid camp, reeling in Brady's two-point pass and making a great play on a 22-yard touchdown pass from Mallett.

O-Line: Five-time Pro Bowl guard Logan Mankins was flagged for a personal foul on the game's first drive, and center Ryan Wendell was penalized for a false start. That sloppiness aside, the New England front four played very well, affording Brady and Mallett all day to throw the ball.
Run Defense: Doug Martin's night ended early after a knee to the helmet, and with Martin sidelined, the Buccaneers weren't able to get anything going on the ground until well after the starters had begun to exit.
Just as on offense, the trenches belonged to New England in the first half.
Pass Defense: The pass rush wasted no time in getting after it, with Brandon Spikes notching a sack on the first defensive play. Spikes added a strip-sack late in the first quarter, and the pass rush was dominant, with Rob Ninkovich and Chandler Jones each notching a sack of their own.
At one point in the first half, the Patriots had outgained the Buccaneers through the air 142 to 13. That stat tells you everything you need to know, although a late lapse in coverage led to a long pass that set up a Tampa field goal.
Special Teams: The coverage team is probably going to be running gassers after allowing a 63-yard return following the Pats' first score. Fifteen yards in penalties also wiped out a Stephen Gostkowski field goal, and his subsequent attempt hit the upright.
Coaching: New England's first drive was a clinic in how teams should execute to begin a football game. In other words, it was exactly how you would expect a Bill Belichick-coached team to perform. Going for two after the first score was wise usage of an opportunity to practice that scenario.