United States vs. Bosnia-Herzegovina: Grades for Every US Player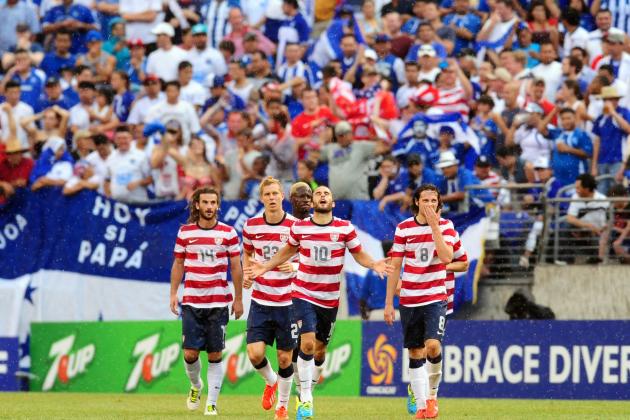 Evan Habeeb-USA TODAY Sports

The United States played a phenomenal game against Bosnia Herzegovina on Wednesday. The 4-3 win was led by Jozy Altidore, who netted a hat-trick.
Not every player played as well Altidore throughout the game. Even in the win, a few big names didn't live up to their expectations and a few other newcomers surprised us.
Let's take a look at every player on the United States men's national team roster and how they fared against Bosnia Herzegovina.
Begin Slideshow

»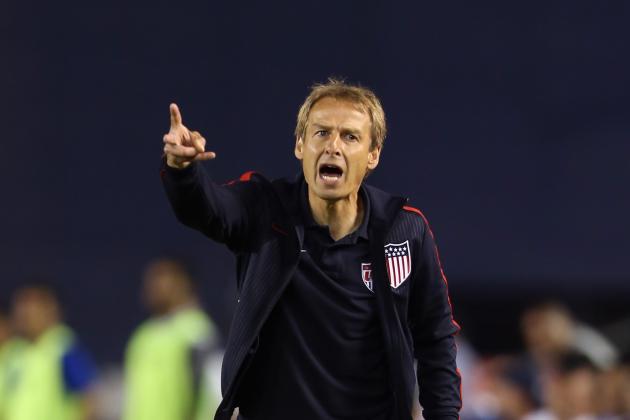 Jeff Gross/Getty Images

Jurgen Klinsmann continues to impress as he has led his team to a record-breaking 12 wins in a row.
Klinsmann has really surprised because of his ability to adapt to not only his roster, but also what the other team is giving him. One change that really exemplifies Klinsmann's greatness is when he moved Eddie Johnson from the wing to forward.
As soon as Klinsmann made this adjustment, the United States offense was on a different level. Once Altidore had someone to play off, it created numerous goal opportunities.
Any time a coach can bring his team into a different country, friendly or not, and win the game, the coach deserves a ton of credit. The way Klinsmann has prepared his team during his tenure has been unbelievable.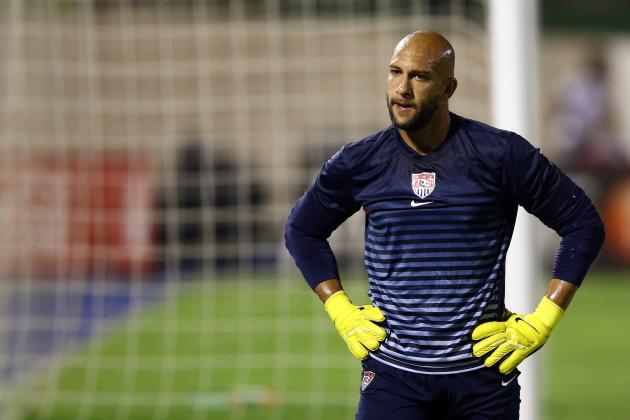 Streeter Lecka/Getty Images

Tim Howard had a great game, but as a goalie it is hard to be happy about giving up three goals. This is what is keeping Howard from grading higher.
There was absolutely nothing Howard could have done about the first goal. He made a great save after Eddie Johnson gave up the ball deep in their defensive territory, but was unable to recover fast enough to make the second save.
The second goal, which was most certainly offside, could have been stopped by the American keeper. It was a good header, but placed in a stoppable position.
If it weren't for Howard's heroics throughout the game, the United States probably would have lost. Any other goalie on the roster would have definitely given up those goals, and probably a few more.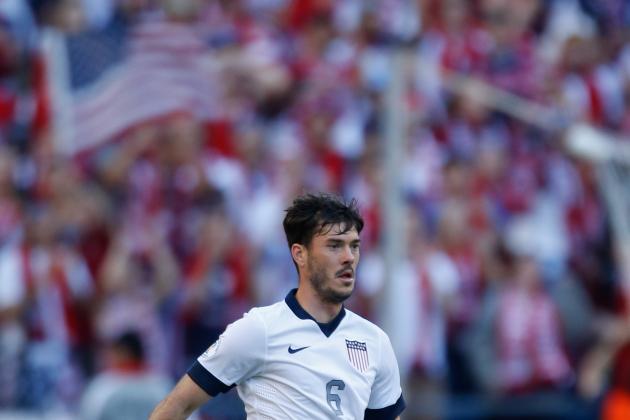 Otto Greule Jr/Getty Images

Brad Evans was one of the most consistent players on the field against Bosnia Herzegovina.
He was rarely beat down the wing and he really didn't make any mistakes. Many talk about how the right defender spot is constantly up for grabs, but the way Evans has played in the last few months under Klinsmann has definitely answered some questions.
He might not continue to start over the next few months, but it won't be because of his play on Wednesday. As a defender, you're main goal is to not let any goals in, and Evans was successful in that sense.
He didn't have a perfect game, but his consistency definitely helped a young defense.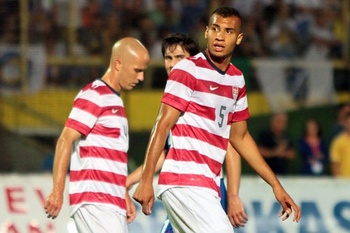 This rating may be a little high if you look deep into the game, but John Anthony Brooks played surprisingly well for a 20-year-old defender in his first game in American colors.
First, Brooks was dealt the task of guarding one of the better strikers in the world for the entire game: Edin Dzeko. Dzeko scored two goals, but only one of them was on Brooks. Dzeko made a very sly move at the last minute to beat Brooks to the ball, which is something the young defender will definitely learn from.
However, Brooks' lack of experience was partnered with his superior strength and athleticism. He made a few phenomenal tackles and headers no other U.S. defender could make.
Klinsmann should be doing anything he can to cap-tie Brooks in time for the 2014 World Cup.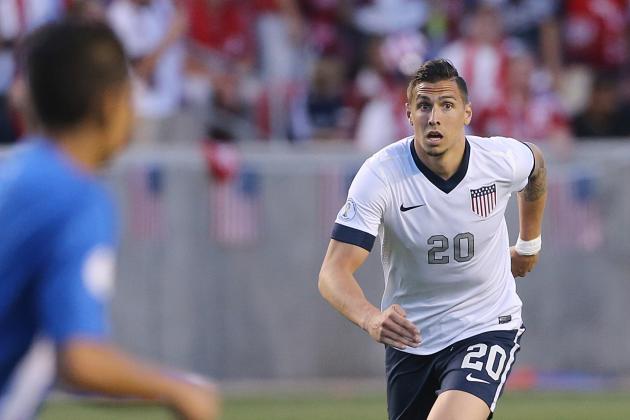 George Frey/Getty Images

I've said it so many times that it seems redundant at this point. Geoff Cameron is much better at holding midfield than central defense.
Cameron failed to track back on Dzeko's first goal and was beaten on the the header for the second goal. Directly giving up two goals will hurt your grade.
Communication could have been an issue for the Stoke City defender, but I doubt he could beat out Gonzalez, Goodson or Besler in the central defense.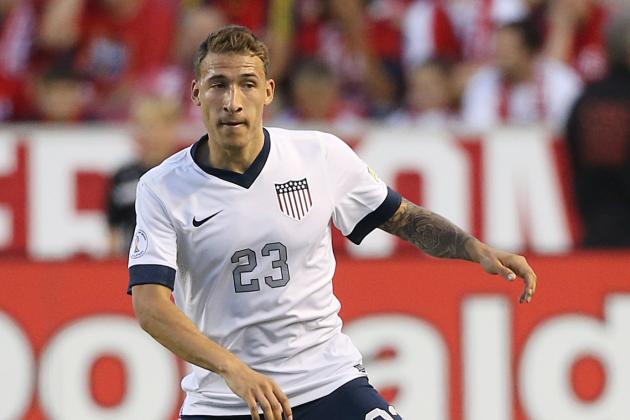 George Frey/Getty Images

Fabian Johnson is definitely one of the most interesting players on the U.S. roster because of his lack of a real position.
From what we have seen from Johnson during his small window with the USMNT, he loves to run the wing. However, that strategy didn't hold up as well against a better team like Bosnia Herzegovina.
Johnson's game was a tale of two halves. To make it simple, Johnson played well in the second half when he moved up to midfield and played much worse in the first half when he played defense.
If I were Klinsmann, I would make a decision on where Johnson should play as soon as possible.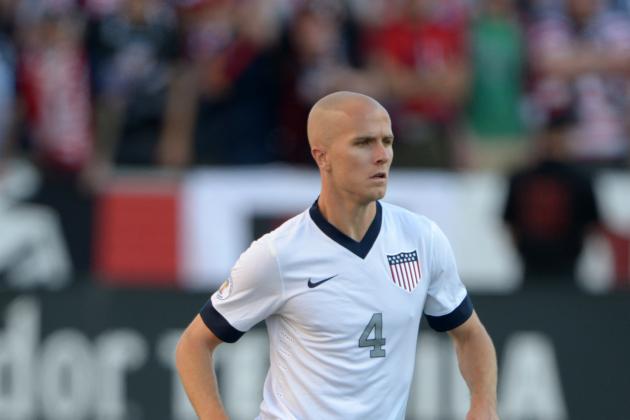 USA TODAY Sports

I've ranted and raved about Bradley's importance to the United States this week already, so I won't go too far into detail.
Besides his statistical magic passing the ball, Bradley was the only consistent player for the Yanks. While others started slow, Bradley was the only player who was able to show any sign of talent in the first half.
And his pass to Altidore for the first goal, just magical.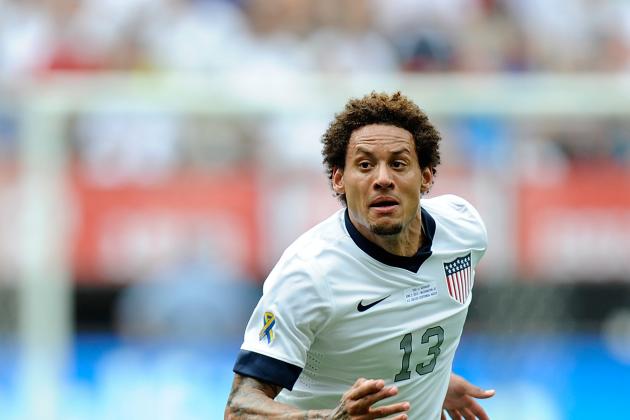 Greg Fiume/Getty Images

This was probably Jermaine Jones' worst game in a U.S. uniform. His first half, reminiscent of Brek Shea vs. Cuba, was discouraging to the 'Bradley-Jones' combination Klinsmann has been trying to develop during his tenure.
Jones turned the ball over and displayed a general lack of hustle, specifically during the first half, but it also sprayed over to the second.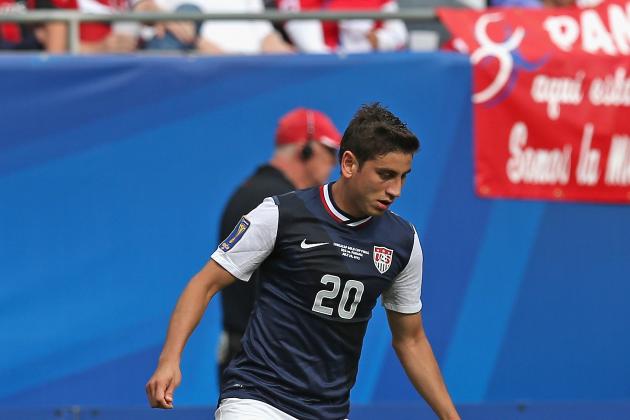 Jonathan Daniel/Getty Images

Going into the game, Alejandro Bedoya was the most surprsing player given the opportunity to start. Clearly he proved more during the Gold Cup than Joe Corona.
Moving to the game, Bedoya tracked back and forth along the wing very well and at one point, stopped a goalscoring opportunity by coming far back on defense.
However, Bedoya really didn't do much on the offensive side of the ball. He needs to show more to continue to get big minutes for the Yanks.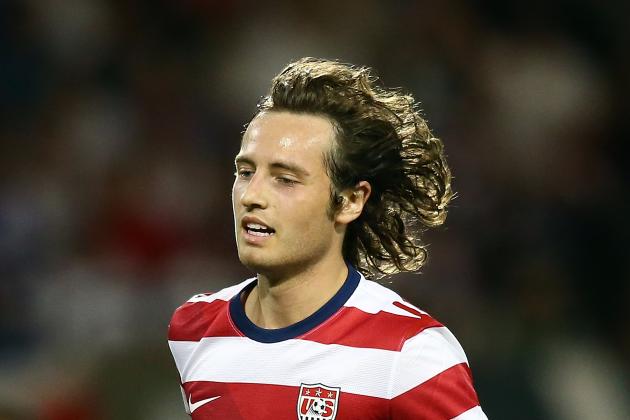 Jonathan Ferrey/Getty Images

Mix Diskerud was given the opportunity to play the withdrawn forward spot behind Altidore. He actually surprised with his ability to move up the field.
During the Gold Cup, Diskerud was far more defensive and didn't get many chances in the box. His time behind Altidore showed he really can create goalscoring opportunities. Specifically, Diskerud had a nice couple dribbles that led him into the box, but he was unfortunately knocked (fouled) off the ball.
It was shocking to see Diskerud hit the bench at halftime, but he showed enough to continue to see time for the men's national team.
Jonathan Daniel/Getty Images

This might be one of the worst grades I have ever given for a player who was able to net a goal, but Eddie Johnson had a really poor first half.
The first goal was almost entirely Eddie Johnson's fault as he turned the ball over right outside the box.
The goal Johnson scored wasn't even a great a play by Johnson, it was scored because of a perfect pass by Bradley and touch by Altidore. Johnson shot on an empty net.
Johnson picked up his play in the second half when he moved to his natural position of forward in the second half, but he really didn't make a positive impact on the game.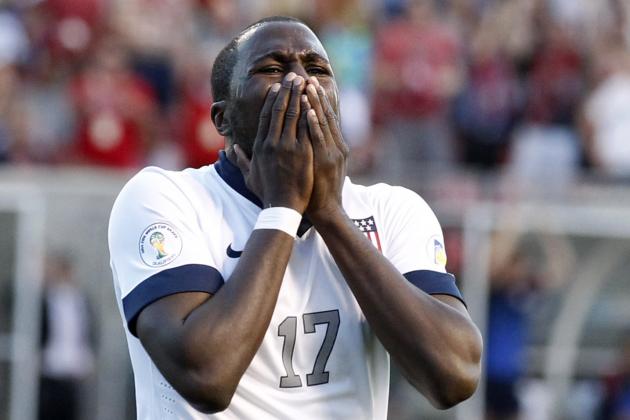 George Frey/Getty Images

Jozy Altidore was incredible against Bosnia Herzegovina. He really couldn't have played much better.
Altidore did everything a forward has to do in a game. He scored three great goals and even set up Johnson's with a great first touch.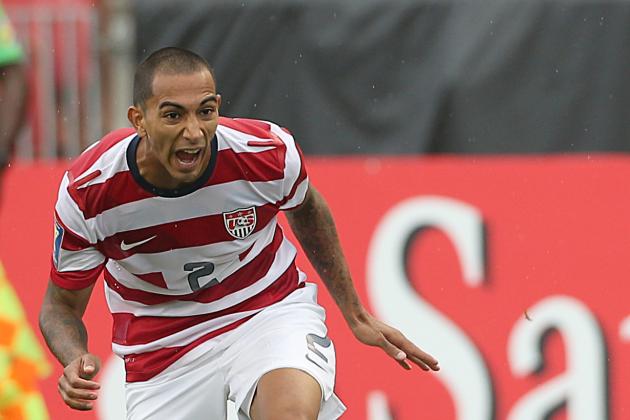 George Frey/Getty Images

This was definitely Edgar Castillo's best game for the Yanks.
When he came in at left defense when the second half began I was honestly worried Castillo would be worked, but he really held his own.
Castillo made a ton of runs up the field that led to great offensive opportunities. When he did make mistakes, he tracked back quickly and made up for them.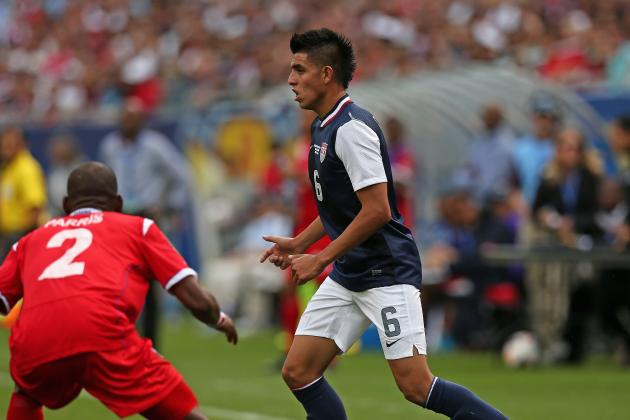 Jonathan Daniel/Getty Images

Joe Corona has extreme talent on the ball, but his biggest weakness involves the referees. He has to stop talking to the refs game in and game out. He complained during the Gold Cup and continued against Bosnia when he was substituted in the second half.
Moving on to what matters—his play—Corona played fairly well during his 25 minutes. He had a few great touches that helped move the ball into the attacking third.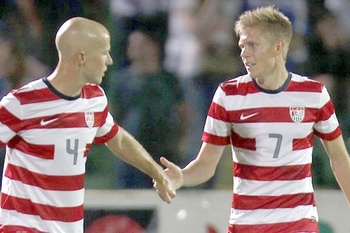 Aron Johannsson had a near perfect debut for the Yanks on Wednesday. As soon as he entered the game, he proved why Altidore worked so hard to bring him onto the American squad.
Johannsson showed unbelievable speed during his short time on the field. He created multiple scoring opportunities and almost had a goal or two himself.
I can't wait to see how Klinsmann uses him in qualifiers.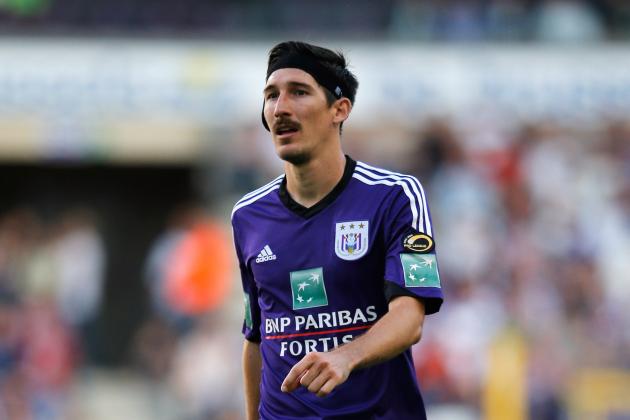 Dean Mouhtaropoulos/Getty Images

Sacha Kljestan hasn't been on the U.S. radar for a while now, but his steady play at Anderlecht has brought him back into the conversation.
While he only got 20 minutes, Kljestan definitely improved on the play of Jermaine Jones. He played really well with Bradley in his short time on the field.
He even set up the final U.S. goal with a great leading pass to Bradley while he was getting fouled. Kljestan could see more minutes moving forward.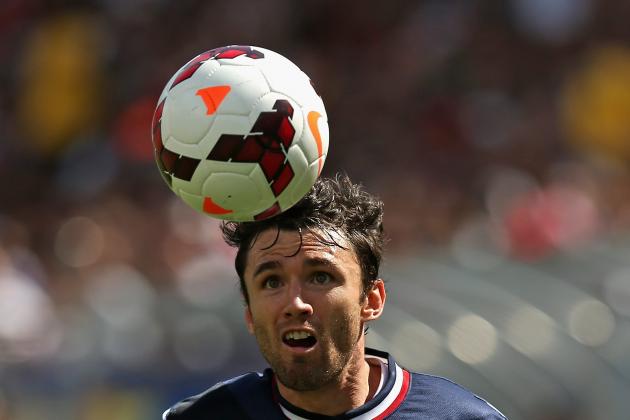 Jonathan Daniel/Getty Images

Michael Parkhurst only had about 10 minutes, but he continued his solid play from the Gold Cup.
Had a nice balance of offense and defense as the U.S. held onto a late lead.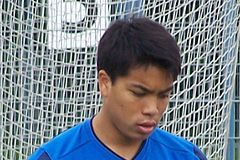 Bobby Wood simply didn't play enough time to give him a fair rating.
However, the fact that Wood got the call-up and got on the field is good news for the young American. Another example of an American playing in Germany.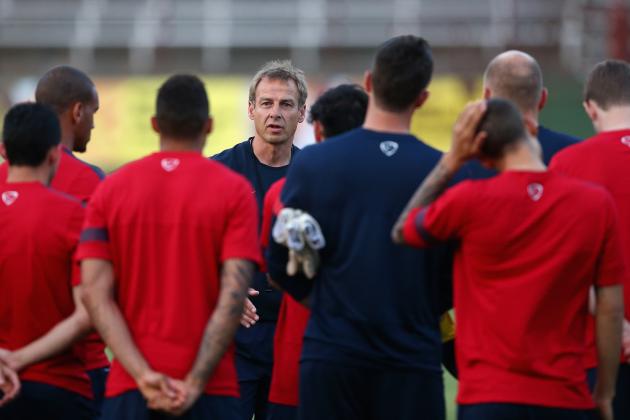 Streeter Lecka/Getty Images

Obviously you can't rate players who didn't see the field, but it's very important to look deep into the roster and see which players made the cut and what it means for them moving forward.
For the group of players who didn't see the field, I will give them a rating based on their future with the USMNT.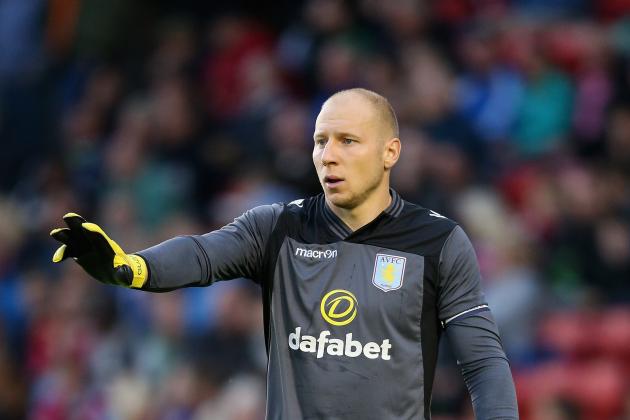 David Rogers/Getty Images

It's extremely unfortunate Brad Guzan has been behind Tim Howard for so long, but over the last year or so, he has been pushing for the No. 1 spot.
Guzan is essential to the roster because of course, if Tim Howard gets hurt, Klinsmann has a viable option. Most of all, Klinsmann of all people believes in heavy competition for roster spots. Guzan and Howard constantly push each other.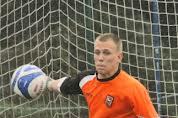 The current United States U-20 goalie got a great opportunity to learn from two great goalkeepers in Guzan and Howard.
It's impossible to say that Cropper's call-up was a bad move, but I would have liked to see Sean Johnson get an opportunity to continue to prove himself. It is always possible the Chicago Fire didn't want to lose their goalie again after missing him for the Gold Cup.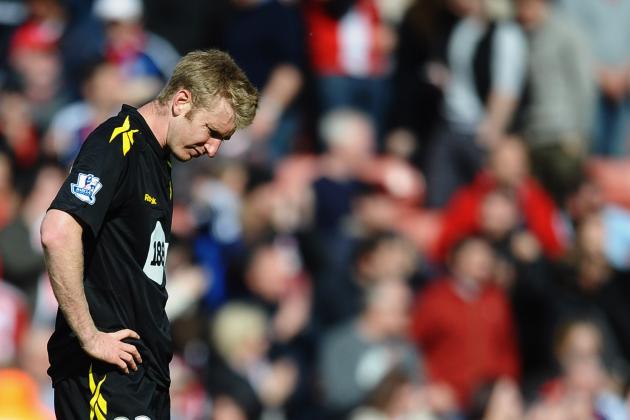 Laurence Griffiths/Getty Images

Tim Ream has been off and on with the Yanks for the past three years, but at this point I don't see a bright future.
With Brooks, Gonzalez, Goodson, Cameron, and Besler, I don't see where Ream fits in.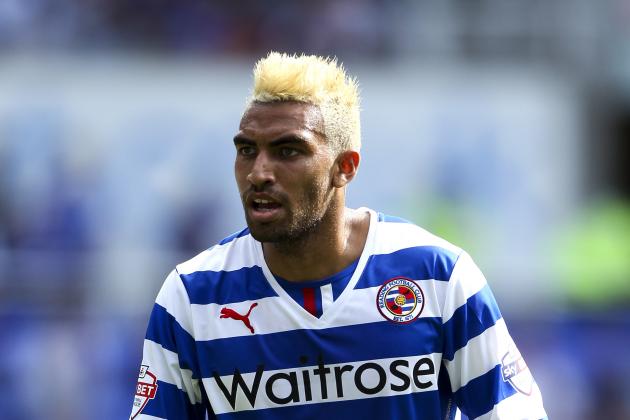 Ben Hoskins/Getty Images

Daniel Williams seems like a guy on the roster solely because he is a German-American. The United States have a ton of holding midfielders in Bradley, Jones, Diskerud, Cameron.
However, it is always great to see competition and giving a new face a chance.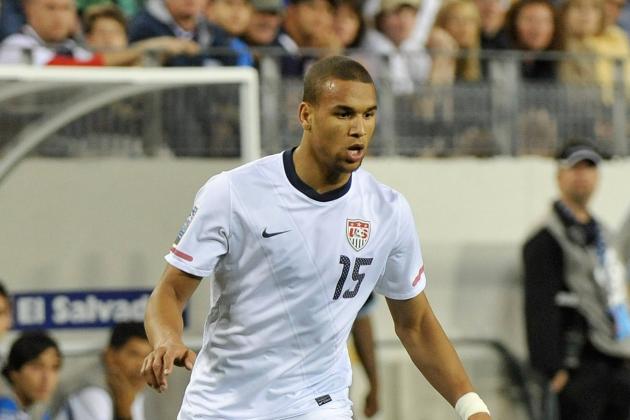 Frederick Breedon/Getty Images

Terrance Boyd hasn't gotten a cap for the U.S. in a few years, but he has definitely made a name for himself in Austria where he plays for Rapid Wien. Boyd could definitely fight for the backup forward spot.
With Eddie Johnson and now Aron Johannsson, Boyd is the next best option. He certainly has a leg up on Chris Wondolowski and Herculez Gomez.