Predicting What the New York Mets' Starting Lineup Will Look Like Next Year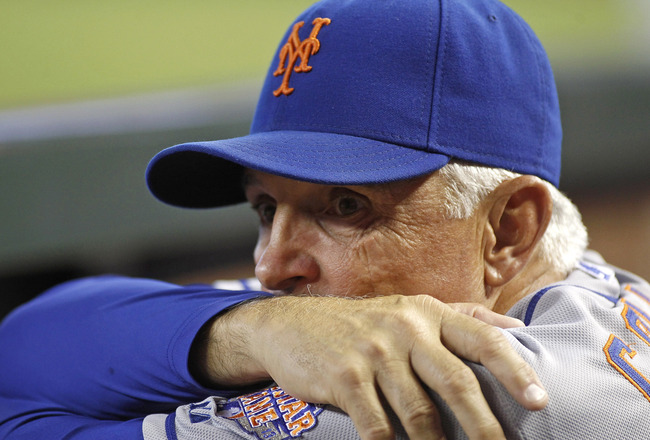 Ralph Freso/Getty Images
For some, 2014 seems like an eon away. That holds especially true for the MLB teams who are still in the hunt for postseason baseball. After all, there's still more than a month left of the regular season, and then another month filled with playoff drama.
But for teams who are well out of contention, like the New York Mets, fans and ownership are starting to peek towards next season to see what may come. So with that in mind, let's take a look at what the Mets' starting lineup might look like in 2014.
Keep in mind, this all purely my speculation, based on what I think the Mets will do in free agency over the offseason to better the club. I am not accounting for any players they might acquire in a trade. In other words, this lineup prediction is made up of current players and/or possible free-agent acquisitions the team might make.
CF: Jacoby Ellsbury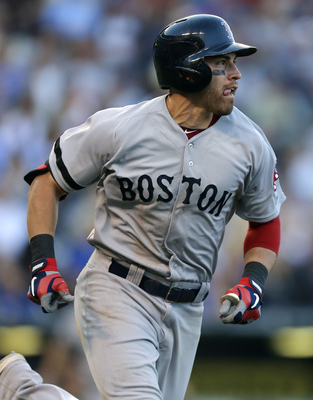 Ed Zurga/Getty Images
This is a tough one right now. What happens here really depends on how willing GM Sandy Alderson is willing to spend on a 30-year-old outfielder with a bit of a history of injuries. Jacoby Ellsbury will be a free agent for the first time in his career following the 2013 season, and the Mets are certainly in the market for an outfielder.
The positive: Ellsbury currently leads the league with 46 stolen bases, and is looking healthy in 2013 with a .299 batting average and .358 on-base percentage.
The negative: Ellsbury has alternated healthy and injury-plagued seasons since playing just 18 games in 2010. If the trend continues, 2014 could be a rough year for him. That, coupled with the success he's had in his healthy years, makes it somewhat difficult to peg a justifiable contract for him.
My guess is it will take something in the neighborhood of at least a five-year, $80 million contract to sign him. The price tag could get hefty, but he also could give the Mets a steady leadoff hitter (with health being a concern as well).
With the 2014-2015 free-agent outfield crop not looking any better, the Mets might do well to sign someone out of this year's group. There aren't many better than a healthy Ellsbury.
LF: Eric Young Jr.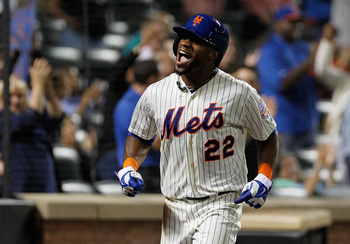 Mike Stobe/Getty Images
With just over two years of MLB service time, Eric Young Jr. will remain under team control through the 2016 season. And since the Mets acquired the speedy outfielder from Colorado in June, he's been somewhat of a spark plug in the Mets' lineup.
In 55 games since arriving in New York, Young leads the team with 20 stolen bases in 24 attempts. He was shoved out of Colorado but he has flourished in Flushing. Unless the Mets can somehow find someone better during the winter, I expect him to remain near the top of the lineup and covering ground in left field.
3B: David Wright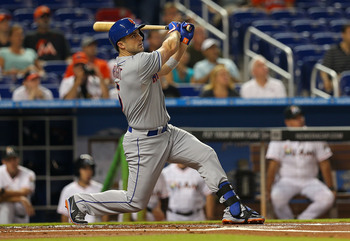 Mike Ehrmann/Getty Images
This is one piece of the Mets' lineup puzzle that isn't a mystery. David Wright will be a fixture at third base, and in the third spot in the lineup, for many years to come.
The team's captain recently signed an eight-year contract extension that will likely keep him in Queens for the entirety of his career.
1B: Ike Davis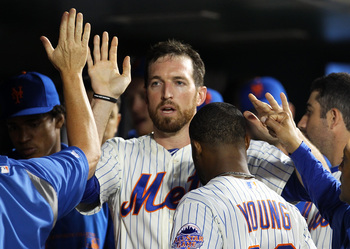 Mike Stobe/Getty Images
Despite the well-documented struggles of Ike Davis in recent years, the talented first basman isn't going anywhere. At just 26 years of age, there's still time for him to string together a few more quality seasons as the Mets' first baseman.
He's starting to turn things around in 2013, following his return from Triple-A on July 5. Since that time, he's hitting .282 with three long balls in 110 at-bats, to go along with a .448 OBP.
And even if he isn't capable of maintaining his place in the cleanup position in the lineup, his glove will solidify his place at first base for at least the next five or six years. At the very least, he'll remain arbitration eligible through 2016, becoming a first-time free agent prior to 2017 season.
RF: Marlon Byrd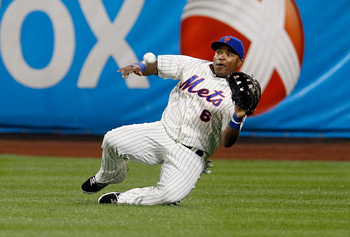 Mike Stobe/Getty Images
What a find Marlon Byrd has been for the Mets in 2013. He was given a minor league contract right at the beginning of spring training, and all he's done is slug 21 home runs and hit .286 over 409 at-bats. At age 35, he probably won't have too many more of these seasons left.
But based on the potential free-agent outfielders that may be out there, the Mets may as well keep Byrd as their everyday right fielder. After all, if he falters in 2014, they have plenty of backups they could use.
C: Travis d'Arnaud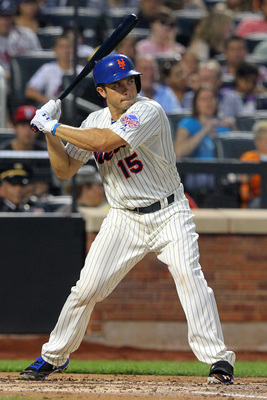 Brad Penner-USA TODAY Sports
I think it's about time for Travis d'Arnaud to be an everyday catcher for the Mets. Brought over from Toronto this past winter in the R.A. Dickey deal, d'Arnaud has been stuck in the minor leagues dealing with a variety of injuries.
The latest ailment is a fractured ankle which kept him out of action for the majority of the season.
But, earlier this week, d'Arnaud got the call and is likely to remain in the big leagues for the rest of the year, taking the lion's share of the catching duties from John Buck.
In a very small sample size, d'Arnaud has looked very selective at the plate, already walking six times in 17 plate appearances. His lone hit so far was a double, but the future should be very bright for this 24-year-old backstop.
2B: Wilmer Flores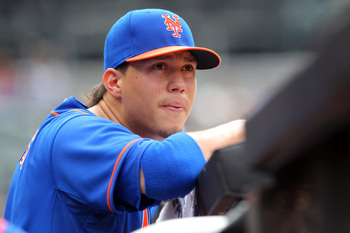 Brad Penner-USA TODAY Sports
I'm going to go out on a limb and say the Mets will be trading Daniel Murphy during the offseason. The free-agent crop for second basemen is rather bleak this winter, and the Mets ought to be able to get a decent return on the left-handed hitter.
And by making that move, that would free up second base for top prospect Wilmer Flores. Flores is currently up with the big team, making his major league debut. Though right now he's nursing an ankle injury, he has been manning third base with David Wright on the shelf.
But throughout his minor league career, Flores has been more of a middle-infielder, and with a deficiency in quickness/range, he might be better suited for second base than shortstop.
Eventually, the 22-year-old should be a middle-of-the-order hitter, but until his power develops, I peg him in the lower part of the lineup.
SS: Ruben Tejada
Elsa/Getty Images
The 2013 season has been a lost cause for Ruben Tejada, the Mets' everyday shortstop since Jose Reyes left after before the 2012 season. Tejada has appeared in just 50 games for the Mets this year, sporting an ugly .209 batting average.
Tejada strained his right quad in late May, and has not been seen in Queens since. After completing his rehab assignment, the Mets optioned him to Triple-A, leaving Omar Quintanilla as the team's starting shortstop.
Quintanilla is certainly not the long-term solution at shortstop, but the Mets seem to still be hopeful that Tejada might be. And at just 23, there's still plenty of time for him to reach that potential. Though, if the Mets aren't confident in him any longer, they could theoretically keep Daniel Murphy at second and have Wilmer Flores be the team's shortstop.
Keep Reading

New York Mets: Like this team?