Live Updates, Analysis and Reaction of A-Rod's Return to Fenway Park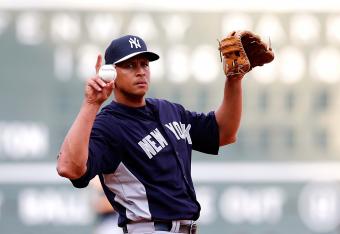 Final Score: Yankees 10 - 3 Red Sox
Try as they might, the Fenway faithful were unable to boo Alex Rodriguez and the Yankees into submission.
A-Rod went 2-for-4 with a walk, a run scored, two singles and a stolen base in his first trip to Boston this season, and the Yankees climbed to within 7.5 games of the Red Sox in the AL East standings with nine head-to-head games remaining.
Jacoby Ellsbury grounds out to Cano to end the game. Pettitte gets the win. Doubront takes the loss. Rodriguez lives to play another day. We'll see if John Lackey tries to change that tomorrow.
Thanks for reading along. Let's do it again some time.
Chamberlain prolongs the inevitable, walking Holt to load the bases. Girardi makes the move for a left-handed reliever with one out remaining in a seven-run game. No wonder these Yankees vs. Red Sox games last four hours.
Napoli doubles on a ground ball right at Rodriguez.
Things are almost getting interesting again. Not that anyone thought Joba Chamberlain was going to work a 1-2-3 9th inning.
It's 10-3 Yankees going to the bottom of the 9th at Fenway.

— Boston Red Sox (@RedSox) August 17, 2013
It's always sad/funny late in games when the Twitter feeds of Major League teams make the complete shift from excitement-builder to fact-informer.
I hope the guy bellowing "A-Rooood" from the upper deck is wearing an Ortiz jersey #irony

— John O'Connell (@jacko2323) August 17, 2013
Even with a seven-run lead, it's hard for Yankees fans to stay classy.
Thus far in this game, Soriano has been hit by a pitch, Wells had to dance around a pitch at his feet, both Ichiro and Gardner have been brushed back by sweet chin music, and not a single pitch has even come close to touching A-Rod. It just doesn't seem fair.
Can I retract my earlier statement about being impressed by Drake Britton?
In other AL playoff news, the Orioles lost to the Rockies, the Royals swept a day-night doubleheader against the Tigers, the Rays just defeated the Blue Jays on a walk-off triple and the Rangers lead the Mariners 1-0 in the 8th. Though this is certainly looking like a win for the Yankees, it doesn't look like they'll be gaining much ground in that wild card chase.
Can't tell what that one fan is screaming every five seconds, but it's starting to rival the "Let's go Pirates" girl on the annoyance scale.
Rodriguez moves up to second on the back end of a double steal. Insert lame joke about all of the home runs he stole in his career by using PEDs.
First time I'm seeing Drake Britton pitch, and I'm impressed. Looking mighty good against left-handed sluggers Cano and Granderson.
Rodriguez comes up to a chorus of boos, but it's at maybe 40 percent of the volume from the first inning.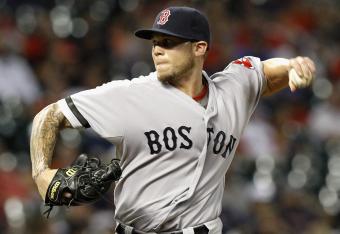 Daniel Nava into the game for Shane Victorino, who didn't look comfortable running the bases last inning.
Drake Britton also into the game for the Red Sox, and he makes Robinson Cano look silly on strike three.
So much for that rally. Rodriguez responsible for all three outs in the eighth. Any fans that aren't leaving the stadium right now are only sticking around to remind Rodriguez how much they hate him. He'll be the third man up in the 9th. If they get the first two Yankees out, you have to think a bean ball is in play, right? Right?!
Pedroia laces one off the base of the Green Monster. Here comes David Ortiz with a chance to cut the lead to one run.
Rodriguez makes a nice play on a hard ground ball to his left, but stumbles and double clutches to kill any chance at a double play. That base runner could loom large as Pedroia steps to the plate.
Playing of Sweet Caroline confirms that fans are still in the ballpark. That should bode well for Rodriguez's fifth at bat of the game, especially if Boston can make things even more interesting here in the bottom of the eighth against David Robertson.
That's officially the fifth error of the night. Doesn't seem like enough. Quite the sloppy affair.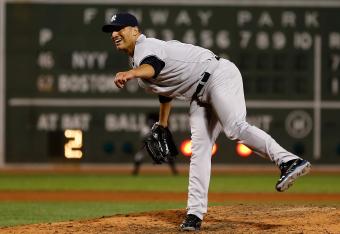 By the by, final line on Andy Pettitte: 6.2 IP, 6 H, 3 R, 0 ER, 1 BB, 5 K. Not too shabby. Should be headed towards win #253, but we'll see how these last two innings play out.
Mike Carp definitely headed towards some sort of suspension after that outraged response to a called third strike.
We'll see if John Lackey and Jonny Gomes complain about him playing through the appeal process.
Controversy! Mike Carp appears to have been hit by a pitch on the foot, but gets sent back to the box to continue his at bat. Tough to tell even in instant replay, making yesterday's instant replay ruling for the 2014 season even more difficult to stomach.
That'll do it for Andy, who departs with 2 outs and 2 on in 7th. #Yankees lead 7-3.

— New York Yankees (@Yankees) August 17, 2013
Takes from each side of the fence.
Salty singles to send the Yankees to the bullpen. We've got runners on first and second with 2 outs. Middlebrooks due up. #rallytime.

— Boston Red Sox (@RedSox) August 17, 2013
Takes from each side of the fence.
Pettitte came unraveled in the seventh. Allowed four baserunners this inning after allowing just three in the first six.
In typical Yankees vs. Red Sox fashion, this thing isn't over yet.
Considering our nation's obsession with beards (Brian Wilson, Sergio Romo, James Harden, etc.), I'm amazed that more hasn't been said about the yeti that has taken up residence on Mike Napoli's face.
This article is
What is the duplicate article?
Why is this article offensive?
Where is this article plagiarized from?
Why is this article poorly edited?