7 MLB Players Overrated by Misleading Statistics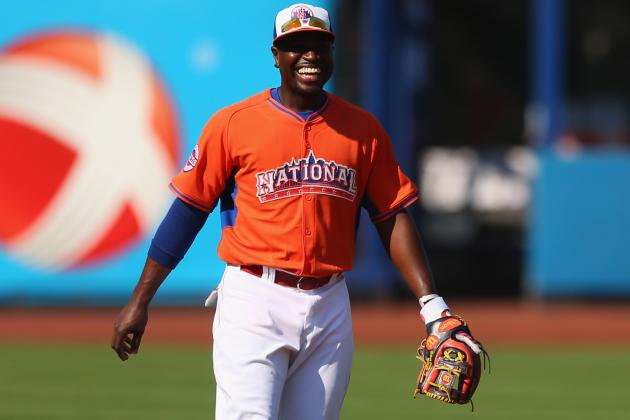 Mike Ehrmann/Getty Images
Brandon Phillips might struggle to maintain his signature smile if he reads this.
Numbers never lie. That might be the biggest lie of them all.
No, this is not a call to burn down the data archives and live off the eye test. Our viewing experiences often fool us into thinking Daniel Murphy is an All-Star after watching him rattle off three hits, but the stats are there to pull us back into reality.
But because so many meaningful metrics exist for our pleasure, the old reliables that guided public perception of baseball for years now feel outdated.
Talk show pundits and play-by-play commentators still lean on these antiquated measures. They're convenient and easily digestible, but they lead us to misinterpret which players are truly worthy of our adoration.
While Chris Sale and Joey Votto fail to receive their full deserved recognition as two of the game's brightest stars, Chris Tillman and Brandon Phillips are inappropriately drooled over simply for having the good fortune to perform in the ideal environment.
Five of these seven players deceived fans, players and managers into bestowing them with All-Star honors. One of the two left out would probably ride his high batting average to a nod were the rosters selected today.
With rich, righteous numbers on our side, let's combat the evil, deceptive numbers from tricking us any more.
Note: All statistics, unless otherwise noted, are courtesy of FanGraphs.com.
Begin Slideshow

»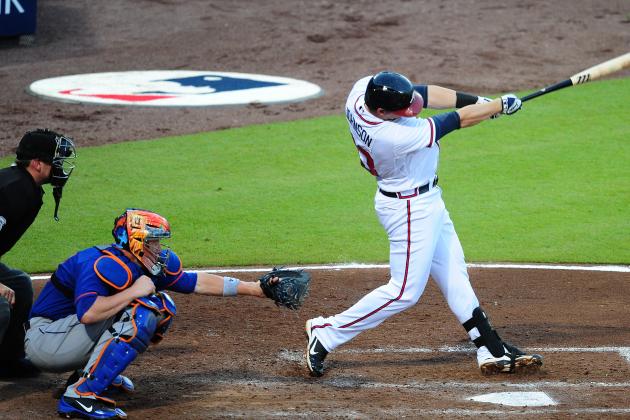 Scott Cunningham/Getty Images
When it comes to evaluating hitters, there's more than just batting average.
The Misleading Stat: .336 Batting Average
Fortunate enough to play in the league without Miguel Cabrera, Chris Johnson currently stands tall as the National League's leader in batting average. Few achievements occupy a soft spot in a baseball fan's heart quite like the illustrious batting title, a grand label granted to the league's finest bat-wielders.
This has led many to believe Johnson is one of baseball's premier hitters. Anyone else starting to see why batting average isn't everything?
Sneaking the 28-year-old third baseman into the Justin Upton deal has been a coup for the Atlanta Braves. But if he wins the batting title, onlookers should just shrug, acknowledge that he happened to top the NL in that singular category and move on.
He also happens to lead all of baseball in another category: Batting Average on Balls in Play (BABIP). His .412 BABIP leads runner-up and career .323 hitter Joe Mauer's mark by .29 percentage points. That might have something to do with his chase for the batting crown.
A career .290 hitter with a .363 BABIP, Johnson has ridden a wave of good fortune to this statistical anomaly. Look for more of the 44.4 percent of grounders he hits on batted balls to find gloves.
Even if they don't, 59 position players have accumulated a higher WAR than Johnson's 2.4. Despite his high average, Johnson is a limited fielder and baserunner who only generates walks in 5.5 percent of his plate appearances.
Who's Better? Teams work with a finite amount of outs, so the batter's job is to avoid making them as much as possible. Although Shin-Soo Choo is hitting .276, he sports a much higher on-base percentage (.410) than Johnson does (.373).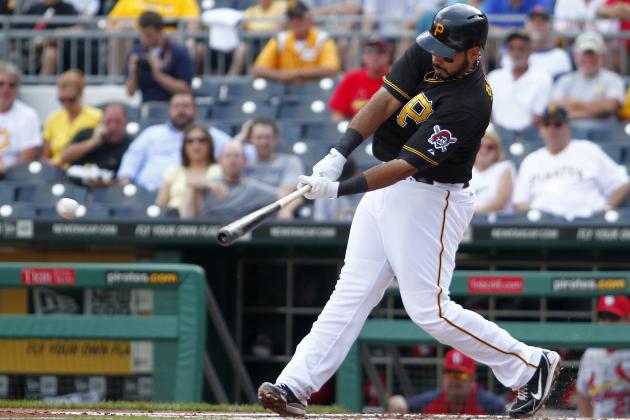 Justin K. Aller/Getty Images
Pedro Alavarez's massive power does not make him a star player.
The Misleading Stat: 29 Home Runs
After a horrendous start, Pedro Alvarez redeemed himself by smashing every pitch he saw out of sight.
Well, some pitches. Although his 29 homers tie NL MVP candidate Paul Goldschmidt for fourth in MLB, the outcome is rarely pretty when Alvarez fails to go deep.
Serving as an archetype for the all-or-nothing hitter, Alvarez is hitting .235 with a .296 on-base percentage. A resounding 32.3 percent of his at-bats conclude with a strikeout.
The 26-year-old slugger made the All-Star team due to his power stroke and the first-place Pittsburgh Pirates' feel-good narrative. The Pirates have needed every bit of his .478 slugging percentage to fend off the St. Louis Cardinals and Cincinnati Reds, but that's not enough to overlook all his remaining flaws.
If you trust FanGraphs' WAR to accurately appropriate players' value, Todd Frazier, Nolan Arenado and Chase Headley have all outplayed Alvarez this season due to their higher on-base percentages and better defense at the hot corner.
Alvarez has the power to become Chris Davis, but he could instead turn into Mark Reynolds if he fails to improve his plate discipline.
Who's Better? He has tallied 20 fewer homers than Alvarez, yet Matt Carpenter owns a nearly identical .477 slugging percentage on the strength of producing 40 doubles and five triples. Chicks dig the long ball, but stat geeks realize that home runs do not tell the entire story.
Jason Miller/Getty Images
Phillips owes much of his success to Joey Votto.
The Misleading Stat: 90 RBI
Harold Reynolds went on TV and suggested that Brandon Phillips is arguably more valuable than Joey Votto.
If your immediate thought after watching that segment is not "Reynolds is totally wrong," let's help get you there.
Reynolds pointed to Phillips' RBI total, which places him only behind behemoths Cabrera, Davis and Goldschmidt. The second baseman has clearly done the heavy lifting by hitting .321 with runners on base. Phillips is clutch! Except that he's never hit above .300 with runners on before 2013, so it probably represents pure statistical variance that will right itself with a larger sampling.
But Votto's .138 batting average with two outs and runners in scoring position is clearly an indictment of his lack of a clutch gene, right?
Wrong. That insanely specific scenario only presents us with a 29 at-bat sample size. With runners in scoring position, the former MVP boasts a .308/.454/.490 slash line.
There's also the ridiculously simple explanation for the RBI discrepancy: Phillips hits behind Votto. Therefore, he drives in Votto.
Votto and Choo rate first and second in the NL at reaching base, which naturally sets Phillips up with ample RBI chances. According to Baseball Prospectus, he has stepped to the plate with more runners on base than any other NL hitter.
Phillips has mooched off his teammates' success to spruce up his RBI total. Hidden under that gaudy number is a bland .261/.310/.405 slash line. As an individual hitter, he's on par with Daniel Murphy and Neil Walker.
Who's Better? Votto, of course. Maybe he's not driving in runs, but he's hitting .318/.433/.508 with 83 runs scored. And not to make this article a giant love letter to Carpenter, but baseball's leading run scorer is the NL's best second baseman.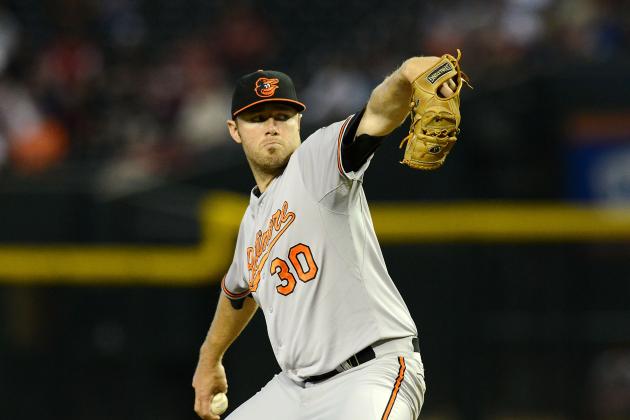 Norm Hall/Getty Images
Does Chris Tillman have "the will to win" or a great supporting cast?
The Misleading Stat: 14 Wins
Wins, my arch nemesis. We meet again.
The prime culprit of poor baseball insight, wins causes a mainstream misunderstanding of what makes a good pitcher. Wins toss offense, defense and relief pitching aside to propagate the lie that starting pitchers hold full control over a game's outcome.
We've made progress. Bartolo Colon won the 2005 AL Cy Young with 21 wins, a 3.48 ERA, 1.16 WHIP and 7.05 K/9 ratio. Meanwhile, Johan Santana boasted a 2.87 ERA, 0.97 WHIP, 9.25 K/9 ratio but only 15 victories. Voters debunked that faulty logic in 2009, when Zack Greinke's phenomenal stat line helped him overcome his 16 victories to land the same honor robbed from Santana.
We're not fully there yet. If we were, Jim Leyland would not have named Chris Tillman as a late All-Star Game replacement because of his double-digit win total.
Chris Tillman has racked up 14 victories, more than Adam Wainwright, Felix Hernandez, Clayton Kershaw, Matt Harvey and countless other aces. To say he's in the same stratosphere as any of those pitchers is heresy.
Tillman's 3.70 ERA and 1.29 WHIP suggest that he is a solid but unspectacular hurler. And even those numbers are overselling it, as he also holds a 4.70 Fielding Independent Pitching (FIP).
Not only has his defense saved him runs, but his offense scores a bunch with him on the mound. The Baltimore Orioles average 5.5 runs per Tillman start, the fourth-highest mark among starting pitchers.
Who's Better? There's a handful of guys who can go here, but poor Chris Sale gets the worst run support in baseball at 2.73 runs per start. He's 8-11, but he's still the proud owner of a 2.73 ERA, 1.05 WHIP and 2.93 FIP.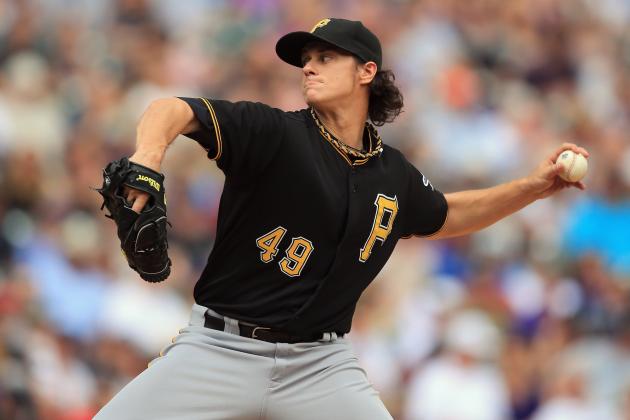 Doug Pensinger/Getty Images
Is Jeff Locke as good as his 2.43 ERA suggests?
The Misleading Stat: 2.43 ERA
Wins are easy to antagonize. Only the truly stubborn traditionalists still perceive it as the holy grail of a pitcher's success.
ERA has succeeded wins as the gold standard for judging pitchers. Ultimately it is a pitcher's job to prevent runs, so ERA tells us way more than wins.
That doesn't, however, mean that it's perfect.
Jeff Locke is Exhibit A for how basing an opinion solely on ERA can backfire. If ERA meant everything, Locke would represent the sport's fifth-best pitcher with a 2.43 ERA, better than Wainwright, Max Scherzer, Yu Darvish and a cavalcade of elite starters.
Dig deeper through the numbers and it's apparent that Locke is not a high-quality arm. His 6.64 K/9 rate is OK, but his 4.27 BB/9 ratio is highly inefficient. Since strikeouts and walks are two elements a pitcher can control, someone with such uninspiring measures usually struggles.
How has Locke broken the mold? He has stranded runners at a lofty rate of 81.8 percent, which he is unlikely to sustain with such low strikeout totals. After surrendering six homers in 34.1 innings last year, he has only tossed up seven long balls in 137 innings.
His 3.74 FIP also indicates that Pittsburgh's defense has aided his cause. Everything has aligned perfectly for Locke, but expect that ERA to climb unless he can throw more strikes and generate more whiffs.
Who's Better? Homer Bailey is not highly regarded due to his 3.81 ERA, but his 3.14 FIP and 4.25 K/BB rate show an ace in hiding.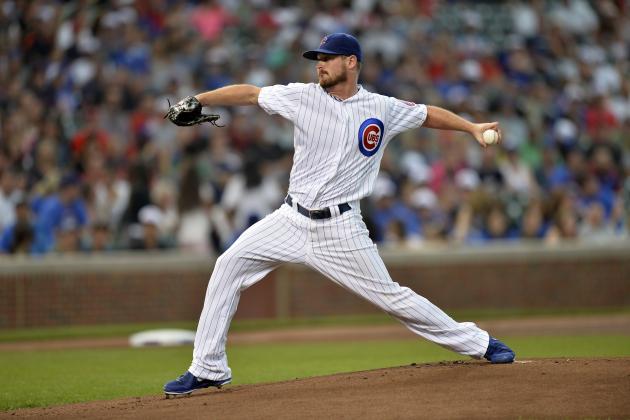 Brian Kersey/Getty Images
Travis Wood continues to defy the odds.
The Misleading Stat: 1.10 WHIP
If ERA is not perfect, what about WHIP, the measure of a pitcher's baserunners per nine innings that has sneaked into the norm?
Like ERA, WHIP is highly useful but not necessarily infallible. Pitchers dictate the walks, but they hold less control over their BABIP than you'd think.
Ground-ball pitchers (such as Locke) are usually the ones to emerge from shaky peripherals smelling like roses. Travis Wood, owner of a 43.4 fly-ball percentage, is not a ground-ball pitcher.
Yet he's posting a 1.10 WHIP that situates him right below Felix Hernandez and Jordan Zimmermann on the leaderboard. That's despite posting an unimpressive 6.41 strikeouts and 3.00 walks per nine innings.
Then again, some might scoff at citing his .240 BABIP to forecast a regression, especially since he sported a .244 BABIP in 2012. While it's one thing for a ground-ball fiend like Tim Hudson to consistently spawn a low BABIP, it makes no sense for Wood to keep floating by unharmed.
In 2011, Wood registered a .324 BABIP with no noticeable variation in walks, strikeouts or ground balls. Much of this drastic difference results from the Chicago Cubs' defense, which ranks fifth in baseball with a team Ultimate Zone Rating (UZR) of 28.6.
Wood does not possess good enough stuff to sustain his current 6.94 hits allowed per nine innings. When the balls start landing in play, the WHIP will start flying up.
Who's Better: Derek Holland's 1.23 WHIP is nothing special, but the lefty has collected 157 strikeouts to 49 walks through 168 innings pitched. As his .307 BABIP falls a few ticks, so will his WHIP.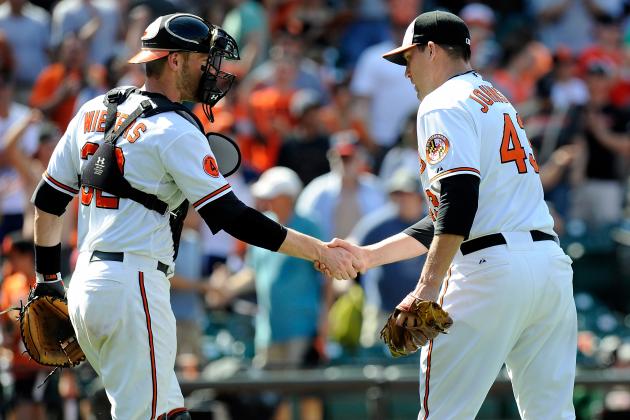 Greg Fiume/Getty Images
Jim Johnson saves a lot of games, but don't mistake that for him being a top closer.
The Misleading Stat: 39 Saves
Jim Johnson, who finished first with 51 saves last season, leads baseball again with 39 saves in 2013. This may lead some to believe he's the league's best closer.
Not even close. The way things are going, he might not even be a closer next month.
Johnson also leads the league with nine blown saves. He collected five saves in which he allowed a run last season, but he recently experienced the misfortune of squandering three consecutive one-run leads.
It happens to the best of them. Even Mariano Rivera recently relinquished three straight leads. Jim Johnson, however, is not the best of them.
His 3.62 ERA, 4.01 FIP, 1.34 WHIP and 6.91 K/9 rate are hardly the numbers you want from your closer. The Seattle Mariners banished Tom Wilhelmsen from the ninth inning due to his 3.76 FIP, 6.65 K/9 rate and 1.27 WHIP.
Johnson has amassed the most saves because the Baltimore Orioles have gifted him the most save opportunities. It's that simple. And don't go thinking there's a science to projecting save opportunities, as this year's mashing Orioles are a far cry from the team that won a slew of one-run games in 2012.
Remove the saves from Johnson's name and he's a highly replaceable relief pitcher in danger of losing his roster spot. According to FanGraphs' WAR, 131 relievers have been more valuable thus far.
Who's Better? Teammates Darren O'Day, Francisco Rodriguez and Brian Matusz are all more effective options. With a 0.98 WHIP, Casey Janssen does not receive nearly enough respect because he has received only 24 save opportunities.