Who Has More to Prove During the 2013 FedEx Cup: Tiger Woods or Rory McIlroy?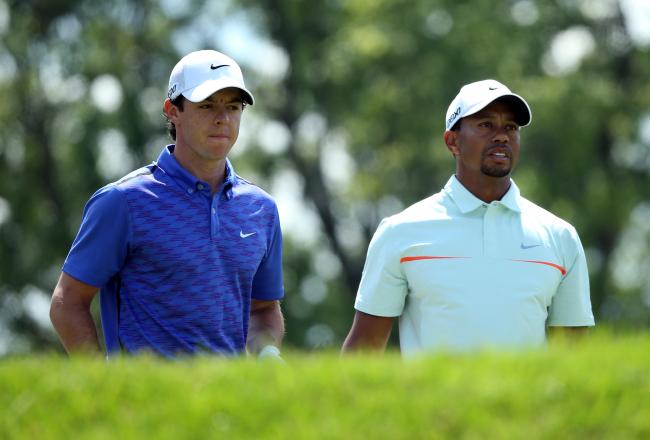 The world's top two players, Rory McIlroy and Tiger Woods, had very different 2013 seasons.
Andrew Redington/Getty Images
Seven months ago, Tiger Woods and Rory McIlroy went off to the Middle East in search of riches and a desire to get 2013 off to a start befitting the top two players in the world.
Woods was ranked No. 2 in the world, coming off a 2012 season in which he won three times, finished in the top 10 nine times and earned $6,133,158.
McIlroy was No. 1 (he's now No. 3) and was coming off a monster season, having won his second major and three of his last five starts.
He won $8,047,952 on the PGA Tour and won the Order of Merit on the European Tour as well.
The golf world waited breathlessly for the two to ignite what was hoped to be an explosive rivalry, which was sorely missing from the game.
Something happened on the McIlroy side of the rivalry. A problem developed with his ignition system and instead of rocketing off, he has sat idly by on the launch pad.
As when the season began, McIlroy comes into the FedEx Cup with much to prove.
2014 Masters odds are out, Tiger Woods, Phil Mickelson and Rory McIlroy lead ... http://t.co/qSnN2yUMvM

— Rory Mcilroy (@McilroyUpdate) August 14, 2013
His early-season crash and burn—which really began with the wholesale change of equipment in his bag as a result of a multi-million dollar deal with Nike, a burgeoning relationship with tennis star Caroline Wozniacki and round after round of subpar play—finally resulted in some on-course bad behavior.
McIlroy walked off the course in the middle of the Honda Classic and bent at least a couple of irons in frustration.
A pair of ties for eighth, the most recent coming in last weekend's PGA Championship, have brightened his prospects a bit.
Meanwhile, in the Woods camp, five wins, seven top-10s and $7,687,119 in earnings this year have put him solidly back in the driver's seat in golf, even though the only threat to him never really got out of the "hoped for" stage.
The only thing Woods has to prove at all—the majors—is a moot point for 2013. He failed for the fifth straight season to win one of golf's four most prized championships, dating back to June of 2008 when he won the U.S. Open at Torrey Pines.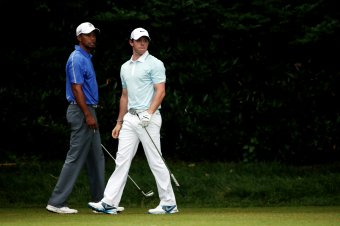 Andrew Redington/Getty Images
He remains at 14 in his quest to break Jack Nicklaus' record total of 18 major victories.
The rest of the season for Tiger? He will play most, if not all, of the FedEx Cup events and the Presidents Cup.
Those would not qualify as meaningless for Tiger, but they don't really rock his excitement meter, either.
The FedEx Cup, combined with the Tour Championship, is a wonderful money grab for the players but is not what Woods structures his season around.
He's never been overly enthusiastic about team competitions like the Ryder Cup and Presidents Cup, but he has warmed up to them as he's gotten older.
Having said that, the Ryder Cup holds a higher position in Woods' hierarchy than the Presidents Cup.
McIlroy, on the other hand, faces all the pressure in the FedEx Cup. Obviously, to be viewed once again as one of the game's elite, he needs to play better.
More importantly, he needs to play better for himself. The young man lost a large chunk of his confidence early in 2013 and if he's regaining it back, it's only a fraction of what he lost.
If it's as simple as taking time to get comfortable with all of that new equipment, that would be an easy fix and would explain his mini-successes of late.
But, judging from afar, it's more than that. Becoming instantly mega-wealthy and trying to figure out how to build a relationship with a young lady while going through serious on-course issues and living up to lofty expectations is a lot for a 24-year-old.
That's why he's under the gun much more than Woods. McIlroy was on fire as the season came to an end last year. He won two of the playoff events, capping off his special season.
McIlroy needs to be special in the playoffs, and, even if he does so, it would only take the sharp edges off of what has been a very difficult season.
More importantly, it would get him back into a proper frame of mind and get his game back in shape for the 2014 season.
This article is
What is the duplicate article?
Why is this article offensive?
Where is this article plagiarized from?
Why is this article poorly edited?