Little League World Series Scores: Day 2 Results, Highlights & Recap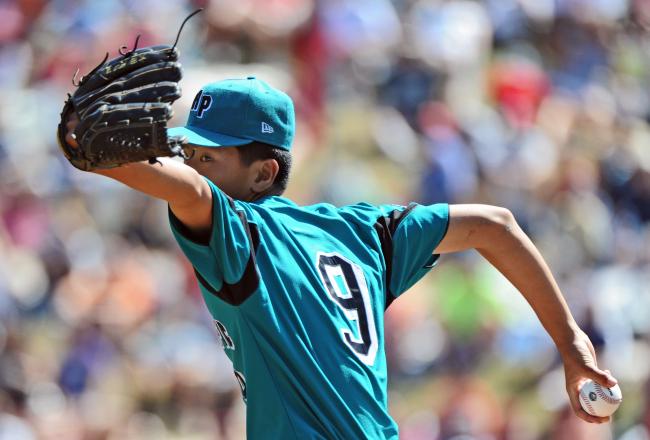 Drew Hallowell/Getty Images
After an exciting first day of Little League World Series action on Thursday, Friday's slate was kicked off by an impressive performance by one of the tournament's top contenders. Chinese Taipei certainly had its hitting shoes on as the perennial power blasted Canada by a 10-2 score to open its pursuit of a Little League World Series title in style.
Aside from the United States' overall win total of 32, no team has won the Little League World Series more times than Chinese Taipei. It has turned the trick on 17 occasions, which is nine more than Japan. Chinese Taipei's dominance has waned in recent years, though, as it has not left Williamsport, Penn. with a title since 1996.
If Friday's showing is any indication, though, Chinese Taipei is certainly on the right track. Chinese Taipei retired Canada in order during the top of the first inning, and it didn't waste any time getting on the scoreboard. Chinese Taipei broke the game open in the bottom of the first frame when Shih-Che Chou crushed a three-run home run to center field.
Chinese Taipei added to its lead in the following inning with another power display as Huai-Chien Lan hit a two-run homer to right, and put the Asian side up by a score of 5-0. Canada made things interesting in the fourth inning, though, as slugger Angus Adams hit a two-run home run of his own to pull the Canadians to within three runs of Chinese Taipei. This helped get Team Canada's fans involved in the game as well, according to Steve Argintaru of TSN.
Loud "Let's Go Canada" chant at the Little League World Series after a 2-run HR. Canada trails Chinese Taipei 5-2 in the 4th #TSN

— Steve Argintaru (@SteveTSN) August 16, 2013
Unfortunately for Canada, however, it failed to capitalize on the momentum it created. Chinese Taipei struck back in a big way during the bottom of the fourth as it tacked on five insurance runs. Following an RBI double by Lan, Ching-Fong Yu drove two in with a double of his own. Tung-Jua Yeh put an exclamation point on Chinese Taipei's hit parade with a two-run bomb as well.
That score held steady throughout the remainder of the contest as Chinese Taipei pushed Canada to the brink of elimination in this double-elimination tournament. While Chinese Taipei's offense may be able to carry it through the Little League World Series, its pitching shouldn't be shortchanged either.
Yeh, Teng-Yao Yu and Chou combined to give up just five hits in six innings. Yeh was particularly impressive as he earned the start, and gave up just one hit and no runs while striking out four in three innings of work.
Canada's Little League World Series run is far from over, but there is no doubt that it will have to play significantly better if it wants to avoid being sent home early.
Chula Vista (California) 3, Grosse Pointe (Michigan) 0
In our second game, Eastlake of Chula Vista, California defeated Grosse Pointe, Michigan by a score of 3-0. It was a dominant pitching display for Grant Holman, who threw a complete game no-hitter en route to an opening round shutout for a legitimate American contender.
Patrick Archer chipped in two RBI and Micah Pietila-Wiggs added the other for a Chula Vista team that was on fire leading up to the event. In the end, however, it was Holman who stole the show with a pitching performance to remember.
Not only did he throw a complete game no-hitter, but Holman struck out 13 of a possible 21 batters. This was as dominant as you could ask him to pitch, and it was right in line with what Chula Vista did to get to this stage.
INCREDIBLE! California P Grant Holman throws extra-inning no-hitter vs. Michigan in Little League World Series. Final line: 7 IP, 13 K.

— SportsCenter (@SportsCenter) August 16, 2013
Prior to the Little League World Series, they outscored Arizona and Northern California by a combined 17-1 to win the West Region. This outing simply confirms the belief that Chula Vista can pitch with the best teams in the world.
For Grosse Pointe, their bats must wake up, but their pitching staff played quite well. Chad Lorkowski threw 6.0 high-quality innings, picking up 12 strikeouts and landing 17 first pitch strikes to keep Grosse Pointe in this game.
Unfortunately, his solid game came on the same day as a legendary one. That's the reason for their defeat, but not necessarily an indictment of their future. Grosse Pointe can still turn this around, but only if they act fast.
As for Chula Vista, they've officially become a team to beat. The rest of the teams in South Williamsport, Pennsylvania have been put on notice.
Check back here throughout the day for updates on all of Friday's Little League World Series action.
Tokyo (Japan) 7, Brno (Czech Republic) 3
Japan is back at the Little League World Series and, in their first game, they looked like the power we know them to be. Behind a balanced effort with the bats, Japan struck early and never looked back as they took a convincing 7-3 win over Brno, Czech Republic.
Japan scored three runs in both the first and second innings, using a flurry of extra base hits to build up the score. From there, six separate Japanese pitchers took the mound to preserve the lead and give Tokyo an early win.
Just like that, we were reminded of who the favorite is.
Kazuki Ishida scored the first run of the game and then turned in a home run and two RBI to complement his first inning double. Kyousuke Kobayashi added two RBI of his own to facilitate Japan's victory. Ishida was also the winning pitcher, with Kobayashi providing help in relief.
For Brno, this is hardly the end of their run in South Williamsport, as they did play a gutsy game. Despite falling down 6-0, they bounced back with two runs in the third inning and cut the lead to 6-3 during the fifth, but it was too little, too late.
Even still, Daniel Stoudek's two RBI performance was impressive against such a revered opponent. With past success in Europe behind them, there is reason to believe Brno will turn things around in future games.
If they do, they'll need to do it before it's too late. As for Japan, they're one game closer to becoming the two-time defending country at the Little League World Series.
Newark (Delaware) 5, Urbandale (Iowa) 3
In one of the most competitive games of the tournament thus far, Newark of Delaware outlasted Urbandale of Iowa 5-3. Joseph Davis picked up the win for Newark, striking out five in 4.2 innings of quality work, with Nathan Hardcastle picking up his first save of the event.
Hardcastle also drove in a run for Newark, with Jared Owens batting in two and Jack Hardcastle, Eric Ludman and Ryan Miller each picking up one RBI. With five of their six runs coming in the first inning, Newark had enough for their pitching staff to hold on for the W.
Newark will now move on and continue their hunt for the title, while Urbandale will look to play it's way back into things.
For Urbandale, it managed two first inning runs, but simply didn't have enough to complete the comeback. Brady Roberts had a strong effort for Urbandale, pitching well and driving in a run,thus serving as one of the better two-way players of the day. If he continues those efforts and Urbandale's supporting cast wakes up, they may just bounce back and continue competing.
Until then, however, it's Newark who advances.
Follow @MikeChiari on Twitter
This article is
What is the duplicate article?
Why is this article offensive?
Where is this article plagiarized from?
Why is this article poorly edited?