UFC Lightweight Reza Madadi Sentenced to 18 Months in Prison on Friday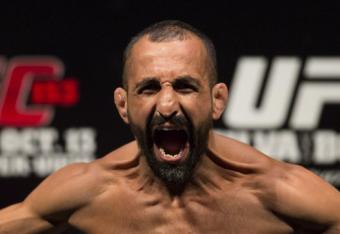 photo courtesy of the Associated Press/AP

UFC lightweight Reza Madadi was convicted and sentenced by a court in Sweden on Friday after his involvement in a smash-and-grab robbery of some very expensive handbags from a store in his home country.
Madadi had been on trial for his role in the robbery, which resulted in the theft of more than $150,000 worth of merchandise.
On Friday, a judge sentenced Madadi to 18 months in prison for his role in the crime.
According to court documents as first reported by MMANytt and MMAFighting in Sweden, Madadi was one of three men who wore masks as they approached a store called Bottega Veneta at 5:01 a.m. on the night of May 24.
The group smashed the window of the high-end store and stole expensive handbags, which were transported quickly to a waiting car before they sped off into the night at 5:05 a.m.
When police caught up to Madadi, he claimed innocence for any involvement in the crime, but police found glass fragments on his clothing that matched the shattered glass from the store the handbags were stolen from.
Madadi was arrested and placed in custody, where he spent the past two months awaiting the start of his trial.
Because of the high value of the property that was stolen and the nature of the crime, the judge in the case ultimately sentenced Madadi to one year, six months in prison. He has until September 6 to appeal the verdict in the case.
Madadi had a fairly successful UFC career until he was arrested and charged in the handbag theft.
During his time with the promotion, Madadi went 2-1 overall, picking up wins over Michael Johnson and Yoislandy Izquierdo, while his only loss came by way of a controversial decision to former Ultimate Fighter competitor Cristiano Marcello.
The UFC has not made any formal announcement about Madadi's future with the promotion, and whether or not they decide to release the lightweight fighter remains to be seen.
Madadi will remain in custody, and it's unknown at this time if he will seek an appeal for the sentence handed down on Friday.
Damon Martin is a Featured Columnist for Bleacher Report
This article is
What is the duplicate article?
Why is this article offensive?
Where is this article plagiarized from?
Why is this article poorly edited?