New York Yankees third baseman Alex Rodriguez continues to play as he awaits the appeals process for his 211-game suspension handed down by Major League Baseball. That doesn't sit well with John Lackey of the rival Boston Red Sox.
The veteran starting pitcher doesn't think Rodriguez should be allowed to keep helping the Yankees as the situation gets resolved, reports Peter Abraham of the Boston Globe. The star infielder is hitting .278 with a home run in nine games since his return from injury.
Lackey doesn't believe it's fair that Rodriguez is on the field.

"I've got a problem with it. You bet I do," Lackey said on Thursday. "How is he still playing? He obviously did something and he's playing. I'm not sure that's right . . . It's pretty evident he's been doing stuff for a lot of years I've been facing him."
Lackey also said Rodriguez is a topic of conversation in the Boston clubhouse.
"Sure, we talk about it," he said. "But talking to the media about it is a little bit different. People have strong feelings.

"He took me deep the first time I faced him as a rookie, and he admitted to doing stuff back then. There are a lot of things I want back from him."
The league suspended Rodriguez for his role in the Biogenesis scandal. While the other implicated players decided to accept their suspensions, Rodriguez decided to appeal his harsher punishment, allowing him back on the field in the meantime.
Although he hasn't been tearing the cover off of the ball, he still represents the best available option for the Yankees at third base—a weak spot during his absence. New York arrives at Fenway Park for a key series starting Friday night.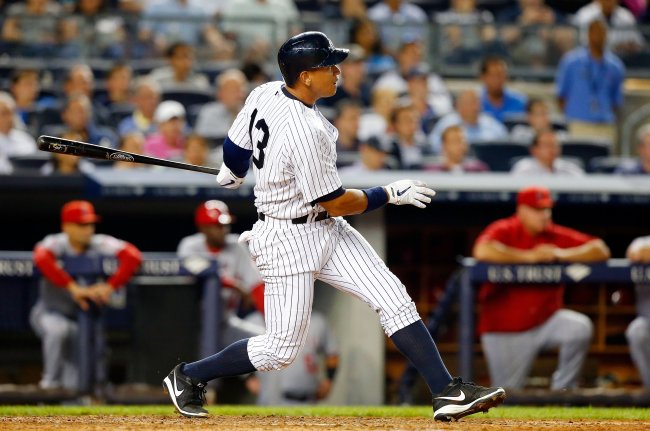 Jim McIsaac/Getty Images
While Lackey isn't pleased with Rodriguez's presence, Ryan Dempster, a fellow member of the Red Sox starting rotation, told the Boston Globe he accepted the process:
That's the reality, right? He has the right to appeal. What I want to see is more of a punishment. If you get caught a second time, take it to the house. You're suspended for life.
Should A-Rod be allowed to play during his appeal?
At the end of the day, that's the bottom line. Rules are rules. Under the current agreement, Rodriguez is able to keep playing until the appeals process is complete, no matter what his fellow players think about the lingering issue.
Even though Lackey probably isn't alone in his thoughts about the subject, which has rocked baseball yet again, A-Rod was within his rights to appeal.
Lackey is scheduled to take the mound for the Red Sox on Saturday afternoon against Rodriguez and the Yankees, adding a little fuel to an already tense rivalry.