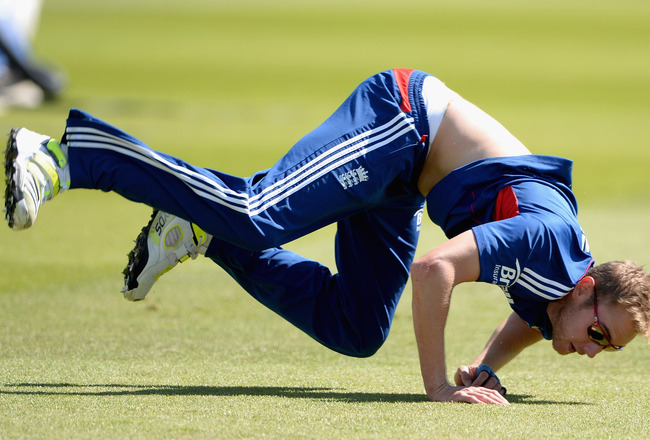 Gareth Copley/Getty Images
Now I'm not saying that I'm a regular Ryan Hall or Dean Karnazes, but I have run a combined 20 half or full marathons, so I'd like to think that I know good form when I see it.
And though I'd never even think about racing against someone like Usain Bolt, I'd more than love to try my luck against some of these other athletes, who really struggle with what seems to be the simplest thing a player needs to do.
For all the heavy lifting, two-a-day practices and grind of a long season, it's pretty funny (and a bit humiliating) that these guys just can't seem to move their legs the proper way.
Honorable Mention: Prince Fielder
Although Tigers first baseman Prince Fielder hasn't had any major fails when rounding the bases, if you've ever seen the dude haul, you know it's an adventure.
I give him an A for effort, but the whole runaway beer truck thing isn't really all that successful in professional sports.
This Poor High School Kid
I'm not sure if this kid got confused and forgot that he was competing in track and not America's Got Talent, but I can appreciate his creativity after biting it during a track race.
Even more impressive is that he actually worms his way across the finish line—which has to be a first for someone to do, right?
Take that, Usain.
The Former Fausto Carmona (Roberto Hernandez)
As an Indians fan, I can't tell you how surprised I was when former Tribe pitcher Fausto Carmona (now Roberto Hernandez pitching for the Rays), was found to have lied about his identity.
Just as shocking though, was his attempt at running, which was less than stellar in during this game against the Reds a few years ago.
Laying down a bunt can be difficult enough for some pitchers, so asking them to do that and truck it out of the box proved to be too overwhelming for ol' Fausto.
Gloucestershire Cheese Rolling Contestants
Are these people really athletes?
I'm not too sure, but I'd like to think that they'd have to be in some decent shape to subject themselves to running after a roll of cheese down a steep hill.
The Gloucestershire Cheese Rolling race is an annual event where people basically know that taking a tumble is going to happen.
So while they might not be awful runners normally, there's no way in hell they keep their balance when chasing that cheese.
Nick Swisher
In a close game a couple weeks ago against divisional foe Detroit, the Indians Nick Swisher didn't exactly help cut into the team's deficit on this attempt to score.
Falling flat on his face—when down two in extra innings—was a bad look.
A day prior, Swisher again showed that running wasn't a strength of his, as he pooched a ball down the third base line and got tagged out without even attempting (2:00 minute mark) to move towards first base.
Vick Ballard
As most of us know, the NFL Combine is the biggest job interview for potential prospects, as guys can either stand out or get shut out based on their performances.
So you've really got to feel for running back Vick Ballard after seeing him go down during the crucial 40-yard dash.
Ballard may have tripped up here during a heat at the 2012 combine, but it didn't seem to hurt him too much, as the Colts selected the former Mississippi State running back in the fifth round that year—and it actually turned in a nice rookie year.
Wonder if he would have gone higher without this fail though?
Pablo Sandoval
With a nickname like "Kung Fu Panda," it seems as if everything Giants third baseman Pablo Sandoval does just has to be funny.
But I'm pretty sure he wasn't intentionally trying to grab some laughs after he was rounding second and fell on his stomach about halfway to third base.
If he was going for distance on a slip 'n slide, he'd have had great form. Unfortunately, that wasn't the case.
These High School Hurdlers
I honestly almost feel embarrassed for these poor high school girls in their attempt to jump the hurdles in this race.
What's even more surprising is that it's not just one girl who's having problems, but two that just can't get down the form of running and jumping.
Maybe they would be better at the 100-meter dash where there aren't any obstacles in the way?
Just a suggestion.
Shamarko Thomas
As I mentioned with Vick Ballard earlier, there's so much emphasis put on the 40-yard dash during the much-anticipated NFL Combine, that you'd have to think kids get so amped that it's tough to calm their nerves.
That seemed to be the case here with defensive back Shamarko Thomas, who thought that stretching across the finish to scratch as many tenths of a second as he could on his time was necessary.
As you can see, he hit the ground hard, face-planting at full speed, which had to have hurt both his face and his ego.
Ryan Braun
All those PEDs may have helped suspended Brewers outfielder Ryan Braun hit some more home runs, but it didn't seem to have helped his balance at all.
After cracking a ball deep into left center a few years ago against the Cardinals, Brauny was trying his best to grab that rare inside-the-parker.
Digging as deep as he could for 75 percent of the race to home, he stumbled a few times rounding third and got tagged out without much of a fight.
Hey, at least it gave his teammates something to get on his case about.
Eric Decker
Don't you just hate it when those damn yardage lines get in the way of wide open field?
Broncos wide receiver Eric Decker certainly did during a Monday Night Game against the Chargers last year, as he had a gimme, 85-yard touchdown taken away from him by the ugly arms of the field.
It was an embarrassing blooper that really hurt his team at the time before they were able to stage a comeback and win 35-24.
Now it's just something he can laugh at with his sexy wife, singer Jessie James.
Andre Smith
Former Alabama and current Bengals offensive lineman Andre Smith didn't shake the earth by falling during his 40-yard dash attempt back in 2009—thank goodness.
But, good lord, did he leave quite the awful impression by choosing to run the thing shirtless.

With so many things bouncing around, I was almost worried this video would fall under the NSFW category, but luckily my editors were OK with it.
This Korean Baseball Player
I have absolutely no clue who this guy is, but he has one of the best running fails I've ever seen before.
In what appears to be just a simple grounder to end an inning, the poor dude gets his cleat stuck trying to jog his way to first base, causing him to stumble and go down about halfway there.
Luckily for him, his helmet covers his face, saving viewers from seeing who this poor dude was.
Keep Reading
Load More Stories