The Miami Dolphins will kick off their third preseason game in Reliant Stadium on Saturday evening against the reigning AFC South champion Houston Texans.
This should be an intriguing NFL preseason showdown because starters typically play the most in Week 3. In the Dolphins' case, they opened with the Hall of Fame game against the Dallas Cowboys in Canton, Ohio, and thus have to play an extra game before the regular season starts.
It will be interesting to see what strategy Miami head coach Joe Philbin deploys. Conservatism should be prominent, though, considering the tenacity of the Texans defense.
As reported by CSNHouston.com's James Palmer, Houston's starters will play about a quarter, according to head coach Gary Kubiak:
Kubiak says that starters should play about a quarter of football on Saturday against the Dolphins. #Texans #Texanstalk

— James Palmer (@JPalmerCSN) August 15, 2013
Dolphins quarterback Ryan Tannehill made his NFL debut last season in Houston, throwing three interceptions in a 30-10 loss. Even without exotic schemes deployed by Texans defensive coordinator Wade Phillips, Tannehill is out to prove himself against an elite defense.
Let's take a closer look at when the action gets underway, what the oddsmakers are thinking with regard to the game's outcome and more on how the showdown will play out.
B/R's experts break down the best- and worst-case scenarios for the Miami Dolphins.
Where: Reliant Stadium in Houston
When: Saturday, Aug. 17 at 7:30 p.m. ET
TV: See Local Listings (h/t 506Sports.com)
Dolphins affiliates:
WFOR 4 (CBS – Miami)
WTVX 34 (CW – West Palm Beach)
WBBH 2 (NBC – Fort Myers)
WRDQ 27 (Orlando)
Texans affiliates:
KTRK 13 (ABC – Houston)
KSAT 12 (ABC – San Antonio)
KVUE 24 (ABC – Austin)
KAGS 23 (NBC – Bryan)
KETK 56 (NBC – Tyler)
KJAC 12.2 (NBC – Beaumont)
KZTV 10 (CBS – Corpus Christi)
KFXV 2 (FOX – Brownsville)
KXOF 39 (FOX – Laredo)
KIDY 6 (FOX – San Angelo, Texas)
KPEJ 24 (FOX – Odessa, Texas)
KTSM 9 (NBC – El Paso)
WNTZ 48 (FOX – Alexandria, La.)
Live Stream: NFL.com (subscription required)
Betting Line: Texans -3 (h/t Bovada)
B/R's experts break down the best- and worst-case scenarios for the Houston Texans.
Injury Updates
Miami via CBSSports.com: WR Rishard Matthews (undisclosed), DL Randy Starks (knee), DB Jamar Taylor (hernia).
Houston via HoustonTexans.com: WR DeVier Posey (Achilles), LB Trevardo Williams (foot), NT Chris Jones (calf), G Ben Jones (illness).
Dolphins Player to Watch: Dion Jordan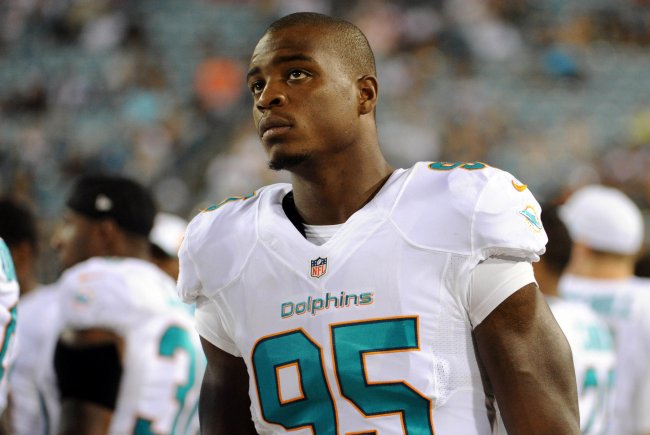 Melina Vastola-USA TODAY Sports
GM Jeff Ireland boldly traded up to acquire the former Oregon star with the No. 3 overall pick. Even though Jordan's versatility and slender frame was thought to have translated better as a 3-4 outside linebacker, he will clearly be playing defensive end in South Beach.
When discussing Jordan in a recent interview, Ireland noted that he likes the rookie's work ethic but that he still has a long way to go in adjusting to the pro game:
Philbin said Dion Jordan is still entering the "Brave New World" of the NFL. Praised work ethic but still adjusting to pro ranks

— SiriusXM NFL Radio (@SiriusXMNFL) August 14, 2013
#Dolphins GM Jeff Ireland: Dion Jordan is a great athlete but we need to get him back on field...needs more work before season. #SXMSports

— SiriusXM NFL Radio (@SiriusXMNFL) August 14, 2013
Jordan was at a bit of a disadvantage from the start by undergoing offseason shoulder surgery, beginning training camp on the injury list.
Armando Salguero of the Miami Herald remarked how the standout first-year players are kicker Caleb Sturgis and CB Will Davis—with no mention of Jordan thus far:
Incredible that at this stage in camp K Caleb Sturgis is #dolphins most impressive rookie with CB Will Davis second.

— Armando Salguero (@ArmandoSalguero) August 12, 2013
It has to be frustrating for the organization not to see a more immediate return out of the investment in Jordan, who played just seven snaps in the last preseason contest in Jacksonville.
The Sun-Sentinel's Omar Kelly documented comments by defensive coordinator Kevin Coyle, who indicated that there are three weeks of training camp left, but that Jordan isn't pushing Oliver Vernon for a starting defensive end spot.
Jordan's role for Saturday is unclear, but all eyes will be on him whenever he does take the field.
Texans Player to Watch: DeAndre Hopkins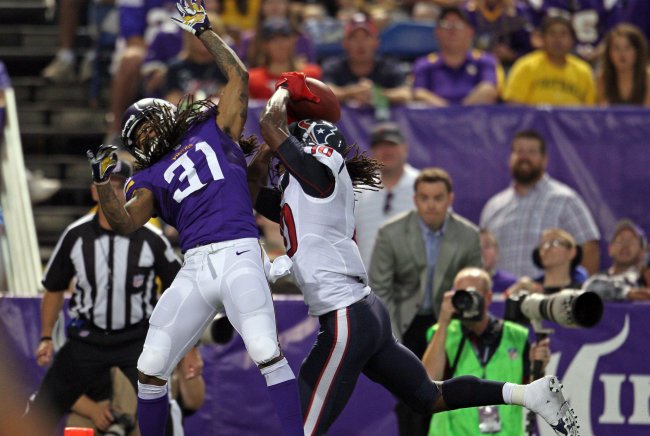 Brace Hemmelgarn-USA TODAY Sports
Let's stick with the first-round rookies here, and in Hopkins' case, it's more of a hopeful narrative.
Hopkins is expected to fill in as the No. 2 wide receiver opposite Andre Johnson, who the Texans have been longing for. In the last game against the Minnesota Vikings, the promising wideout, Hopkins, snagged his first NFL touchdown on a brilliant catch:
D.J. Swearinger, the team's second-round pick this year, and B/R expert Matt Miller have been impressed with Hopkins thus far:
"He's a beast, man. That TD the other night was not a surprise to me." -@JungleBoi_Swagg on @Nukdabomb

— Houston Texans (@HoustonTexans) August 12, 2013
Very talented down-field receiver. Can be an instant producer. RT @KSteele711: what's your thoughts on DeAndre Hopkins?

— Matt Miller (@nfldraftscout) August 14, 2013
The outstanding ball skills Hopkins innately possesses were on display in his outstanding scoring play. He's coming off a monster final year at Clemson in which he grabbed 82 passes for 1,408 yards and a whopping 18 touchdowns.
Having that nose for the end zone is something that could help Houston significantly, as the offense was 14th in the league in 2012 in percentage of touchdowns only from the 20-yard line, per TeamRankings.com.
A revamped Dolphins secondary features Brent Grimes and Richard Marshall as starting corners who will likely be getting help with coverage shading more toward Johnson.
Those one-on-one matchups are what got the Vikings burned on Hopkins' touchdown last Friday, and it wouldn't be surprising to see something like that happen again.
Prediction
Brace Hemmelgarn-USA TODAY Sport
Despite T.J. Yates playing relatively well and hitting Hopkins for a touchdown last week, it will be Case Keenum who will be the No. 2 QB on Saturday, per CBS Houston.
Who will win the Texans' No. 2 QB job?
The former University of Houston superstar is getting a big opportunity to be a mainstay in the same city he passed for over 19,000 yards as a collegian.
Having that type of depth at quarterback should keep the Texans offense running smoothly throughout, and the home crowd will definitely help as well.
It's difficult to tell how good the Dolphins' first-team defense is since the Cowboys were without Tony Romo at quarterback in the preseason opener, and the incompetence of Jaguars QB Blaine Gabbert was in full effect.
The tone should be set by the Texans defense early, with Tannehill likely facing heavy pressure due to shaky blocking up front—not the least of which from suspect left tackle Jonathan Martin.
Houston won't have much of a problem in disposing of the Dolphins in the friendly confines of Reliant Stadium.
Final score: Texans 31, Dolphins 20