Pittsburgh Steelers' Most Intriguing Preseason Stats So Far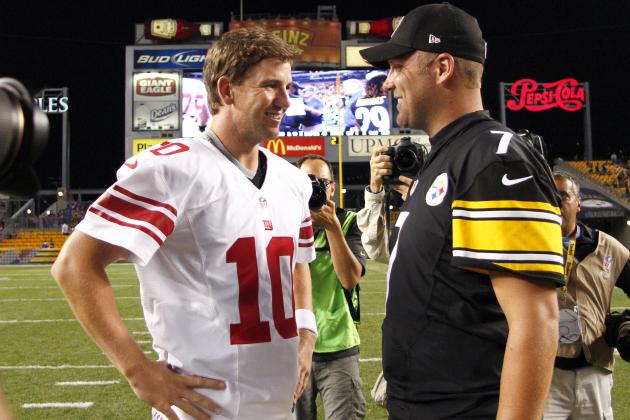 Justin K. Aller/Getty Images
Roethlisberger and Manning exchange pleasantries during Saturday's game.
The Pittsburgh Steelers may have only played one preseason game so far, but the stat line says a lot about what needs to be improved upon in the future.
Pittsburgh lost, 18-13, to the New York Giants on Aug. 10. It was a game full of uncharacteristic miscues and a general feeling that a lot of rust needs to be shaken off those black and gold uniforms.
There were definitely some positive things that came out of the game. A lot of the young players looked good, and the veterans did not seem overmatched.
And as always, one preseason game will not determine the course of the Steelers' 2013 season. Certain players (cough Landry Jones) definitely could use a mulligan or two.
But as it stands, the positive buzz coming out of Steelers training camp was put on hold as the team's flaws were exposed. Hopefully, we will see improvement on Monday as the Steelers travel to FedEx Field to take on the Washington Redskins.
For now, all we can do is analyze the stats from the last game to point out Pittsburgh's brightest spots and most gaping holes.
Begin Slideshow

»
Justin K. Aller/Getty Images
The Steelers earned yards, but could not convert their hard work into touchdowns.
For a team that ranked 21st in total offensive production last season, only mustering 13 points with no offensive touchdowns was not encouraging. Averaging 3.4 yards per play is unacceptable for a team looking to boost its offensive prowess.
The points came from two Shaun Suisham field goals and a fumble recovered in the end zone by Adrian Robinson. Seeing the Steelers convert turnovers to points is a sight for sore eyes, but the Steelers could have easily won this game if anyone on the offensive end could have made a splash.
The quarterbacks did not particularly impress, including Ben Roethlisberger. He was alright, going 4-of-8 for 36 yards. As a point of comparison, Eli Manning was 2-of-5 for 73 yards.
That might have more to do with both team's defenses (which we will discuss later), but no quarterback ever wants to end a game with worse statistics than his opponent.
Bruce Gradkowski, Landry Jones and John Parker Wilson were fine, nothing more. They still look like a better backup squad than Byron Leftwich and Charlie Batch, but it would have been nice to see one of them lead a drive that ended in a touchdown.
Jones looked the worst. His 5-of-9 for 48 yards stat line is not terrible, but the fumble he lost in the end zone for a safety was all on him. He better be having a monster week in practice to erase that memory from coach Mike Tomlin's head.
As for the rest of the offense…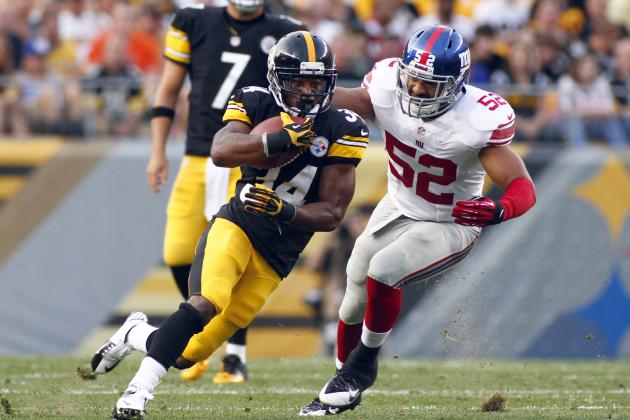 Justin K. Aller/Getty Images
Stephens-Howling was in top form on Saturday.
Pittsburgh's ground game actually looked pretty serviceable against the Giants. The Steelers rushed for 94 total yards, which, while not amazing, is a small step in the right direction.
Doing all this without Le'Veon Bell, who sat out because of a sore left knee, is an even better sign. So which running back looked the best?
Surprisingly, it was not Jonathan Dwyer or Isaac Redman. LaRod Stephens-Howling rushed for 40 yards on seven carries and looked much more comfortable than his competition.
In retrospect, this makes perfect sense. Stephens-Howling spent his college career playing at Heinz Field for the University of Pittsburgh, so it is no wonder he had success upon his return.
Bell is still presumed the starter. But if Stephens-Howling can help the rookie's load, Pittsburgh's ground game could become dangerous again.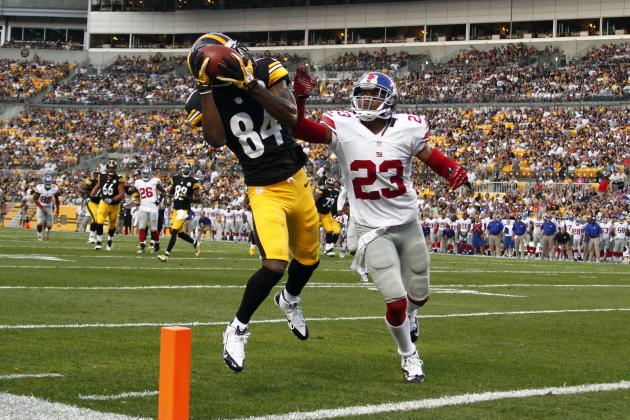 Justin K. Aller/Getty Images
Don't be fooled: Brown did not catch that ball.
Again, this is only the first game of the preseason. But the fact Pittsburgh's top receiver finished a game without a catch is a problem.
With the departure of Mike Wallace, Antonio Brown and Emmanuel Sanders became the new dynamic receiving duo for the Steelers. Sanders ended the game with three catches on three targets for 27 yards.
Brown was unable to haul in any of the three passes that came his way. It is way too early to consider this a red flag, but Brown is better than this.
He is an explosive receiver who is more than capable of matching Wallace's production. He needs to show it on the field going forward.
To be fair, Sanders is more of a slot receiver, which allowed him to catch balls on shorter routes where he had room to run. Brown has more room for error as the big-play threat.
The rest of Pittsburgh's receiving corps performed well, with Justin Brown leading the bunch with four receptions for 32 yards. Overall, there is room for improvement (mainly from Brown) with even more room for hope.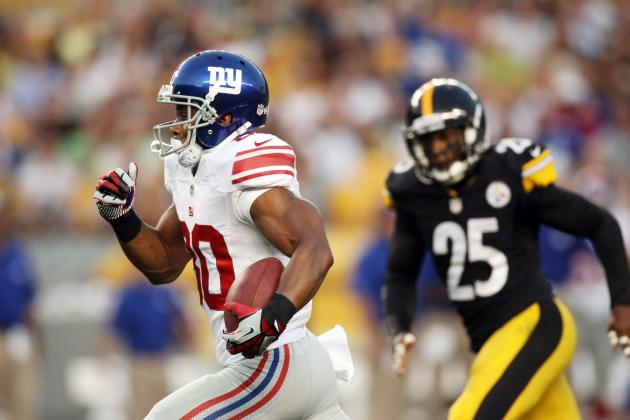 Jason Bridge-USA TODAY Sports
Cruz cruised his way to that 57-yard touchdown.
Pittsburgh rarely allows big plays. The "Steel Curtain" prides itself on limiting its opponents to tough, grind-it-out yards.
Whatever allowed Cruz to get behind the entire Pittsburgh defense needs to be fixed immediately. Hopefully, it is not a sign that the secondary is finally starting to act its age.
Cruz blew past William Gay and Troy Polamalu. Manning did throw him a perfect pass and led him in stride, but that does not excuse the lapse in defensive concentration.
Cruz did not even bother doing a full version of his salsa touchdown dance. He said he did not want to put his all behind it during the preseason, but it would hurt my pride to see someone who just destroyed me be so unenthusiastic he is not even willing to celebrate properly.
This was the only offensive touchdown either team allowed, so it is not like Pittsburgh's defense was getting torched all day. Plus, Gay is a natural nickelback and was only playing cornerback due to Cortez Allen's injury.
As long as plays like this do not become the norm, this should not be a persistent problem. But it was an uncharacteristic big play the Steelers defense cannot afford to give up again.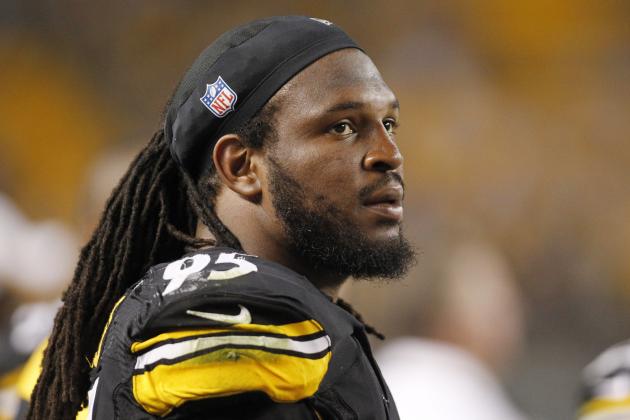 Charles LeClaire-USA TODAY Sport
Jones made an impression during his first NFL game.
Jarvis Jones did not have the flashiest NFL debut ever. He only managed to rack up two tackles, though one did show an ability to get by blockers and make a play.
What Jones can hang his hat on was the ball he recovered off an Andre Brown fumble. It was probably more of a case of being at the right place at the right time than anything else, but sometimes it is better to be lucky than good.
The one thing he did not do was provide a compelling reason for taking Jason Worilds' starting job at outside linebacker. Worilds ended the game with three tackles, a sack and a quarterback hat—not too shabby.
So feel good about that fumble Jones. It might earn you an extra snap or two in the future.
Really special teams? Really?
You guys have two jobs on punts: protect the punter and then rush down the field and try to block for the punt returner.
There is no excuse for allowing Damontre Moore to come in and form a human wall in front of Drew Butler. The poor guy never stood a chance.
Of all the issues the Steelers have, special teams was probably the farthest from anyone's minds. Well, now it is front and center.
New special teams coach Danny Smith better whip this unit into shape if he does not want to invoke Tomlin's wrath.
So special teams, just do your jobs. Become something the Steelers can look to for consistency instead of another problem.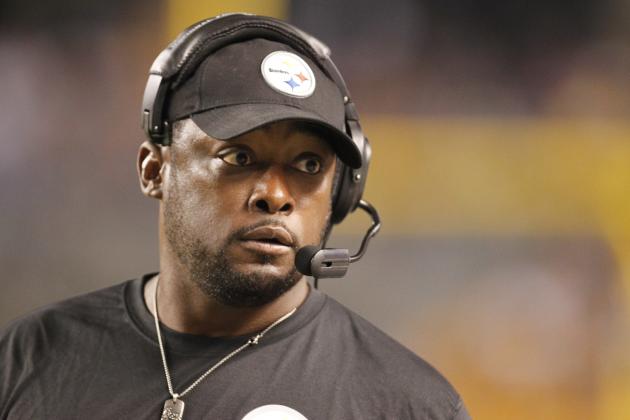 Charles LeClaire-USA TODAY Sport
Tomlin could not have been happy with Saturday's performance.
Yes, we already established that the Giants won the game, 18-13. The numbers that determine victory and defeat are always the most important, and, in this case, they do not favor the Steelers.
An 8-8 2012 season should have been enough to put a chip on the team's collective shoulder. Frankly, the Steelers did not play like a team with something to prove.
Between the Cruz touchdown, special teams gaffe, seven penalties and only mustering 218 yards of total offense, it is no wonder the Steelers lost.
The worst part: The Giants looked just as sloppy at times. There was no reason the Steelers' second- and third-stringers could not get a preseason win to improve the morale of everyone in Pittsburgh.
The Steelers are always in danger of becoming complacent. Veteran teams with a championship pedigree tend to have to work harder to stay motivated than younger, hungrier teams.
As a diehard Steelers fan, I will always root for a black and gold victory.
But maybe the Steelers could use a few preseason losses to wake them up to the fact they need to work harder than ever before to remain competitive in 2013.