Stat Projections for Each Dallas Mavericks Offseason Addition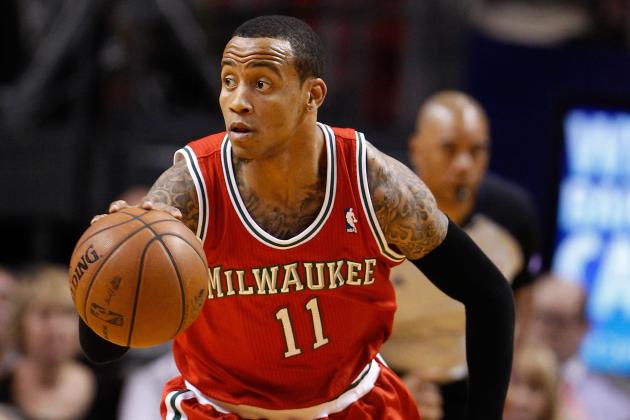 Robert Mayer-USA TODAY Sports

The Dallas Mavericks are the definition of a "new-look team" as they head into the 2013-14 season.
They brought in six "impact" free agents, ranging from Monta Ellis and Jose Calderon to DeJaun Blair and Samuel Dalembert, and they will be looking to create a new identity with that new core of talent.
The focus of their upcoming season is clearly Ellis and his impact on a backcourt that struggled to produce consistently last year. However, there's no doubt that the Mavs have some serious chemistry to build as a collective unit before they contend in a packed Western Conference.
Even without a pre-season game under their belt, it's never too early to look at individual stat projections for the Mavs' offseason additions.
Begin Slideshow

»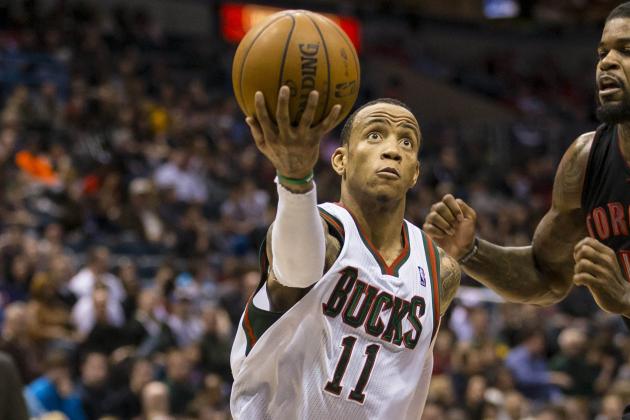 Jeff Hanisch-USA TODAY Sports

The story of Monta Ellis' life is "shoot first, think later".
So far that's worked out pretty well for him, averaging 19.4 points per game on 45.6 percent shooting from the field for his career.
Even with those impressive averages, it's safe to say that Ellis hasn't achieved his full potential. That's mainly because he's never played alongside another star player who can stretch the floor like Dirk Nowitzki.
In Milwaukee Ellis had Brandon Jennings as his right-hand-man, but that was like playing with a mirror image of himself. With Nowitzki by his side, Ellis will have a much easier time both creating offense for himself, and creating offense for his teammates.
The one thing that Ellis will have to adjust in his game to increase his production is to let opportunities come to him. All too often Ellis forces his pace on the game and it lowers his effectiveness and efficiency.
The good news for Ellis is that he has a point guard in Jose Calderon whose primary focus is creating offense for teammates—something that Ellis hasn't had consistently throughout his career.
If Ellis can understand his role in the Mavericks offense, as a true shooting guard and not a point guard, he'll be able to have a career year. It all depends on how patient he can be, playing with a legitimate star in Nowitzki and a true point guard in Calderon.
2013-14 Stat Projections: 36.5 MPG, 21.5 PPG, 5.5 APG, 3.5 RPG, 49.5 FG%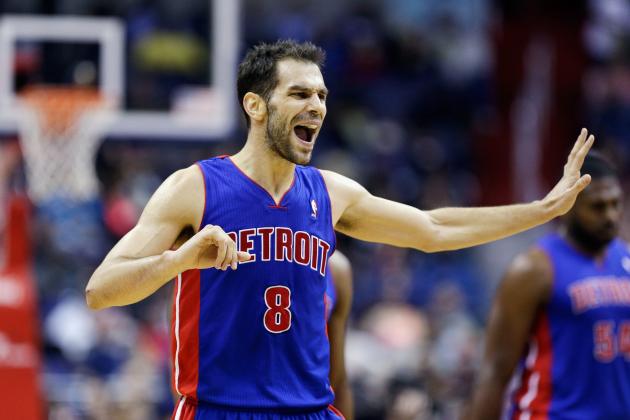 Rob Carr/Getty Images

What was the one thing Jose Calderon didn't have last year in Detroit? Legitimate talent to dish the ball to.
The good news for Calderon is that he won't struggle with that this year in Dallas, with guys like Dirk Nowitzki, Monta Ellis, Shawn Marion and Vince Carter.
The Mavericks need Calderon to do what he does best—create open looks for teammates. That will be the foundation of the success or failure for the Mavericks this season because Calderon isn't the most explosive scoring point guard in the NBA.
Pairing a pass-first point guard with Monta Ellis was a very wise move by the Mavs' front office. Not only will he help pace Ellis' offensive attack, he can also create opportunities for him that will enhance the Mavs' efficiency on offense.
In addition to being Ellis' on-court pace car, Calderon will also have the task of undoubtedly working the pick-and-roll with Dirk Nowitzki.
While that isn't necessarily the foundation of the Mavs' offense, it will be an important aspect of it, as Calderon will have to get Nowitzki the ball or create offense for himself, which isn't his strong suit.
With more talent than he had in Detroit I see Calderon's scoring decreasing, but his assists-per-game increasing. And that's what the Mavs need from him.
2013-14 Stat Projections: 29.5 MPG, 9.5 PPG, 9.0 APG, 2.5 RPG, 1.5 TPG, 47.5 FG%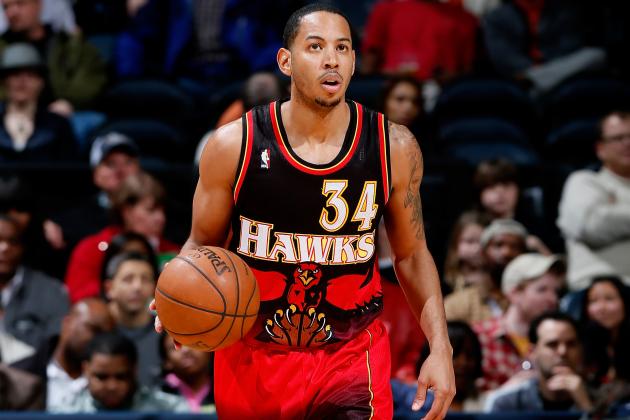 Kevin C. Cox/Getty Images

It's time for Devin Harris to go back to the team that got his NBA career started.
In his first four seasons with the Mavs Harris averaged around 10 points and 3.5 assists per game. That's exactly where he'll be at this season, mainly because the Mavs just can't give him the minutes he needs to increase that production.
With the additions of Monta Ellis and Jose Calderon, it's all but a guarantee that Harris' minutes will be in replacement duty behind Calderon.
He may get a little bit of time behind Ellis, but with Wayne Ellington on the roster showing some potential that's becoming less and less of a possibility.
Harris' minutes depends on his performance and how quickly Shane Larkin develops into a legitimate backcourt option for the Mavs.
Behind Calderon and Ellis, Harris should average right around the 20 minutes-per-game mark, which gives him a solid shot of making an impact and showing his value to the team.
When the season starts Harris will be the second-unit's leader and that's a tall task, because the Mavs aren't the deepest team in the league by any stretch of the imagination.
It's a great challenge for Harris, as it gives him a chance to show off his ability to be an impact player and also be the leader he can be.
2013-14 Stat Projections: 19.5 MPG, 8.5 PPG, 4.0 APG, 2.8 RPG, 48.5 FG%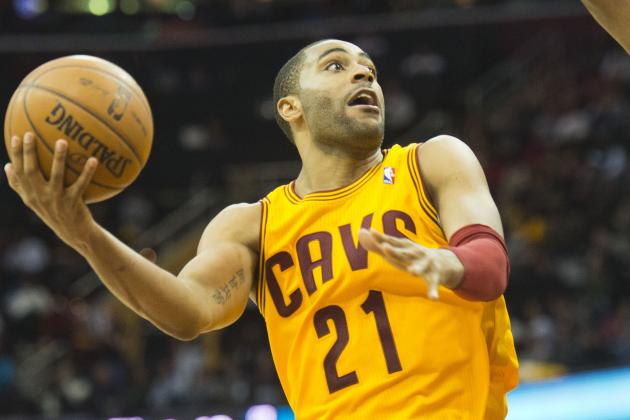 Jason Miller/Getty Images

The backup shooting guard gig is Wayne Ellington's to lose.
He showed some potential during the 2012-13 season, especially from beyond the arc, shooting 39.2 percent on the year.
With that being said, Ellington has a tough task of proving his true value on a Mavs' roster looking for a player who can be that "second unit spark" they've lacked recently.
The Mavs didn't sign Ellington to just be a deep threat, though. They signed him to fill a massive gap on their roster in the form of bench production.
Where his fellow shooting guard Monta Ellis needs to be a bit more patient with the way he plays this season, Ellington needs to do the opposite.
Coming off the bench, he will most likely be spending a majority of his time with Devin Harris and Vince Carter in the backcourt. That means he'll need to be aggressive to have an impact on the game.
Ellington can't wait for the game to come to him, because when he does that he minimizes his greatest asset, which is his athleticism off the ball.
I don't see his production increasing much past the 7.9 points per game average he had last year. In all honesty, it could decline because of the presence of Harris and his ability to play the shooting guard position as well.
2013-14 Stat Projections: 17.5 MPG, 7.0 PPG, 1.5 RPG, 0.5 APG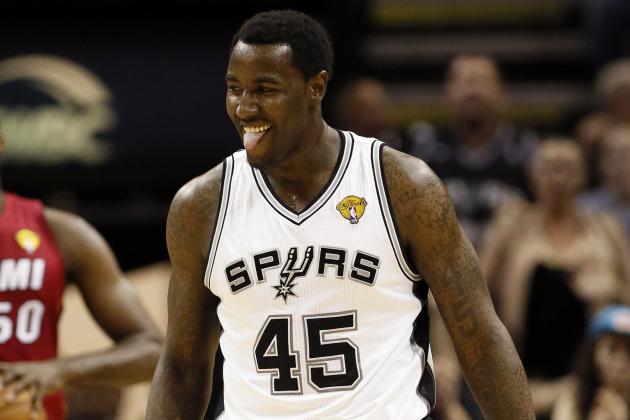 Soobum Im-USA TODAY Sports

DeJaun Blair finds himself in a very similar position to where he was with the San Antonio Spurs, behind not just one, but two players on the depth chart at the power forward position.
Luckily for Blair he has a lot more upside than Bernard James—the No. 2 guy at the center position—which means that he'll be able to get some time behind Samuel Dalembert sealing up the paint.
Blair has the potential to really turn Dallas upside down, and that's great news for the Mavs.
In just 14 minutes per game, he averaged 5.4 points and 3.8 rebounds per game, and that was on a team that didn't really utilize his talents to the fullest.
Not only will Blair's minutes increase this upcoming season, I also expect him to nearly double his production—mainly because of the Mavs' serious need for interior production.
All Blair needs is time on the court to show his true value, and luckily he'll have that shot because of Samuel Dalembert's tendency to get himself in foul trouble.
I wouldn't be shocked if by the end of the season Blair is averaging more minutes than Dalembert, because his "all hustle" style of play will spark the Mavs throughout the year.
2013-14 Stat Projection: 22.5 MPG, 10.5 PPG, 8.5 RPG, 55.0 FG%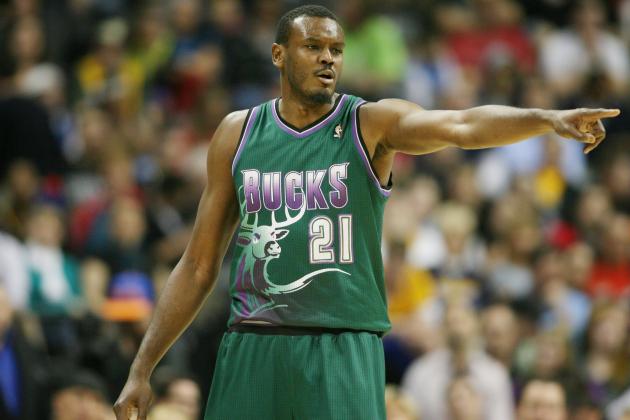 USA TODAY Sports

With the amount of free agents the Mavs signed out of Milwaukee I sure hope they had a rewards club card with them to pocket some loyalty points.
The second of the two Bucks signings for the Mavs, Samuel Dalembert, has a tall task ahead of him.
He needs to "own the paint" in every sense of the phrase. He needs to clean up the glass on both sides of the ball, and he needs to block and contest shots on a very regular basis.
If he doesn't do that, he'll have a tough time keeping his starting job with DeJaun Blair breathing down his neck.
While Dalembert typically does a great job of blocking and contesting shots, it also leads him to foul a bit too often—averaging three fouls per game last year. His tendency to foul means limited minutes and production from the seven footer, and that's bad news for Dallas.
With Dirk Nowitzki being a not-so-traditional power forward, the responsibility of interior offense and defense is really Dalembert's responsibility and that's too tall of a task for him.
He's a great compliment to a legitimate frontcourt player, but as "the interior guy" he's going to struggle and the Mavs will see that early on. Expect him to lose his starting gig to Blair as the season rages on.
2013-14 Stat Projections: 18.5 MPG, 5.5 PPG, 5.5 RPG, 1.0 BLKPG