WWE SummerSlam 2013: Simulating Confirmed Matches with WWE '13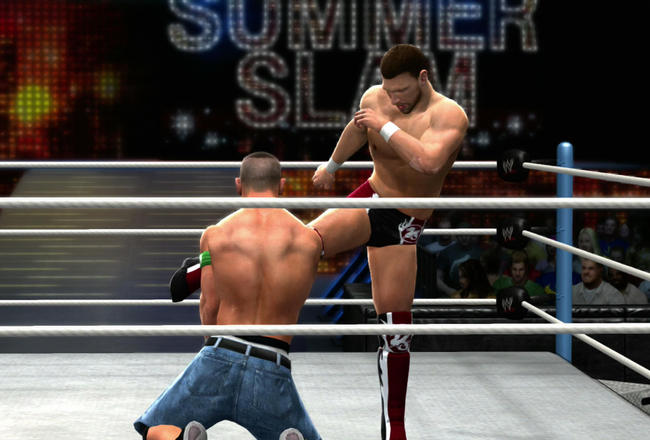 image from WWE 13

SummerSlam is perhaps the only wrestling pay-per-view event that comes close to WrestleMania. In the WWE, you always know the event is big when the title really should be two words, but it's sandwiched into one.
On Sunday, the 26th annual SummerSlam event will take place. The WWE universe will be treated to at least eight matches from the Staples Center in Los Angeles. Three titles are scheduled to be on the line, and we could see the Money in the Bank suitcase cashed in by either Randy Orton or Damien Sandow.
I'll be there live for the event as well as for SummerSlam Axxess on Saturday.
The roster for the 30 Years of WrestleMania mode in the upcoming WWE2K14 will be revealed. We already know greats like Hulk Hogan, the Rock, the Ultimate Warrior, Shawn Michaels and more will be included.
We'll find out the others on Saturday. If you aren't in the Los Angeles area, you can watch the reveal on 2K Sports' Twitch.TV channel.
Speaking of WWE video games, as a hardcore fan of the WWE and gaming, I'm getting my last few hours in on WWE' 13. On Oct. 29, the release of WWE 2K14 will render it obsolete in my home.
As I've done in the past, I simulated the matches from the upcoming pay-per-view event with WWE' 13.
Who does the CPU think will win the WWE Championship match with champion John Cena and red-hot Daniel Bryan?
Take a look at the simulations in the slideshow to find out. The videos aren't the entire matches. I edited them to only show the most impacting moments. You're welcome.
US Heavyweight Championship: (c) Dean Ambrose vs. Rob Van Dam
This match just might wind up being the best of the entire event. RVD doesn't appear to have lost a step even at the age of 42. Dean Ambrose is just a gifted performer on the mic and in the ring.
It seems the WWE is purposely treating the fans to excellently worked matches in the YouTube preshow of late. The Usos vs. The Shield at Money in the Bank was amazing, and this one could be on par with that match.
In the simulation, the action was decent, but I'm hoping to get a little more from the real-life version.
Simulation Result: Dean Ambrose retains the title.
Brie Bella vs. Natalya
I'd be lying if I said I was excited about this match. Neither of these Divas is a thrilling performer and that even rang true in the simulation.
Natalya is actually one of the stronger Divas, but I'm hoping to see the Funkadactyls show off some of their high-flying moves. They will be ringside and will likely come to Natalya's defense as Eve Marie tries to make a name for herself.
In the simulation, you can only have one person accompany a wrestler to the ring. I sent my favorite Funkadactyl Naomi with Natalya and Nikki Bella with Brie.
The events were less than spectacular.
Simulation Results: Natalya wins by pinfall.
Cody Rhodes vs. Damien Sandow
I really like both Damien Sandow and Cody Rhodes and believe both should be higher on the WWE food chain. Hopefully this feud can launch them to bigger and better things.
The simulation featured some hard-hitting maneuvers and an OMG moment.
When all the virtual dust settled, Cody got his revenge against his former tag team partner. The end of the simulation may leave some feeling a little empty, though.
There was no Beautiful Disaster or Crossroads executed to earn a pinfall victory. Matters ended in a way that precedes another chapter in the feud.
Simulation Result: Cody Rhodes wins by count out.
Kane vs. Bray Wyatt in Ring of Fire Match
I'm not sure anyone is entirely sure just what a Ring of Fire match is, but I'm assuming it'll work something like the Inferno Match that is playable on WWE' 13.
Bray Wyatt is the most charismatic heel the WWE Universe has seen in years. It will be interesting to see if the Wyatt Family grows and what new developments will arise in its feud with Kane.
In the simulation, Kane made quick work of Bray, but in an Inferno Match, you can't have managers accompany a wrestler to the ring. Luke Harper and Erick Rowan weren't factors, and the Big Red Machine prevailed.
Simulation Results: Kane wins by exposing Bray Wyatt to the flames.
Big E Langston and A.J. Lee vs. Dolph Ziggler and Kaitlyn
A.J. and Kaitlyn have had the most compelling Divas feud ever. Big E Langston and Dolph Ziggler could potentially have a set of epic matches, but I'm not sure how well this mixed-gender tag team match is going to go over on Sunday.
There needs to be some drama between A.J. and Big E, or perhaps some sort of love connection with Dolph and Kaitlyn to make this more interesting.
Bet on the latter with my man Big E left out in the cold without a love interest.
As for the simulation, Kaitlyn got the pin on A.J. after several impressive feats of strength.
Simulation Results: Dolph Ziggler and Kaitlyn win by pinfall.
World Heavyweight Championship: (c) Alberto Del Rio vs. Christian
Is this going to be the "one more match" we've been hearing about from Christian over the last five months? One of the WWE's most accomplished performers seems primed for another run with the gold.
Don't be surprised to see Ricardo Rodriguez gain some revenge on his former boss, Alberto Del Rio. The personal ring announcer and underrated wrestler could be the reason Christian becomes the champion.
The WWE 13 simulation agrees. Ricardo didn't interfere, but Christian won one for his virtual peeps.
Simulation Results: Christian wins by pinfall and captures the World Heavyweight Championship.
Brock Lesnar vs. C.M. Punk
Brock Lesnar's power and presence mixed with C.M. Punk's overall greatness will make for an excellent match. Punk is such a gamer and capable of performing well against opponents of any size.
Expect this one to feature some daring maneuvers, but it will likely spill over to Night of Champions next month. This feud has potential, especially with Lesnar cutting a few decent promos to hype the match.
As you can tell from the thumbnail in this slide, things got nasty in the simulation. Lesnar was cut, but he certainly dished out some damage to Punk. A familiar face came to Punk's aid, but in the end, Lesnar's brutality resulted in the victory.
Simulation Result: Lesnar wins by count out.
WWE Championship: (c) John Cena vs. Daniel Bryan
No one is hotter than Daniel Bryan in the WWE right now. He has one of the largest contingents of fans and he's an excellent in-ring performer. Cena is the same under-appreciated mega star whose goody-two-shoes gimmick has cost him fans.
Anyone that doesn't notice how hard Cena works in his matches, or didn't recognize the brilliant mic work he showed during Miz TV on Monday Night Raw is blind. Nonetheless, the boos for Cena still drown out the cheers from the five-year-olds and people like me that acknowledge his grind.
All that said, it is time for Bryan to win the WWE Championship. His last stint with a major championship ended in a 18-second loss to Sheamus at WrestleMania 28. This time his reign should last a little longer.
In the simulation, Bryan handled Cena quite easily and gave the haters what they want...a new champion.
Simulation Results: Bryan wins WWE Championship by submission.
Keep Reading