New York Giants 2013 Team Roster: Report Card Grades for Every Position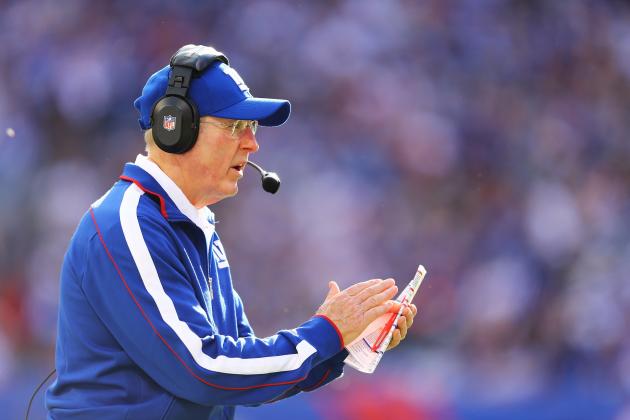 Al Bello/Getty Images
New York Giants head coach Tom Coughlin
The New York Giants trimmed their roster to the NFL maximum of 53 players, but their roster is hardly "final."
The Giants, who have some higher numbers at positions such as cornerback, tight end and defensive tackle, will be actively scanning the waiver wire for players to help fill in some of the holes at units such as safety and running back where the depth is a tad on the thin side due to injuries.
Begin Slideshow

»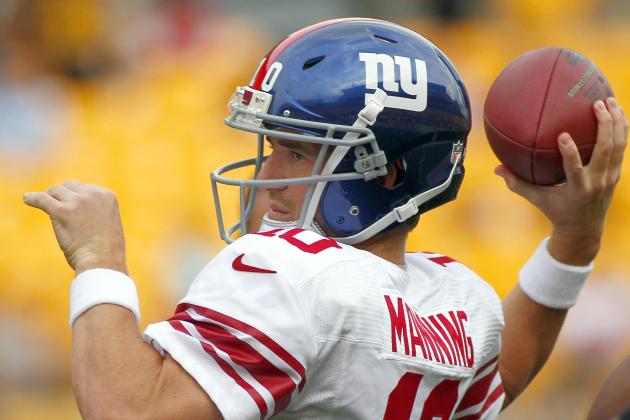 Justin K. Aller/Getty Images
Quarterback Eli Manning
| | |
| --- | --- |
| Depth | Player |
| No. 1 | Eli Manning |
| No. 2 | Curtis Painter |
| No. 3 | Ryan Nassib |
When the Giants traded up in this year's draft to get rookie Ryan Nassib out of Syracuse, there was little doubt that the team wouldn't keep three quarterbacks on its roster. The question, though, was who would be the third signal caller behind starter Eli Manning and in front of the rookie?
The answer turned out to be Painter, whom the team signed to a reserve/futures contract on January 4 and who last played in an NFL game in 2011 for the Indianapolis Colts.
A look at the final preseason numbers indicate that Painter and David Carr were virtually equal, as shown below:
| | | | | | | | |
| --- | --- | --- | --- | --- | --- | --- | --- |
| Player | Att | Cmp | Cmp % | Yards | TDs | INTs | Sacks/Yds |
| Painter | 51 | 26 | 51.0 | 289 | 1 | 0 | 7/67 |
| Carr | 30 | 19 | 63.3 | 163 | 0 | 0 | 5/31 |
So why did the Giants go with Painter over Carr, Manning's backup for four of the past five seasons? Because under Painter's leadership, which like Carr's came behind second- and third-string offensive lines, Painter was able to move the offense toward 19 points coming on five of his 17 series behind center this summer, including a preseason finale best of 10 points scored during his four series.
"We simply based it on the preseason," said head coach Tom Coughlin. "From the standpoint of all the evaluations, it pointed to the fact that Painter had a better preseason."
Still, with Painter and the rookie Nassib, the latter of whom seemed to regress each week of the preseason, the Giants are no doubt hoping that nothing happens to Manning this season.
Position Grade: B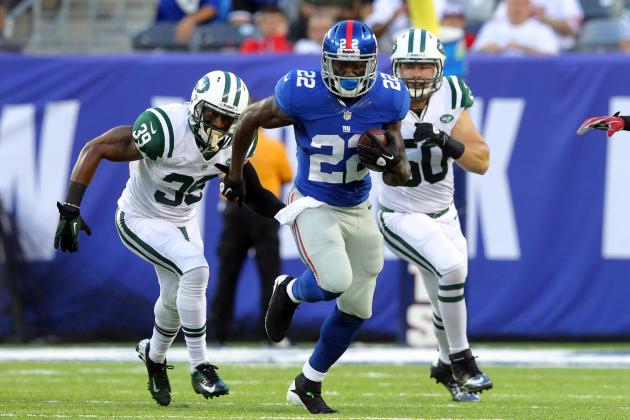 Brad Penner-USA TODAY Sports
Running back David Wilson
| | |
| --- | --- |
| Depth | Player |
| No. 1 | David Wilson |
| No. 1 | Andre Brown (injured) |
| No. 1 | Michael Cox |
| No. 1 | Da'Rel Scott |
| Fullback | Henry Hynoski |
Although he wasn't given many opportunities to pass block, David Wilson quieted any concerns people had by showing he could handle those few assignments thrown his way.
Otherwise, it was all about his running, as the electric running back finished as the Giants' team leader in rushing yards with 179 on 24 carries, a 7.5 yards-per-carry average,
Andre Brown, the short-yardage and goal-line specialist, finished second in rushing yards with 103, but he suffered a fractured left leg, the same leg that ended his season last year.
Depending on the severity of his injury—there have been media reports stating that he could miss 4-6 weeks which have not been confirmed by the team—Brown could be headed for the temporary injured reserve (IR) designation, which teams can begin assigning on Sept. 3, in which he could return to practice after six weeks, and then he could return to the field after eight weeks.
Meanwhile, Wilson said he's ready to add the short-yardage and goal-line roles to his job description if the coaches want him to.
"Whatever they want me to do," he said. "If they need me to kick a field goal, I'm going to go out there and give it 100 percent trying to kick a field goal. The carries or the workload is not a big factor for me. When I'm on the field I want to be effective and help my team win games."
Michael Cox probably isn't ready to contribute much in the offense given that he's still learning to pass block, but this rookie seventh-rounder should have a significant role on special teams as the kickoff returner, a role previously held by Wilson.
Da'Rel Scott, who likely saved his roster spot with his overall showing against the New England Patriots, has otherwise shown just one gear, and that is the ability to run straight ahead with good speed.
Meanwhile Henry Hynoski, the underrated third-year fullback, continues to work himself back into playing shape after missing all of training camp while on the physically unable to perform (PUP) list rehabbing from the knee surgery he had in late May.
Position Grade: B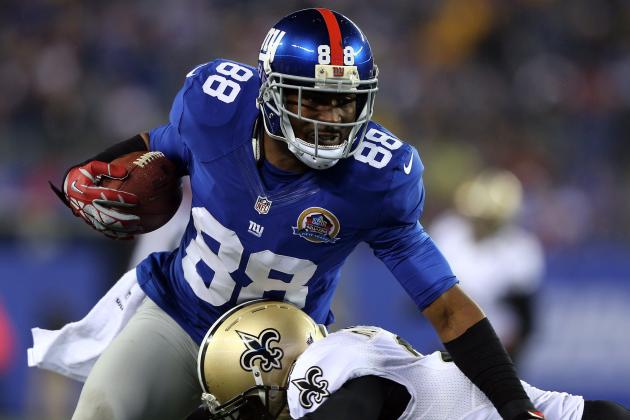 Elsa/Getty Images
Receiver Hakeem Nicks
Depth Player
No. 1 Hakeem Nicks
No. 2 Victor Cruz
No. 3 Rueben Randle
No. 4 Louis Murphy Jr.
No. 5 Jerrel Jernigan
The Giants have a lot of speed at receiver now that they have a healthy Nicks and a happy Cruz, who is expected to be ready for opening day after missing time with a bruised heel, back in the lineup.
Add the very promising Randle, a second-year receiver, and Murphy, a speedster who overcame a recent leg injury, and opposing defenses will likely have a hard time figuring out which of the receivers to double when the Giants line up in three- and four-wides.
Jernigan, who was the team's preseason leader in receiving yards with 100, probably won't get on the field much unless there is an injury to the receiving corps or at punt returner, the latter of which where he'll likely be a backup as well.
Overall, quarterback Eli Manning said he's confident that, despite the absence of Cruz the last few weeks, the passing game got in enough work to get ready for the start of the 2013 season.
"With Hakeem and obviously with Victor, he's missed the last few weeks or so with the injury but he's a guy that knows the offense very well," Manning said.
"It's easy to read his body language, he's going to make good decisions so hopefully we'll have him this week for practice. It won't take any time, timing wise, to get back on the same page."
Position Grade: A-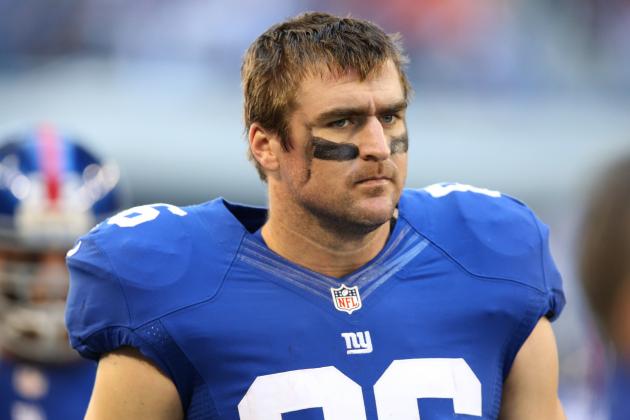 Matthew Emmons-USA TODAY Sports
Tight End Bear Pascoe
Depth Player
No. 1 Brandon Myers
No. 2 Bear Pascoe
No. 3 Adrien Robinson (injured)
No. 4 Larry Donnell
The Giants' tight end situation is a bit of a concern, as throughout the preseason, Pascoe, the unit's best blocker, was forced to play out of position at fullback while Hynoski spent training camp on the PUP list.
Meanwhile Myers, one of the team's key free-agent signings from the offseason, at times looked as though he wasn't on the same page as Manning. Later in the preseason, however, Myers started to look a bit more comfortable in the passing offense. As a blocker, though, Myers leaves much to be desired, as most of his run blocks were less than successful.
Robinson and Donnell are the two kids of the group who have good size and athleticism, but who are still a little rough around the edges. Robinson, in his second year, ended the preseason with a sprained foot that head coach Tom Coughlin said, "It's not exactly mid-foot, it's off to the side a little bit."
Meanwhile, Donnell, who like Pascoe has the ability to line up as an in-line blocker, a fullback and as an H-back, has shown no signs of having issues from a knee injury suffered during the second week of the preseason.
It remains to be seen if the Giants stick with four tight ends beyond the first week of the season given injury and depth concerns at other positions. However, moving forward, the Giants are going to need a little more out of this unit both in the passing game and in the blocking department.
Position Grade: C-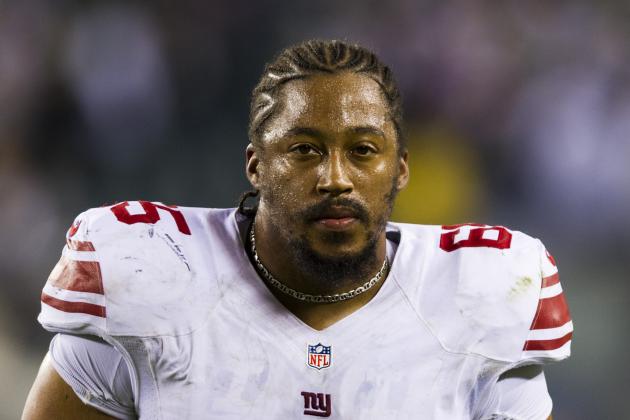 Howard Smith-USA TODAY Sports
Left tackle Will Beatty
Player Position

Justin Pugh RT
Will Beatty LT
David Diehl (injured) OT
The Giants offensive line has begun to get a much-needed infusion of youth, especially at the tackle position. Rookie first-rounder Justin Pugh has taken the starting right tackle job from the injured veteran Diehl (thumb), and has made the most of his opportunities so far. Pugh moves his feet well and seems to match power with power.
It remains to be seen how well he'll be able to hold up against the league's better speed-rushers, but all signs point to the right tackle job being the rookie's to lose.
Beatty quietly developed into one of the league's better left tackles and was rewarded with a lucrative multiyear deal this offseason.
According to ProFootballFocus.com (subscription required), in 2012, Beatty only gave up three sacks and consistently graded out among the highest of the left tackles in the league in nine of the 16 regular-season games in which he played last season.
Diehl's skills have clearly been dropping off the past few years, to where this is probably going to be his last year with the Giants. Still, his experience and knowledge of the game should make him a good asset to have on the bench once he's recovered from the thumb surgery he had in late August.
Position Grade: B-

Rob Carr/Getty Images
Chris Snee (76)
Player Position

Chris Snee RG
James Brewer LG
Brandon Mosley OG
Due to injuries, Brewer, the third-year player, has moved into the left guard spot while Kevin Boothe fills in at center during David Baas' absence.
Despite not having much experience at left guard, Brewer played well at that position in the Giants' preseason finale against the Patriots.
Snee, a four-time Pro Bowler who had hip surgery in the offseason, has for years been an anchor on the Giants offensive line.
However, age and injuries have slowly been eating away at his one-time fluid mobility to where he's no longer asked to do as much pulling as he once did.
Mosley, who spent his rookie season on injured reserve, had a nice summer camp and preseason getting a little bit of work at center as well early on.
As a guard, he showed just enough fight in his game to earn a roster spot. His technique, however, is still a work in progress as is his balance, especially on the second-level blocks.
Overall, the guards appear to be solid enough to get the job done.
Position Grade: B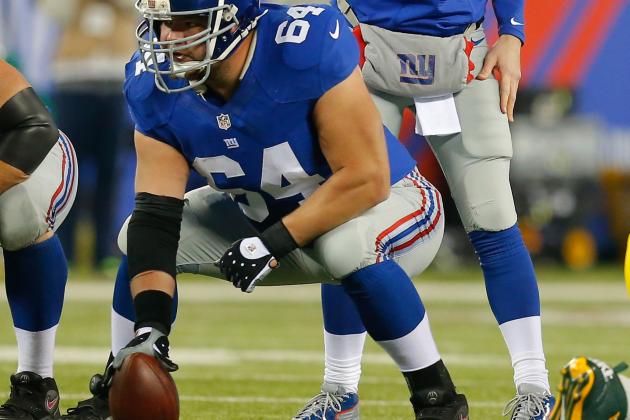 Jim O'Connor-USA TODAY Sports
Center David Baas (64)
Depth Player
No. 1 David Baas (injured)
No. 2 Kevin Boothe
No. 3 Jim Cordle
Baas, who signed with the team as an unrestricted free agent in 2011, was hoping that, as far as his health was concerned, his third year with the team would be a charm.
However, Baas, whom the Giants hoped would develop into a Pro Bowl-caliber center, has had lots of trouble staying healthy, which has in turn affected his performance.
"My big thing is basically no matter how many surgeries or injuries I have I want to come out here," he said earlier in the summer.
However, an MCL injury, which he suffered in the team's second preseason game, has thrown cold water on those plans. Baas, who is considered week-to-week by the Giants, was expected to miss up to six weeks of action.
Because of the preseason struggles by Cordle, a third-year player out of Ohio State who made the team as an undrafted free agent, the team moved Boothe, informally its starting left guard, to center while Baas recovers. Boothe has done well when pressed into backup action at center, as he's a smart player who's able to do his part in making the line calls.
Grade: B-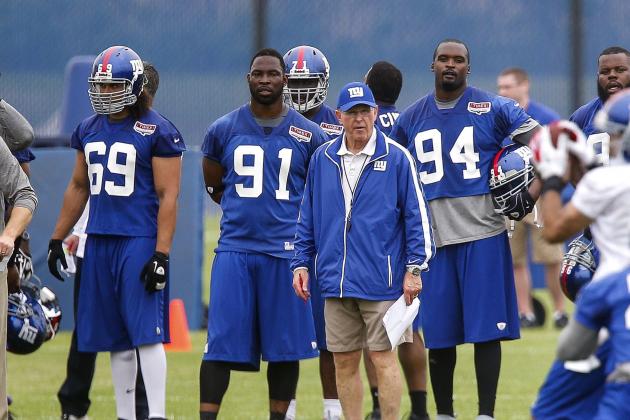 Jim O'Connor-USA TODAY Sports
From left: defensive ends Justin Trattou, Justin Tuck, and Mathias Kiwanuka
Player Position

Justin Tuck LDE
Jason Pierre-Paul RDE
Mathias Kiwanuka RDE
Justin Trattou LDE
Damontre Moore DE
One of the projected strengths of this Giants team is its defensive ends, whose starters, Tuck and Pierre-Paul, have three Pro Bowl berths between them.
However, a big concern for this unit is the health of Tuck, who since 2011 has battled an assortment of injuries that at times have made him look like a shell of his former dominating self, and Pierre-Paul, who recently was removed from the physically unable to perform list after having back surgery in early June.
Behind the starters is some solid depth in Kiwanuka, who filled in for Pierre-Paul in the starting lineup and played well, and Moore, the very promising rookie who unfortunately lost three weeks of the preseason to a shoulder bruise suffered in the preseason opener.
Meanwhile, Trattou, who beat out Adrian Tracy and Adewale Ojomo for the fifth defensive end spot, isn't a flashy player, but like former defensive end Dave Tollefson, Trattou has shown himself to be football smart in diagnosing plays and getting himself around the ball.
Position Grade: A-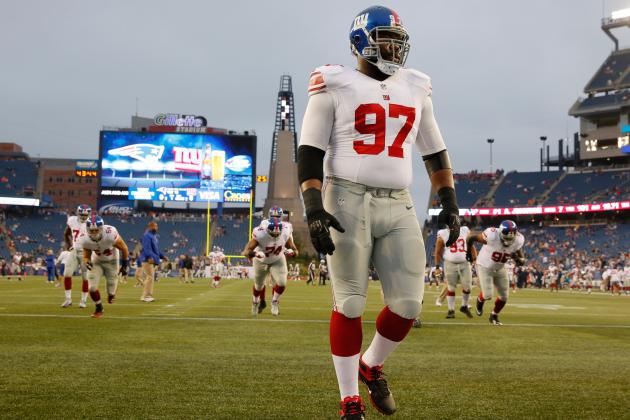 David Butler II-USA TODAY Sports
Defensive tackle Linval Joseph
Player Position

Cullen Jenkins RDT
Linval Joseph LDT
Shaun Rogers RDT
Johnathan Hankins LDT
Mike Patterson RDT
Jenkins' versatility—he can play defensive end—makes him one of the most underrated values on the current roster. As a defensive tackle, Jenkins drew a number of double-team blocks to slow down his charge—something that, if it continues, should help free up his fellow defenders to exploit single blocks.
Joseph probably won't post gaudy numbers, but that's not his job. His job will be to help take up blockers and to fill the inside running lanes.
After missing last season with a blood clot in his leg, Rogers looked refreshed and rejuvenated in the preseason, showing good quickness given his size in getting to the edge and making plays. Where Rogers has been particularly impressive is in collapsing the pocket for the quarterback, where several times this preseason, he came close to earning himself a sack.
Hankins has developed steadily over the summer, looking more and more comfortable each week of the preseason. He does a nice job of filling a hole and preventing running backs from slipping by him inside of the tackles. He's also started to do a better job with his recognition, something that will continue to improve with more reps.
Patterson, a former Eagle, seems to have found new life with the Giants, having himself a solid preseason as a disruptive force inside who, if not making the play himself, helped to set it up for one of his teammates to finish off. Patterson possesses both size and quickness to be an every-down force but will probably be called upon in short-yardage and goal-line situations.
Position Grade: B+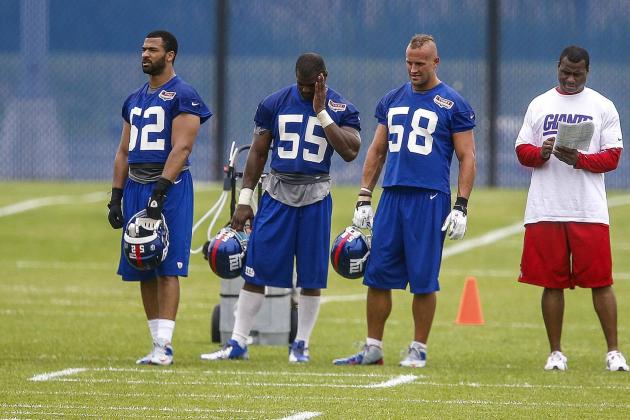 Jim O'Connor-USA TODAY Sports
From left: Linebackers Spencer Paysinger, Keith Rivers, and Mark Herzlich
Player Position
Keith Rivers SLB
Spencer Paysinger WLB
Dan Connor MLB
Jacquian Williams WLB
Mark Herzlich MLB
The Giants surprised their fanbase a bit by opting to keep five linebackers instead of six—Kyle Bosworth did not make the final cut.
Of the five they kept, Rivers, the strong-side starter, is the best of the bunch in terms of athleticism and in getting from sideline to sideline. His issue, however, has always been staying healthy.
Paysinger, an undrafted free agent who managed to hold off Williams for the starting weak-side linebacker job, is football smart and has worked hard to improve himself in the offseason, but he has some late-preseason issues with consistency. Against the Patriots, he did a nice job of filling holes, but he struggled a bit with recognizing and reacting to a few short passes thrown over the middle.
Connor, who edged out Herzlich for the starting middle linebacker job, isn't exactly the fasted of foot one will find in a linebacker; however, with the Giants likely to use their nickel package a great deal this year against the pass-happy opponents, the middle linebacker doesn't figure to be on the field all that much anyway.
The New York Jets and the Patriots seemed to specifically target the Giants linebackers in the passing game, throwing several passes underneath with success. As the game-planning becomes more sophisticated in the regular season, don't be surprised if this unit is routinely picked on until it can prove that it can make more plays than it gives up.
Position Grade: C-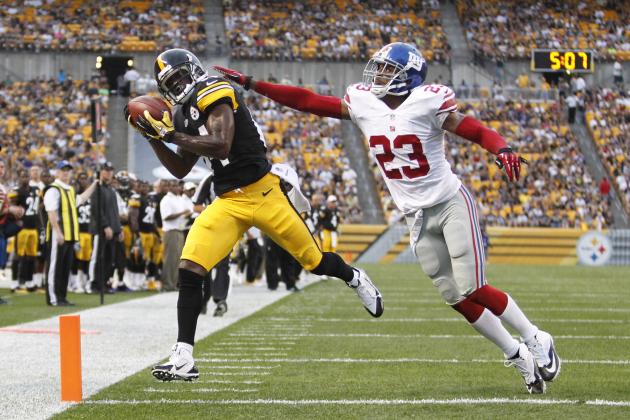 Charles LeClaire-USA TODAY Sport
Cornerback Corey Webster (23)
Player Position
Corey Webster LCB
Prince Amukamara RCB
Aaron Ross CB
Terrell Thomas CB
Jayron Hosley CB
Trumaine McBride CB
Amukamara is a rising star in this unit, a player who, according to ProFootballFocus.com (subscription required) last year allowed opponents to complete just 52.4 percent of their passes for 375 yards, 114 of which came after the catch, and two touchdowns.
This summer, after more than holding his own against teammate Rueben Randle in practice, Amukamara held opponents to just 79 yards on six receptions (out of 13 targets) and zero touchdowns. He also had an interception and two pass breakups.
Webster, who is likely in his final season as a Giant, is coming off a disappointing and injury-filled 2012 season, allowed 59 of 96 passes thrown his way to be completed for 988 yards and eight touchdowns, as he fought through a hamstring issue and a broken hand.
Limited this preseason by knee and groin injuries, Webster's health could very well be a concern moving forward, as opponents are sure to target him more than Amukamara.
One of the feel-good stories of the summer is the return of Thomas from two consecutive ACL surgeries. Whether Thomas remains at cornerback or moves inside to safety is still to be determined, but that he didn't have any setbacks in his rehab is a positive sign for this unit.
Hosley, in his second season, has continued to struggle with consistency. A late-summer ankle injury doesn't appear to be serious enough to threaten his availability for the regular-season opener against Dallas, but the second-year player needs to take fewer gambles and play a smarter game when on the field.
McBride was a surprise addition to the cornerback rotation, just beating out rookie Charles James. It's not known at this time if the Giants will actually keep six cornerbacks, as the thinking is one will be cut when safety Will Hill's suspension is over.
However, for the time being, since Thomas and Ross, the latter projected to be the team's nickel corner, both can play safety, the thinking is that either of them could move inside if injuries should happen during a game.
Position Grade: C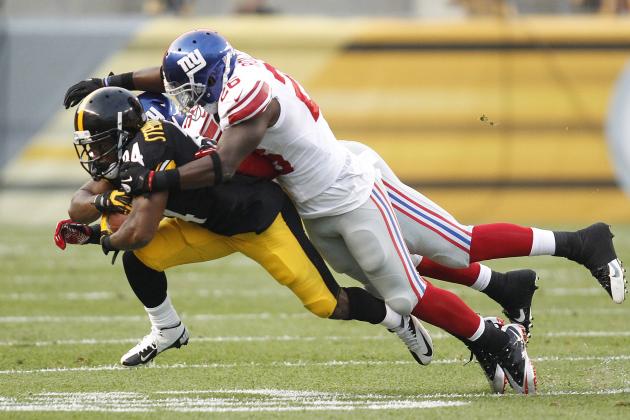 Charles LeClaire-USA TODAY Sport
Safety Antrel Rolle
Player Position
Antrel Rolle SS
Ryan Mundy FS
Cooper Taylor SS/FS
The Giants surprised people by opting to keep only three safeties on their roster, parting ways with third-year man Tyler Sash, who had competed to provide depth on a unit that will go into the season without starter Stevie Brown (knee/IR) and backup Will Hill (suspended).
Rolle is the undisputed heart and soul of the defensive backfield—the man who lines everyone else and who is not afraid to wear his emotions on his sleeve.
Mundy, the former Steeler, is more reserved but has shown himself to be a solid player in both run support and in coverage.
Taylor, the talented rookie, missed most of the summer with a hamstring injury. In his first preseason action, coming against the Patriots in the preseason finale, he looked like a rookie who hadn't practiced much this summer, but the Giants liked his upside enough to keep him on the 53-man roster.
Overall, this unit has talent, but the depth, as it stands now, is of great concern.
Position Grade: C-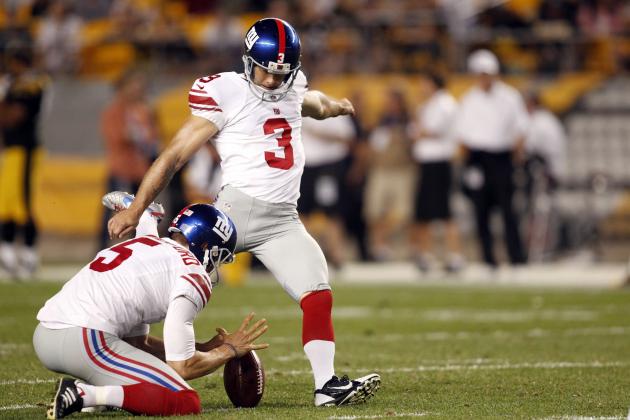 Charles LeClaire-USA TODAY Sport
Punter/Holder Steve Weatherford and kicker Josh Brown
Player Position
Josh Brown K
Steve Weatherford P/H
Zak DeOssie LS
Jayron Hosley PR
Michael Cox KR
Brown came to the Giants with a reputation of having a big leg, and he certainly hasn't disappointed in that area, especially when it came to putting his kickoffs into the end zone.
Brown finished the preseason with 10touchbacks, two behind NFC co-leaders Steven Hauschka of Seattle and Blair Walsh of Minnesota.
On place-kicks, Brown converted 13 of 15 attempts, his two misses being 38 and 53 yards, respectively.
Weatherford, his holder and the team's punter, finished with a 41.0 net average after punting 28 times this preseason for 1,321 yards.
Despite his excess punting in the preseason, Weatherford, a well-known fitness and nutrition enthusiast, takes excellent care of himself to where concerns about him developing a tired leg shouldn't be too much of an issue.
DeOssie, a two-time Pro Bowl long snapper, is often one of the first men downfield on punt coverage, where, if he's not making the tackle himself, he's assisting in some way. A 2007 fourth-round draft pick, he's been Mr. Reliable for New York's special teams unit.
Hosley and Cox will take over the punt and kickoff return duties, respectively.
Position Grade: A
Patricia Traina is the Senior Editor for Inside Football. All quotes obtained firsthand.