Ranking the 10 Most Revered Figures in College Basketball History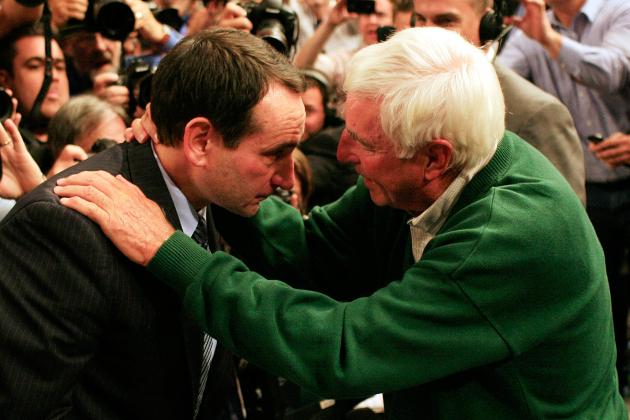 Patrick McDermott/Getty Images
Bob Knight (right) and Coach K (left) are two of the most revered figures in college basketball. How do they stack up against eight others?
There are several college basketball legends, but some are revered much more than others. By definition, the term "revere" means to "regard with respect tinged with awe."
To be a figure, one must make a lasting impact on the game and earn the respect of his/her peers. This can make it very difficult for players to stand the test of time when compared against legendary coaches. Early NBA draft declarations make it less likely for fans to see a player revered as much as someone like Bob Knight.
The following 10 coaches and players have been ranked based on these criteria: overall imprint left on college basketball, success and off-court impact.
Begin Slideshow

»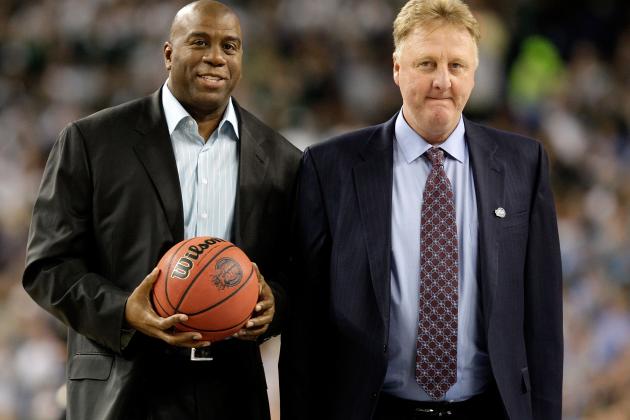 Andy Lyons/Getty Images
Magic Johnson and Larry Bird are the reason March Madness is as popular as it is today.
The most-watched game in the history of college basketball was played 34 years ago. For those who do not know, the contest was the 1979 national title game. Michigan State versus Indiana State. Aside from the fans of both teams, most of the other viewers tuned in for two reasons: Magic Johnson and Larry Bird.
Although the two went on to much bigger things in the NBA, Johnson and Bird left a lasting imprint on college basketball all those years ago.
March Madness would not be what it is today had it not been for the epic showdown in Salt Lake City.
"College basketball would have gone on with or without (Johnson and Bird)," former Michigan State head coach Jud Heathcote told Josh Slagter of MLive. "But they set the stage the interest we have today in March Madness."
Without the popularity of the NCAA tournament, college basketball would be nowhere near as big as it is now.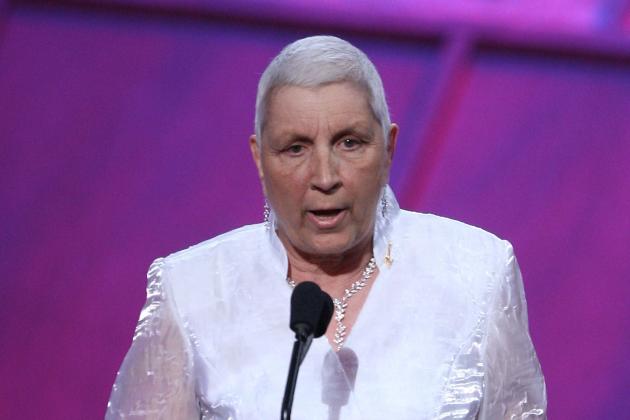 Kevin Winter/Getty Images
Kay Yow fought cancer for over 20 years, but never stopped coaching.
In 34 seasons as head coach of the N.C. State Wolfpack, Kay Yow only made it to one Final Four. However, to discredit her achievements for this reason would be completely misguided.
Despite being diagnosed with breast cancer in 1987, Yow continued to coach. Her battle and success at N.C. State served as inspiration to countless people battling cancer across the country.
"I think she understood that keeping going was inspirational to other people who were in the same boat she was in," Dr. Mark Graham, Yow's longtime oncologist, told ESPN on Jan. 30, 2009.
In 38 years as a head coach, Yow compiled a 737-344 overall record. She also led N.C. State to 20 NCAA tournament appearances and six ACC regular-season titles. Yow was inducted to the Women's Basketball Hall of Fame in 2000.
Countless coaches and other acquaintances spoke very highly of Yow shortly after she finally lost her 22-year battle with breast cancer. The Kay Yow Cancer Fund, founded in 2007, has raised $8 million since its inception.
Lifting the hopes of patients diagnosed with cancer will forever be Yow's legacy. What a proud and admirable one it is.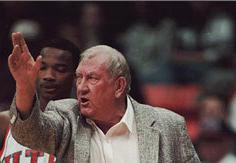 Don Haskins made history with the Texas Western Miners. Photo courtesy of USA Today.
At a time when racial tensions were boiling throughout the United States, legendary Texas Western—now known as UTEP—head coach Don Haskins made a gutsy decision. In the 1966 national title game, Haskins became the first coach in history to start five African-American players. The Miners took down the all-white Kentucky Wildcats to validate the decision.
Haskins did much more than just buck a racial issue, though. The College Basketball Hall of Fame inductee spent his entire 38-year coaching career with the Miners. When all was said and done in 1999, Haskins retired with a 719-354 overall record.
During Haskins' years in El Paso, the Miners finished with at least 20 wins 17 times. This accomplishment drew praise from one of the most renowned coaches.
"Don got more out of his teams and players than any coach who has ever coached college basketball," Bob Knight told the Associated Press in Sept. 2008.
Haskins will never be forgotten and neither will his bold stance against racial inequality in the 1960s.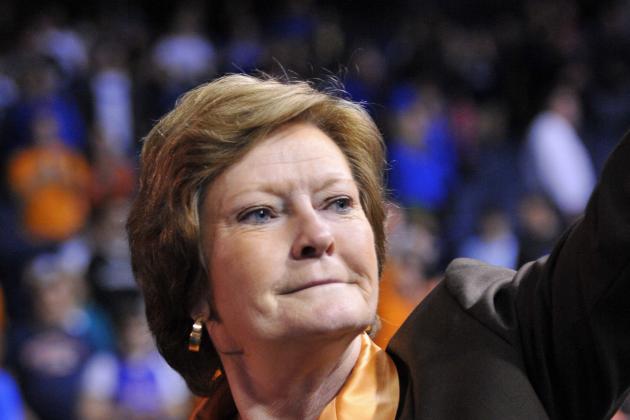 Rob Grabowski-USA TODAY Sports
Pat Summitt put women's college basketball on the map.
Not too long ago, one would have been crazy to suggest a women's basketball coach would be mentioned in the same breath as the all-time greats. Legendary Tennessee Lady Vols head coach Pat Summitt changed all that.
From 1974-2012, Summitt sat at the helm in Knoxville. The Lady Vols never endured a losing season during those 38 years. Tennessee also captured eight national titles and 16 SEC regular-season and tournament championships.
Summitt is the winningest coach in college basketball history with 1,098 victories to her name. Had it not been for early-onset dementia, Summitt would have kept piling up wins.
It could easily be argued the women's game would be completely irrelevant today had it not been for Summitt. Thankfully, she put it on the map.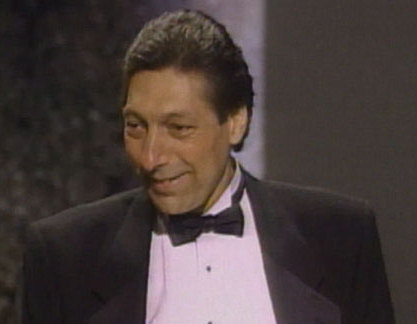 Jim Valvano helped raise cancer awareness at a time when our country needed to more than ever. Photo courtesy of ESPN.
Jim Valvano's accomplishments as a head coach may not stack up with the rest of the people on this list. Given the number of lives he affected outside of basketball, though, Valvano certainly deserves to be ranked as high as he is.
N.C. State's miracle run to a national championship in 1983 was the pinnacle of the New Yorker's 19-year coaching career. When comparing it to the inspirational speech he gave at the 1993 ESPYs, however, there is no questioning which moment was more important.
Valvano's bout with bone cancer kick-started The V Foundation for Cancer Research. To this day, over $100 million has been raised and given to facilities across the country.
The most famous words from his speech, "Don't give up...don't ever give up", still serve as an inspiration to many today. Without Jimmy V's help, who knows whether or not cancer research would have taken off the way it did in the mid-1990s.
One thing is for sure, several lives have been saved today thanks to the help of Valvano's foundation. Basketball achievements can take a backseat to that.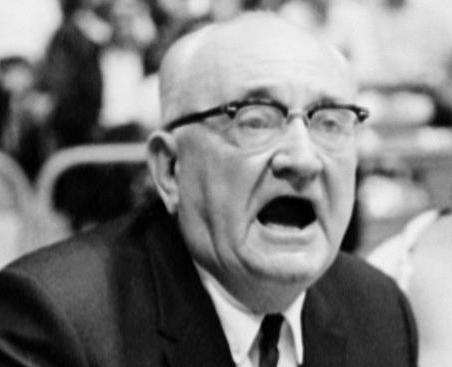 Andy Lyons/Getty Images
Adolph Rupp's legacy is often debated due to the racial tensions at the time of his coaching career. Photo courtesy of USA Today.
Out of everyone on this list, Adolph Rupp is harder than anyone to rank. On one hand, The Baron won four national titles, appeared in six Final Fours and retired with 876 wins in 41 years with the Kentucky Wildcats. Rupp's .822 winning percentage also ranks second in NCAA history.
On the other hand, though, Rupp has often been labeled a racist. This would not come as much of a surprise considering the fact he coached from 1930-1972, a time when racial tensions were at an all-time high in the United States.
Some will always believe Rupp was a bigot and segregationist. Others will defend the legendary coach and say the exact opposite.
As former Kentucky head coach Tubby Smith pointed out, though, Rupp did not choose his upbringing.
"I know there have been a lot of people who thought he was a racist. But I think the times can dictate how people act--where you're brought up, how you're brought up," Smith told Rick Morrissey of the Chicago Tribune in 1997. "If he was a racist, he wasn't alone in this country. I'm never going to judge anybody.
"That's a long time ago too . . . You learn from the past, and you go on."
A point-shaving scandal in 1951 also hurt Rupp's reputation.
Controversy aside, Rupp is still one of the best coaches of all time.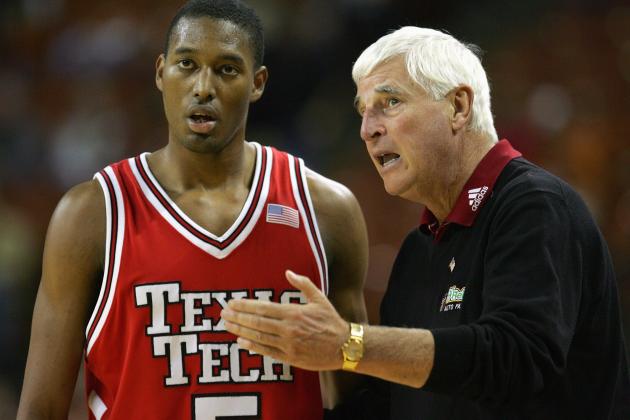 Ronald Martinez/Getty Images
Bob Knight is undoubtedly one of the greatest coaches of all-time, but controversy often held him back.
Had it not been for all of the controversy throughout his career, Bob Knight would likely rank much higher on this list. After all, Knight did retire with the most wins in college basketball history (902) and his teams boasted a 98 percent graduation rate.
The list of accomplishments in Knight's career is longer than any of his haters would care to admit. In 29 seasons with the Indiana Hoosiers, Knight won three national titles, including a 32-0 campaign in 1975-76. Indiana missed the NCAA tournament just five times under his watch.
Following an unceremonious departure from Bloomington in 2000, The General led Texas Tech to four March Madness appearances in seven seasons.
And he did all of it without a whiff of NCAA violations.
What the fans should realize is that if this is about the student-athlete, about education and following the rules, if that is what matters, then I am saying Bob Knight is the greatest of all-time, renowned sports marketing executive Sonny Vaccaro told Dan Wetzel of Yahoo! Sports in 2006. And there is no one even close. And there never will be.
For a man to run clean programs for 41 years in college basketball is a remarkable achievement. To do it the right way and win as much as Knight did is amazing.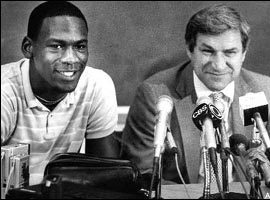 Dean Smith's list of accomplishments is seemingly endless. Photo courtesy of ESPN.
Despite no longer holding the record for the most wins in college basketball history, there are plenty of other reasons why Dean Smith is so revered.
The Emporia, Kan., native spent his entire 36-year head coaching career with the North Carolina Tar Heels. His first team (1961-62) is the only one to finish with a losing record. After struggling to piece everything together in Smith's first five seasons, the Tar Heels rattled off 30 campaigns of 20-plus wins.
Over the course of those three decades, Smith guided North Carolina to 11 Final Fours, two national titles and 17 ACC regular-season championships.
In addition to retiring with a 879-254 overall record in 1997, Smith made a lasting legacy for himself off the hardwood. After recruiting the Tar Heels' and ACC's first African-American scholarship-athlete, Smith became "a great advocate for African-American students and student-athletes."
Academics were important to Smith as well. During his tenure at North Carolina, Smith's teams maintained a 96 percent graduation rate.
His efforts have been recognized by President Barack Obama, who awarded Smith the Presidential Medal of Freedom in August. It is the highest honor for a civilian in the United States.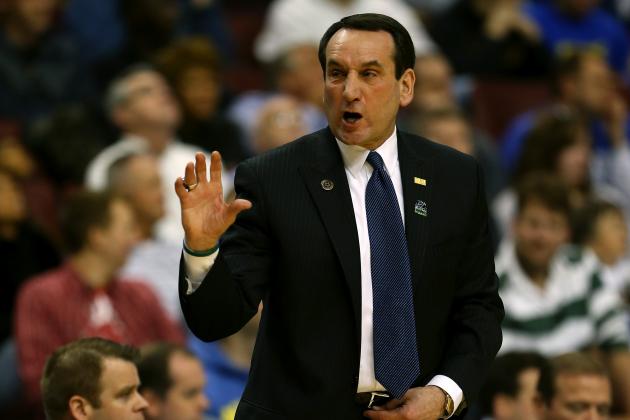 Elsa/Getty Images
Coach K built Duke into a national powerhouse and validated his success on an international level as well.
No one could have predicted what Mike Krzyzewski would eventually become when he took over the Duke basketball program in 1980. Yes, this was the same coach who went 9-17 in his fifth and final season at Army. And the same guy who endured back-to-back losing campaigns in 1982 and 1983.
Patience eventually paid off for Blue Devil fans, though. Coach K went on to win four national titles, 11 Final Fours, a record 82 NCAA tournament games and amass an overall record of 957-297, more victories than any men's coach in Division I history. Duke has also won 30-plus games 13 times since 1986.
Compiling those kind of numbers at a university with such high academic standards is surreal.
Not to mention the fact Krzyzewski has led the United States to gold medals in the 2008 and 2012 Olympic Games.
The wins will continue to pile up and Coach K has shown no signs of slowing down, even at age 66. It is hard not to admire and respect a winner of Krzyzewski's caliber.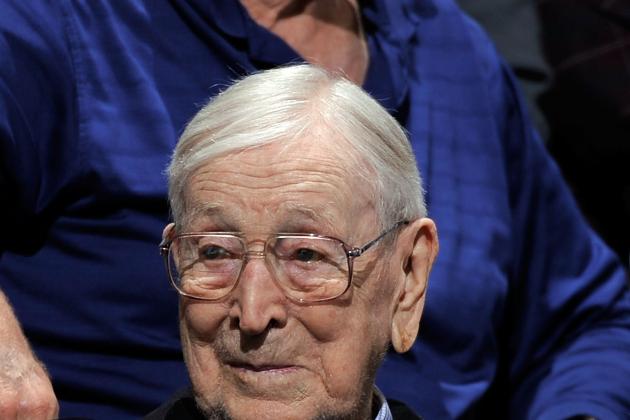 Kevork Djansezian/Getty Images
John Wooden's accomplishments are second to none in the world of college basketball.
The term "dynasty" is probably thrown around a bit more often than it should be today. When it comes to defining it, though, one needs to look no further than what John Wooden and the UCLA basketball program accomplished from 1963-1975.
Wooden guided the Bruins to 10 national championships in 12 seasons. UCLA also rattled off an 88-game winning streak, which is likely going to remain the longest in men's college basketball history for the foreseeable future.
In fact, we may never see any program come even close to the dynasty Wooden built.
Out of all the praise Wooden received shortly after he passed away in 2010, a quote from former Bruin Kareem Abdul-Jabbar may have been the best. It revealed how Wooden molded young boys into men during their time at UCLA.
"He set quite an example. He was more like a parent than a coach. He really was a very selfless and giving human being, but he was a disciplinarian," Abdul-Jabbar told Star-Ledger Wire Services. "We learned all about those aspects of life that most kids want to skip over. He wouldn't let us do that."
The Wizard of Westwood's "Pyramid of Success" is still used as a leadership teaching tool today.
It will take someone pretty darn incredible to ever dethrone Wooden as the most revered figure in college basketball.