Theater of the Bizarre: Glorious Fights That Never Could Have Happened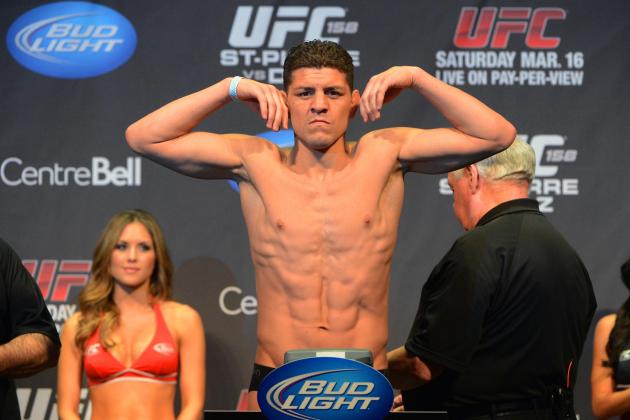 Eric Bolte-USA TODAY Sports

Forget, if you can, that sad and limited group of considerations that say two fighters from different sports and weight classes can never meet in anger. Disregard the idea that says: "It would never happen because…"
This kind of thinking has no place in the Theater of the Bizarre.
Instead, let your imagination run wild. This is a stage where fights unfold due to the virtue of violence, and two bloody authors come together to do their worst to their opponent.
Of course, there is always at least one caveat per fight. Perhaps it is the size of the gloves or the duration of the rounds. Perhaps it is the number of rounds or the venue itself, but there is always one circumstance that prevails amid the chaos, if not more.
The bout in question this evening? The legendary Roberto Duran, rejuvenated and resurrected from his most glorious past, faces Nick Diaz. The action is called in typical play-by-play style.
Roberto Duran vs. Nick Diaz
Caveat(s): Four-ounce gloves, 15 rounds, three minutes per round, no grappling on the ground, in the legendary IVC venue.
Advantages for Duran: Speed, punching power, footwork, rock solid chin and adaptability.
Advantages for Diaz: Endurance, reach advantage, size advantage, elbows, knees and kicks.
The Brazilian crowd is anxious for this bout as both men, each incredibly well known, pace around their corners like caged animals. The crowd is expecting violence, and given both men, they will be rewarded.
It's a strange sight to see Roberto Duran wearing four-ounce gloves. He's never taking his eyes of the taller, lankier Diaz, who is returning glare for glare.
The crowd seems stunned to see the Duran of old: the same man who defeated Sugar Ray Leonard and then Iran Barkley, at the age of 37. Perhaps it is the near-intimate setting here in Brazil. It's a small ring, but this has the feel of a street fight taking place in a ring, not a professional prize fight.
Diaz is clearly the bigger man by about 20-plus pounds, but everyone who knows this version of Duran knows he will be the faster of the two. Both are aggressive and durable.
The referee calls them to the center of the ring to go over the rules. As neither Duran nor Diaz speak Portuguese, two translators interpret, but it might as well be Greek theatre as Duran and Diaz continue to talk trash. Neither man understands the insults that the other is spitting out.
Diaz flips Duran off with both hands, and this Duran does understand. He goes after Diaz as both men are pulled apart and pushed to their corners.
The bell is about to ring…
Begin Slideshow

»
sherdog.com
Both men come out circling. Diaz looks like he wants to do some boxing, but his hands are wisely up. No taunting early from Diaz.
Duran employs good feints while darting left to right, easily avoiding the pawing jab of Diaz.
Duran opens up, using angles and raking Diaz with a straight right and then a left hook that knocks the sweat off his head. They clinch along the ropes, and Diaz locks up a Thai clinch as Duran unloads heavy hooks to the body and head.
Diaz connects with a hard knee to the body from the clinch and then another. Duran takes them well, throwing hooks with both fists over the arms of Diaz. Diaz lands more knees to the body of Duran and eats more hooks to the head from Duran.
It looks sloppy, but both men are working.
Diaz lands the perfect knee to the face of Duran that knocks his head back. Duran throws off the clinch and lands a hard right hand. Both men are circling, wound tight, ready to explode.
Diaz lands a weak leg kick, but it gets Duran's attention. Round ends.
Diaz 10-9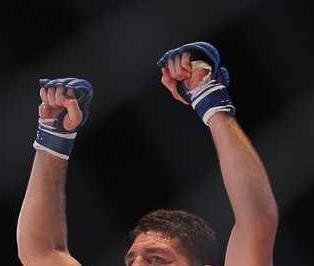 sherdog.com
Diaz comes out with some redness around both cheekbones. Duran is circling and feinting. He looks very fast in there.
Diaz feints and throws a snapping inside leg kick. Duran circles again as Diaz fires off an outside leg kick that lands. Now Diaz is doing the taunting.
Duran feints and then fires off a right hand straight down the center that staggers Diaz. Duran charges, throwing bombs with both hands. Diaz looking for the Thai clinch again, and Duran lands a harsh uppercut that snaps his head back then a hard hook to the body.
Diaz is bleeding under the left eye now, but he has the Thai clinch again, pushing Duran's head down all too easily. Duran is not used to this. He's landing hooks to the body, but with little steam.
Diaz has his hands locked and finally uses his size advantage, spinning Duran into the corner and landing hard knees to the body. Duran is trying to throw the clinch off but can't.
Duran is landing some decent hooks to the head over the arms of Diaz. Diaz lands a hard knee to the head of Duran and then another. Duran wraps his arms around Diaz, and both men are jawing at each other.
As the referee moves closer, Diaz pushes Duran's head back and lets his palm slide off, catching the Panamanian across the cheek with the point of his elbow, Matt Hughes style. Duran is bleeding from his cheek and nose now. Duran fights free and backs to the center of this shoe box of a ring.
Diaz comes forward as Duran shoots his jab out. Diaz ignores it. Duran feints and lands another hard overhand right. Diaz lets his hands go, but he's far too slow and stationary as Duran lands well with both hands.
Diaz backs away and lands another outside leg kick. Duran lands with the jab. Round ends, and both men go back to the corner bleeding, but Duran looks the worse for wear.
This is a new environment for him, and it's starting to show.
Diaz 10-9
Both men were cleaned up well by their corners, but Diaz is starting to swell under his left eye.
Duran is bouncing on his feet, taunting Diaz and egging him on. Diaz responds, moving forward with his dukes up, sticking his chin out.
Duran works his jab, landing only one of three. Diaz is taunting, inching forward.
Duran is circling and jabbing and then lands another straight right. He circles around Diaz, who is turning to acquire a target and in the process delivers his mug for another hard right by Duran.
Duran is beating Diaz to the punch now, circling and landing easily with his right. He is starting to drop that right hand in at will.
Diaz rushes Duran into the corner and ties him up. Duran is looking to throw hooks early to avoid the Thai clinch. Duran wraps his arms around Diaz. Diaz throws knees to his thigh. Duran fights free, and Diaz catches him with a hard straight right on the break, knocking sweat off his head.
Duran charges right back in, throwing hooks with both hands and landing over half of them. God, Duran's punches are flying faster than ever before with these smaller gloves.
Duran backs away to the center of the ring, and Diaz gives cautious chase, throwing an inside leg kick that misses as the round comes to a close.
Diaz is bleeding from his cheek and nose now. Good round for the Panamanian.
Duran 10-9
Diaz comes out, pawing with his jab. It's clear he wants to start using his reach advantage. Duran is bobbing and weaving, just out of range.
Diaz throws more jabs that miss and a right that sails over the head of Duran. Duran is smiling and talking trash.
Diaz throws an outside leg kick as Duran backs up a half step. Diaz smiles and nods, talking trash right back. Duran feints and throws a right hand that misses as Diaz leans way back then circles away.
Duran feints a right hand high but shoots it to the rib cage. Diaz is circling, throwing range-finding punches.
Duran snaps Diaz's head back with a jab. Diaz is trying to get into his rhythm, trying to work Duran's back against the ropes. Duran is circling, moving very fast. These three-minute rounds may be a detriment to Diaz as he doesn't seem to have enough time to get his punches rolling.
Another outside leg kick lands for Diaz, but there was nothing on it. Duran fires a jab that misses but connects with a right hand to the chest. Diaz tries to open up, and Duran evades, catching his opponent with a sweeping right hook as he circles out of range.
Diaz tries to reassert his jab and gets caught with another straight right over the top. Round ends.
Diaz is having no luck at long range against the faster Duran.
Duran 10-9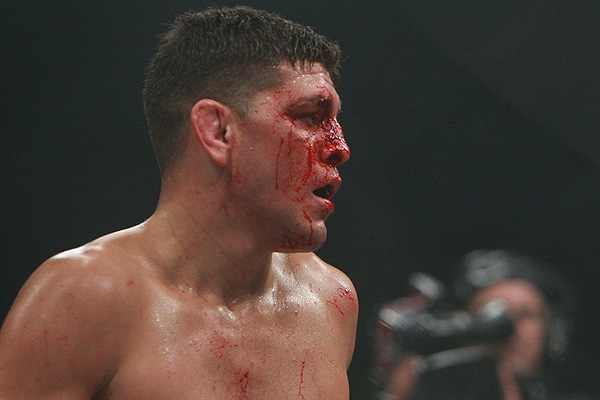 sherdog.com
Diaz comes out with purpose, and his is defense tighter as he moves forward aggressively.
He eats a left hook to the face that knocks his head to the side but manages to tie Duran up in a scramble, pushing him to the ropes. He gets the Thai clinch again, and the crowd goes wild.
Duran pushes against the face of Diaz with both hands, but Diaz lands a hard knee to the body of Duran. That one hurt. Duran isn't used to that kind of blunt-force trauma.
Duran slips away, circling back to the center of the ring quickly as Diaz follows. Duran nails Diaz with a beautiful jab and a straight right that drops him flat on his butt.
Diaz hops up quickly, furious as the ref gives him a quick look and then waves both fighters on. No standing eight counts here.
Diaz is stalking, loading up on his punches, trying to cut the ring off. Duran is circling to his right and then throws a monster right hand that misses. Diaz grabs him, and they both tumble into the ropes. Diaz lands a brutal knee to the face of Duran that drops him to his knees.
The crowd is going insane now as Diaz moves to a neutral corner. Duran hops back up, pushing the ref out of the way.
Duran is bleeding heavily from his nose, and it may be broken.
Duran rushes into Diaz, taking him off guard. He throws wild hooks to the head and body as Diaz tries to find the Thai clinch for the finish. A nasty hook knocks the mouthpiece out of Diaz's mouth, and then a left hook catches him flush in the face.
Duran is backing off, cursing at Diaz who stalks forward, throwing a slow high kick that misses at the bell.
Close round, but Diaz takes it for damage...but just barely.
Diaz 10-9
In between rounds, both men were bleeding. It is unknown if Duran's nose is broken. The cut under his cheek is under control for now. Diaz was bleeding from his nose and cheek as well, and the swelling around his right eye is increasing.
The reach advantage of Diaz may not be helping him land punches against the faster and more experienced Duran, but when he gets Duran in the clinch, his size and power are clearly seen. Duran looks like the much smaller fighter, even though he weighed in at 159 lbs.
Both men come out just a little cautious. Duran is moving well, circling to his left and right. Diaz is moving out with his hands up, but his chin is still out in the open, but that is just his style.
Duran punches at the outstretched arms of Diaz, knocking them either aside or across him. Diaz sticks his arms out again, and Duran fires a stiff jab into his face and then is out of range as a right hand counter from Diaz falls short.
Diaz stalks. Duran punches the arms of Diaz, knocking them away and then lands a hard right. Diaz lunges forward to entangle Duran and eats another stiff jab followed by another right hand.
Duran doesn't normally land this well with his jab, but Diaz is an easy target.
Duran suddenly goes on the offensive, pushing Diaz against the ropes, his forearm heavy against his throat. Diaz is trying to push it aside as Duran bangs his body with hard right hands. A hard right hook to the head of Diaz, and Duran pulls away.
Diaz is really reaching with punches that miss. He lunges again with a right hand and eats a heavy left hook to the body. Diaz lands an outside leg kick, but there's not much on it. If he starts committing to the leg kicks, he could make Duran a very stationary target.
And another leg kick from Diaz, then he eats a left hook to the head. A kick to the body of Duran brings a smile, and he nods.
Duran circles and pushes Diaz toward the ropes then backs out of the looming Thai clinch.
Diaz begins to move forward, and Duran lands yet another hard right hook and then pushes Diaz to the ropes again. Once more with the forearm across the neck of Diaz. Duran goes back to Panama and lands a nasty elbow of his own, and Diaz is cut on the outside corner of his left eye.
Diaz is trying to work the clinch, but Duran simply hugs him tight. Diaz calls Duran a "b*itch" and begins punching the side of his head.
Duran quickly jumps back. He feints and shoots out his jab once, twice, three times…nothing there, but Diaz is still lounging against the ropes for some reason.
More jabs from Duran. Diaz throws an uppercut that catches Duran as he's closing in. They clinch, and Diaz knees Duran to the body. Duran lands a hard left hook upstairs.
Duran backs away as Diaz gives chase, laughing as he avoids all of Diaz's punches. Round ends.
Diaz flips Duran off again.
Duran 10-9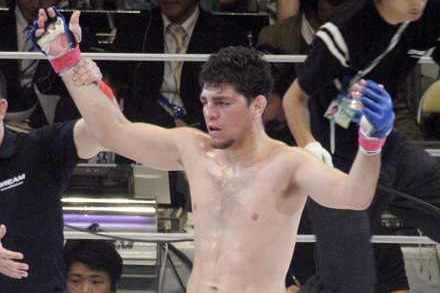 sherdog.com
The left eye of Diaz is swollen badly now, with cuts below and on the outer corner.
Both men come out with purpose. It's been a hard pace, but neither man looks winded. Were these five-minute rounds, it might be a different story.
Duran is bouncing on his feet, darting left and right, egging Diaz on. Diaz obliges, mean mugging, sticking his chin out. Duran feints, and Diaz lurches back.
Duran laughs. Diaz throws a leg kick that misses. Both men begin circling again.
Duran is jumping in and out of range of Diaz's punches, goading him. Diaz swings at first, missing, then settles back, slowing inching forward, pawing with his hands.
Duran snaps the head of Diaz back with a jab. Diaz laughs. Diaz head-butts Duran's fist. Duran laughs. He might just be starting to like Diaz.
Duran circles to the right as Diaz steps in aggressively and gets drilled with a hard right hand from Duran, followed by a left jab and another hard right hand. Diaz eats it all and nods his head, talking to Duran.
Duran circles in, lands another left jab but catches a bad kick to his leg from Diaz. Duran looks hurt from that.
He hobbles backward, and Diaz lunges, arms outstretched, looking for the Thai clinch. Duran blasts him with a straight right, knocking Diaz down yet again.
Diaz is stunned. He slowly climbs back to his feet. The ref checks him out. Diaz pushes him out of the way.
Duran is all over him. Duran is attacking with both hands as Diaz leans back into the ropes. Another right hand lands for Duran. The left eye of Diaz is nearly swollen shut now.
Diaz is searching for the Thai clinch. Duran lands a hellish uppercut that drops Diaz once more. Diaz blinks and shakes it off, rising to his feet. The crowd is going insane.
Duran flies back into the fray, his fists flying. Diaz can't see the punches coming, and they are coming fast. A left hook rocks Diaz, and a right hook sends his mouthpiece flying into the crowd. Diaz is in big trouble, but he grabs Duran and ties him up.
Duran pushes away, and Diaz catches him with another biting kick to the left leg. Duran is in agony. Diaz's face is streaked in scarlet. He wipes the blood away and stalks forward.
Duran drops in another hard right hand, but Diaz rolls with it and comes back with a short right uppercut that lands. Diaz snatches up the Thai clinch. Duran instinctively ducks his head down, running right into a violent Diaz knee.
Duran falls. He slowly stands, blood pouring out of his nose. The ref examines him and then waves them on.
They stand there looking at each other for a moment. They move forward, each man a bloody mess.
Duran fires a jab just as Diaz throws a low leg kick. The kick lands, the jab does not, and Duran falls. The fight is over.
Diaz walks around, his fists in the air.
Duran's corner helps him up, and with their aid, he hobbles to his stool. Diaz attempts to congratulate Duran, but he will have none of it, flipping Diaz the bird.
Diaz nods and goes back to his corner, hands in the air.
Nick Diaz def. Roberto Duran via TKO (leg kicks) in Round 7, 2:48