Ranking the Top 5 Wrestlers in Each MMA Weight Division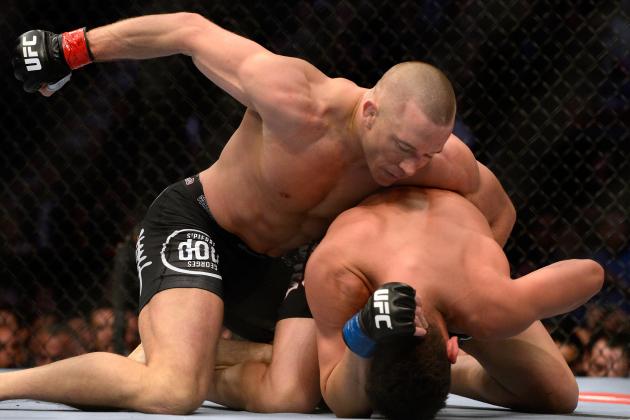 Eric Bolte-USA TODAY Sports

If you ask many fans of MMA what the most dominant style of fighting is today, most people would say wrestling. In fact, most of the best fighters in the world have some sort of wrestling credentials in their background or use their wrestling to gain wins in the cage.
Sure, Brazilian jiu-jitsu revolutionized the sport, but wrestling brought things to a different level. Of course, you need striking and well-rounded ability to be a good fighter, but a strong wrestling base and ability to take fights down are vital.
Let's take a look at the top five wrestlers in MMA today in each division. These rankings do not need to be based on who is best in terms of amateur credentials but who uses their wrestling the best in an MMA fight.
Begin Slideshow

»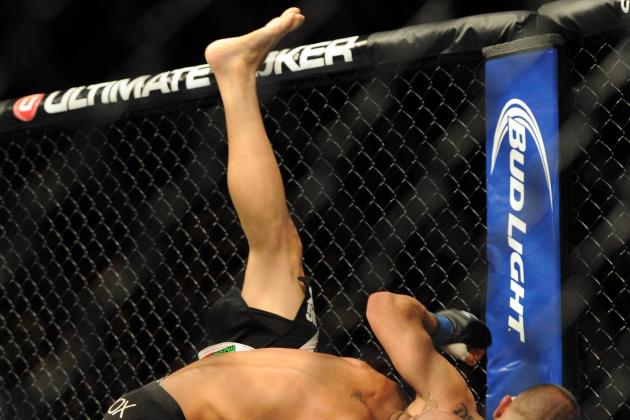 Jayne Kamin-Oncea-USA TODAY Spor

Demetrious Johnson
Joseph Benavidez
Ian McCall
John Moraga
Darrell Montague
The flyweight division is still in its early stages, so it's hard for many concrete assertions to be made, but the preliminary results see the UFC champ on top.
Demetrious Johnson is a longtime amateur wrestler who used his base to transition to MMA. He landed at AMC Pankration, which allowed him to develop the ancient art of pankration, a no-rule grappling style. He uses his speed and deceptive strength to dominate opponents with his wrestling, which is how he earned the UFC title.
Johnson was able to outwrestle both John Moraga and Joseph Benavidez, two of the best wrestlers in the 125-pound division. Benavidez wrestled at William Penn for one year and used his longtime base to become one of the best fighters in the division.
Moraga is a two-time All-American standout from Arizona State who has mostly used his base to stay off his back. It was effective in his UFC fights until he ran into the wrestling powerhouse that is Johnson.
As for Ian McCall, he briefly wrestled at Cuesta College before dropping out due to injury. He has used his wrestling ever since in MMA, which has seen him win big fights against Jussier da Silva and highly respected Darrell Montague.
Montague uses a lot of wrestling in his fights, which has led to ground-and-pound and submission victories. He has a chance to show that wrestling when he makes his UFC debut in Houston against John Dodson at UFC 166 in October.
Gary A. Vasquez-USA TODAY Sports

Dominick Cruz
Urijah Faber
Scott Jorgensen
TJ Dillashaw
Bryan Caraway
The bantamweight division is not shy on wrestling talent, and most of that talent is toward the top of the rankings.
Currently mending a seemingly never-ending injury bug, Dominick Cruz has proved to be the best wrestler in the division. His combination of footwork and level changes has seen him ground opponents and fight off takedowns hand-in-hand. That is why he has been nearly unstoppable for so long.
His archrival Urijah Faber, whom Cruz has split wins against, may not always show his wrestling acumen due to his good all-around ability but is definitely one of the best around. Earlier in his career, he showcased those skills more often, but to this day you will still see him score takedowns and defend them almost on command.
Speaking of Faber, his teammates at Team Alpha Male make this list as well. Both TJ Dillashaw and Bryan Caraway have demonstrated their ability to get fights down and dominate on the mat. Dillashaw was a standout from Cal State Fullerton, while Caraway went to Central Washington University during his collegiate career.
Lastly, Scott Jorgensen has made a career of grounding guys and getting wins in the cage. His ability to plant opponents and land brutal ground-and-pound (see Ken Stone fight) has put him amongst the elite. He honed his craft while wrestling for Boise State before making the transition to MMA.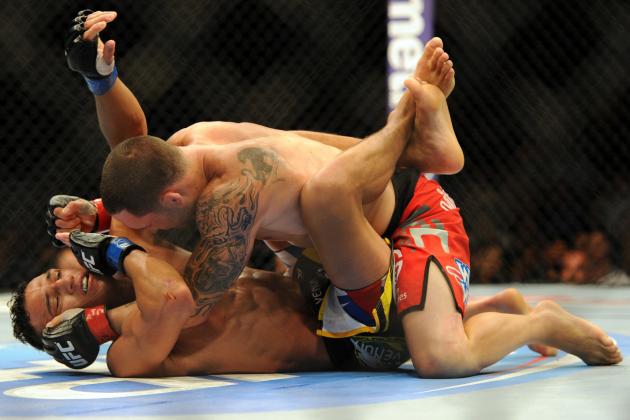 Jayne Kamin-Oncea-USA TODAY Spor

Frankie Edgar
Chad Mendes
Ricardo Lamas
Clay Guida
Nik Lentz/Darren Elkins (tie)

Since many lightweights have migrated to the featherweight division, it has become stocked with high-level wrestlers. In fact, the top five wrestlers currently at 145 pounds are all former UFC lightweights.
Former champion Frankie Edgar comes in controversially at the top. Many people doubt his wrestling chops, but the former lightweight champ who sharpened his ax at Clarion University has outwrestled his way up the UFC ladder. Before his days of precision boxing and movement, he banked on his takedowns and top pressure to win fights. That eventually led him to where he is today.
A big thanks to our readers, as a key person was left out when this was first published. Chad Mendes, who was accidentally oversighted, is one of the best in the business at takedowns and defense. The former collegiate grappler came to prominance with his pedigree, but now owns well-rounded skills that don't have him relying on his wrestling so much.
Ricardo Lamas, an All-American from Division III Elmhurst College, has similarly clawed his way to the top of the rankings because of his wrestling. His powerful takedowns have seen him crush opponents such as Erik Koch and Cub Swanson in his UFC tenure. He is difficult to thwart once he achieves the takedown.
Clay Guida, who has recently reverted back to his wrestling-heavy attack, may be a great MMA wrestler because of his high-pace, killer cardio and relentless attack. Many times in fights, he disorients opponents with his movement and then snags their legs from under them. It has kept him employed as of recently.
As for Nik Lentz and Darren Elkins, both men have similar styles that are wrestling heavy. Lentz is especially accredited, as he performed for the powerhouse University of Minnesota in college. Both men are relentless on their takedown attacks and rarely let men back up once they have grounded them.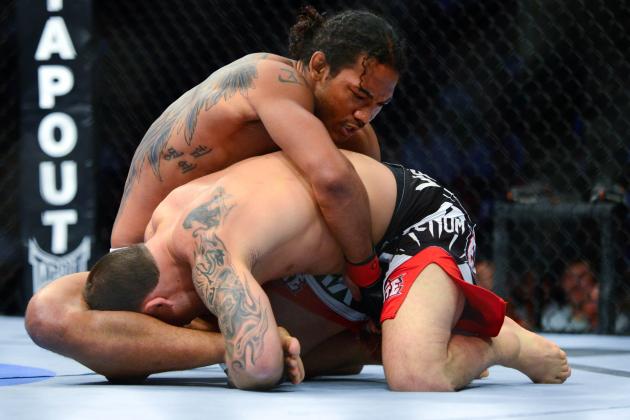 Ron Chenoy-USA TODAY Sports

Benson Henderson
Gray Maynard
Khabib Nurmagomedov
Michael Chandler
Gilbert Melendez
As stated at featherweight, the lightweight division is packed with wrestlers and takedown artists. It is also one of the most crowded in terms of numbers, which may explain why there is such an abundance.
The champion of the weight class, Benson Henderson, has shown that you don't need Division I wrestling credentials to be the best wrestler. A wrestler at Dana College in Nebraska, Henderson went on to be a two-time NAIA All-American, which combined with his martial arts background, brought him to MMA. From there, he has used his takedowns and top game to become the UFC champion and the best MMA wrestler in the division.
Not far behind is Gray Maynard, who despite recent attempts at being a stand-up fighter, is better suited as a wrestler. Before his striking fascination, he dominated his fights with his ability to put people on their backs. Not only that, he did it in convincing fashion and smashed faces along the way.
Though not from a traditional college wrestling background, Khabib Nurmagomedov has proved to be an effective wrestler like many other Russian fighters. A Judo black belt and master of sambo, he has outwrestled some tough competition in the UFC and ruled over them in the process. This skill set is rapidly moving him into the title picture at such an early time in his UFC career.
The first Bellator competitor on the list, Michael Chandler has sort of gone the route of Maynard lately. Chandler's boxing has vastly improved, but his bread and butter is undoubtedly his wrestling. The University of Missouri standout came into MMA with little training and has turned into a world champion in the process.
Finally, Gilbert Melendez sneaks into the last position in a division packed with grapplers. His takedown defense is solid, but his offensive wrestling is underrated. It led him to being a Strikeforce champion for a long time.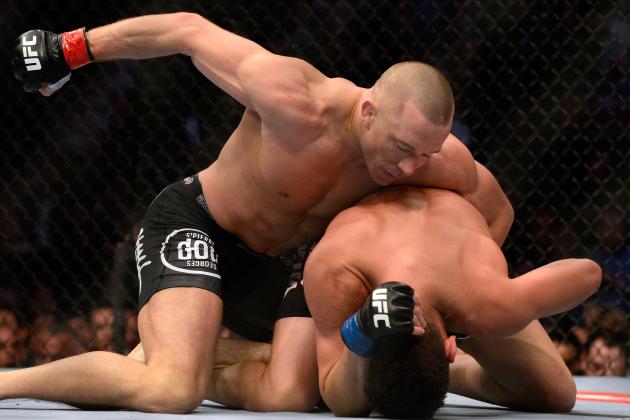 Eric Bolte-USA TODAY Sports

Georges St-Pierre
Ben Askren
Jake Shields
Johny Hendricks
Dony Hyun Kim
In going along with the "you don't have to be a college wrestler to be the best MMA wrestler" thought, Georges St-Pierre is another example of that. GSP has used the same formula to dominate the welterweight division for years. The MMA-based wrestler jabs, shoots and holds; that's all he needs to do to control fights, much to the chagrin of fans.
The same can be said about Ben Askren, though with less jabbing and more great amateur wrestling experience. The Bellator champ is a University of Missouri alumnus and former Olympic competitor. He literally just attempts and achieves takedowns the entire fight and keeps opponents on their back.
Jake Shields and Johny Hendricks are close with their wrestling, as both the Cuesta College and Oklahoma State alumni, respectively. While Shields is more of a grinder who breaks his opponent's will with his wrestling, Hendricks uses his as a backup plan to his night-ending, consciousness-stealing hands.
The last man on the list comes from a strong judo background. Dong Hyun Kim looks for the clinch early and often, so that he can throw and trip his way to top position. From there, he grapples with precision, never letting his opponent get anything going in the fight. That type of wrestling is pure blanketing.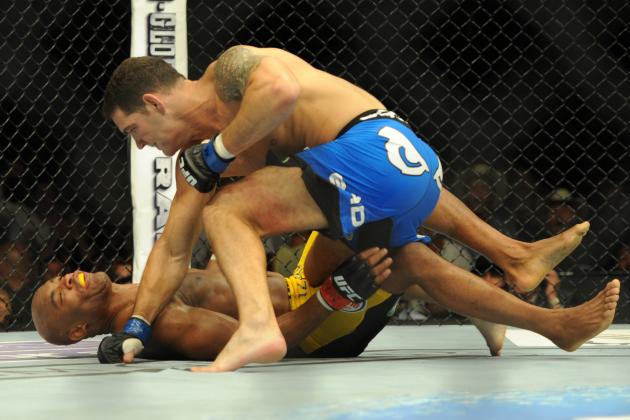 Jayne Kamin-Oncea-USA TODAY Spor

Chris Weidman
Chael Sonnen
Yushin Okami
Mark Munoz
Tim Boetsch
The UFC champion is, in fact, the best wrestler in MMA right now. As is the case with many wrestlers once they develop hands, Chris Weidman (who wrestled at Hofstra) hasn't been using it as often as earlier in his career. That being said, he has outwrestled Mark Munoz and other wrestling-based fighters in his UFC tenure. Of course, that is the base that got him to the gold.
Speaking of Munoz, the "Filipino Wrecking Machine" is also one of the best around. The Oklahoma St. alumnus is a grinder in his own right and uses his wrestling base frequently. The only times he has been outwrestled in an MMA match have been against Weidman and Yushin Okami.
Okami, a grappler from Japan, has been using the same formula for years. The former title contender has a style similar to friend Chael Sonnen, who takes his place on the list in light of his future return to the division. Both men are aggressive, fish for double legs and achieve those takedowns at a high clip.
Tim Boetsch rounds off the list with his highly underrated wrestling ability. If you have ever seen his fight against David Heath, you saw a real treat. With his back against the cage, the Lock Haven University wrestler grabbed Heath and threw him head first into the cage. He is unheralded but quite effective.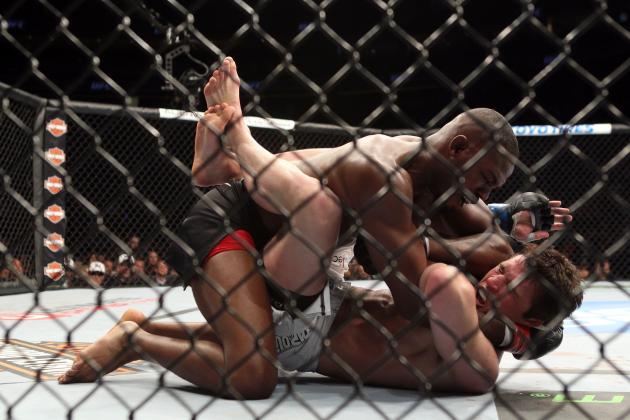 Brad Penner-USA TODAY Sports

Jon Jones
Rashad Evans
Phil Davis
Muhammed Lawal
Ryan Bader
Not nearly the decorated college grappler as many of his colleagues, Jon Jones has turned his modest college wrestling career and physical gifts into arguably the best wrestling in MMA. Using his explosiveness, long limbs and smarts, he grabs takedowns almost on demand. From there, he uses creative ground-and-pound and an underrated submission game to destroy men on the ground.
Just ask Brandon Vera.
Jones outworked two guys also on this list in Rashad Evans and Ryan Bader. Bader showed his stuff at Arizona State before committing to MMA. Most of his wins are courtesy of his powerful takedowns.
Michigan State standout Evans was once considered the best wrestler at 205 due to his ability to put people down and control them from the top. He is still one of the best, which he showed when he dominated Phil Davis.
Speaking of Davis, the Penn State grad bases his entire game around wrestling. Not yet completely refined as a striker, he uses explosiveness, athleticism and strength to drop people on the mat. There is no getting up from that, as he is a smothering force.
Finally, Bellator's "King Mo" took a great collegiate stint in wrestling and turned it into a fine MMA career. He has been honing his boxing ability lately, which he has carved out with Team Mayweather. However, we all know that his best attribute is wrestling, which is what he used to become a Strikeforce champion.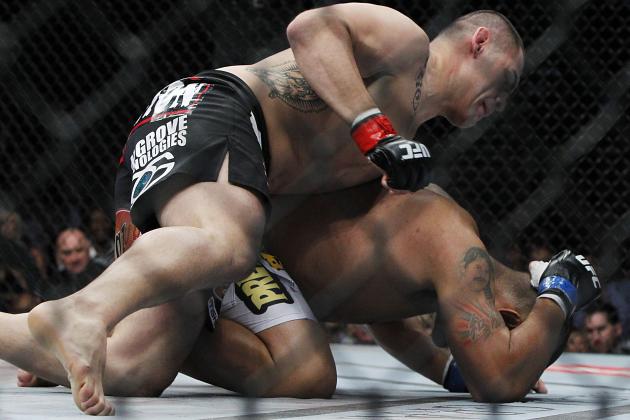 Gary A. Vasquez-USA TODAY Sports

Cain Velasquez
Daniel Cormier
Josh Barnett
?
?
The heavyweight division may be the toughest to call in terms of who is among the best at MMA-based wrestling.
It was a close call between Cain Velasquez and Daniel Cormier for No. 1, but in terms of MMA wrestling, Velasquez gets the slight nod. The Arizona State product uses relentless pace, crazy cardio and powerful shots to put opponents down.
That being said, Cormier is the vastly superior amateur wrestler who will likely be the better MMA wrestler in due time with more experience in the cage. He wrestled at powerhouse Oklahoma State and even made a run in the Olympics. He is the wrestling coach at American Kickboxing Academy, where Velasquez also trains.
I would love to see the two fight to see the potential chess match that could come, especially if they traded takedown attempts.
A catch wrestler by trade, Josh Barnett has made a career of grounding fighters and using a great submission game to win fights. He has a good ability to put fighters on their backs and possibly the best submission game amongst pure non-jiu-jitsu wrestlers.
Finding a fourth and fifth guy to fill out this risk was tough, so I want to hear what you all think. So, in the comments section, tell me whom you think the other two best heavyweight wrestlers are in MMA, as well as if you agree or disagree with the picks in the other weight classes. Civilized discussion is always warranted.