Fantasy Football 2013: The 12 Players Who Benefit Most from PPR Scoring
Streeter Lecka/Getty Images
New Orleans Saints running back Darren Sproles had 27 fewer rushing attempts than he had receptions in 2012.
It's a growing trend in fantasy football and something that many owners don't have a whole lot of experience with: points-per-reception, or "PPR," leagues.
On the surface, the idea is simple. As the name indicates, points are accrued each time a given player catches a pass. But the amount that it affects individual players is too often overlooked by those new to PPR.
In most PPR leagues, each reception is worth one point. However, there are also leagues that instead give fractions of a point per reception. Of course, the scoring system of your league will greatly determine the weight that you should give to players who catch a high number of passes.
A lot of new players see "PPR" and simply think to themselves, "Wide receivers must be worth more." While that is true to some extent, many are surprised to hear that the position that is most affected by the point-per-reception scoring system is actually running back.
The reason for this is that the average fantasy starter at running back doesn't catch many passes. However, there are some backs who really shine as pass-catchers. Some backs even end up being at or near the top of their team in total receptions for the season.
There are players at other positions who will see a significant boost in value in PPR formats, but as we'll see in this list, it's the running backs who catch passes that fantasy owners really need to pay attention to.
(All Average Draft Position calculations are provided by FantasyFootballCalculator.com as of 8/15/13)
Begin Slideshow

»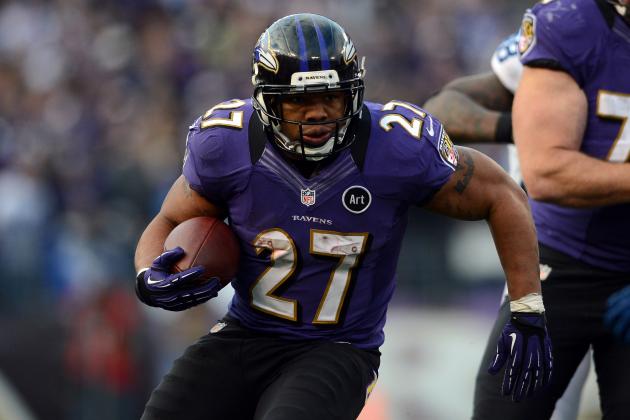 Patrick Smith/Getty Images
Baltimore Ravens running back Ray Rice has the potential to lead all backs in receptions.
ADP in standard scoring: 7
ADP in PPR scoring: 6
It doesn't look like much at first glance, but the subtle bump that makes Ray Rice the No. 6 running back in PPR leagues as opposed to the No. 7 running back in standard leagues is a big one.
The only player who Rice actually jumps is Marshawn Lynch, but it's the separation created between he and the backs on the next tier that is important. In essence, Rice goes from being a third-tier running back to a solid second-tier running back just because his receptions are added to the point total.
Rice has caught more than 60 passes in each of his past four seasons as the Ravens' primary tailback. Although there have been rumors of Bernard Pierce playing a bigger role in the offense of the defending Super Bowl champions, Rice remains the lead dog and should be in great position to again approach that number.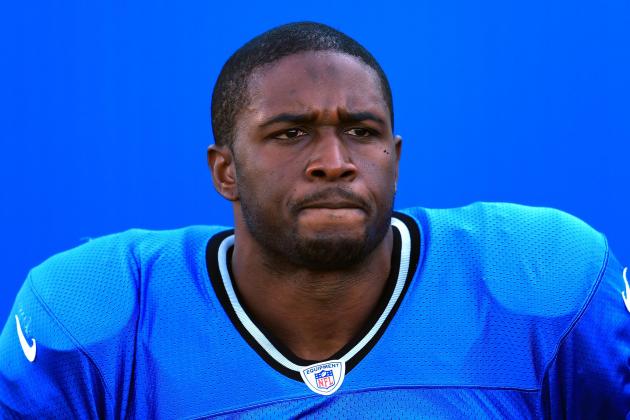 Andrew Weber-USA TODAY Sports
A new tailback in Detroit could do wonders for what is already one of the league's most high-powered offenses.
ADP in standard scoring: 20
ADP in PPR scoring: 19
One player who may shoot up the rankings in 2013 is former New Orleans Saints and Miami Dolphins running back Reggie Bush. Bush now finds himself in the electric Detroit Lions offense that threw the ball more times than any team in NFL history just a season ago.
After being labeled a "bust" by many NFL analysts during his run with the Saints, Bush spent two productive seasons as the primary ball-carrier in Miami. He missed just one game during that stretch and rushed for almost as many yards in those two years as he did in his first five seasons with New Orleans combined.
With his running ability now battle-tested, Bush seems like a good candidate to begin contributing again in the passing game. He caught just 78 passes in 2011 and 2012 but still has about the same explosiveness as he did in his rookie season when he caught an astounding 88 passes in the pass-happy New Orleans offense.
Although Detroit added Bush to contribute as a runner as well, there's no doubting that quarterback Matt Stafford will like having Bush as a receiving option out of the backfield. Stafford completed 86 passes to Joique Bell and Mikel Leshoure, who split snaps at running back for most of the 2012 season.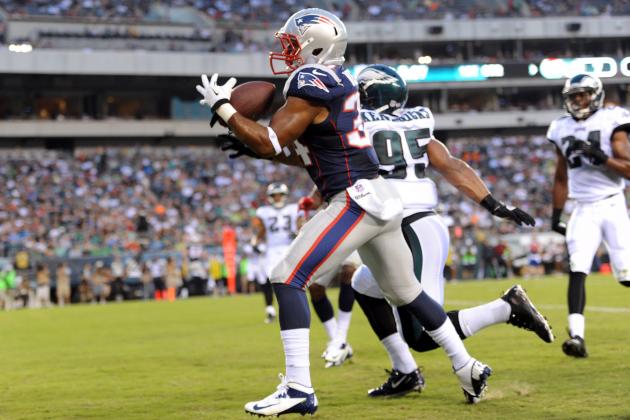 Joe Camporeale-USA TODAY Sports
Shane Vereen catches a touchdown pass in the Patriots' first preseason game of 2013.
ADP in standard scoring: 65
ADP in PPR scoring: 52
One of the hottest names moving up the draft boards at the moment is New England Patriots running back Shane Vereen.
Vereen, who spent most of 2012 as a complementary piece in the Patriots offense, has been one of the standouts during training camp for the team and is expected to play a much more significant role in the upcoming season.
What's surprising is that Vereen caught just eight total passes in his first two seasons. However, if the preseason game against the Eagles is any indication, the Patriots are planning on using him quite a bit in the passing game.
Vereen caught two passes early in the game, including a gorgeous 13-yard touchdown reception from Tom Brady. What was most important about that play, though, was that Vereen was split out wide and simply outclassed the man in coverage to get open for the score.
Expect the Patriots to use Vereen all over the field, in a similar role to what we saw Aaron Hernandez play for the team a year ago. If he can also remain a contributor as a runner, Vereen could be one of the best values of the 2013 fantasy football season.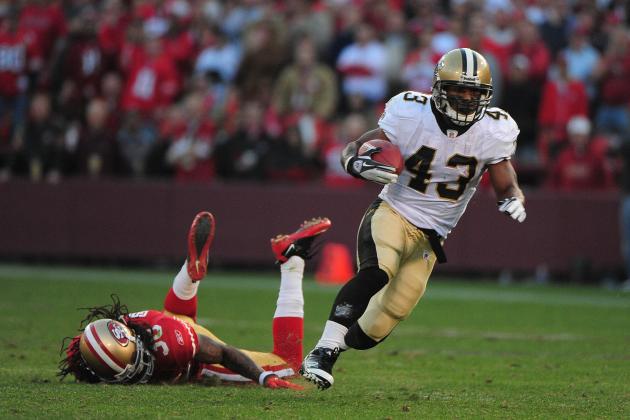 Kyle Terada-USA TODAY Sports
Saints running back Darren Sproles caught 75 passes in 2012 despite missing three games.
ADP in standard scoring: 37
ADP in PPR scoring: 23
It's not often that a running back catches more passes than he has rushing attempts in a game. But when your name is Darren Sproles, that doesn't just happen in certain games—it happens for entire seasons.
Sproles is perhaps the most obvious and noteworthy beneficiary in PPR scoring systems. His 220 receptions since 2010 are best among all running backs by a wide margin. Add in the 16 touchdowns he's scored on those receptions, and you'll begin to see why he has proved to be such a value in scoring systems that award receptions.
The difference between Sproles' standard scoring ADP and his PPR scoring ADP is more than an entire round and could arguably be even more than that. He goes from being a middle-of-the-road RB2 or even an RB3 into being an absolute stud as an RB2.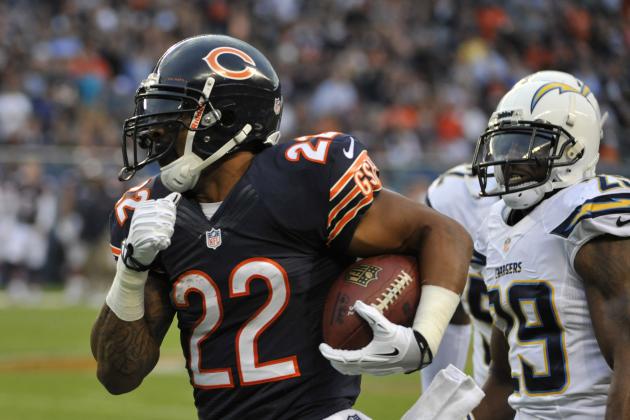 David Banks-USA TODAY Sports

ADP in standard scoring: 13
ADP in PPR scoring: 12
One player who's being underrated and almost forgotten about as a high-value contributor in PPR formats is Chicago Bears running back Matt Forte.
Look, I get it. He's not the "sexy" pick. He's not likely to be the highest-scoring running back at the end of the season. But if there's one thing that Matt Forte does have, it's the ability to catch the ball.
Forte lines up all over the field for the Bears, and the coaching staff has already vowed to get him more involved in the passing game than he was in 2012, when he still caught 44 passes. Prior to 2012, he had caught over 50 passes in each of his first four seasons as a pro.
He's not much of a touchdown scorer, but Forte is among the most rock solid options that a team can have as an RB2, and he may even make a push to be considered a low-end RB1 by season's end in PPR formats.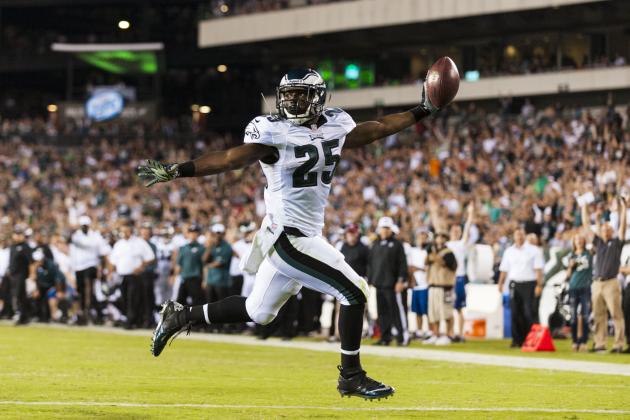 Howard Smith-USA TODAY Sports

ADP in standard scoring: 10
ADP in PPR scoring: 10
His ADP doesn't actually change between PPR and non-PPR leagues, but there is a great disparity in potential for LeSean McCoy between the two scoring systems.
A season ago, McCoy disappointed many fantasy owners by missing four games and rushing for just 840 yards in what was a down year for the Philadelphia Eagles as an organization. But a closer look at his stat line as a receiver reveals that although he struggled to run the ball, Philadelphia was still getting the ball to him plenty in the passing game.
His 54 receptions in 12 games came out to an average of 4.5 catches per game, or what would extrapolate out to a 72-catch season if he were to stay healthy and on the same pace. That total would've put McCoy as the league's second-highest pass-catcher at running back behind only Darren Sproles.
A new offense in Philadelphia certainly adds some question marks as it relates to McCoy's role in the offense, but it seems safe to assume that he will still touch the ball plenty under new head coach Chip Kelly. Be confident in selecting McCoy as a low-end RB1 and ecstatic to get him as your RB2 in PPR formats.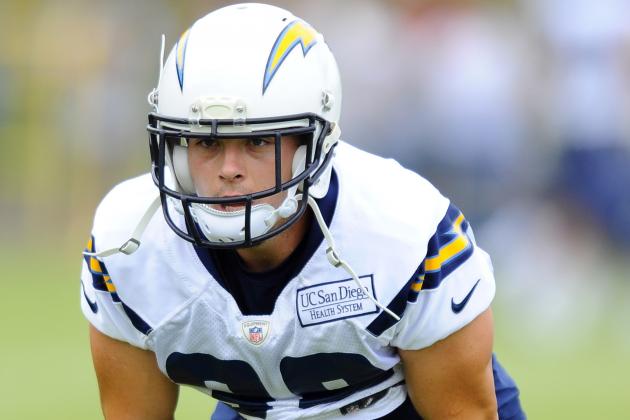 Christopher Hanewinckel-USA TODA
Danny Woodhead could provide excellent value as a late-round pick in PPR formats.
ADP in standard scoring: 111
ADP in PPR scoring: 96
The term "sleeper" gets thrown around too often each offseason, but former New England Patriots and current San Diego Chargers running back Danny Woodhead certainly fits that bill for the 2013 season.
Woodhead, who caught 40 passes for 446 yards despite competing with four or sometimes five other options in the backfield for the Patriots last season, is exactly the kind of player who could be a home run for some lucky fantasy owner if the right scenarios play out.
Chargers starting tailback Ryan Mathews is coming off an atrocious, injury-plagued (yet again) season that led him to be one of the biggest busts of the fantasy season. He rushed for just 3.8 yards per carry and scored just one touchdown all season. Needless to say, the Chargers were looking for someone to come in and challenge Mathews. They may have found that someone in Woodhead.
If Mathews struggles again or goes back on the injury list as has been the story of his career thus far, look for Woodhead to be given the opportunity to shine. He has drawn rave reviews from Chargers GM Tom Telesco for his pass-blocking, which could mean he spends a lot of time on the field for third downs.
If that's the case, Woodhead could provide Philip Rivers a reliable target out of the backfield even when plays break down.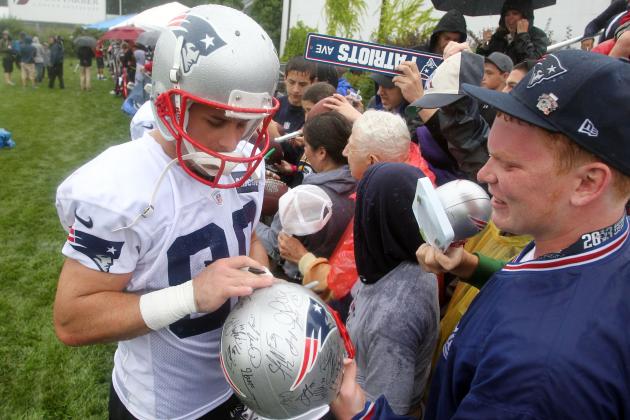 Stew Milne-USA TODAY Sports
Danny Amendola is expected to be Tom Brady's top target in 2013.
ADP in standard scoring: 43
ADP in PPR scoring: 43
It's always hard to predict what's going to happen in New England, but if we have to make a guess, it seems likely that the team's top offseason acquisition, Danny Amendola, is going to play a prominent role in whatever happens on offense.
Amendola is coming from St. Louis, where he made his living doing his best Wes Welker impersonation, primarily working out of the slot and showing tremendous ability to create separation on short and intermediate routes. He caught 63 passes in just 11 games for the Rams in 2012, which would have put him on pace for 92 receptions if he had stayed healthy.
Since his breakout year in 2010, Amendola's talent has never been in question. It's his ability to stay healthy that has been a cause for concern. He has missed 20 games over the past two seasons alone and has been labeled with the dreaded "injury-prone" tag that often leads to those players slipping in fantasy drafts.
Amendola isn't much of a threat to score, and he's not Wes Welker, but the Patriots love to throw the ball and he's about the only (currently) healthy, proven target that the team has at the moment. If he can stay out of the training room and on the field, Amendola could flirt with 100 catches in the high-powered New England offense.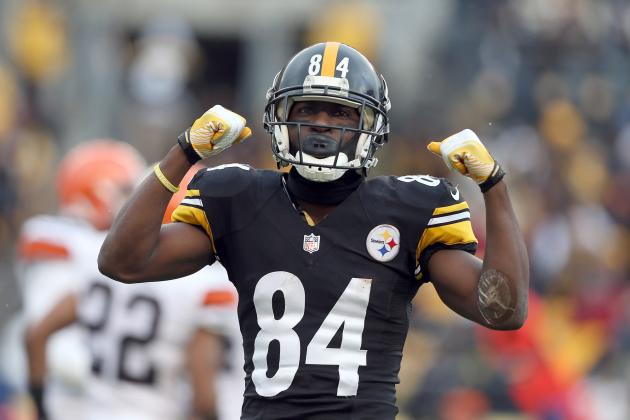 Karl Walter/Getty Images

ADP in standard scoring: 62
ADP in PPR scoring: 59
After an impressive sophomore campaign that saw him top the 1,000-yard mark for the first time in his career, expectations were high for Pittsburgh Steelers wide receiver Antonio Brown heading into 2012. After all, with Mike Wallace stretching defenses with his deep play ability, Brown should've been able to give quarterback Ben Roethlisberger an incredibly reliable underneath option to pick up quick first downs.
But that didn't really happen.
Brown was on pace to beat his 2011 reception total of 69, but an injury knocked him out for most of the month of November, leaving him three shy at 66 receptions.
Brown isn't likely to turn into a serious red-zone threat anytime soon, as he made only seven total touchdown receptions in his first three seasons as a pro, but the truth is that with a rookie running back and Mike Wallace now off the team, the offense is going to have to run more through Brown than ever before.
As a low-end WR2 or a high-end WR3, Brown should offer great stability as he is targeted over and over again this season.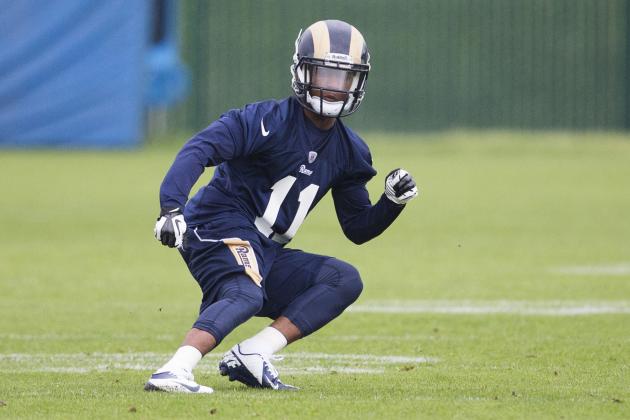 David Welker/Getty Images
The Rams have high hopes for rookie wide receiver Tavon Austin.
ADP in standard scoring: 76
ADP in PPR scoring: 75
With Danny Amendola now in New England playing the "Wes Welker role," someone had to step in and learn to play the "Danny Amendola role" in St. Louis. According to reports from training camp, they may have found that person in their 2013 first-round draft pick Tavon Austin. Except in this case, Austin may actually be the more athletic, speedy and healthy option over Amendola.
Austin, who was one of the most explosive players in the country this past season as a member of the West Virginia Mountaineers, has the ideal speed and quickness to step in and make an immediate impact as a possession receiver in the NFL.
In 2012 alone, Austin caught 114 passes for 1,289 yards and 14 touchdowns. He also added 643 yards on the ground in just 72 attempts, including an additional three touchdowns; this gives credence to the idea that he could see quite a few targets that start behind the line of scrimmage for the Rams this season.
As a seventh-round pick, Austin has very little downside, as he is almost certainly going to step in and make an immediate impact in the Rams' short-yardage passing game.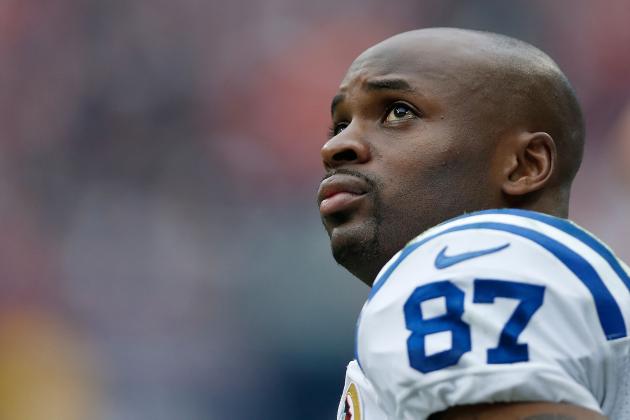 Scott Halleran/Getty Images
Reggie Wayne stuck with the Colts as they made their transition from one franchise QB to the next.
ADP in standard scoring: 49
ADP in PPR scoring: 46
If you're looking for big-time consistency from a player who you can get later than you should, look no further than Indianapolis Colts WR Reggie Wayne. He might be a boring pick, but sometimes boring picks are the ones that end up saving you from taking a chance on a player you shouldn't have.
As he heads into his 13th season as a pro, Wayne remains one of the league's most reliable fantasy options at wide receiver. Only once in the past nine seasons has Wayne failed to reach the 1,000-yard mark—and that came in 2011 with an absolute train wreck at the quarterback position—and even then he had 960 yards.
Age may be catching up to this 34-year-old potential Hall of Famer, but health certainly is not. Wayne has not missed a game since his rookie season all the way back in 2001.
Best yet, Wayne is among the league's best possession receivers, as he has been over 100 receptions in three of his past four seasons, including this past season when he caught 106 passes for 1,355 yards and five scores from rookie QB Andrew Luck.
The fact that Wayne is being taken as a low-end WR2 and even ending up as a WR3 in some formats is crazy. Particularly in PPR formats, Wayne presents almost no risk whatsoever and is well worth a spot on your roster.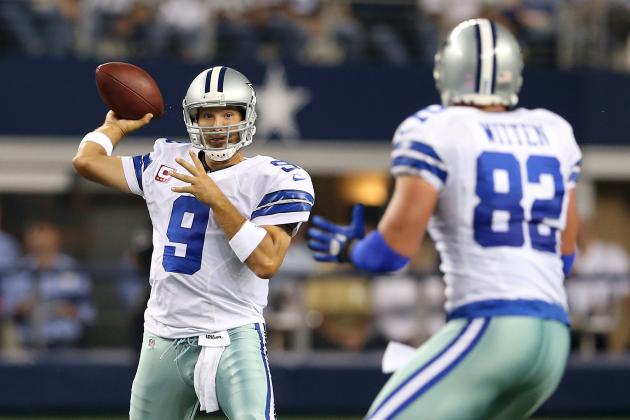 Ronald Martinez/Getty Images
Tony Romo looks to his most reliable receiver, tight end Jason Witten.
ADP in standard scoring: 62
ADP in PPR scoring: 46
The "bromance" between Tony Romo and Jason Witten is well-documented at this point, and it has only served to further Witten's stock in PPR formats, making him a borderline "elite" option at a position that is very thin in terms of proven success heading into 2013.
In 2012, Jason Witten led all tight ends with an unbelievable 110 receptions. That number, good enough for fifth-best among all players, was also enough to break the NFL's single-season reception record for tight ends.
To put things in perspective, Witten's 110 catches were 25 more than the league's top-scoring TE Jimmy Graham had on the year. The difference between Witten and the TE with the fifth-most receptions, Heath Miller, was 39 catches. The difference between Witten and the TE with the 12th-most receptions, Martellus Bennett, was 55 catches.
Yes, you read that right—Witten literally doubled the amount of receptions that another starting-level tight end had on the year.
It wasn't just this one year, either. Being at or near the top of his position in receptions is nothing new for the 2012 NFL Man of the Year. He hasn't totaled fewer than 64 catches since his rookie season. Only six other tight ends even reached 64 receptions in 2012.
The unfortunate side of Witten's game is that he hasn't been much of a touchdown threat throughout his career. He has averaged just 4.4 touchdowns per season through his first 10 seasons as a pro, but Jason Witten remains one of the most reliable tight ends in the game and an absolute rock star in PPR formats.