The San Diego Chargers and Chicago Bears squared off in a Week 2 preseason battle that wasn't nearly as close as the final score of 33-28 indicates
The Chargers may have only lost by five points, but the team was pushed around on both sides of the ball and committed an alarming number of mistakes, including four turnovers.
Here's a look at game grades and analysis for the Chargers after the loss.
San Diego Chargers Grades

| | | |
| --- | --- | --- |
| Position Unit | 1st Half Grade | Final Grade |
| QBs | D | C- |
| RBs | B+ | B+ |
| WRs | D | C- |
| TEs | B | A- |
| O-Line | F | F |
| Run Defense | F | F |
| Pass Defense | B- | B- |
| Special Teams | F | F- |
| Coaching | C- | C |
vs. Bears preseason Week 2
Game Analysis for the San Diego Chargers
Quarterbacks: The predominant storyline of this game may well be that the play of the San Diego quarterbacks in 2013 looked alarmingly like the play of the Chargers' signal-callers in 2012.
Granted, it's not entirely Philip Rivers' fault. The pass protection while he was in the game was not good. However, Rivers and Charlie Whitehurst combined for three turnovers in the first half, and if that continues the Chargers aren't going to win many games this year.
Rivers finished the night 5-of-9 for 50 yards and two turnovers. In a a make-or-break year that's nowhere close to good enough.
Whitehurst was his usual uneven self, looking great on one play and then awful the next. All-in-all he was at least serviceable in a backup role, getting San Diego back into the game.
Running Backs: The biggest positive that fans of the Chargers can take away from this game is that Ryan Mathews looked good for the second straight exhibition game.
After running hard in the opener in limited duty Mathews built on that performance against the Bears, gaining 45 yards on the ground and looking very much like the back the Chargers have always hoped he would be.
It will be interesting to see if Mathews has earned some passing-down work in next week's all-important "dress rehearsal", or if we'll finally get a taste of Danny Woodhead in a Chargers' uniform.
Wide Receivers: On many levels it's hard to assign a grade to the San Diego wide receivers, as they were complete non-factors in the game.
Keenan Allen had a very up-and-down night, making a couple of nice catches but fumbling a punt and falling down on Rivers' interception. With Danario Alexander out for the year and Malcom Floyd very iffy for Week 1, Allen has to do better than this.
When the high point of the game is Robert "we're paying him HOW MUCH?" Meachem making a 40-yard catch in the fourth quarter, you know things haven't gone so well.
Rookie Mike Willie did snare two touchdown passes, which could help his odds of at least earning a practice squad spot.
Tight End: It wasn't all bad through the air for the Bolts.
Antonio Gates was Rivers' go-to guy, reeling in three catches for 26 yards. He also had a drop, but we'll give the 11th-year pro a mulligan. Most importantly, Gates appeared to be moving well, a big plus after back-to-back injury-marred seasons.
The Chargers might be able to turn to a reserve tight end to help fill the void left by all their injuries at wideout.
Second-year pro Lardarius Green made a pair of very nice downfield catches over the middle, including one for a touchdown. It's not hard to envision Green playing a larger role in the slot in 2013.
Offensive Line: The Chargers' front four executed well in the ground game early, getting a good push and opening holes for Mathews.
However, the offensive line wasn't nearly as effective in pass protection, and their performance did absolutely nothing to allay concerns about what sort of time Rivers will have to throw the ball this year.
Rookie D.J. Fluker played well, and if this game is any indication King Dunlap will open the season at left tackle. Max Starks was a turnstile.
Pass Defense: The Chargers' pass defense was very much a mixed bag on Thursday, at least during the portion of the game that mattered where their prospects for the regular season are concerned.
The good news is that the front seven looked very good, harassing Jay Cutler with regularity and notching two sacks on the game's opening drive.
With that said though the secondary was very soft in coverage. That may well have been by design, but it was the sort of pass defense that Peyton Manning would carve into tiny little pieces.
Run Defense: For lack of a better word, the run defense was atrocious.
Whether it was up the gut or on the edge, San Diego's defense was consistently pushed around by a Bears' offensive line that isn't going to be confused with the San Francisco 49ers' front any time soon.
Surrendering over 100 yards on the ground in a half ranks right up there with continually turning the ball over on the list of ways to not win football games.
Special Teams: If the run defense was bad, the the adjective hasn't been invented yet to describe the special teams.
They sure as heck weren't "special."
Let's see. Allowed a long return? Check.
Fumbled a punt that led to a field goal? Check.
Had a punt blocked that led to another field goal? Check.
It was a clinic in futility.
Coaching: It's hard to evaluate head coach Mike McCoy and his staff from a strategy standpoint, as teams play it very close to the vest in the preseason.
However, the Chargers looked incredibly sloppy in the first half and made any number of mistakes in just about every facet of the game Thursday, and that reflects poorly on the coaches.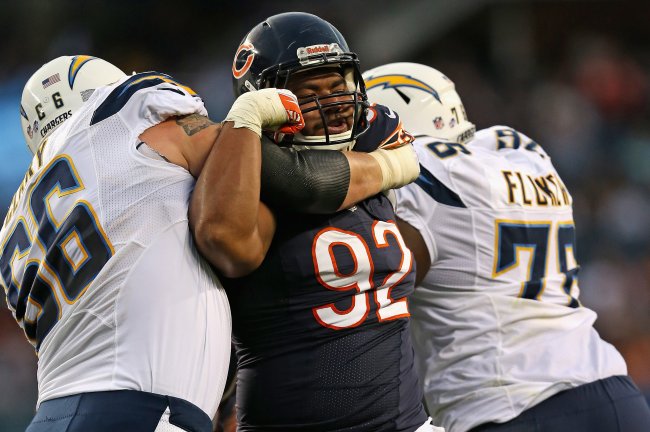 Jonathan Daniel/Getty Images
First Half Analysis for the San Diego Chargers
Quarterbacks: Philip Rivers struggled against the Bears, although much of that wasn't really his fault. Not much that a passer can do if receivers aren't open, and his interception was the result of a wideout getting tangled up with a defender.
However, the same turnover problems that have dogged Rivers the past two years were plainly evident against Chicago, and Rivers simply can't keep throwing picks and losing fumbles.
Rivers was finally able to string something together on the first drive of the second quarter, but another sack forced a punt, and just like that Rivers' night was done.
Then Charlie Whitehurst entered the game and promptly fumbled. Never say things can't get worse, because they always can.
Running Backs: If there was a bright spot for the Chargers in the first half it was the running of Ryan Mathews. The fourth-year pro hit the hole quickly and hard, averaging five yards a pop on nine carries.
Wide Receivers: Given the injuries that have befallen the Bolts at wideout, the team badly needs rookie Keenan Allen to step up. Getting tangled up with cornerback Tim Jennings (which allowed Chris Conte to intercept Rivers) isn't exactly what we meant.
Tight Ends: The Chargers badly need Antonio Gates to play well, and the veteran opened the game with a seven-yard reception. Rivers looked Gates' way early and often, and so long as Gates can stay healthy that will all but certainly continue into the regular season.
Offensive Line: San Diego's ability to keep Philip Rivers upright may be the biggest factor in how the team fares in 2013. If the first quarter of this game was any indication, then Rivers is in for another long year in 2013.
The first-team was decent when it came to run blocking, but that pass protection was somewhere between not good and abysmal.
Run Defense: As successful as the Chargers were in getting after Jay Cutler, they were just as bad against the run. The front seven was handled by a less-than-stellar offensive front of the Bears.
That opened the door for a big first quarter from Matt Forte, who had a 58-yard run that set up a Chicago touchdown and a 3-yard scoring run of his own.
Pass Defense: Jarret Johnson was impressive with a strip-sack on the first series of the game, and Corey Liuget followed that up with a sack of his own that was borne of strong coverage downfield.
That coverage had its lapses though. The defense didn't play Brandon Marshall aggressively enough, and Marshall abused the San Diego secondary with regularity underneath.
However, linebacker Donald Butler demonstrating good range late in the first quarter, showcasing his coverage skills with a nice interception over the middle.
Special Teams: The Chargers can't have been happy to have seen Devin Hester return the opening kick nearly to midfield, but it is Devin Hester we're talking about.
San Diego's return game wasn't nearly as effective. The first kick return came up short of the 20, and the second was bobbled, nearly ending in disaster. The punt return team didn't fare any better, with Keenan Allen turning it over on a muffed punt to set up another Chicago score.
According to what ESPN's Trent Dilfer said during the broadcast, McCoy admitted that special teams could be an issue for the team in the preseason. He was right.
Coaching: An early personnel gaffe resulted in a time out being burned, and the Chargers looked sloppy in just about every facet of the game. Some of the blame for that has to fall on the staff, as San Diego looked ill-prepared for this contest.