Iowa Football 2013 Team Program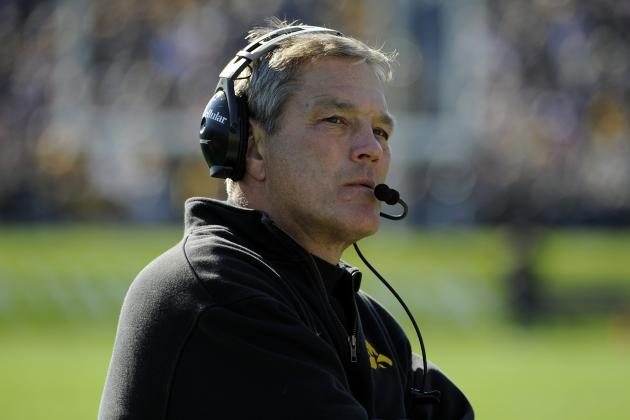 David Banks/Getty Images
Kirk Ferentz enters his 15th year as Iowa's head coach.
With a 4-8 record in 2012, Iowa fell short of not-so-lofty expectations.
The Hawkeyes, who had to retool their offense, were capable of winning six or seven games this past fall. But they weren't expected to be world-beaters.
This year probably won't be much different.
Without former starting quarterback James Vandenberg, Iowa is in the grips of a three-way battle between Jake Rudock, Cody Sokol and C.J. Beathard for the starting role.
Production from running backs will largely hinge on how well Mark Weisman recovers from nagging ankle issues. However, even he's dueling for a No. 1 role.
The linebackers, perhaps the team's biggest strength, are headlined by a trio of seniors, Christian Kirksey, Anthony Hitchens and James Morris, who make up one of the top units in the Big Ten.
Since 2001, Kirk Ferentz has had team bowling in the postseason 10 times. Last year broke a four-year bowl run, but a new stretch could be started this fall if talent plays up to par. Variables are constant in college football, and if the Hawkeyes are to soar, Weisman and the linebackers have to assist those efforts.
Begin Slideshow

»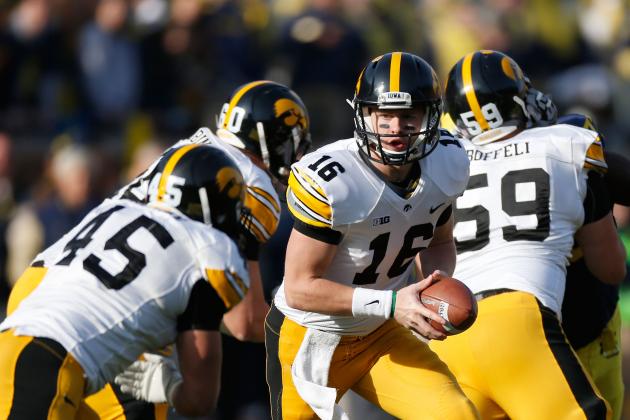 Gregory Shamus/Getty Images
Iowa couldn't establish a rhythm in 2012.
Five of Iowa's eight losses came by six points or less. Four of them were by three points or less. Suggesting that the Hawkeyes got the raw end of the deal more often than not is certainly in order.
An offense that scored 19 points per game couldn't make up for a defense that surrendered 32 each outing.
The Hawkeyes won just two Big Ten contests (2-6, 4-8), with one being a thrilling, 19-16 double-overtime victory over Michigan State.
Mark Weisman, despite missing games against Indiana and Purdue because of ankle problems, led Iowa's rushing attack with 815 yards and eight touchdowns. His incredible 217-yard exploit wasn't enough to down Central Michigan, which won 32-31 thanks to a field goal from Dave Harman.
Kevonte Martin-Manley, then a sophomore, led the team with 52 catches for 571 yards and two touchdowns.
To sum it up, stalling on both sides of the ball diminished the true quality of Iowa's roster. It was a season that head coach Kirk Ferentz would probably like to forget about. Everything that could go wrong did go wrong.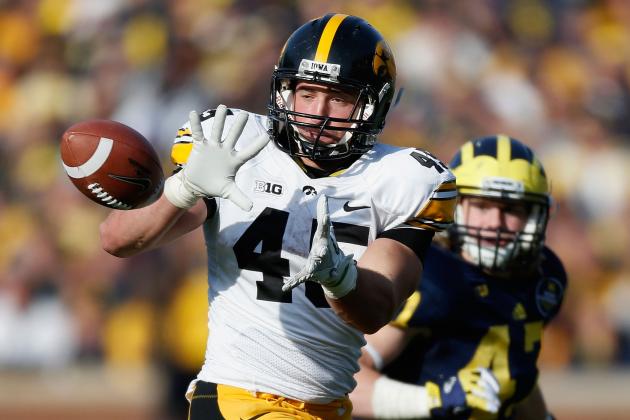 Gregory Shamus/Getty Images
If healthy, junior Mark Weisman should anchor Iowa's backfield.
(Depth chart information obtained from HawkeyeReport.com and HawkCentral.com)
Offense
Quarterback
1. SO Jake Rudock 6'3", 205
2. JR Cody Sokol 6'2", 215
3. RS FR C.J. Beathard 6'2", 195
Running Back
1. JR Mark Weisman 6'3", 236
2. JR Damon Bullock 6'0", 200
3. SO Jordan Canzeri 5'9", 192
Full Back
1. SO Adam Cox 5'11", 215
2. SO Macon Plewa 6'2", 234
Wide Receiver
1. JR Kevonte Martin-Manley 6'0", 205
2. SR Jordan Cotton 6'1", 192
3. SO Jacob Hillyer 6'4", 205
Wide Receiver
1. SO Tevaun Smith 6'2", 200
2. SR Don Shumpert 6'3", 200
Tight End
1. SR C.J. Fiedorowicz 6'7", 265
2. JR Ray Hamilton 6'5", 252
3. SO Jake Duzey 6'4", 245
4. SO Henry Krieger-Coble 6'4", 245
Offensive Tackle (left)
1. JR Brandon Scherff 6'5", 315
2. JR Andrew Donnal 6'7", 305
3. SR Nolan McMillan 6'6", 294
Offensive Tackle (right)
1. SR Brett Van Sloten 6'7", 300
2. RS FR Ryan Ward 6'5", 290
Offensive Guard
1. SR Conor Boffeli 6'5", 295
2. So Eric Simmons 6'2", 292
Offensive Guard
1. SO Jordan Walsh 6'4", 290
2. RS FR Mitch Keppy 6'5", 295
Center
1. SO Austin Blythe 6'3", 300
2. Simmons
3. JR Tommy Gaul 6'3", 277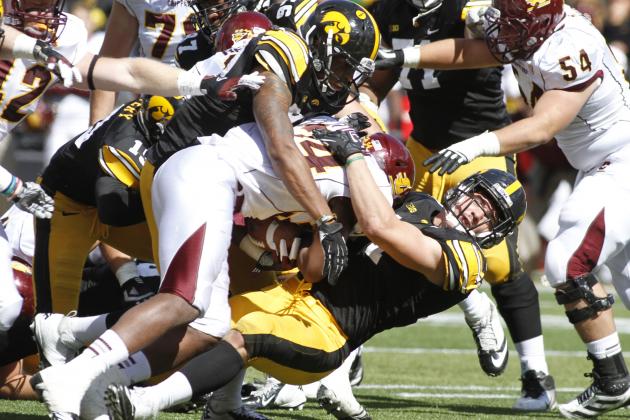 Matthew Holst/Getty Images
Christian Kirksey (making tackle on top) is a key piece to Iowa's defense.
Defense
Defensive End
1. SO Drew Ott 6'4", 265
2. JR Mike Hardy, 6'5", 275
3. RS FR Faith Ekakitie 6'3", 287
Defensive End
1. SR Dominic Alvis 6'4", 265
2. SO Riley McMinn 6'7", 260
3. RS FR Daumantas Venckus-Cucchiara 6'5", 235
Defensive Tackle
1. JR Carl Davis 6'5", 315
2. RS FR Jaleel Johnson 6'4", 310
Defensive Tackle
1. JR Louis Trinca-Pasat 6'3", 290
2. SO Darian Cooper 6'2", 280
Linebacker
1. SR Christian Kirksey 6'2", 235
2. SO Travis Perry 6'3", 232
Linebacker
1. SR Anthony Hitchens 6'1", 233
2. JR Marcus Collins 6'0", 222
3. So Cole Fisher 6'2", 228
Linebacker
1. SR James Morris 6'4", 240
2. JR Quinton Alston 6'1", 232
Corner
1. SR B.J. Lowery 5'11", 193
2. RS FR Maurice Fleming 6'0", 188
Corner
1. SO Jordan Lomax 5'10", 195
2. So Sean Draper 6'0", 180
3. SR Gavin Smith 5'10", 190
Safety
1. JR John Lowdermilk 6'2", 207
2. JR Nico Law 6'1", 200
3. RS FR Ruben Lile 6'3", 210
Safety
1. SR Tanner Miller 6'2", 207
2. RS FR Anthony Gair 6'2", 200
Special Teams
Punter
1. SO Connor Kornbrath 6'6", 240
Kicker
1. SR Mike Meyer 6'2", 190
2. SO Marshall Koehn 6'0", 195
Long Snapper
1. SR Casey Kreiter 6'3", 250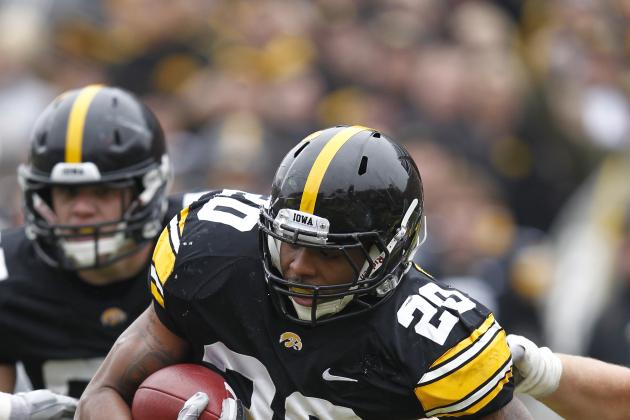 Joe Robbins/Getty Images
Christian Kirksey is one of the top LBs in the Big Ten.
Iowa's trio of senior linebackers is one of the best in the conference. With Christian Kirksey, Anthony Hitchens and James Morris, opposing offenses will think twice before attacking the middle of the field.
Sophomore running back Barkley Hill is a player to pay attention to as well. In 2012, he was a victim of the AIRBHG and one-time potential No. 1 option. Will he reclaim his role as a top ball-carrier this fall? That's one of the most interesting storylines for the offense this fall, other than how the quarterback battle plays out in James Vandenberg's absence.
H-back. B-back. Y-back. Tight end. Somewhere in between, sophomores Jake Duzey and Henry Krieger-Coble fit in that picture. A dual-tight end look says power football. Duzey and Krieger-Coble could be valuable secondary offensive weapons.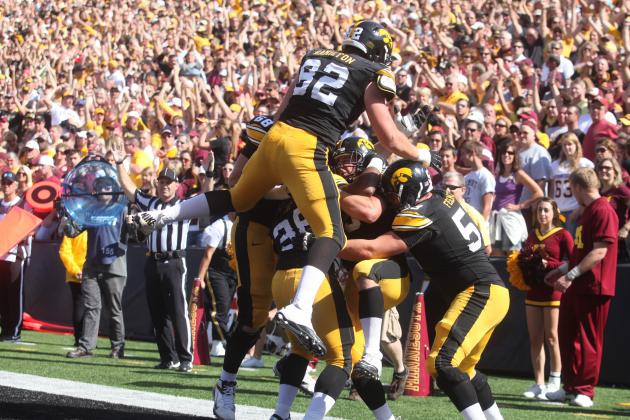 Matthew Holst/Getty Images
Iowa can rejoice over having a relatively healthy team entering fall.
USA Today reports a clean bill of health for the Hawkeyes.
That just means that there aren't any new injuries at the moment.
However, don't forget that the running backs took a beating in 2012. Damon Bullock took a blow to the head in Week 3, prompting Mark Weisman to take over. Weisman injured his ankle in Week 9 and missed games against Indiana and Purdue.
Sophomore running back Barkley Hill, who's not listed on Iowa's depth chart, is recovering from knee surgery. He saw action last season as a freshman. Depending on his progress, he could get totes this fall.
Jordan Canzeri, a sophomore, has battled an ACL injury for the past two seasons.
In October of 2012, starting left tackle Brandon Scherff had surgery on his right leg. As the pillar of the offensive line, Scherff needs to quickly return to 100 percent if the running and passing games are to be effective.
Coach Kirk Ferentz believes that Scherff is an NFL-caliber lineman, making his presence all the more important to teammates in the trenches.
Joe Robbins/Getty Images
Change has been constant for Iowa's coaching staff.
Head coach: Kirk Ferentz, 15th year
Offensive coordinator/QBs: Greg Davis, second year
Defensive coordinator: Phil Parker, 15th year
Wide receivers: Bobby Kennedy, first year
Kennedy replaces Erik Campbell, who left the program and later signed with the Montreal Alouettes of the Canadian Football League, per HawkCentral.com.
Offensive line: Brian Ferentz, second year
Defensive line: Eric Johnson, 15th year; Reese Morgan, 14th year
Defensive assistant: Jim Reid, first year
Reid replaces Darrell Wilson, who took a job at Rutgers.
Running backs/special teams: Chris White, first year
White, formerly of the Minnesota Vikings, fills the spot vacated by Lester Erb.
Linebackers: LeVar Woods, sixth year
Visit HawkeyeSports for the complete list of other assistants and associates.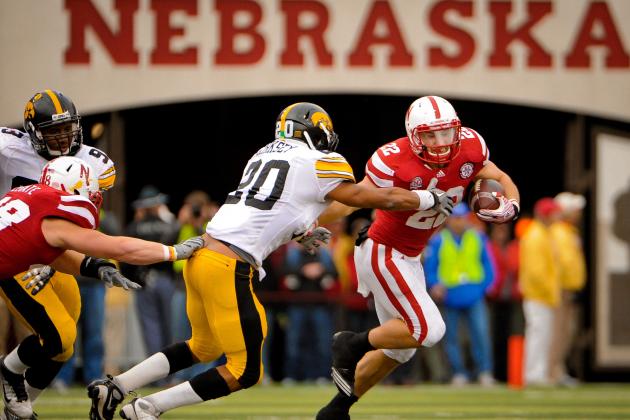 Eric Francis/Getty Images
Iowa ends the season with a game vs. Nebraska.
2013 Schedule (via ESPN)
Sat. Aug. 31 vs. N. Illinois
Sat. Sept. 7 vs. Missouri State
Sat. Sept. 14 @ Iowa State
Sat. Sept. 21 vs. W. Michigan
Sat. Sept. 28 @ Minnesota
Sat. Oct. 5 vs. Michigan State
Sat. Oct. 19 @ Ohio State
Sat. Oct. 26 vs. Northwestern
Sat. Nov. 2 vs. Wisconsin
Sat. Nov. 9 @ Purdue
Sat. Nov. 23 vs. Michigan
Fri. Nov. 29 @ Nebraska (Heroes Game)
Most Important Games
If the Hawkeyes can win at least three of their first four, the Big Ten opener against Minnesota becomes a must-win. Conference victories won't come easy, especially with tests at Ohio State and Nebraska, so getting ahead while the getting is good should be Iowa's intent.
Week 3's in-state frolic is a must-win. Iowa hasn't defeated Iowa State since 2010, with the past two meetings being decided by six points combined. It's difficult to stop a Cyclones streak. They won five in a row from 1998 to 2002.
Each game leading up to Oct. 5 (vs. Michigan State) seems winnable. Recently, the Hawkeyes have given the Spartans a hard time. Win No. 6 could come Oct. 5.
Like it or not, facing Nebraska is considered a rivalry. Blame it on geography.
If Iowa can come out even through 10 games, Nov. 23's clash with Michigan should serve as a gut-check battle and bowl-berther. With the Huskers lurking just six days later, playing well against the Wolverines could be the late-season confidence boost Kirk Ferentz's program needs.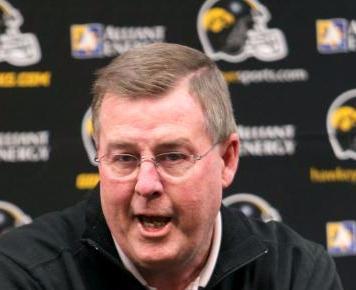 Iowa OC Greg Davis is missing an experienced QB, but returns WR Kevonte Martin-Manley.
Greg Davis' offense has been criticized, despite the success he had at Texas prior to joining Iowa.
In 2012, Iowa sorely lacked scoring, putting up just 19 points per game (No. 11 in Big Ten). Making matters worse, its offense finished ranked No. 11 in total offense (310 yards per game).
With three quarterbacks fighting for a job, a trio of running backs recovering from some type of injury and a starting left tackle returning to health, the odds of a productive season are against the 2013 Hawkeyes offense.
But imagine a healthy Mark Weisman in the backfield. Last year, the Hawkeyes averaged 123 yards per game, the worst clip in the league.
Imagine a quarterback seizing the day and becoming an instant leader. Jake Rudock, Cody Sokol and C.J. Beathard are fighting, series by series, for the No. 1 gig.
The receiving corps, led by Kevonte Martin-Manley, averaged 187 yards per game this past fall, seventh in the Big Ten. The wideouts could be a silent strength this season.
Iowa has waited for senior Jordan Cotton to emerge. Sophomore Tevaun Smith touts 4.43-second 40-yard speed. That has big play written all over it. There are options at tight end.
Expect to see more change of pace. According to ESPN's Brian Bennett, Iowa had the Big Ten's slowest offense in 2012, getting off 66 snaps per game.
"We want to play faster, we want to get more snaps and we want to stress the defense more," Davis told Bennett in April. "We do so much at the line of scrimmage anyway, so why huddle?"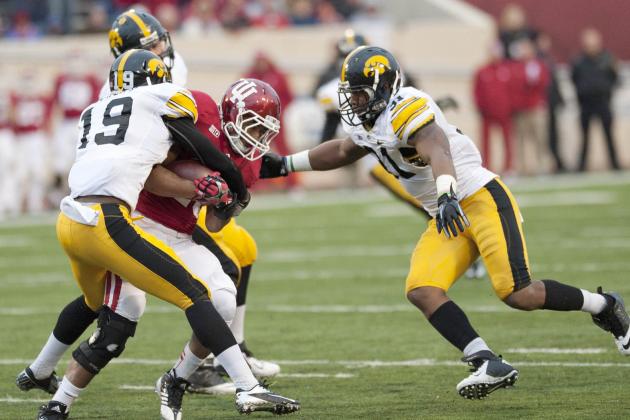 Jerry Schultheiss-USA TODAY Sports
Iowa's defense has strong LBs.
Last season, Iowa had the Big Ten's No. 9-ranked total defense. That won't cut it in one of the most physical conferences in the country.
Successful Big Ten teams typically have great defenses. A stout defense can make up for a stalling offense. See Michigan State's 17-16 win over TCU in the 2012 Buffalo Wild Wings Bowl for further proof.
Linebacking is more than a strength, it's the Hawkeyes' backbone on defense.
Seniors Christian Kirksey, Anthony Hitchens and James Morris must take charge.
Hitchens told HawkeyeSports the following about senior duties:
Coach (Kirk) Ferentz says it all the time, you need your seniors to be playing their best football. Our seniors need to play their best football and compete so the young guys can look up and compete with us to move the team forward
It goes without saying, but the importance of a strong senior class pays dividends.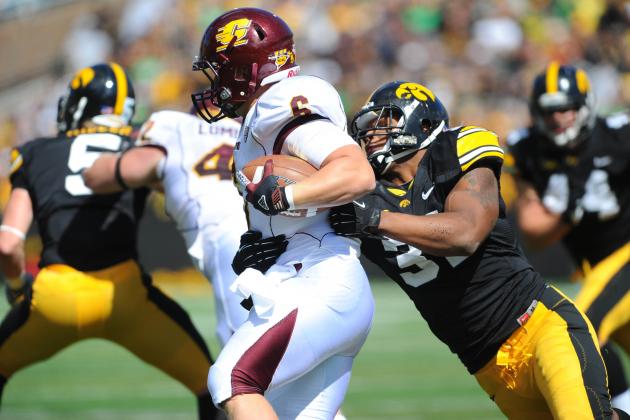 Denny Medley-USA TODAY Sports
Does Iowa's potential outweigh its flaws?
Significant offensive contributions could come from tight end Jake Duzey, a 6'4", 265-pound target who seems ideal for coordinator Greg Davis' up-tempo power ball.
The running backs may be healthy. All of them. At the same time. Getting 20 carries per game from Mark Weisman would help Damon Bullock ease in as a second option.
Not to be overshadowed by the linebackers, senior defensive end Dominic Alvis and junior tackle Carl Davis could be unsung heroes this season.
The return game could be an equalizer. In 2012, the Hawkeyes averaged 22 yards per kickoff return, the No. 2 average in the Big Ten. Combine decent starting position with an offense that can move the ball and points will appear on the scoreboard.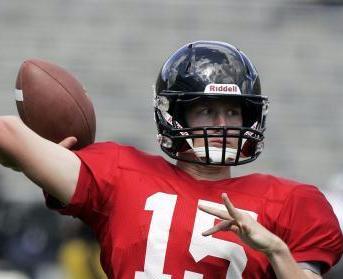 Jake Rudock went 15-of-20 for 180 yards and a touchdown in the spring game. (Photo: The Gazette)
As if it were a deck of cards, the Iowa coaching staff was shuffled around in 2012. With head coach Kirk Ferentz since the late 1990s, lifers Reese Morgan, Phil Parker and Eric Johnson are still learning to coexist with newcomers such as Greg Davis, Chris White and Jim Reid.
Iowa's ability to adapt and move forward with new additions should gain steady attention all season.
Mark Weisman is a bruiser. At 6'3" and 236 pounds, he's no easy haul for a defender. Will he barrel Iowa to contention, or will this year be a repeat of last? Big game or not, the do-all running back couldn't do it alone all of the time.
How long will it take for a true No. 1 quarterback to step forward? Cody Sokol had a great spring game. But so did Jake Rudock. And so did C.J. Beathard.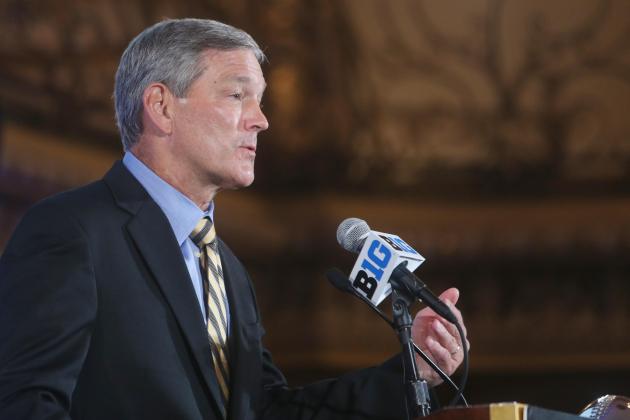 Jerry Lai-USA TODAY Sports
Iowa coach Kirk Ferentz has an odd team this year.
On paper, Iowa looks like a seven-win team. Maybe an eight-win team. The first six weeks of the year aren't SEC Saturdays. That doesn't hurt.
After meeting Michigan State on Oct. 5, the Hawkeyes play Ohio State. That's a loss. And so are the games against Wisconsin, Michigan and Nebraska.
Call it a 7-5 season. Playing on Dec. 20-something in Detroit is a realistic bowl projection.
Follow Bleacher Report's Adam Biggers on Twitter @AdamBiggers81.