What is the UFC going to do with Lyoto Machida?
In less than two week's time, UFC President Dana White has spoken publicly about two fights he would like to see the former light heavyweight champion in, but neither matchup seems to be gaining any real traction.
Potential fights with heavy-handed knockout artist Vitor Belfort and mercurial welterweight Nick Diaz have both been put on the table, with neither "The Phenom" or the Stockton, California representative accepting the matchup at the current time.
White told Ariel Helwani on UFC Tonight that a potential bout with Belfort could take place at light heavyweight, middleweight or at an agreed catchweight limit. After a fight with Belfort appeared to be a "no go," White changed directions and told MMA Fighting a bout with Machida had been officially offered to the Team Cesar Gracie fighter.
While both fights would be exciting tilts for the UFC fanbase, the fact the UFC can't find a viable option or division for Machida to compete in speaks volumes toward the current dilemma the company faces when dealing with "The Dragon."
A bout with Belfort would hold little bearing on a title shot at either the light heavyweight or middleweight division, where a matchup with Diaz would span a 30-pound gap as the 205-pound Machida would face the former Strikeforce welterweight champion in Diaz.
There is little question as to the 35-year-old Brazilian being one of the elite light heavyweights on the UFC roster, but after his recent loss to Phil Davis at UFC 163, any traction he had in the 205-pound title race has been lost. Granted, the judge's decision in the Davis fight was questionable and controversial, but the fact remains that Machida will be out of title contention in the light heavyweight race for the foreseeable future.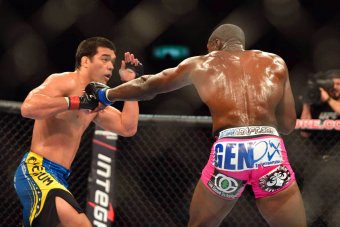 Jason da Silva-USA TODAY Sports
If Machida got the nod against Davis at UFC 163, he would have been in the thick of the title hunt in his home division, but with his second loss in a four-fight stretch on the books, the Team Black House fighter will now drift into limbo until his next step is determined.
This current situation is undoubtedly a curious turn for the former champion as just three years back he was the undisputed, and undefeated, holder of the most coveted crown under the UFC roster. Yet, since losing his title to Mauricio "Shogun" Rua at UFC 113 back in 2010, one of the best strikers in mixed martial arts has hovered at the .500 mark, going 3-3 in his bouts since being dethroned by Rua.
In addition to his current weight class dilemma, Machida hasn't exactly been held in the best light with the company he competes for. He's drawn the UFC head honcho's ire on multiple occasions spanning from his talk of "Anderson Silva money" to face Rashad Evans at UFC 133, to his turning down the offer of a title shot rematch with Jon Jones at UFC 152.
This is a perfect storm of misfortune as Machida is in a place now where he is seemingly a "man without a country." While he is one of the fight game's most complex riddles inside the cage, the next step in his career is also turning into a difficult puzzle to solve as well.
With friend and teammate Anderson Silva still hovering at the top of the middleweight division, a full commitment from Machida to drop to 185 pounds remains highly unlikely. Yet, without a title to chase at 205-pounds, there isn't exactly a clear path for him to travel in his current division.
That leaves waiting as the only option for Machida at this current juncture, and in the fast-paced world of mixed martial arts, time can be one of the most pressing challenges a fighter faces.