Ranking the 5 Best Football Pundits in America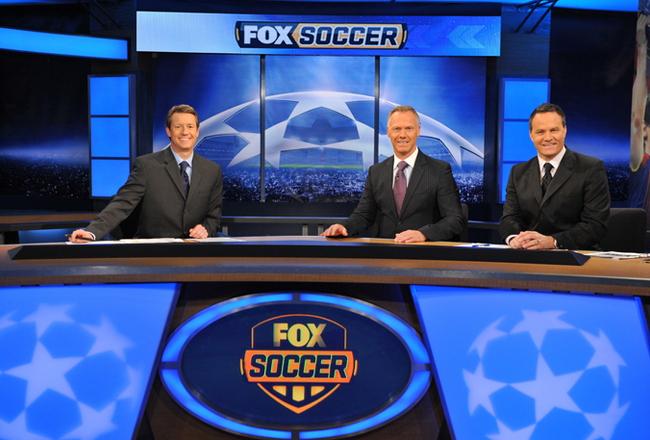 In the UK, football fans are treated to the very best in punditry (Gary Neville on Sky) and the very worst (Alan Shearer and Mark Lawrenson on Match of the Day).
With the increasing popularity of European football in the United States, meanwhile, the role of the analyst is becoming more important than ever, with discerning fans craving insight and unabashed opinion over former pros who regurgitate the obvious.
Here's B/R's thoughts on the best 5 pundits working in the US right now.
Before you wade into the comments, please note that this list is only for pundits, not commentators or anchors.
Robbie Earle
Once considered the "best Englishman never to represent his country," Robbie Earle eventually earned an international call-up with Jamaica, with whom he went to the 1998 World Cup.
Since retiring, Earle has carved out a successful media career with a variety of TV channels and radio shows. His work in the UK dried up very quickly after the 2010 World Cup, however, when he was axed by ITV for selling his sizeable personal ticket allocation to what turned out to be an ambush marketing company.
When the dust settled on that scandal, Earle moved to the US to join the Portland Timbers broadcast team. Next season, he will be leaving the seat he occupied between Steve Nichol and Shaka Hislop on ESPN FC for NBC to help with their expansive Premier League coverage.
Earle's astute observations and analysis will be very welcome at NBC, and his eight seasons of Premiership football will provide valuable experience in the network's rookie season.
Warren Barton
Robbie Earle isn't the only former Wimbledon star to develop a post-football career in front of the camera in the USA. He and Dons-star-turned-Hollywood-hardman Vinnie Jones are joined stateside by former teammate Warren Barton, who is a regular with Fox Soccer Channel.
FSC may be disappearing in a few weeks, but the network's continued coverage of the Champions League, Europa League and FA Cup means we will still enjoy his occasionally profound insights and banter with Eric Wynalda.
Barton isn't to everyone's tastes, but he is undoubtedly the most improved pundit on US television. Plus, he must be commended along with the rest of the Fox staff for putting up with Piers Morgan whenever he turns up in the studio.
Rafa Honigstein
Despite losing their Premier League rights to NBC, ESPN started broadcasting a TV version of their popular ESPN FC online show this week.
The network often rely on the aforementioned regulars Steve Nichol and Shaka Hislop—and ESPN mainstays such as Alexi Lalas, Kasey Keller and Steve McManaman—but if the topic being discussed is German football, we are usually lucky enough to hear the views of Raphael Honigstein.
Known for his print work in The Guardian and the Sueddeutsche Zeitung, Honigstein offers extensive Bundesliga (and Premier League) knowledge, and a dash of humour with his typically Germanic logic and reasoning.
With all eyes on Bayern Munich under Pep Guardiola, expect his contributions to increase this season.
Alexi Lalas
He's been a USMNT defender with a giant red beard, he's been General Manager of a host of MLS clubs, and he's even been a rock star.
These days, Alexi Lalas is ESPN's lead studio analyst. While many pundits will sit on the fence and offer a bland interpretation of the game, Lalas' virtue is his willingness to speak his mind and challenge the opinions of those around him.

The frequent verbal sparring matches he enjoyed with a staid Michael Ballack during Euro 2012 show why he is well worth keeping on the roster.
Grant Wahl
It's difficult to consider media coverage of the beautiful game in the US without Grant Wahl.
Author of the 2009 New York Times Best Seller The Beckham Experiment, Wahl is a senior writer for Sports Illustrated, who once challenged FIFA's culture of corruption by running against Sepp Blatter for the position of president.
On the small screen, Wahl is a regular on Fox, where he deals with the European and American game with the aplomb one may expect of a Princeton graduate.

With Fox Sports 1 launching a new daily soccer show from next week, expect to see a lot more of him.
Honourable Mentions
Honourable mentions go to BeINSPort's fun-loving Ian Joy, NBC's meticulous Robbie Mustoe and ESPN's oft-outspoken Shaka Hislop.
Did we miss anybody? Have your say in the comments!
Keep Reading