San Diego Chargers' Most Intriguing Preseason Stats After Week 1
Harry How/Getty Images
Heading into week two of the preseason, the San Diego Chargers have one specific position to keep an eye on: wide receiver. The Bolts will not have Danario Alexander all year and Malcom Floyd is expected to be sidelined until at least the first week of the regular season. Keenan Allen is still battling knee issues and Vincent Brown a hamstring problem. Watch closely tonight on all the receivers. You never know who will make the roster now.
Even if it's still the preseason, stats are stats.
The average fan will not pay attention to these four exhibition games, especially the fourth, but those who do watch them will focus on the players trying to make the 53-man roster. Whoever you are, let's take a look at some intriguing stats so far.
Ryan Mathews: 3 Carries, 19 Yards, No Fumbles and No Injuries.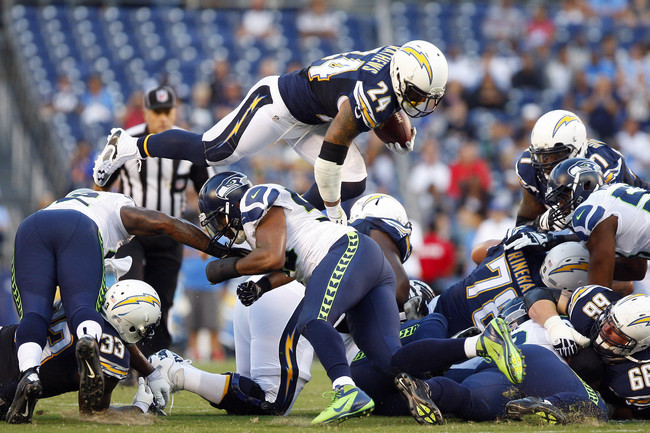 Jody Gomez-USA TODAY Sports
It's a small stat with a big meaning.
Ryan Mathews was not on the field very much in the first preseason game, but he made the most of his three carries. His 6.3 yards per carry is incredible, even if it was a small share of carries. He looked good. He looked really good.
I won't lie, when he jumped over the offensive line to get the first down (as seen in picture above), I cringed in fear of him getting injured. It should not be like that at all. Ryan Mathews has extreme upside and every game he goes without getting hurt, even in the preseason, is great news.
Brad Sorensen: 7/10, 84 Yards, 1 TD, 128.8 Rating.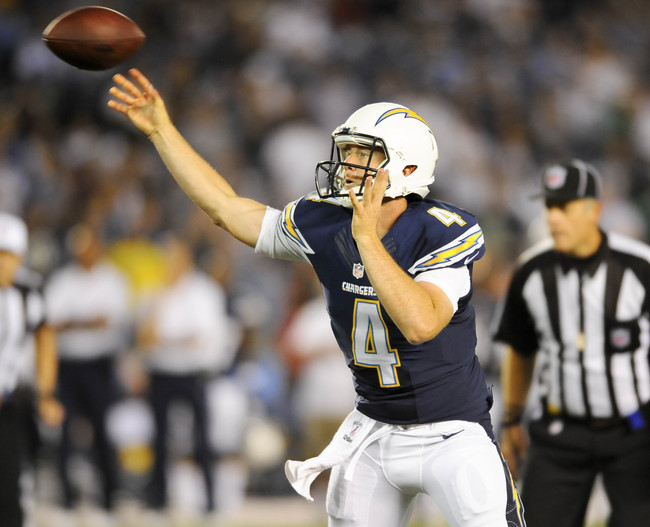 Christopher Hanewinckel-USA TODA
Clipboard Jesus, you may be in trouble.
While Charlie Whitehurst went 7-of-15 for only 59 yards and had two interceptions, Brad Sorensen came on the field later in the game and impressed everybody. Sorensen was drafted by the Chargers in the seventh round this year. He's competing for the backup quarterback spot. The Chargers will most likely not be keeping three quarterbacks.
The stats show a lot from week one, but it still seems like an understatement of how well Sorensen actually played. It was his first game in the NFL and he did nothing but impress everyone watching.
Dan DePalma: 5 Receptions, 43 Yards.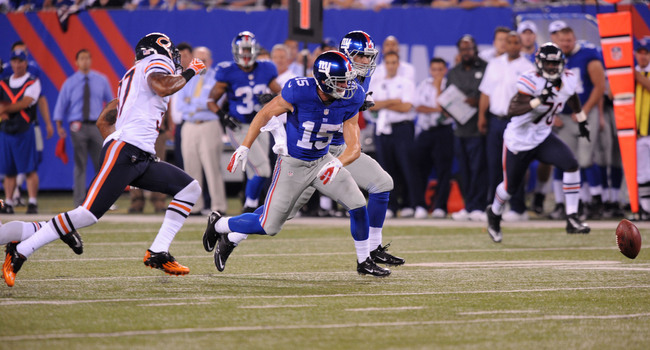 Joe Camporeale-USA TODAY Sports
Dan DePalma joined the Chargers this offseason after spending his first two seasons in New York with both the Jets and Giants. He was brought to San Diego to help the defense understand how facing Wes Welker twice a year may be like.
He's done much more than that. DePalma led the Chargers in the first preseason game in receptions, targets and yards. Besides Eddie Royal, San Diego does not really have a true slot receiver. With all the recent injuries at the wide receiver position, Dan DePalma has a legitimate chance at making the Chargers' 53-man roster.
Pay attention tonight and watch the impact he makes during the game. Also, keep eyes on how Vincent Brown plays in his first game in almost a year.
Keep Reading

San Diego Chargers: Like this team?