Which 10 NBA Rookies Have the Most Upside?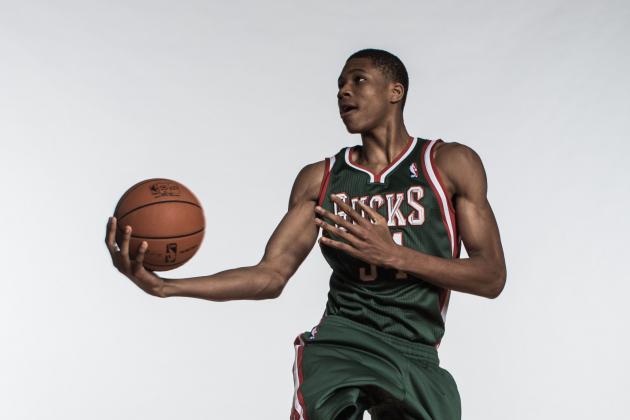 Nick Laham/Getty Images

What exactly is upside?

It's a term that gets thrown around quite a bit in NBA circles, but no one typically takes the time to explain what it means in explicit fashion. We talk about a player's long-term upside, and sometimes we call it their "ceiling." But those terms are meaningless without context.
To me, upside is a mathematical concept representing the difference between how good a player could be and the level they're presently at. Let's use a ridiculous hypothetical as an explanation, even if I obviously acknowledge that a player can't be summed up in one number on the one-to-10 scale.
Player A is currently a one, but he has the ability to become a five (a low-level starter).
Player B is currently a six, but he has the ability to become a 10 (a LeBron James).
Who has more upside?
Player B obviously is going to turn into the better contributor—I mean, his floor is higher than Player A's ceiling—but they have the same amount of upside. Each can improve by four points on the scale.
That's entirely relevant for the purposes of this article because it isn't about who the 10 best rookies from this class will be. It's about the disparity between where they are now and where they could end up.
Note: For those of you wondering about Nerlens Noel, I'm higher on his short-term prospects (if healthy) and lower on his long-term ceiling than most. He was the first player left out.
Begin Slideshow

»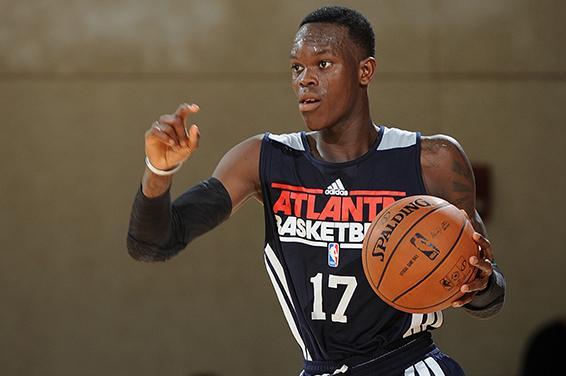 Photo credit to NBA.com.
Of the 10 players featured in this article, Dennis Schroeder is perhaps the most ready to immediately succeed in the NBA. His success will be limited by the minutes he receives while playing behind Jeff Teague in the Atlanta Hawks, not by his NBA readiness.
As he showed during summer league—where he became a personal favorite of just about everyone watching the proceedings—Schroeder is an pro-caliber point guard right now.
And he can still get that much better.
This guy doesn't just have All-Star potential. He could eventually morph into the next Rajon Rondo-level point guard, but one in possession of a workable jumper, something he displayed signs of in Las Vegas.
Schroeder has every tool you could ask for in a point guard other than that consistent jumper.
He runs the show with confidence, displays remarkable passing ability and court vision, thrives in transition, plays pesky defense and has a video game-worthy first step. In fact, given that quickness and his initials, I still think we should end up calling him "Nintendo."
Schroeder was the last person to gain entry in this article, but that's not because he has a limited ceiling. It's only because of his current level.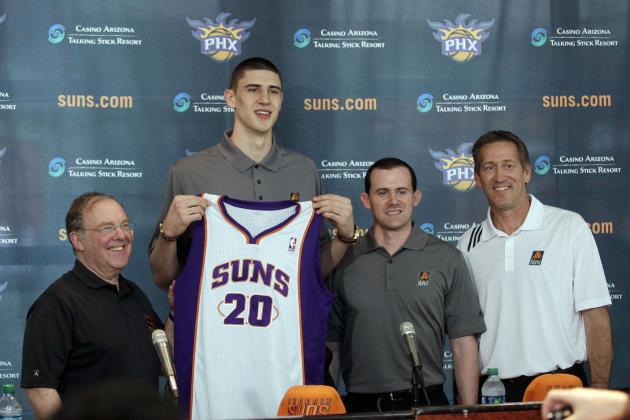 Rick Scuteri-USA TODAY Sports

Remember when there was actually talk about Alex Len going No. 1 overall?
That's the type of upside that the newest member of the Phoenix Suns possesses if he can overcome his foot injuries and start on the career arc so many NBA scouts expected him to follow.
Len has all the makings of a two-way stud.
He's a big body who plays intelligent basketball. He shows off nice defensive instincts and he was developing a solid set of post moves and a decent mid-range jumper as his final season for the Maryland Terrapins progressed.
However, he's not going to be much of a contributor right off the bat. In fact, when I predicted the stats of the top 11 Rookie of the Year contenders, I didn't even bother writing about Len. He's just not ready to make that type of impact during his first season in the desert.
Remember, Len averaged only 11.9 points, 7.8 rebounds and 1.0 assists per game during his second year in College Park. Although the guard play limited his effectiveness, he still didn't dominate the ACC like you might expect.
That's simply because he's nowhere near his ceiling right now.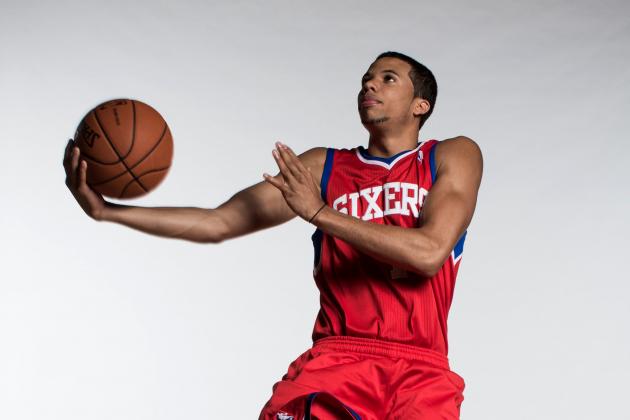 Nick Laham/Getty Images

Michael Carter-Williams will have a chance to learn on the job for the Philadelphia 76ers, but that's only because the team is unabashedly tanking for a shot at Andrew Wiggins. A competitive team would never dream of starting the Syracuse product until he'd been given a little lot more seasoning.
While MCW played well at Syracuse, he's still an extremely raw offensive player.
In transition, the lanky point guard thrives. He's quick with the ball and rather slithery, giving him the ability to get into the paint and finish around defenders. His passing skills also provide quite a boost as he sprints down the court.
However, Carter-Williams is by no means ready to run an NBA offense once things slow down in the half-court set.
Even at Syracuse, he struggled when he wasn't running. Turnover problems popped up with alarming frequency, he had trouble creating good looks for his teammates and his lack of a consistent jumper posed major problems.
Carter-Williams has the body of a standout point guard. Few true floor generals boast a 6'6" frame and his type of court vision.
But it will be a while before he's ready to make full use of it.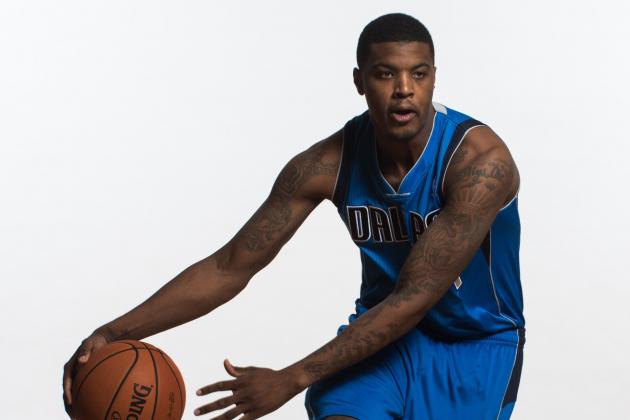 Nick Laham/Getty Images

Forty-two players were drafted ahead of Ricky Ledo in the 2013 NBA draft, but that doesn't mean he'll be the 43rd-best player in this class. He'll rise up those rankings rather significantly thanks to his upside.
Ledo was a top prospect coming out of high school and he committed to Providence, the same school that recently produced MarShon Brooks. Once there, he was ruled academically ineligible and never played even a single game at the collegiate level.
Now Ledo is in the NBA and he has an even steeper learning curve than most players. Although he practiced with the rest of the Friars, he last played competitively at the high school level.
The shooting guard will take quite a while to adjust, but he has enough talent as a scorer that he could eventually become one of the more potent offensive 2-guards in professional basketball. His stroke from the outside is phenomenal, and it's greatly aided by his knack for creating his own shot.
Ledo has the ball-handling skills necessary to occasionally line up as a 6'6" point guard, but they'll come in handy even more when he's looking to find looks off the bounce.
Raw scorers typically take a while to develop, though, and Ledo will be no exception. He's not going to be a factor in the crowded Dallas Mavericks backcourt during his rookie season.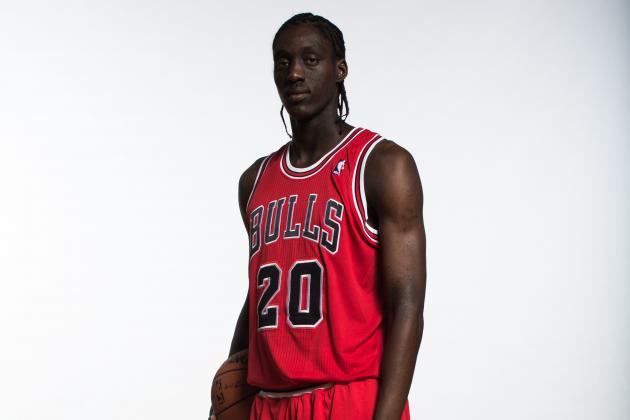 Nick Laham/Getty Images

Tony Snell fits perfectly into Tom Thibodeau's defensive system, but he shouldn't be used much as a rookie. Although he was a first-round pick, he's not prepared to play major minutes at the NBA level quite yet.
Snell is coming off a junior season for New Mexico in which he averaged 12.5 points, 2.6 rebounds and 2.9 assists per game, but he shot only 42.2 percent from the field with a 17.0 PER. Those are solid numbers, but they aren't ones that scream out, "Hey! This guy is going to dominate the NBA!"
That's left to Snell's body and physical tools.
His lankiness and athleticism both indicate that he could be a stellar perimeter stopper down the road. Think of him as a poor man's version of Kawhi Leonard on that end. And no, the comparison doesn't stem from the similarity of their hairstyles or the fact that they both attended the same high school.
In the immediate future, Snell projects as a mediocre "3 and D" guy, but he's capable of becoming so much more than that down the road.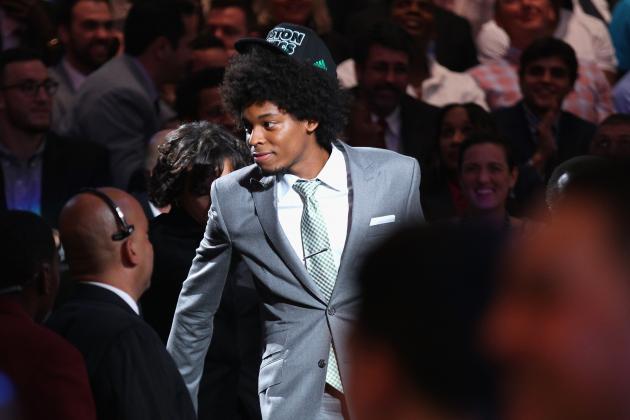 Mike Stobe/Getty Images

Lucas Nogueira won't even be spending the 2013-14 season in the NBA. Instead, the poofy-haired big man will be playing in Spain and waiting for a future opportunity to join the Atlanta Hawks.
If Bebe played right now, he'd look like a Brandan Wright clone. He'd run the court with reckless abandon, block shots, finish alley-oops and never do anything that was beyond his capabilities.
But the Brazilian big man has elite upside if he can pack on the pounds.
With a little more weight, Nogueira has the chance to become a high-level starting center. He'll never become much more than an All-Star (that's pushing it just a little too much), but he can certainly draw a bit of consideration for the midseason starting lineup later on in his career.
He turned 21 in late July, so he obviously has a great deal of time left to work on his game. And while the skills aren't there yet, you can't teach size and athleticism.
Bebe has both in spades, checking in at 7'0" (without the afro) and showing off a 28-inch vertical jump before the draft.
That will serve him well as he continues to develop.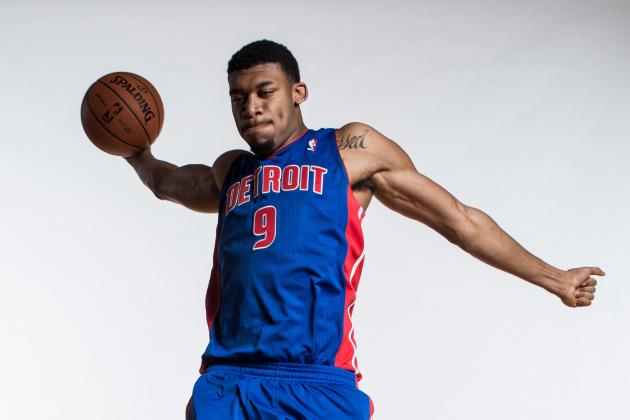 Nick Laham/Getty Images

Tony Mitchell was viewed as a lottery lock and potential top-five pick after his freshman season at North Texas. The point-forward did everything possible on the basketball court, and the Sun Belt didn't stand a chance.
During a late November mock draft, DraftExpress had the Mean Green product going at No. 8, a far cry from the eventual No. 37 spot that he landed in over a year later.
But that lottery player is still nestled within Mitchell's frame, even if he wasn't able to embarrass the rest of his competition during his sophomore season. By both the eye test and every available metric, Mitchell's second collegiate year was a massive disappointment.
He's just a little too raw once the scouting report is out on him, but some hard work under NBA coaching staffs could do the trick. After all, few players boast his combination of skill and athleticism.
Mitchell looked every bit like a future NBA stud during summer league, terrorizing opponents with blocked shots and thunderous slams. However, summer league competition isn't always telling when it comes to success during the games that actually matter.
There will still be an adjustment period, but Mitchell could very well become a big steal for the Detroit Pistons.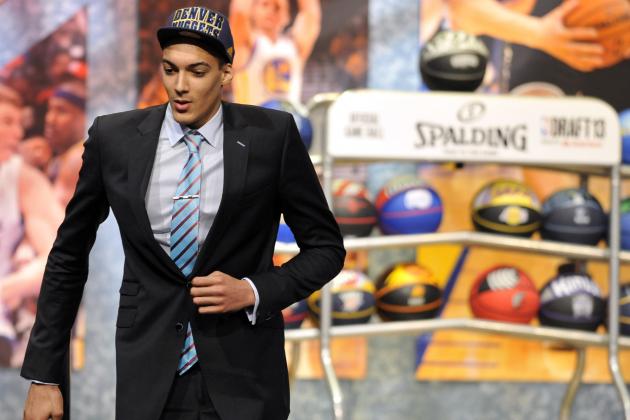 Joe Camporeale-USA TODAY Sports

If Rudy Gobert plays even 10 minutes for the Utah Jazz, it will be too much during his rookie season. And that's accounting for the fact that Utah isn't expected to be competitive, instead using the 2013-14 campaign to give their inordinate number of young players some experience on the court.
The French big man is even more raw than Giannis Antetokounmpo.
He can run the court and finish alley-oops in transition, rebound fairly well and block shots with the best of them, but he's an athlete, not a basketball player. That will change as his career progresses, but skinny athletes don't typically fare well early on unless they have marketable skills.
Gobert has plenty of marketable physical traits, though, and it starts with his jaw-dropping wingspan. Somewhere Jay Bilas is swooning.
The 7'1" center set an NBA combine record when he measured out with a 7'8.25" wingspan. Think about how wide that is for a second and then consider how easy it is for him to swat away shots without breaking a sweat.
Hell, he can reach 9'7" without jumping!
Add in a 29-inch vertical and you're looking at a player with about the same level of physical gifts as JaVale McGee. That's why he's featured here in a nutshell.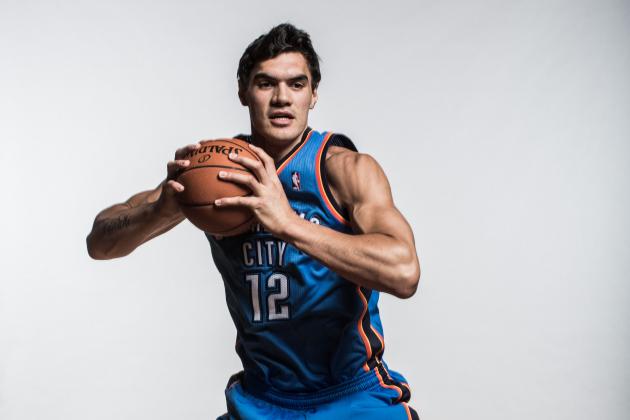 Nick Laham/Getty Images

The draft pick used to get Steven Adams changed hands quite a few times. The Houston Rockets received it from the Toronto Raptors as part of the Kyle Lowry trade, then they shipped it off to the Oklahoma City Thunder to acquire James Harden.
Considering it ended up falling at No. 12, the Thunder obviously have some pretty high expectations for the New Zealander. Kelly Olynyk, Gorgui Dieng, Lucas Nogueira, Mason Plumlee and Rudy Gobert were all still on the board at that point, after all.
But as for the 2013-14 season? Don't expect Adams to play much at all.
He'll spend his rookie season battling with Daniel Orton for the right to be the No. 3 center on the depth chart, backing up both Kendrick Perkins and Hasheem Thabeet.
The Pittsburgh product averaged only 7.2 points and 6.3 rebounds per game during his freshman season for the Panthers. He wasn't anything special, thriving on the defensive end and crashing the boards. That's also where his value will come from during the beginning of his NBA career.
However, Adams is only 20 years old.
He has plenty of time to grow and grow he will. Just not literally, since he's already a true 7-footer.
Adams should morph into a dominant defensive big man, but he has tools necessary to succeed on offense as well. First and foremost is the physical prowess, but he also has a growing level of touch and plenty of time to hone his skills before he steps into a featured spot in the lineup.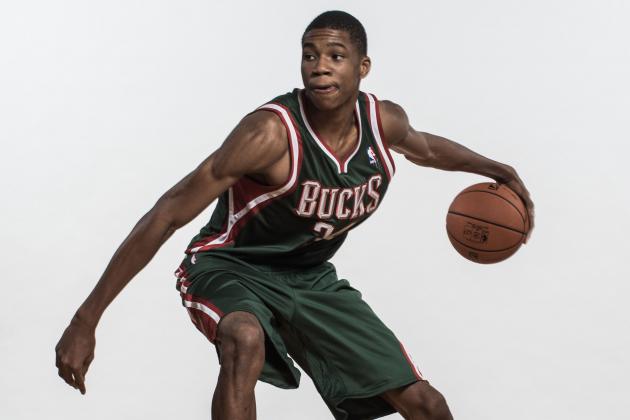 Nick Laham/Getty Images

Giannis Antetokounmpo went through a meteoric rise leading up to the 2013 NBA draft, going from a virtual unknown to a highly coveted prospect with limitless upside.
When you watch him play in Greece, you can't help but notice a little bit of Kevin Durant in him. He has all the tools necessary to thrive and commonly serves as a point-forward for his squad. However, the competition is admittedly weak and often lets Antetokounmpo play the part of Moses, parting the Red Sea on his way to the hoop.
For all the hype he's received and the skills that are just shoved into your face, the small forward is über-raw. I'd call him as raw as sushi, but that would be applying too much time on the stove to our comparison.
Antetokounmpo will eventually be a standout in the Association, but we're years away from that occuring. He has a lot of developing to do, and the jump from low-level ball in Greece to the sport's highest level is way too large for any player to make without experiencing a few setbacks.
Still, as is the case with many of these players, there's a reason that an 18-year-old without any hope of immediately contributing was thought of so highly that he was drafted in the first round.