Russia Olympic Hockey Team 2014: Projecting 25-Man Roster for Sochi Games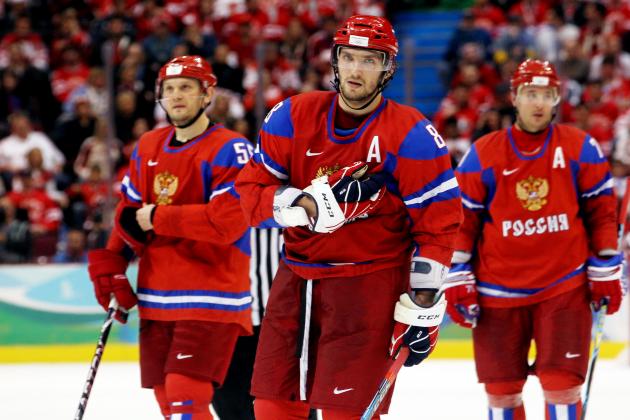 Bruce Bennett/Getty Images

Russia will be under the Olympic spotlight as the host nation at the 2014 Sochi games led by an impressive roster that features several of the world's most talented goal scorers.
Superstars Alexander Ovechkin, Ilya Kovalchuk, Pavel Datsyuk and Evgeni Malkin will lead a Russian offense that should score plenty of goals and provide constant excitement for Olympic hockey fans. According to Bovada, the Russians are the favorites to win the gold medal with 11-5 odds.
But despite the wealth of talent at forward, there are concerns for Russia on the back-end and between the pipes. A lack of experience in these two areas is an issue for the team leading up to Sochi, and it doesn't help that its Group A opponents include two nations capable of winning a medal, the United States and Slovakia.
Let's take a look at some lineup projections, medal predictions and the most important players for Russia as it prepares for the Olympic training camp later this month.
Begin Slideshow

»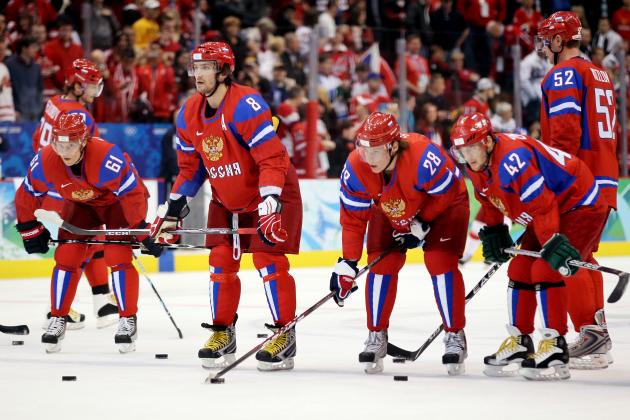 Jamie Squire/Getty Images

Russia unveiled its preliminary Olympic roster in July, which includes a total of 35 players, per the Pittsburgh Post-Gazette.
Here's a list of the players invited to Russia's Olympic camp:
Goaltenders: Sergei Bobrovsky, Konstantin Barulin, Vasily Koshechkin, Evgeni Nabokov, Semyon Varlamov
Defensemen: Slava Voynov, Sergei Gonchar, Anton Volchenkov, Alexei Emelin, Andrei Markov, Evgeny Medvedev, Nikita Nikitin, Ilya Nikulin, Eugene Ryasensky, Fedor Tyutin, Evgeny Biryukov
Forwards: Pavel Datsyuk, Ilya Kovalchuk, Evgeni Malkin, Alex Ovechkin, Alexander Perezhogin, Alexander Popov, Alexander Radulov, Alexander Semin, Vladimir Tarasenko, Alexei Tarashchenko, Viktor Tikhonov, Vadim Shipachev, Nail Yakupov, Michael Varnakov, Denis Kokarev, Evgeny Kuznetsov, Nikolai Kulemin, Artem Anisimov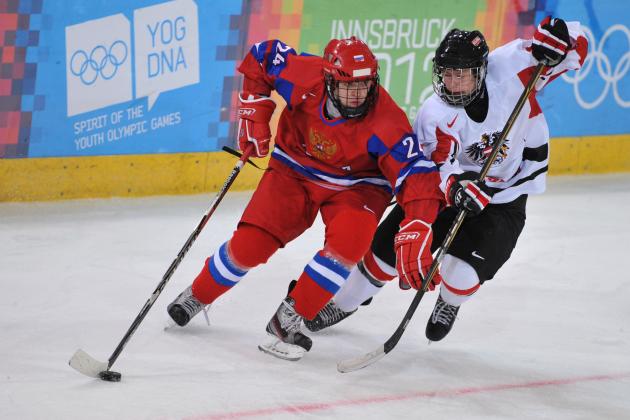 Handout/Getty Images

Determining which Russian players deserve to make the final 25-man roster is no easy task. There are so many factors that must be considered, and since the 2014 Olympics will be on home soil, players with international experience definitely have an advantage.
Let's take a look at some of the players from each positional group that barely missed the cut.
Alexander Popov, Forward
Popov has more size and strength than a lot of the forwards invited to the Olympic camp, but his scoring resume from the last five years in the KHL is far from impressive. There's also a lot of competition at left wing, and Popov isn't more deserving of a roster spot than a defensive forward such as Kulemin or a dynamic offensive player like Kuznetsov.
Evgeny Medvedev, Defensemen
Leaving off Medvedev was difficult because he has international experience and would give the third pairing additional speed and power-play skill. With that said, he only scored one goal at the 2012 World Championships and wasn't selected to the team that failed to medal at the 2013 WC. He also lacks the toughness and grit that Russia needs on the blue line.
Konstantin Barulin, Goaltender
The toughest decision in this process was to leave Barulin outside of the top three goalies selected to my 25-man roster. He was exceptional last season for Ak-Bars of the KHL with a 23-11-9 record and a .940 save percentage.
However, there's still hope for Barulin because Varlamov hasn't shown much promise in the NHL over the last two years, and he's far from a lock to make the team. A good start to the 2013-14 KHL season would go a long way in helping Barulin impress the coaching staff of the Russian Olympic team.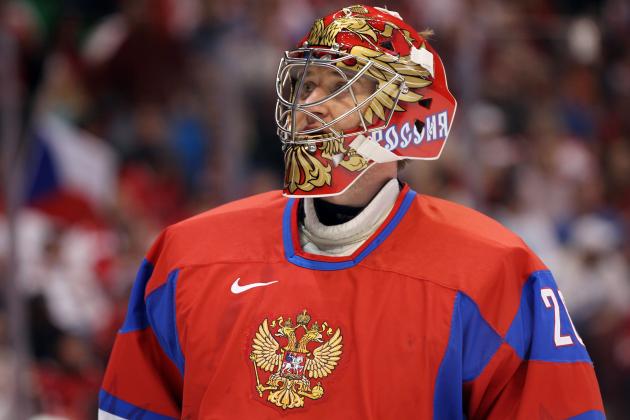 Jamie Squire/Getty Images

Here's my projected 25-man roster that Russia will use at the Olympics. It includes an extra goaltender, two additional defensemen and two depth forwards.
Goaltenders: Sergei Bobrovsky (starter), Evgeni Nabokov, Semyon Varlamov
Defensemen:

Slava

Voynov, Sergei Gonchar, Anton Volchenkov, Alexei Emelin, Andrei Markov, Nikita Nikitin, Fedor Tyutin, Ilya Nikulin

Forwards: Pavel Datsyuk, Ilya Kovalchuk,

Evgeni Malkin

,

Alex Ovechkin

, Alexander Perezhogin, Alexander Radulov, Alexander Semin, Vladimir Tarasenko, Alexei Tarashchenko, Viktor Tikhonov, Nail Yakupov, Evgeny Kuznetsov, Nikolai Kulemin, Artem Anisimov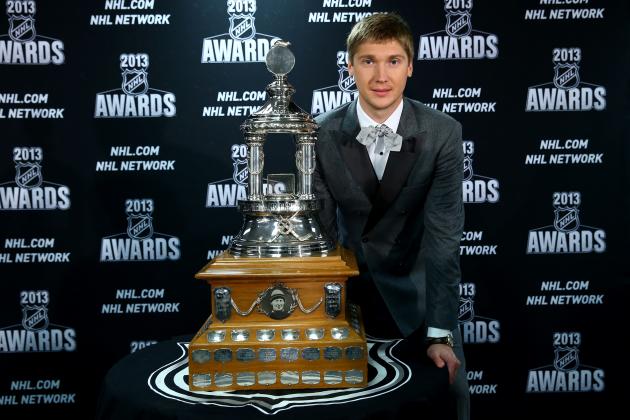 Bruce Bennett/Getty Images
Sergei Bobrovsky with the 2013 Vezina Trophy
Projected Starter: Sergei Bobrovsky (Columbus Blue Jackets)
Bobrovsky emerged as an NHL star last season by almost leading the Blue Jackets to the playoffs by himself. He was awarded the Vezina Trophy for his consistently strong performances, which included a 21-11-6 record, a .932 save percentage and a 2.00 GAA.
Bobrovsky is incredibly talented, but his lack of Olympic experience is a little bit of a concern. He did lead Russia to a bronze medal at the 2008 World Junior Championships, but that level of competition isn't anything close to what he will face in Sochi.
As the best Russian goaltender in the world, by far, Bobrovsky is the clear choice to start in net, even if he struggles to start the 2013-14 NHL season.
Projected Backups: Evgeni Nabokov (New York Islanders), Semyon Varlamov (Colorado Avalanche)
Nabokov has plenty of Olympic and NHL playoff experience, but he's failed to come up with clutch saves needed for his teams to win championships throughout his career. He led the Russians to a disappointing sixth-place finish at the 2010 Olympics, which ended with an embarrassing loss to Canada in which the 38-year-old allowed six goals and was benched before the final buzzer.
He will likely be the backup in Sochi because Varlamov has never played in an Olympic game and has yet to reach his full potential in the NHL. The former first-round pick had a lackluster season with the Avalanche in 2013, posting a 11-21-3 record and a 3.02 GAA.
Varlamov was the third-string goaltender for Russia in Vancouver and will likely fill that role in Sochi.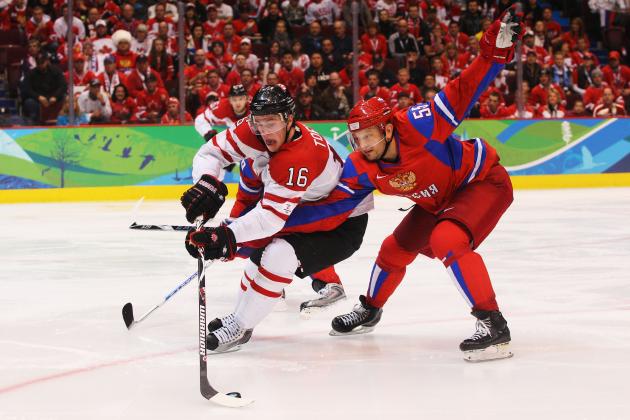 Cameron Spencer/Getty Images

Projected Defensive Pairings
| | | |
| --- | --- | --- |
| Pairing | Player | Player |
| 1 | Slava Voynov | Andrei Markov |
| 2 | Sergei Gonchar | Anton Volchenkov |
| 3 | Alexei Emelin | Fedor Tyutin |
The Russians don't have much depth on the blue line, but there is plenty of offensive talent in the top two pairings.
Voynov was one of the bright young stars of the 2013 NHL playoffs with 13 points and a league-leading six goals in 13 games. He and Gonchar will give Russia plenty of scoring production from the blue line. If healthy, Markov will provide defensive skill, shot-blocking and a physical presence in important situations.
The problem for Russia is a lack of toughness on the back-end. They don't have the strength needed to win one-on-one battles along the boards or wear down opponents over the course of the game with physical play.
The blue line is still the biggest concern for Russia heading into the Olympics.
Bruce Bennett/Getty Images

Projected Forward Lines
| | | | |
| --- | --- | --- | --- |
| Line | LW | C | RW |
| 1 | Alexander Ovechkin | Pavel Datsyuk | Alexander Semin |
| 2 | Ilya Kovalchuk | Evgeni Malkin | Nail Yakupov |
| 3 | Evgeny Kutznetsov | Alexander Radulov | Vladimir Tarasenko |
| 4 | Nikolai Kulemin | Artem Anisimov | Viktor Tikhonov |
The Russians will have the second-best group of forwards in Sochi (Canada is No. 1) with several NHL superstars in the primes of their careers. The group is headlined by Ovechkin, Malkin and Datsyuk, all of whom will be motivated to improve on the team's horrible sixth-place finish in 2010.
The Russian power play should be incredibly difficult to stop, given the amazing amount of skill that head coach Zinetula Bilyaletdinov will be able to put on the ice, including last year's leading scorer with the man advantage (Ovechkin).
There's also a great mixture of experienced veterans and young players (such as Tarasenko, Yakupov and Kuznetsov) eager to make a name for themselves in front of the home fans. These younger players will give Russia the bottom-six scoring depth that it didn't have in Vancouver three years ago.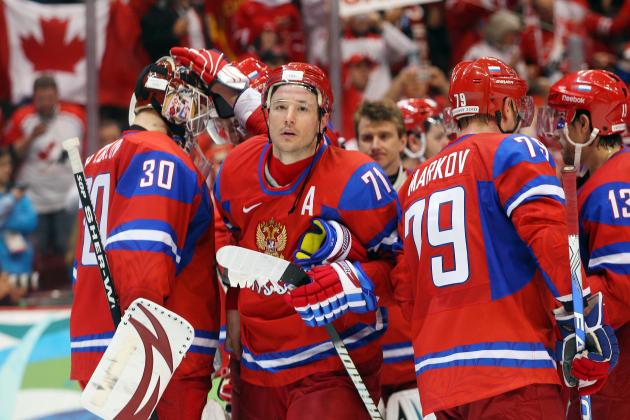 Cameron Spencer/Getty Images

Strengths
Offensive Firepower and Depth: Russia and Canada are the only two nations that will bring at least four of the 15 best forwards in the world to the Olympics. The amount of elite talent in this team's top-six forward group is incredible.
Ovechkin, Kovalchuk and Malkin are three of the best goal scorers in recent NHL history (combined 1,005 career goals) and will create so many problems for opposing defensemen.
Each of Russia's four lines includes at least one ultra-talented, dynamic offensive player capable of putting the puck in the net and creating quality scoring chances for teammates. Don't be surprised if the Russians are the highest-scoring nation at the Olympics because of their exceptional offensive skill and depth.
Weaknesses
Lack of Elite Talent on the Blue Line: Unlike the United States, Sweden and Canada, the Russians don't have a shutdown defenseman capable of playing exceptional defense against elite forwards.
They also won't have the speed and quickness needed to successfully defend speedy forwards on the Olympic-sized sheet of ice that will be used in Sochi. Gonchar, Emelin and Markov will likely play a top-four role at the Olympics. All of them lack the ideal amount of mobility.
Russia's offense is going to be under a lot of pressure to score goals and make up for the team's mistakes in its own end.
Lack of Defensive Skill at Forward: Datsyuk is one of the best two-way players of his generation, but he's the only defensive forward on the preliminary roster who the coach can trust in late-game situations against the opponents' best scorers.
Many of the team's best forwards, including Ovechkin, Kovalchuk, Radulov and Malkin aren't three-zone players, and they don't back check consistently. The lack of top-tier penalty killers is also a concern for Russia because defending the star-studded, power-play units of Canada, Sweden and the United States is going to be a very difficult challenge.
Russia has to give a much stronger effort defensively than it did in Vancouver if this team is going to reach the medal stand.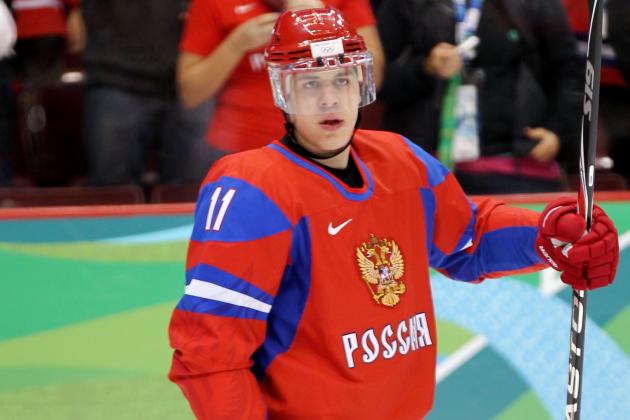 Jamie Squire/Getty Images

Pavel Datsyuk, Center
Datsyuk is one of the three best two-way players in the world, and his performance at the Olympics will have a drastic impact on the team's chances of winning a medal.
The 34-year-old's ability to win important faceoffs, play physical, create turnovers and shut down the opposing teams' best forwards will be a crucial part of Russia's success in Sochi because this team doesn't have much defensive skill at forward.
In addition to his defensive responsibilities, Datsyuk will also need to produce offensively for Russia to have the depth down the middle that it needs to defeat top teams such as Canada and the United States. His playmaking skills and creativity with the puck should create a ton of scoring chances for elite goal-scoring wingers such as Ovechkin and Kovalchuk.
Andrei Markov, Defenseman
Markov's importance to the Russian blue line will be immense. He's the only defenseman on the team with the size (6'0" and 204 pounds), defensive skill and experience to succeed in a shutdown role. He doesn't have much mobility, which could be a problem on an Olympic-sized ice rink, but his defensive abilities will make him a valuable player in late-game situations or whenever Russia is protecting a lead.
Markov should also play a huge role on Russia's penalty kill as a defensive defenseman who blocks shots, plays physical and clears traffic from the front of the net.
Sergei Bobrovsky, Goaltender
Bobrovsky is the best goaltender whom Russia will bring to the Olympics in a long time. Russia has won only a silver (1998) and a bronze medal (2002) since NHL players were first allowed to participate in Olympic competition, and poor goaltending is one of the primary reasons for this lack of gold medal success.
With an elite goaltender between the pipes, don't expect Russia to give up many goals. The 24-year-old from Columbus allowed two or fewer goals in 26 of the 38 games he played in last season. He rarely makes mistakes and shows exceptional mental toughness and composure for a young netminder.
If Bobrovsky plays well in Sochi, it's incredibly difficult to picture Russia not playing in the gold medal game because this team will give him plenty of offensive support.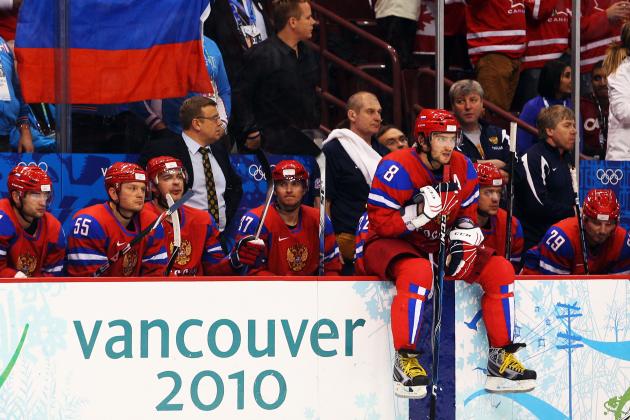 Cameron Spencer/Getty Images

Russia will be under a massive amount of pressure to win the gold medal at the Olympics because it's taking place on home soil, and much like Vancouver in 2010, the ice hockey competition is going to be the focus of many fans from the host nation.
Russia's gold-medal drought, which currently stands at 21 years, is also going to be a story in Sochi.
With that said, the 2014 team represents the Russian's best chance to win the gold medal in over a decade. They finally have an elite goaltender, the offense is deep and highly skilled, and even though blue line isn't as strong as some other medal contenders, it's better than the group that played in Vancouver.
The key for Russia is getting clutch performances from its best players. Kovalchuk and Malkin were awful against Canada in the quarterfinals three years ago, and there's no chance for Russia to earn a medal if these players don't produce against the best competition.
Prediction: 4-2 record, defeat in bronze medal game
Nicholas Goss is an NHL Lead Writer at Bleacher Report. He was a credentialed writer at the 2011 and 2013 Stanley Cup Final, as well as the 2013 NHL draft.