Jonathan Vilma Injury: Updates on Saints Star's Recovery from Knee Surgery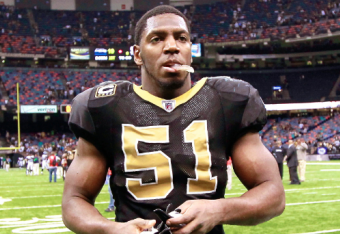 Jonathan Vilma, the New Orleans Saints superstar linebacker, underweight knee surgery in mid-August in Philadelphia.
ESPN's Adam Schefter reported on Oct. 21 that Vilma returned to Saints practice. He was activated from the injured list on Nov. 2. He is active for Week 9.
He was placed on the IR on Nov. 6.
From Katherine Terrell of the New Orleans Times-Picayune:
Payton said you could second guess the decision to try and bring Vilma back, but "I'd make that mistake for a guy like Jon Vilma."

— Katherine Terrell (@Kat_Terrell) November 7, 2013
;
From the Saints' official Twitter feed:
Sean Payton announced that the #Saints have placed Jonathan Vilma on injured reserve

— New Orleans Saints (@Saints) November 7, 2013
From Brian McIntyre:
Saints place LB Jonathan Vilma on IR today. Re-signed CB Chris Carr

— Brian McIntyre (@brian_mcintyre) November 6, 2013
Jonathan Vilma was activated by the Saints from the injured list, according to the Associated Press's Staff on Saturday, Nov. 2:
The New Orleans Saints activated linebacker Jonathan Vilma from the reserve injured list a day before they play his former team.

Vilma (knee) has practiced the past two weeks without any apparent limitations and was eligible for the first time this season to come off of short-term injured reserve.
From Mike Triplett of ESPN:
As expected, #Saints LB Jonathan Vilma officially returned to practice Monday (per NFL transactions log)

— Mike Triplett (@MikeTriplett) October 21, 2013
Katherine Terrell of NOLA.com is reporting that Vilma is eligible to return in Week 9, and the Saints will have to make a roster move to account for his return.
UPDATE: Tuesday, Sept. 3
From NFL Network's Ian Rapoport:
Sources: The #Saints plan to place LB Jonathan Vilma (knee) on Injured Reserve designated to return

— Ian Rapoport (@RapSheet) September 3, 2013
UPDATE: Tuesday, Sept. 3
Jonathan Vilma is not expected to be ready for the Saints' season opener against the Atlanta Falcons, according to Mike Garafolo of Fox Sports.
... [Jonathan Vilma] won't play Sunday in the Saints' opener against the Atlanta Falcons, a source told FOX Sports.

And there's even worse news for the 31-year-old Vilma, who is recovering from a procedure on his ailing knee: He's likely to miss at least a few games, per the source.
Garafolo also passed along a statement from Saints head coach Sean Payton discussing previous reports of Vilma possibly playing in Week 1:
'I think it's speculation right now,' Saints coach Sean Payton said Monday when asked about a report that stated Vilma could be ready to play Sunday. 'We'll see. I'll have more when we get to commenting on injured players later in the week.'
UPDATE: Sunday, Sept. 1
From NFL.com's Ian Rapoport:
Saw the report that #Saints LB Jonathan Vilma (knee) could be ready for the opener. Temper expectations. I'm told, that's pretty doubtful.

— Ian Rapoport (@RapSheet) September 1, 2013
UPDATE: Sunday, Sept. 1
Ramon Antonio Vargas of The Advocate reports Jonathan Vilma could be ready for the Saints' season opener against the Falcons:
After undergoing arthroscopic knee surgery in mid-August, New Orleans Saints linebacker Jonathan Vilma's recovery is going well, and there's a possibility he will return for the regular-season opener against the Atlanta Falcons on Sept. 8 or shortly thereafter, a league source said Saturday.
UPDATE: Thursday, Aug. 15
Larry Holder of NOLA.com spoke with coach Sean Payton about Vilma's injury:
Saints coach Sean Payton confirmed after Thursday's practice linebacker Jonathan Vilma was set to undergo arthroscopic surgery on Vilma's left knee. Vilma, who wasn't on the practice field Wednesday or Thursday, will have the procedure done in Philadelphia.

"We'll have him back, and we'll go from there," he said.

When asked if there was lingering concern about Vilma's knee after the linebacker's multiple procedures on the joint the past two years, Payton said, "This is a little different procedure, so we'll see where he is when he gets back."
ESPN's Adam Schefter first reported the news via Twitter:
Saints LB Jonathan Vilma undergoing knee surgery today in Philadelphia; out for preseason, should be back for opener.

— Adam Schefter (@AdamSchefter) August 15, 2013
FOX Sports' Mike Garafolo noted that Vilma's knee would be undergoing a scope, which usually takes anywhere from two-to-six weeks to return from:
Vilma getting a scope on the knee today. Those are usually anywhere from 2-6 weeks. Told optimism he'll be back for Wk 1. Guess we'll see.

— Mike Garafolo (@MikeGarafolo) August 15, 2013
Ian Rapoport of NFL Network found that Vilma's decision to undergo arthroscopic knee surgery comes on the heels of a second opinion:
After seeking 2nd opinion yesterday, Jonathan Vilma is having arthroscopic knee surgery today. Minor, but it is the same knee as before

— Ian Rapoport (@RapSheet) August 15, 2013
There is a good chance that the 31-year-old will be able to return by the start of the regular season—at home against the Atlanta Falcons on Sept. 8—but he will be forced to miss the remainder of preseason.
As per Schefter, Vilma has been absent from six of the team's last eight practice sessions and did not participate in the Saints' first preseason game against the Kansas City Chiefs.
He's been suffering from swelling and discomfort in the knee, which the scope is expected to alleviate. Hopefully, this will allow Vilma to play at his best during 2013 campaign.
Vilma's declining production has been concerning over the past two years, as the former Defensive Rookie of the Year and three-time Pro Bowler has dealt with the ramifications of a highly publicized bounty scandal and various injuries.
He has participated in just 22 of a possible 32 contests and recorded 91 tackles, one sack and one forced fumble in that two-season span.
Compared to his 2010 campaign, in which he recorded 105 tackles, four sacks and three forced fumbles, it's clear that Vilma is no longer the player he once was.
Regardless, the veteran linebacker will be counted on to step up and help the Saints defense improve in 2013. The unit was historically bad last season and needs all the assistance it can get from its captain.
Vilma has one Super Bowl ring already and would certainly love to add another to his collection before he hangs up his cleats. Should he return healthy and capable of helping the defense—coupled with head coach Sean Payton's return to the sideline and quarterback Drew Brees' continued dominance in the passing game—anything is possible for this exciting New Orleans squad.
If the scope is successful, perhaps the aging Vilma can dial back the clock and put together one of his finest campaigns in years. Let's just hope he can get on the field in time for the first game, which is just over three weeks from now.
This article is
What is the duplicate article?
Why is this article offensive?
Where is this article plagiarized from?
Why is this article poorly edited?