2014 NHL Draft Prospects: Explosive Offensive Talents in Next Year's Class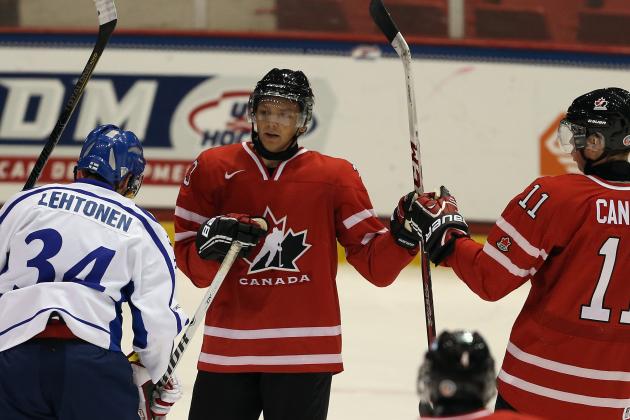 Bruce Bennett/Getty Images

The 2013-14 season is just around the corner, so it's never too early to talk about prospects for the next NHL draft. Here is a look at the explosive offensive talents available in the 2014 NHL draft.
These are players with a lot of raw, offensive talent. Obviously, how they play in the upcoming season will have a big effect on where they are actually drafted. Injuries, if they occur, will also influence their final draft position.
Keep in mind these are the top offensive talents. There are plenty of physical defensemen, goalies and checking forwards who will be selected in the draft and some of them may even go ahead of some of these players.
Feel free to mention any players you feel belong on this list but were omitted. As always, please indicate why you feel your choice belongs on this list.
Begin Slideshow

»
Ekblad has size and is by far the most highly-rated defenseman eligible for the draft this season.
The offensive side of Ekblad's game still needs to develop, but his hockey sense and awareness in all three zones show he has a lot of offensive upside.
Last year, playing for the Barrie Colts of the OHL, the 6'3", 207-pound native of Belle River, Ontario, finished with seven goals and 34 assists in just 54 games.
In the playoffs, he picked up his game even more and accumulated 17 points in 22 games.
How good is Ekblad? He is the only defenseman ever to be granted exceptional status by the OHL.
Jake Virtanen has great size and probably projects as a power forward in the pros. That usually means he will need a little more time to develop before reaching the NHL.
Virtanen has already shown that he loves to drive to the net. Last season with the WHL's Calgary Hitmen, he scored 16 goals and 34 points in 62 games.
Look for many of Virtanen's points to come in the "dirty areas" in front of the opposing net. He also plays a physical style and has been compared to Ryan Getzlaf by some scouts.
Czech-born Jakub Vrana played in the Swedish Elite League last season, which means he already has experience playing against adults.
Vrana weighs only 165 pounds, but he has excellent speed and hands.
One thing scouts love about Vrana is how well he has played in international competition. He was on top of his game at the World Junior Championships last year.
Vrana's defense is positionally sound despite his lack of size, but his biggest strength is his offensive game.
German-born Leon Draisaitl has a strong rookie season with the Prince Albert Raiders of the WHL last year. In 64 games, he scored 21 goals and 58 points. He then added four assists in four playoff games. He was named the Eastern Conference's top rookie for his efforts.
Some have referred to Draisaitl as "The German Gretzky." While it's unlikely the 6'2", 198-pound center matches Gretzky's numbers, he should have a very productive NHL career and is capable of making highlight-reel plays.
If Anton Karlsson's name sounds familiar, it's because his older brother, Erik is the former Norris Trophy winner playing on Ottawa's blue line.
Like his brother, Anton is a very good skater, and, at 6'1" and 190 pounds, he already has good size a teenager. Unlike his brother, Anton is a wing.
Karlsson has played at a variety of levels in his native Sweden and done well wherever he's played.
Ross MacLean of the International Scouting Service liked Karlsson's leadership qualities and described him as "a gifted shooter who can star and finish plays."
Last year was full of adjustments for Michael Dal Colle. It was his first year in the OHL, and he was moved to the wing after playing center in previous seasons.
The 6'1", 171-pound native of Vaughn, Ontario, scored 15 goals and 48 points in 63 games for Oshawa and should be able to build on those numbers next season.
Dal Colle has quick hands and great hockey sense. Like most 17-year-olds, he needs to add some weight to his frame before competing in the NHL.
Jared McCann played well throughout the season, but his production really picked up in the last 10 games of the 2012-13 campaign.
In his first 48 games with Sault Ste. Marie, he scored 14 goals and 28 points. In the final 10 contests, however, he scored seven goals and 16 points.
Ryan Kennedy of The Hockey News was very impressed with McCann's play in the 2012 OHL Cup and raved about his playmaking skills. "McCann's overall puck skills are unbelievable and you can tell they come instinctively."
Nick Ritchie is already 6'2", 218 pounds at the age of 17 and projects as a power forward.
His older brother, Brett was a second-round pick of the Dallas Stars in 2011.
Scouts are very impressed with Ritchie's shot. Sean Lafortune of McKeen's described Ritchie's best weapon as "a howitzer shot that is amplified by a deceptive, tricky release."
Last season, Ritchie scored 18 goals and 35 points in just 41 games for the Peterborough Petes.
Willie Nylander is another player with hockey in the family. His father, Michael Nylander, played over 900 NHL games with the Whalers, Flames, Lightning, Blackhawks, Capitals, Bruins and Rangers from 1992 to 2009.
Willie has played his junior hockey in Sweden and actually played on a line with his dad.
Ross MacLean of the International Scouting Service said Nylander, "has exciting abilities around the puck and absolutely loves the offensive side of the game."
Obviously, Nylander needs to add some size to his 5'10", 179-pound frame and can use some improvement when playing in his own zone, but his offensive skills keep him near the top of available prospects for this year.
Center Sam Reinhart has been a star for the Kootenay Ice of the WHL for the past two seasons.
In 2011-12, the Vancouver native scored 28 goals and totaled 62 points in 67 games. Last season, he improved those numbers to 35 goals and 85 points in 72 contests.
In this year's draft preview issue of The Hockey News, Reinhart was described as an "offensive dynamo with a great mind for the game." The magazine also predicted he would challenge for the league scoring title this year.
Reinhart's two older brothers were already drafted, Max by Calgary in the third round in 2010 and Griffin in the first round in 2012.