Examining the AL Wild-Card Race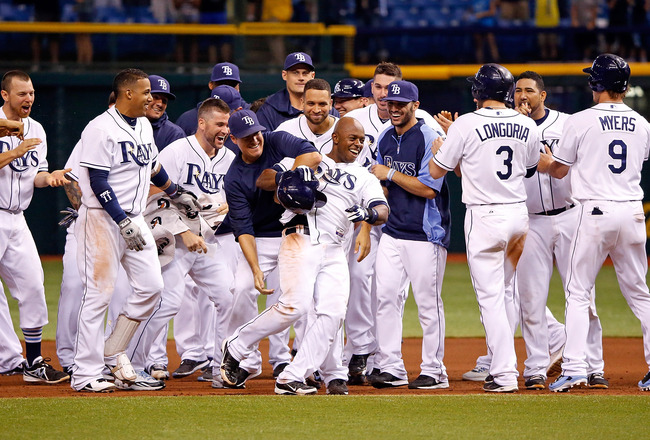 Despite a 4-6 record in their past 10 games, the Tampa Bay Rays are still the favorite to clinch a wild-card spot
J. Meric/Getty Images
With about seven weeks remaining this season, the American League playoff race is as close as it has been in years. The Boston Red Sox, Detroit Tigers and Texas Rangers currently lead their respective divisions heading into action on Friday but are closely trailed by their division rivals, which will make for an interesting September.
The Tampa Bay Rays and the Oakland Athletics currently hold the top two wild-card spots, as Tampa leads Oakland by just 0.5 games. The wild-card leaders are trying to hold off four other contenders, including the Baltimore Orioles, Cleveland Indians, Kansas City Royals and New York Yankees. The teams are separated by just 5.5 games.
Tampa is just two games behind Boston for first place in the AL East, and Oakland trails Texas by 1.5 games in the race for the AL West title. If either team manages to take over first place, then the usurped team would take over one of the two top wild-card spots.
With that being said, let's take a look at each team in the wild-card race and dissect their chances at clinching a wild-card spot.
Tampa Bay Rays (68-51)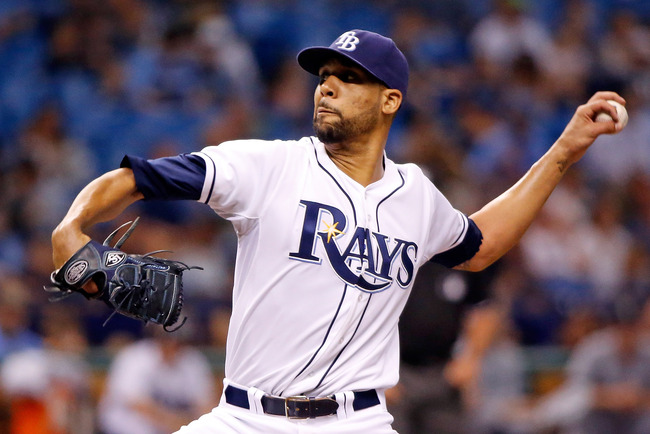 David Price has been excellent since returning from the disabled list in early July.
J. Meric/Getty Images
The Tampa Rays Rays have managed to hold onto the top wild-card spot thus far, despite going 4-6 in their last 10 games. Heading into Friday, the Rays hold a half-game lead over the Oakland Athletics. Tampa Bay does not have one significant strength but ranks in the middle of the pack both offensively and on the mound.
The Rays rank seventh in the American League in runs scored with 538 and rely on a solid team offense to back up their pitching staff. Evan Longoria leads the team in home runs and RBI and has received some support by young stud Wil Myers. The rookie has a .333 average and a great .379 OBP in just 181 at-bats (47 games played).
After returning from the disabled list in July from a triceps injury, David Price has been hot, pitching like the ace he is capable of being. Over his last 10 starts, he has averaged over 7.0 innings per start and has gone 5-2 with a 2.20 ERA, setting the tone for the rest of the staff including youngster Chris Archer.
The righty has also gone 5-2 over his last 10 starts and has posted a 2.48 ERA. Archer earned both AL Rookie of the Month and AL Pitcher of the Month honors for his performance in July, when he went 4-0 with a 0.73 ERA. He helped lead the Rays to a 21-5 record in July and thrust them atop the Wild Card standings.
Tampa does not have an easy schedule moving forward, with 24 games remaining against teams over the .500 mark, including seven important games against Baltimore and six against New York. The Rays play only three games against the Boston Red Sox, who lead the Rays by two games in the race for the AL East crown.
While the Rays' team ERA may not be great, they still boast a good rotation and a dominant Price will continue to set the tone for the other starters including Archer, newly returned Alex Cobb and lefty Matt Moore, who has 14 wins.
Tampa will have a hard time catching up with Boston for first place in the AL East and only have three games against the Sox to make up some ground. The Rays' strength of schedule presents a difficult task to overcome. If Tampa can manage to go at least 13-9 against the teams over .500, it should have no problem clinching a playoff berth.
Final Prediction: 96-66 (28-15 over their last 43 games)
Oakland Athletics (68-52)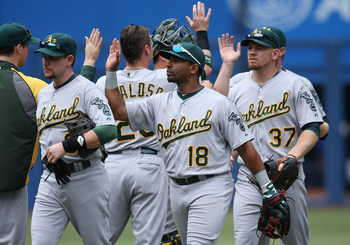 If the A's lose out in their battle with Texas for the AL West crown, a wild-card spot should be waiting for them.
Tom Szczerbowski/Getty Images
Of all the teams in the wild-card hunt, the Oakland Athletics have the best chance to win their division, as they are only 1.5 games behind the Texas Rangers entering Friday. The A's have the third best ERA in the American League, which will prove to be a huge factor late in the season, as Texas ranks fourth. Whichever team pitches better down the stretch will likely take the division.
The A's staff, led by Bartolo Colon (14-5, 2.97 ERA), has received solid run support from the offense, which ranks eighth in the AL with 533 runs scored (good for 4.44 runs per game). If Oakland can remain consistent offensively, it has a good chance at winning the division.
If they do not win the division, the Athletics will still be in prime position for a wild-card spot. Rookie pitcher Sonny Gray (1-1, 1.00 ERA) has been excellent in his first two major league starts. The 23-year-old will help down the stretch, whether it's in the rotation or out of the bullpen.
Oakland's bullpen is perhaps its strongest asset. Grant Balfour has excelled as the closer this season and has been set up by the excellent play of relievers Ryan Cook and Sean Doolittle.
The Athletics also have a favorable schedule to close out the season. Of its 42 remaining games, Oakland only has 19 games left against teams with a record of .500 or better, including three each against the Indians, Orioles and Rays.
If Oakland can go at least .500 against those wild-card contenders, its is all but assured a playoff berth as long as it can take care of business against its sub-.500 opponents.
This Oakland team does not have a glaring weakness, and that will ultimately lead to a playoff berth. Come October, the Athletics will be in the postseason, either as a division champ or a wild-card team.
Final Prediction: 95-67 (27-15 over their last 42 games)
Baltimore Orioles (65-55)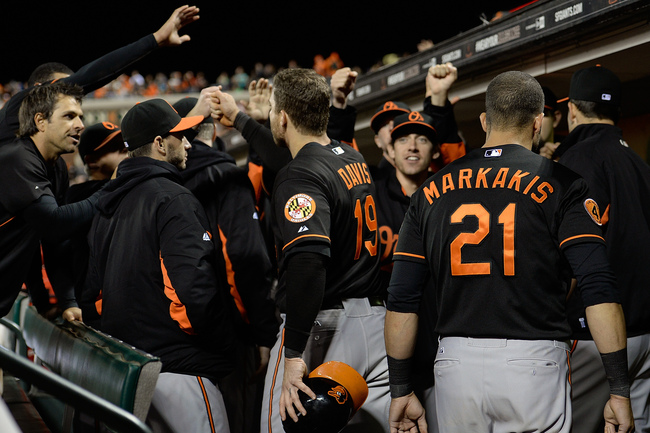 The Orioles, led by Chris Davis, are seeking their second consecutive playoff appearance.
Thearon W. Henderson/Getty Images
The Baltimore Orioles surprised the league last season by clinching a wild-card berth with a 93-69 record and defeating Texas in the one-game playoff before getting eliminated by New York in five games. Baltimore will look to sneak into the playoffs again but will have a much harder time this season.
There is more competition this year, and although Baltimore is only 3.0 games behind Oakland for the final playoff spot, it still faces an uphill battle. The Orioles rank 11th in the AL in ERA and will have a tough time overcoming their lack of quality pitching.
The main bright spot for the Orioles is their offense, specifically their power. The O's lead the AL in home runs with 161 long balls. Baltimore also is third in the American League in runs scored with 571.
With Baltimore, it all comes down to pitching. If the O's can improve on their 4.27 team ERA, then they have a good shot to make the postseason. However, Baltimore lacks an elite arm in front of the rotation and will have to rely on former Houston Astro Bud Norris and Chris Tillman (who has 14 wins) to guide the team to the playoffs.
The Orioles have 42 games remaining this season and a tough schedule moving forward. Of the 42, Baltimore will play 29 games against teams with a .500 record or better, including seven against the Rays. Those seven games will decide the team's fate.
It will not be easy, but the Orioles have an outside shot at making the postseason. Tampa Bay and Oakland both have better pitching staffs and are solid offensively, so it will be tough for Baltimore to pass them.
Final Prediction: 89-73 (28-13 over their last 42 games)
Cleveland Indians (65-56)
Cleveland is looking to make the postseason for the first time since 2007.
Hannah Foslien/Getty Images
While it is unlikely that Cleveland will catch Detroit for the AL Central crown, the Indians are in a good position to make a run for one of the wild-card spots. They currently are 3.5 games behind Oakland for the second wild-card spot and are poised to return to the postseason for the first time since losing the 2007 ALCS in seven games against the Boston Red Sox.
Cleveland has not played well lately, dropping seven of its last 10 games. The Indians have a great opportunity to pick up ground this weekend when they host the Athletics for a three-game set. A sweep would put the Tribe a half-game behind Oakland, but if they drop all three games, they will fall 6.5 games behind.
After Oakland, Cleveland has only 15 games remaining against teams with a .500 record or better. The Indians host the Orioles and the Royals for three games each and then travel to Atlanta, Detroit and Kansas City for three-game sets. Check out Cleveland's schedule for more details.
The Indians have a favorable schedule heading into September, as they have seven games left to play against both Minnesota and Chicago (fourth and fifth, respectively, in the AL Central) and four games against the last-place Houston Astros.
If the Indians can beat Kansas City and break even against Detroit and Atlanta, they should have no problem finishing strong. With 41 games remaining, it is reasonable to think that Cleveland can win anywhere between 25-30 games, if not more.
Cleveland will need a strong performance from its pitching staff, which currently ranks ninth in the American League with a 4.09 team ERA. The offense has been solid all year, ranking fourth in the AL in runs scored.
Cleveland probably has the best shot of any team to pass one of the current wild-card leaders and make it to the playoffs based on its schedule.
Final Prediction: 93-69 (28-13 over their last 41 games)
Kansas City Royals (62-57)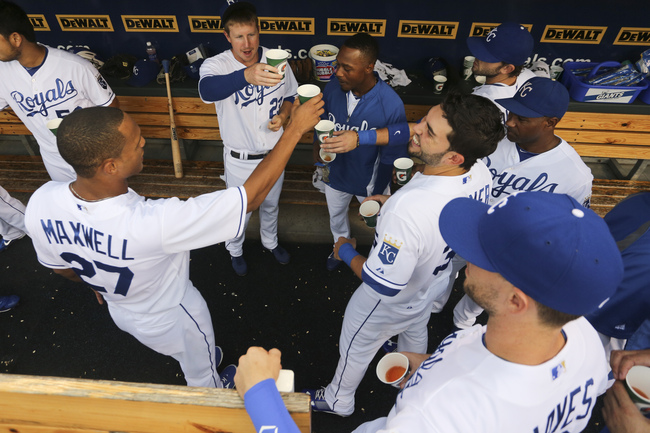 Will this be the year Kansas City finally returns to the playoffs?
Ed Zurga/Getty Images
The Kansas City Royals have been one of baseball's more interesting stories this season, as they are looking to return to the postseason for the first time since winning the World Series in 1985. Kansas City is just 5.0 games behind Oakland for the final playoff spot with 43 games remaining.
The Royals' success this season has come mostly from its pitching. KC boasts an AL-leading 3.52 ERA, which is slightly better than Detroit's 3.56, whom they are trailing in the AL Central. The Royals have a legitimate ace in James Shields, who is on pace for more than 200 innings and currently owns a 3.33 ERA.
However, the Royals have struggled to score runs this season and are 11th in the American League in runs scored with 476. Outside of Eric Hosmer (.295) and Billy Butler (.286), no Royals starter owns a batting average over .280. Kansas City also ranks dead last in the AL in home runs with 80.
Kansas City has a decent remaining schedule this season, with 20 games left against teams over .500 as opposed to 23 against sub-.500 teams (via MLB.com). Of those 20 games, however, the Royals will play 10 games against Detroit and six against Cleveland. The outcome of these games will make or break the season.
Kansas City's offense will need to pick up the pace and support the pitching staff if the team plans on making the postseason. To make the playoffs, the Royals will have to at least break even in the 10 games against Detroit, outplay Cleveland the rest of the season and hope the other wild-card contenders fall apart.
Final Prediction: 86-76 (24-19 over their last 43 games)
New York Yankees (62-58)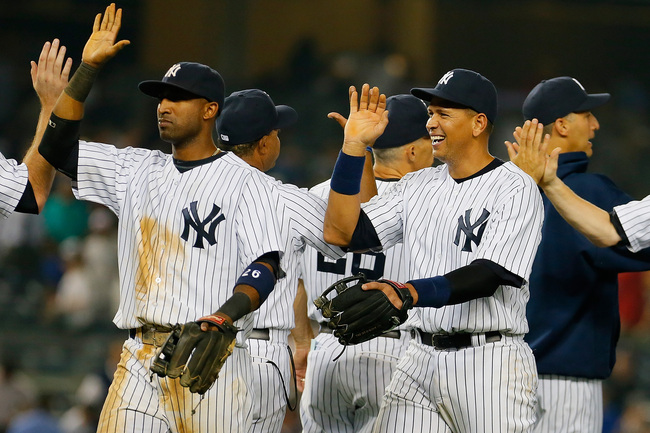 Despite a rocky season thus far, New York remains only 6.0 games out of a wild-card spot.
Mike Stobe/Getty Images
The New York Yankees will face an uphill battle as they try to return to the postseason for the 22nd time in 23 years (they missed the playoffs in 2008). The Yankees were decimated by injuries to begin the year, starting the season without Alex Rodriguez (hip), Mark Teixeira (wrist) and Curtis Granderson (arm).
The Yankees managed to tough it out and play solid ball the first month of the season but then lost Kevin Youkilis to a back injury. After returning in May, Granderson was placed on the DL again after just eight games, this time with a broken pinky. Despite being activated, Teixeira's wrist was never fully recovered, and he returned to the disabled list as well. But the Yankees kept fighting and stayed above .500 despite all the injuries.
The Yankees traded for Alfonso Soriano in July and suddenly things started to look up heading into August. Granderson returned on August 2, and A-Rod returned on August 6. New York took two games out of three on the road against Detroit before winning three out of four in the Bronx against the Angels.
The Yankees bats found their groove against Los Angeles, as they scored 28 runs in four games (seven runs per game). Soriano was on fire in the series and combined to go 10-17 (.588) with four home runs, 14 RBI and seven runs.
Robinson Cano has continued to be a consistent threat in the middle of New York's lineup and now has some support to work with in A-Rod, Soriano and Granderson. While Teixeira and Youkilis probably will not return, the Yankees have enough offense to make a run.
In order to do so, New York needs to continue to receive solid outings from Hiroki Kuroda and Ivan Nova. If CC Sabathia can right the ship, the Yankees will have a formidable trio of starters to pitch in front of a solid bullpen featuring David Robertson and future Hall of Famer Mariano Rivera.
New York has a decent schedule heading forward and will have 23 games against teams over .500, including seven each against Boston and Baltimore and six against the Rays (via Yankees.com). The Yankees will have an opportunity to make some noise in the wild-card race if they play well against Baltimore and Tampa Bay.
However, the Yankees bats would need to stay red hot, and their pitching would have to be superb. Anything can happen, but there is too much competition for New York to overcome. It is unlikely the Yankees will be able squeeze into the playoffs.
Final Prediction: 87-75 (25-17 over their last 42 games)
Final Predictions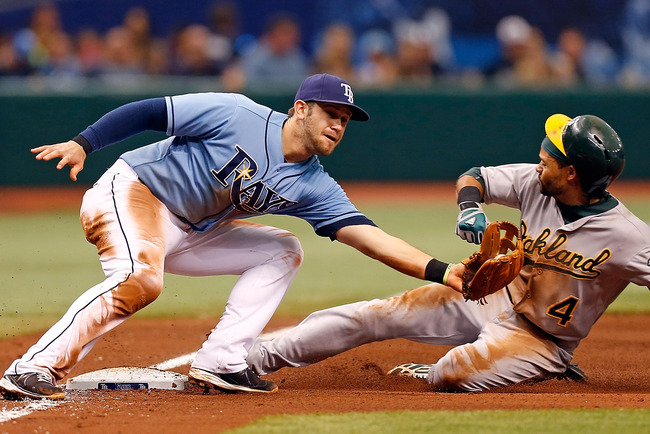 Tampa Bay and Oakland will likely be this season's American League Wild Cards.
J. Meric/Getty Images
After considering each team's strengths and weaknesses and their respective schedules, here is how the AL wild-card race will likely play out:
Tampa Bay Rays: 96-66
Oakland Athletics: 95-67
Cleveland Indians: 93-69
Baltimore Orioles: 89-73
New York Yankees: 87-75
Kansas City Royals: 86-76
Keep Reading