West Virginia Football: Week 2 Fall Practice Stock Update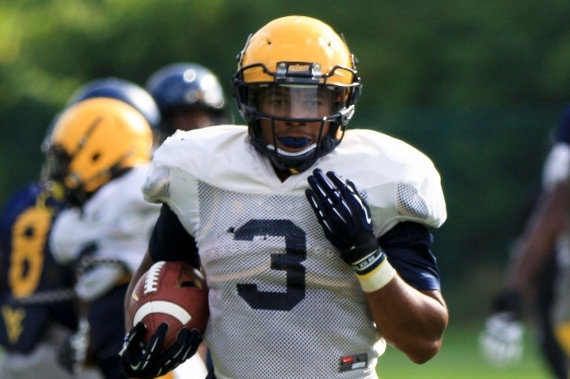 Troy Taormina-USA TODAY Sports
Photo Credit: 247Sports
Major news came during Week 2 of fall camp when West Virginia head coach Dana Holgorsen announced that the quarterback battle will soon be decided.
While one signal-caller appears to have finally taken the reins of the WVU offense, numerous players at other positions have been rising and falling on the depth chart on both sides of the ball.
Many upperclassmen have been challenged by the horde of newcomers in Morgantown, and a number of the new faces are poised to continue to rise as they settle into the program and scheme.
Finally, Week 2 of camp also brought a live 11-on-11 scrimmage in front of the media, which gave an excellent look into a potential depth chart for when the Mountaineers make their 2013 debut against William & Mary on Aug. 31.
Begin Slideshow

»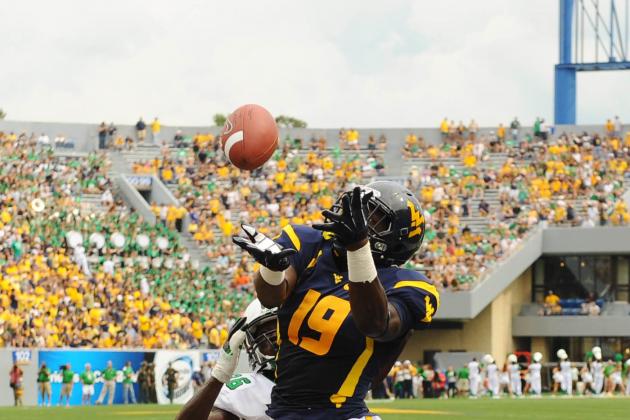 James Lang-USA TODAY Sports

Redshirt sophomore K.J. Myers may end up as the only returning receiver to hold off the new arrivals and grab a starting spot.
After running with the first-team offense throughout the offseason, Myers appears to be the lone returnee in the mix, along with newcomers like Kevin White, Mario Alford and Ronald Carswell.
The only other holdover at the position is Cody Clay. However, Clay will act as a hybrid fullback-tight end, rather than a full-time receiver.
Justin K. Aller/Getty Images

This shouldn't come as too much of a surprise, but the majority of the returning receivers for the Mountaineers have slipped their way down the depth chart.
Jordan Thompson and Dante Campbell have struggled with injury through much of camp. Thursday, Holgorsen called them "day-to-day," as tweeted by Mike Casazza of the Charleston Daily Mail.
Additionally, Will Johnson and Connor Arlia are no longer on the WVU roster, and Holgorsen confirmed that the two will transfer. Geoff Coyle of WVIllustrated also quoted Holgorsen saying Johnson and Arlia are free to transfer anywhere.
Aside from K.J. Myers, only two returnees appear to be in contention for playing time: Devonte Mathis and Terrance Gourdine.
However, for Mathis, bad news came Thursday when Holgorsen expressed ire at his inside receivers and announced that he'll try true freshman Daikiel Shorts on the inside.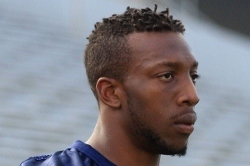 Photo Credit: 247Sports
West Virginia was expected to have plenty of junior college flavor for 2013, and Brandon Golson will almost certainly provide that defensively.
Golson was featured on the first-team defense during a Week 2 scrimmage, as reported by Allan Taylor of WV MetroNews.
As mentioned by Taylor, West Virginia's defensive coaches had been long anticipating the arrival of Golson, and he proved to be as good as advertised when he finally did make it to campus this summer.
Golson will only improve as he becomes more comfortable in the system.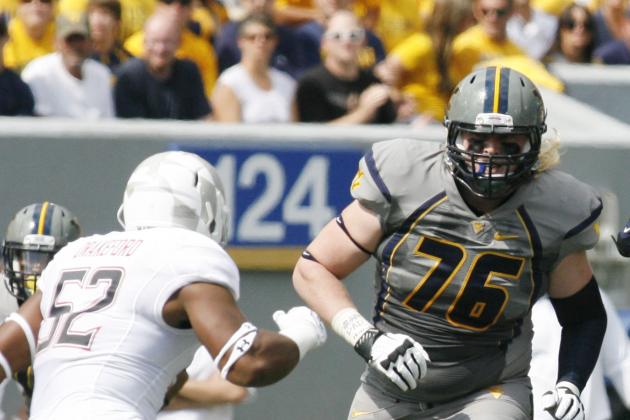 Charles LeClaire-USA TODAY Sports

The most experienced player on the offense, Pat Eger has fallen out of the starting five on the offensive line.
He made a move from tackle to center this spring and then to guard this fall. Now it appears as though he'll be somewhat of a sixth man on the offensive line, filling in wherever needed.
The five anticipated starters all have less starting experience than Eger.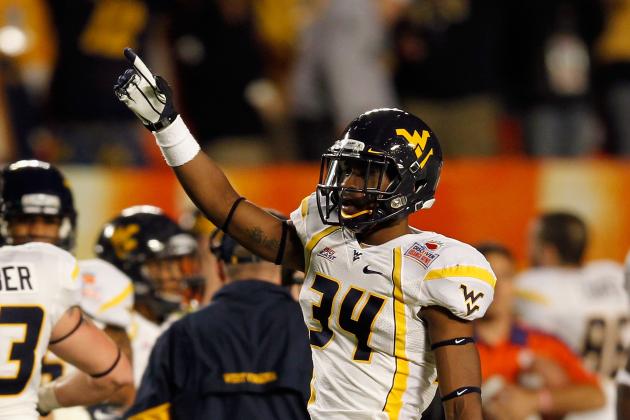 Streeter Lecka/Getty Images

A pair of redshirt juniors may have finally stepped up to claim the two starting cornerback roles in West Virginia's base defense.
Ishmael Banks has been long assumed to be a front-runner for one of the starting positions and has been the most impressive of the group all offseason.
The story of Travis Bell is a bit different. He was a safety up until this spring when he burst onto the scene with an outstanding spring game.
Bell looked to be on his way to a successful junior campaign in 2012, but he was sidelined with an injury early in the season against Maryland. If he can stay healthy, he could have a great impact on a WVU corner unit that was short on playmakers last season.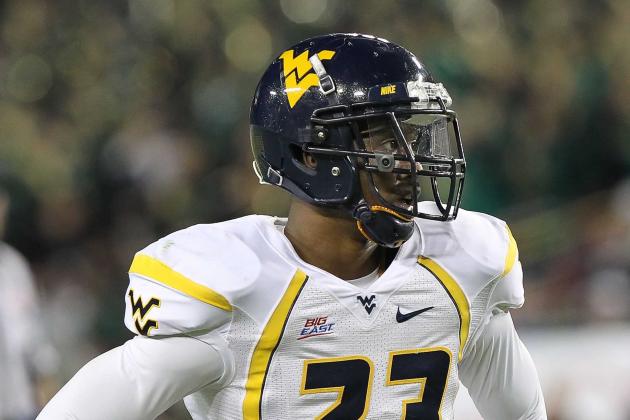 Kim Klement-USA TODAY Sports

With Travis Bell and Ishmael Banks on track to take the top two spots at corner, senior Brodrick Jenkins will be the odd man out.
Jenkins showed potential to be an exciting playmaker as a sophomore, but he struggled through 2012.
As the most experienced Mountaineer cornerback, he'll still see the field in 2013, but it looks like it will be an uphill battle for him to earn back his starting position.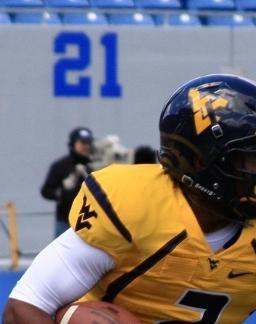 Bob Levey/Getty Images
Photo Credit: 247Sports
As expected, running backs Charles Sims and Dreamius Smith are just too talented to keep off the field.
Sims, a Houston transfer and redshirt senior, is a lock for the starting role and might be the best player on the team at any position.
The best part about Sims is his versatility. By motioning in and out of the backfield, Sims will open up more opportunities for Smith.
Smith, a junior college transfer, is a powerful runner and will bring a different dimension to the WVU offense.
During the Week 2 scrimmage, Geoff Coyle of WVIllustrated captured video of Sims darting for what would have been a touchdown in live action.
Sims and Smith will make one of the best running back duos in the Big 12 Conference, if not the nation.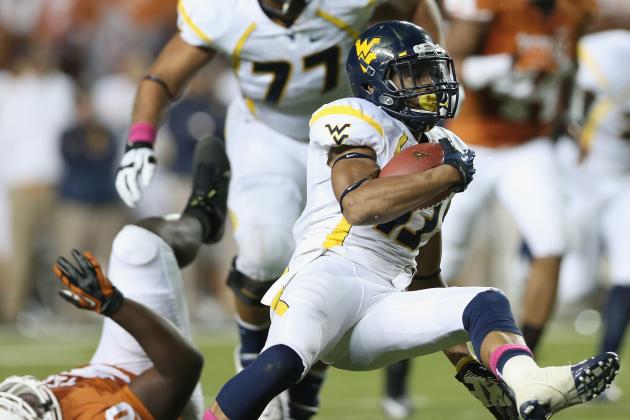 Ronald Martinez/Getty Images

Dustin Garrison was West Virginia's starting running back in 2011. Andrew Buie took that starting role in 2012.
Now thanks to Sims and Smith, neither will start in 2013.
As Coyle reported, Garrison was the No. 3 running back during Monday's scrimmage and Buie was not present for the drill.
Both will undoubtedly see the field this season, along with freshman Wendell Smallwood, but they'll do so backing up Sims and Smith.
However, given the nature of the running back position, injury could always open the door for either to retake a starting role.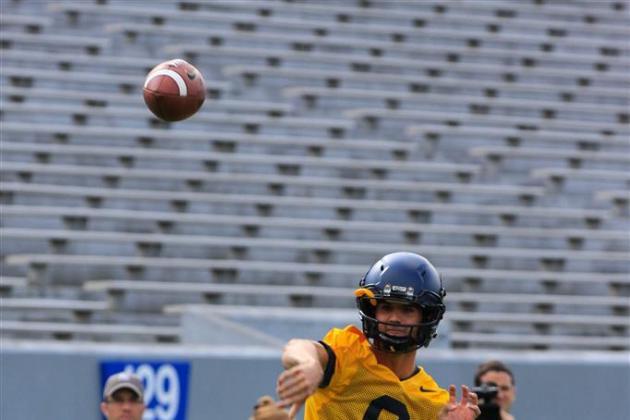 USA TODAY Sports
Photo Credit: 247Sports
Clint Trickett ran the first-team offense at Monday's scrimmage.
At his meeting with the media three days later, Holgorsen announced that he expects the quarterback battle to be decided by the end of practice Saturday and that he knows in the back of his mind whom the starter should be, as tweeted by Greg Madia of The Daily Athenaeum.
This isn't a coincidence. Trickett joined the Mountaineers after the spring with his eyes on the unsettled quarterback race.
Now, it looks like he will be the winner of the job.
However, with the race so close all offseason, he still stands to lose that job if he falters once the season starts.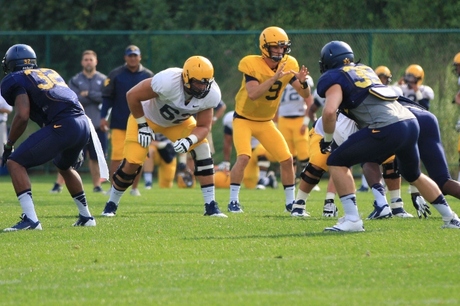 Photo Credit: 247Sports
QB: Clint Tricket
Ford Childress/Paul Millard
RB: Charles Sims
Dreamius Smith
FB/TE: Cody Clay
WR: Kevin White
Ivan McCartney
IR: Mario Alford
Shelton Gibson
IR: Ronald Carswell
Daikiel Shorts
WR: K.J. Myers
Terrance Gourdine
RT: Curtis Feigt
Pat Eger
RG: Marquis Lucas
Stone Underwood
C: Tyler Orlosky
Tony Matteo
LG: Mark Glowinski
Russell Haughton-James
LT: Quinton Spain
Nick Kindler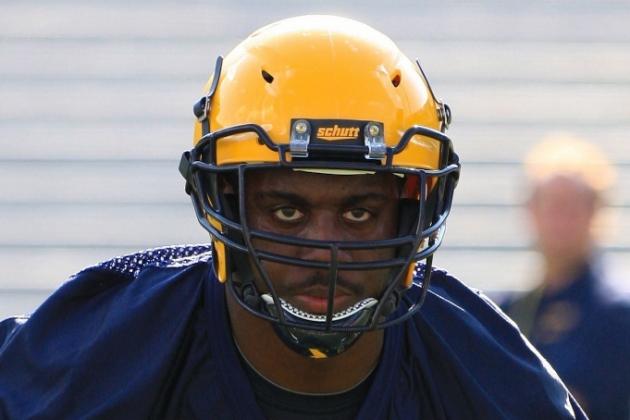 Photo Credit: 247Sports
DE: Will Clarke
Noble Nwachukwu
DT: Shaq Rowell
Christian Brown
DE: Dontrill Hyman
Eric Kinsey
Star (OLB): Isaiah Bruce
Wes Tonkery
Sam (ILB): Doug Rigg
Jared Barber
Will (ILB): Nick Kwiatkoski
Al-Rasheed Benton
Buck (OLB): Brandon Golson
Dozie Ezemma
CB: Ishmael Banks
Brodrick Jenkins
CB: Travis Bell
Avery Williams
FS: Karl Joseph
K.J. Dillon
SS: Darwin Cook
Jeremy Tyler