The coaches took their turn on Aug. 2, releasing the first iteration of the USA Today poll that bears their name. But the real fun begins on Saturday, when the AP checks in with its first Top 25 of the season.
There are always slight but noticeable differences between the coach and media rankings. It's hard to divine exactly why—that is, which teams one poll will prefer to the other—but it happens every year nonetheless.
Last year, each poll threw powerful jabs at the bottom of the rankings. AP voters had Louisville No. 25 and Auburn unranked, while the coaches snubbed the Cardinals and ranked the Tigers 25th. But the coaches also ranked Notre Dame (whom AP voters snubbed) No. 24 and had Stanford three spots higher than the media at No. 18.
Jockeying between the polls takes place all season, and it's always fun to see whom one electorate favors relative to the other. So which teams will the media shaft on Saturday?
Northwestern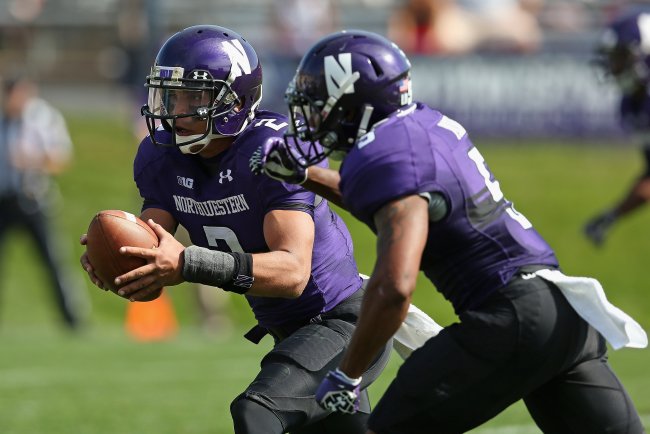 Jonathan Daniel/Getty Images
The Wildcats checked in at No. 22 in the coaches poll, a reward for their massive (and unforeseen) success in 2012. They capped off a 10-3 season by beating Mississippi State in the Gator Bowl, ending a 63-year bowl drought in style by forcing four big turnovers.
It was the second SEC bowl team (the other being Vanderbilt) Northwestern beat last season.
This year, Northwestern returns 15 starters from that historic team, including underrated playmakers at quarterback (Kain Colter) and running back (Venric Mark). So it's easy to understand why the coaches were so rosy with their prediction.
But the media wasn't as friendly this offseason. Though the Big Ten doesn't have an "official" media poll, the Cleveland Plain-Dealer conducted a makeshift one, and it wasn't as keen on the Wildcats' chances.
Northwestern was projected to finish fourth in the Big Ten Legends Division, behind first-place Michigan, second-place Nebraska and third-place Michigan State. That last part is the troubling one: MSU finished 28th in the first coaches poll with 89 points—almost 100 behind the Wildcats.
If the national media follow the Big Ten's local lead, Sparty might leapfrog Northwestern and take its spot in the Top 25.
Texas A&M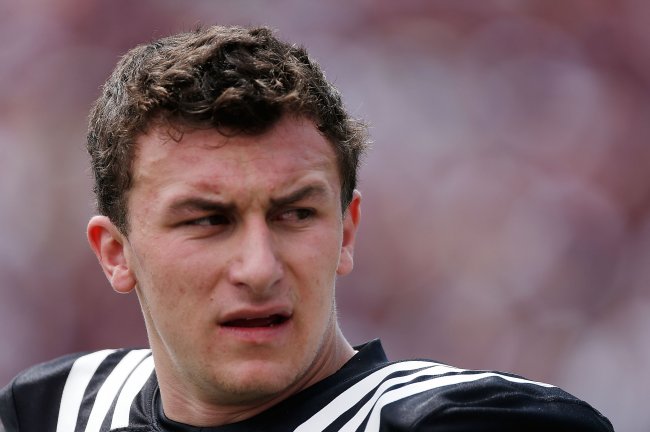 Scott Halleran/Getty Images
According to the AP's Ralph Russo, ballots were due this past weekend—right in the heart of Signed Memorabilia-gate:
@E_ROCK12 Preseason AP Top 25 ballots had to be in by last weekend, so the Manziel/NCAA story was in full bloom when they voted.

— Ralph D. Russo (@ralphDrussoAP) August 15, 2013
That's bad news for Texas A&M, which finished No. 6 in the coaches poll, but will almost certainly notice an appreciable decline from that perch.
The real question isn't "if" but "how far" the Aggies drop. With more and more evidence mounting against Manziel, how sure can AP voters be that he'll remain eligible? And how much does it matter?
South Carolina and Clemson, Nos. 7 and 8 in the coaches poll, seem like good bets to hurdle A&M. But No. 9 Louisville and No. 10 Florida (the latter of which beat the Aggies with Manziel last season) might also be able to make a case. And what of No. 11 Notre Dame, a reigning championship-game participant, or No. 12 Florida State, which romped in last year's Orange Bowl?
Behind Texas A&M in the coaches poll, there was no lack of quality teams, all of whom seem eager to rise up the rankings. When the AP poll comes out on Saturday, the teams behind Kevin Sumlin's squad might look much different.
Texas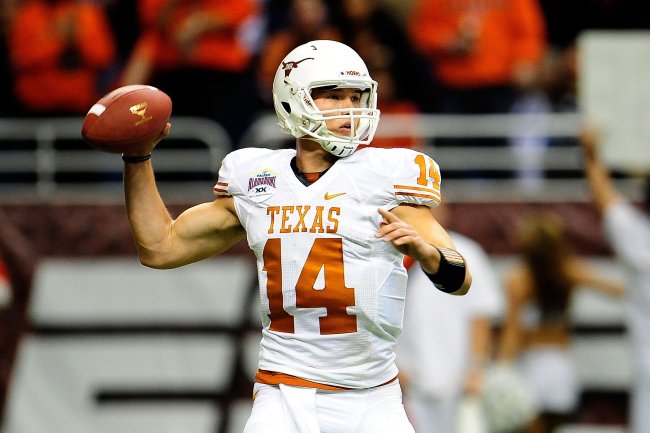 Stacy Revere/Getty Images
One esteemed member of the media, magazine tycoon Phil Steele, has gone on the record with top-five expectations for Texas this year. But his peers might disagree.
They certainly did in the Big 12 media poll, pegging the Longhorns to finish fourth behind Oklahoma State, Oklahoma and TCU. There isn't much separation between the top four selections (only 28 points and seven first-place votes stand between OSU and Texas), but the order is telling nonetheless.
Texas, however, edged out Oklahoma (and is substantially ahead of TCU) in the first coaches poll, finishing all the way up at No. 15. Oklahoma State, the only Big 12 team with a higher ranking, placed just one paltry spot ahead of it.
That will change when the AP vote comes in. The national-media ballot will much closer resemble the Big 12 one, lumping TCU close to (or ahead of) the Longhorns and probably putting Oklahoma ahead of them, too.
Don't be surprised if one of the Big Ten teams behind Texas in the coaches poll, Michigan or Nebraska, makes a move to pass it as well.
USC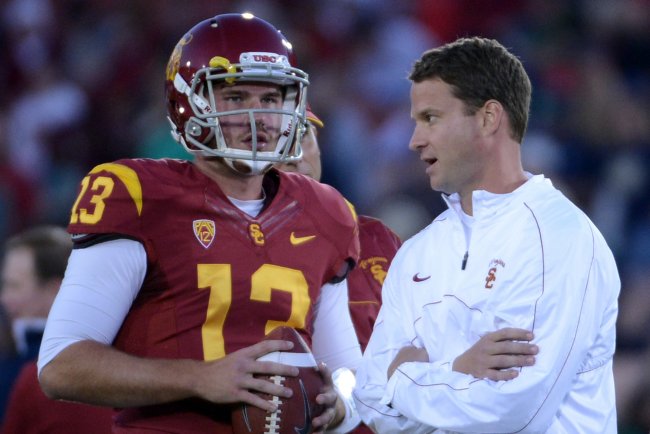 Harry How/Getty Images
AP voters might hold a (much) bigger grudge against USC than the coaches. They did, after all, predict the Trojans to be No. 1 in last year's preseason poll, while the USA Today voters pegged them No. 3.
The panel of national writers might (and probably does) feel betrayed by Lane Kiffin's team—enough so that they won't be eager to vote for it.
Fool me once, shame on you; fool me twice...
That creed was reflected in the Pac-12 media poll, where USC was projected to finish third in the South Division. Arizona State finished well clear of the Trojans in second place, receiving 130 points and 10 first-place votes to USC's 117 and four.
Much like Michigan State with Northwestern, don't be surprised if ASU (who finished 32nd in the coaches poll) knocks USC onto the island of unranked teams.