Virginia Tech Football 2013 Team Program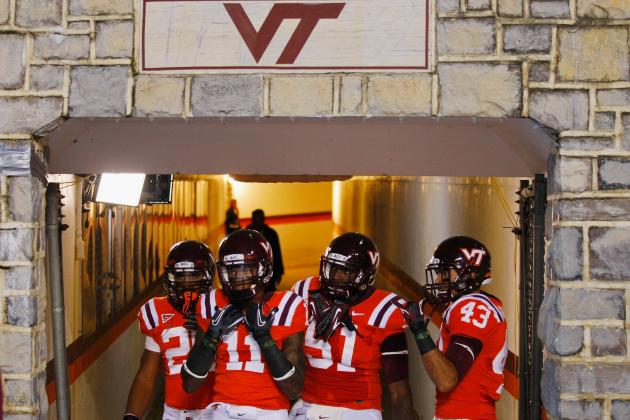 Geoff Burke/Getty Images

Coming off a 7-6 year that saw the team beat Rutgers in the Russell Athletic Bowl, the Virginia Tech Hokies are gearing up for an exciting 2013 season.
Traditionally one of the toughest teams in the ACC in recent memory, the Hokies are looking to improve on last season's mediocre showing.
There are plenty of promising signs in Blacksburg that indicate this team could be a mainstay in the Top 25, most notably the return of quarterback Logan Thomas. Thomas had a bad season last year but is looking to bounce back in 2013.
The Hokies will face a monumental test to kick off the year as they face the Alabama Crimson Tide, the reigning national champions, in the Georgia Dome in Week 1.
With that, here's a look at the 2013 Virginia Tech Hokies.
Begin Slideshow

»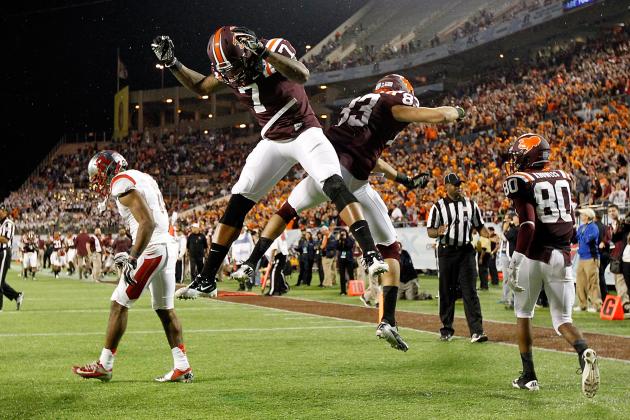 J. Meric/Getty Images

Last season was an up-and-down year for the Hokies. They finished just 6-6 in the regular season but finished the year on a high note with an overtime win over the Rutgers Scarlet Knights in the Russell Athletic Bowl.
The season started off hot for Frank Beamer's team as they went 3-1 in the team's first four games. The only loss was to the Pittsburgh Panthers.
But then the Hokies hit a huge slide, losing five of their next six with losses to Cincinnati, North Carolina, Clemson, Miami and Florida State. Virginia Tech's only win in that stretch was against the Duke Blue Devils.
The Hokies salvaged their season, though, by winning their last two regular-season games against Boston College and Virginia to become bowl eligible.
Last year the offense was the major problem in Blacksburg. The Hokies were just 65th in the country in passing yards, 81st in rushing yards and 83rd in points per game.
Quarterback Logan Thomas had to put the team on his back, leading the squad in both passing and rushing yards. He threw for 2,976 yards and rushed for 524. He also accumulated 27 total touchdowns.
Linebacker Jack Tyler was the leader on defense, racking up a team-best 119 tackles.
Both Thomas and Tyler will be back in 2013.
Justin K. Aller/Getty Images
Logan Thomas
Returning Starters:
Offense - 4
Defense - 9
DEPTH CHART
OFFENSE
Split End
1. D.J. Coles
2. Joshua Stanford
3. Carlis Parker
Tight End
1. Ryan Malleck
2. Duan Perez-Means
Left Tackle
1. Jonathan McLaughlin
2. Wyatt Teller
Left Guard
1. Brent Benedict
2. Ross Ward
3. Kyle Chung
Center
1. Caleb Farris
2. Matt Arkema
3. David Wang
Right Guard
1. Andrew Miller
2. Marcus Mapp
Right Tackle
1. Laurence Gibson
2. Parker Osterloh
Tailback
1. Trey Edmunds
2. J.C. Coleman
2. Joel Caleb
Fullback
1. Fuller Hoepner
2. Sam Rogers
Quarterback
1. Logan Thomas
2. Mark Leal
3. Brenden Motley
Flanker
1. Demitri Knowles
2. Charley Meyer
3. Willie Byrn
DEFENSE
Defensive End
1. James Gayle
2. Tyrel Wilson
3. Matt Roth
Defensive Tackle
1. Derrick Hopkins
2. Woody Baron
3. Alston Smith
Defensive Tackle
1. Luther Maddy
2. Corey Marshall
3. Nigel Williams
Defensive End
1. J.R. Collins
2. Dadi Nicolas
3. Ken Ekanem
4. Seth Dooley
Linebacker
1. Jack Tyler
2. Chase Williams
3. Devin Vandyke
Linebacker
1. Tariq Edwards
2. Deon Clarke
3. Dahman McKinnon
Outside Linebacker
1. Josh Trimble
2. Derek DiNardo
3. Quinton Taylor
Rover
1. Kyshoen Jarrett
2. Desmond Frye
3. Anthony Shegog
Cornerback
1. Kendall Fuller
2. Brandon Facyson
3. Nick Bush
Free Safety
1. Detrick Bonner
2. Der'Woun Greene
3. Chuck Clark
Cornerback
1. Kyle Fuller
2. Donovan Riley
3. Chris Caver
SPECIAL TEAMS
Punter
1. A.J. Hughes
2. Hunter Windmuller
Kicker
1. Cody Journell
2. Mitchell Ludwig
3. R.J. Warfel
Long Snapper
1. Joe St. Germain
2. Eddie D'Antuono
Holder
1. Trey Gresh
2. Mark Leal
(Depth chart according to Virginia Tech's website)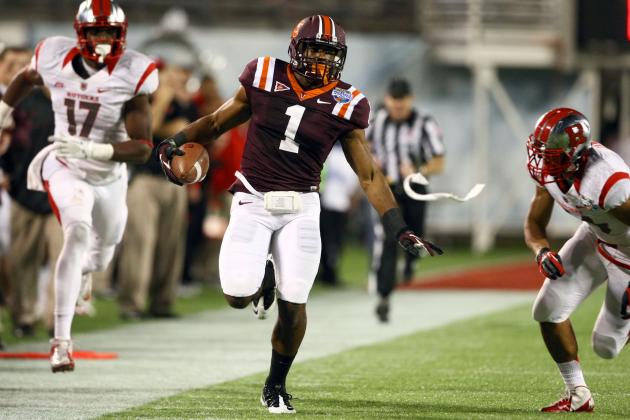 Douglas Jones-USA TODAY Sports
Antone Exum
CB Antone Exum
Per Andrew Gribble of Al.com, Exum broke a bone in his knee during a pickup basketball game this summer. He'll miss the team's opening game against Alabama, and the team trainer said he could be out until October.
Exum was a huge part of the Hokies defense last year, leading the team with five interceptions. He also had 48 tackles and 16 deflected passes.
RB Tony Gregory
According to Heather Dinich of ESPN, Gregory suffered a torn ACL that will cost him his football career. The redshirt senior running back previously tore his ACL in 2010 and missed last spring's practices with a rib injury.
RB J.C. Coleman
In the same report by Dinich, it was announced that Coleman is probable for Week 1 against Alabama. Coleman sprained both ankles in practice. Virginia Tech's head athletic trainer, Mike Goforth, is optimistic about having Coleman back on the field in a few weeks.
"J.C. has a left high-ankle sprain and a right regular ankle sprain," Virginia Tech head athletic trainer Mike Goforth said in a statement. "We're hoping to get him back in less than two weeks, but that's very optimistic. We think he'll be ready and back in time for the Alabama game. He's working hard to get back as soon as he can."
LB Ronny Vandyke
Vandyke will miss the entire 2013 season because of right shoulder surgery, according to Andy Bitter of The Roanoke Times. Vandyke will need surgery to replace a dislocated right shoulder. His rehab is expected to be 6-8 months.
OT Mark Shuman
In the same report by Bitter, it was revealed that Shuman tore his lateral meniscus in his right knee and that surgery to repair the injury will keep him out for 4-6 weeks.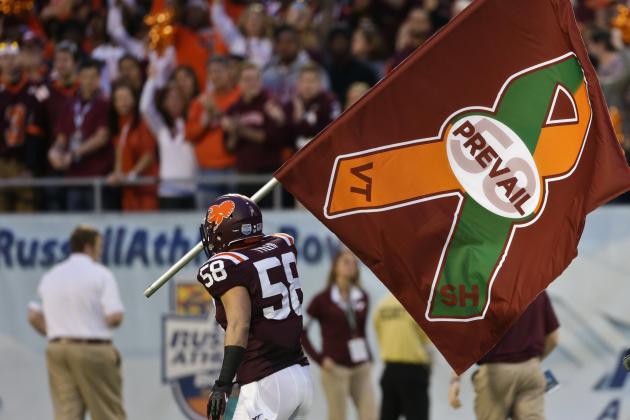 Rob Foldy-USA TODAY Sports
Jack Tyler
Logan Thomas, QB, Senior
Logan Thomas was the team's leading passer and rusher last year, and now he's back for one last go-around in Blacksburg.
Last year, Thomas racked up 2,976 yards through the air and 524 yards on the ground. Over his career at Virginia Tech, Thomas has thrown for over 6,000 yards and 57 total touchdowns.
As a senior, Thomas will look to take the team back to the level it was at in 2011, when the Hokies went to the Sugar Bowl.
In order to do that, he'll need to recover from the shaky year he had as a junior. He threw for just 18 touchdowns but accompanied that with 16 interceptions.
Jack Tyler, LB, Senior
The Hokies leading tackler last year with 119, linebacker Jack Tyler returns this season to lead the defense. Tyler finished the year as a second-team All-ACC selection after starting all 13 games.
Tyler has had a decorated career with Virginia Tech, playing in every game since 2010. His first start came in the Orange Bowl of that season, and he then went on to start four more in 2011. But it was last season that saw Tyler become one of the best linebackers in the country.
Currently, Tyler is rated by NFLDraftScout.com as the 11th-best player in his class at inside linebacker. He's also a member of the 2013 preseason All-ACC team.
Joel Caleb, TB, Freshman
This redshirt freshman will be a huge jolt for the Hokies. Per Virginia Tech's website, Caleb was ranked in the ESPNU 150 while at Clover Hill High School in Richmond, Va. He was also ranked as the top player in Virginia.
However, Caleb's first active season in Blacksburg won't start on a good note. According to Andy Bitter of The Roanoke Times, it was announced on Aug. 6 that Caleb violated a team rule and will be unavailable in the team's opener against Alabama.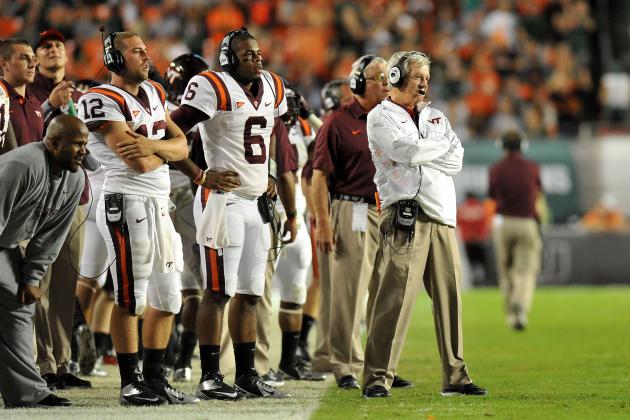 Steve Mitchell-USA TODAY Sports
Frank Beamer (right)
Head Coach:
Frank Beamer (27th year)
Since being hired as Virginia Tech's head coach in 1987, Beamer has had a tremendous amount of success in Blacksburg. His current record with the Hokies is 216-104-2 and includes four ACC titles and eight BCS berths. Beamer has also won three Big East titles with the Hokies.
New Coaches:
Scot Loeffler - Offensive Coordinator
After spending last season as the offensive coordinator and quarterbacks coach at Auburn, Loeffler has taken the same job at Virginia Tech this year. In 2011, he served in the same role at Temple. He also has prior experience at Michigan, Central Michigan and Florida.
As a coach, Loeffler has helped his teams reach BCS bowls six times in 15 years of coaching. This includes a national championship at Michigan during the 1997 season.
His list of quarterbacks he's worked with is impressive to say the least. It included Tom Brady, Brian Griese, Chad Henne and Tim Tebow.
Jeff Grimes - Offensive Line Coach
Grimes comes to Virginia Tech from Auburn, along with Loeffler. Grimes was part of the staff at Auburn that won the national title in 2010.
In 2011, Grimes was courted by Texas' Mack Brown for the same job with the Longhorns, according to AL.com. But he chose to stay with the Tigers.
Aaron Moorehead - Wide Receivers Coach
Moorehead spent the last three years at Stanford as an assistant wide receivers coach. There, he helped the Cardinal make three straight BCS bowls.
He also has five years of NFL experience, all with the Indianapolis Colts. He was part of the Colts team that won Super Bowl XLI in 2006.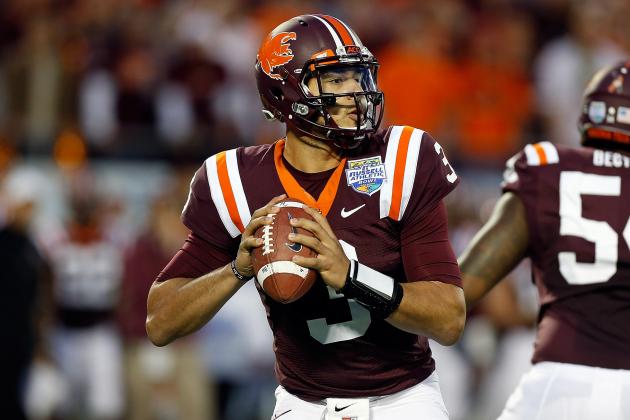 J. Meric/Getty Images
Logan Thomas
2013 Game Schedule
Aug. 31 vs. Alabama*
Sept. 7 vs. Western Carolina
Sept. 14 @ Eastern Carolina
Sept. 21 vs. Marshall
Sept. 26 @ Georgia Tech
Oct. 5 vs. North Carolina
Oct. 12 vs. Pittsburgh
Oct. 26 vs. Duke
Nov. 2 @ Boston College
Nov. 9 @ Miami
Nov. 16 vs. Maryland
Nov. 30 @ Virginia
*Neutral site game
Most Important Games:
August 31, vs. Alabama
Week 1 will see the Hokies take on the defending national champions in the Georgia Dome. This game will be a huge test for both teams as Virginia Tech looks to start off on a high note following a less-than-impressive season, while Alabama will try to defend its national title against a quality team.
October 12, vs. Pittsburgh
The first loss the Hokies took last year was at the hands of the Pittsburgh Panthers. So you've got to believe that the team is looking for revenge in this one. This will also be the first time Virginia Tech is playing Pittsburgh since the Panthers joined the ACC, so there will certainly be a unique hype in Blacksburg for this matchup.
November 9, @ Miami
Had the Hurricanes not withdrawn themselves from bowl consideration, they would've played in the ACC title game last year. Miami is a notoriously good team that loves to give the Hokies great games. Don't expect this year to be any different.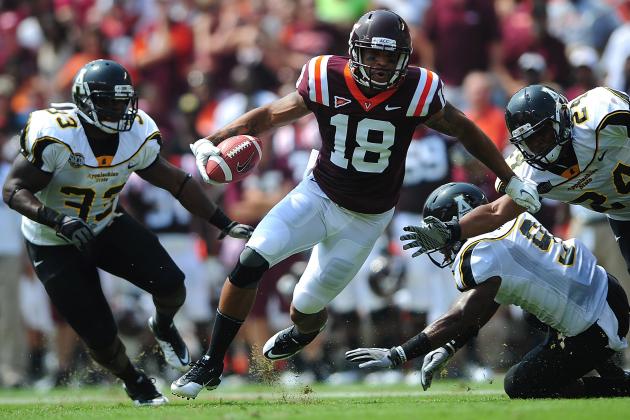 Andrew Weber-USA TODAY Sports
D.J. Coles
Offensively, this team is undoubtedly led by quarterback Logan Thomas. He was the team's leading passer and rusher and broke his own single-season record for total yards.
But after a season that saw Thomas struggle a bit, completing just over 51 percent of his passes while tossing 16 interceptions, he'll look to be more efficient in 2013.
The running back position is loaded with freshmen as Trey Edmunds and Joel Caleb are expected to make impacts. Last year, this team was ranked just 81st in rushing among FBS teams, and with young guys taking over, it could be more of the same in Blacksburg.
The receiving corps, under new wide receivers coach Aaron Moorehead, should be improved in 2013. The Hokies have D.J. Coles and Demitri Knowles coming back, so Thomas will have two of his most familiar targets to throw to.
Overall, this offense will be finding its identity as there are a slew of new coaches on the staff. Beamer made the move on the coaching staff after the team was ranked just 81st in total offense last year.
But with Thomas at the helm, this offense should be much improved this season.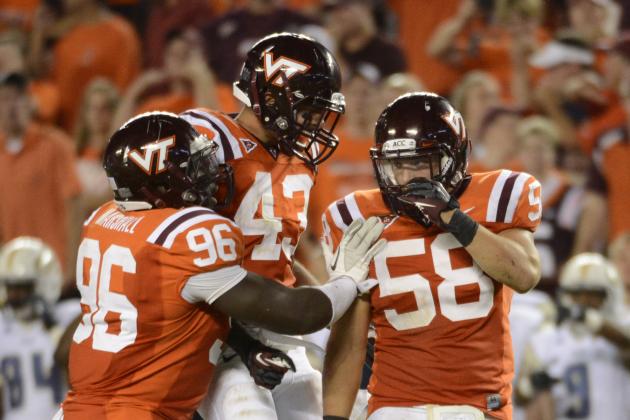 Bob Donnan-USA TODAY Sports

With nine returning starters, the Hokies' defense is the team's pride and glory. Their star is linebacker Jack Tyler, the ACC's leading returning tackler after he racked up 119 last season.
Per Mark Ross of Athlon Sports, last year's defense ranked in the top 32 of total defense, scoring, rushing and pass defense. So with nine starters coming back from that unit, you've got to think this year's defense will be among the best in the nation.
One of the biggest concerns is the injury to cornerback Antone Exum. He's a quality secondary player, so he'll be tough to replace.
Tyler is obviously a major talent on this defense, which runs out of the 3-4 set. But the supporting cast, which includes the team's second-leading tackler last season in linebacker Kyshoen Jarrett, will have to step up as well.
With so much experience on this roster defensively and one of the best linebackers in the country leading the group, the Hokies should have one of the best defenses in the ACC and should help the team compete for an ACC title.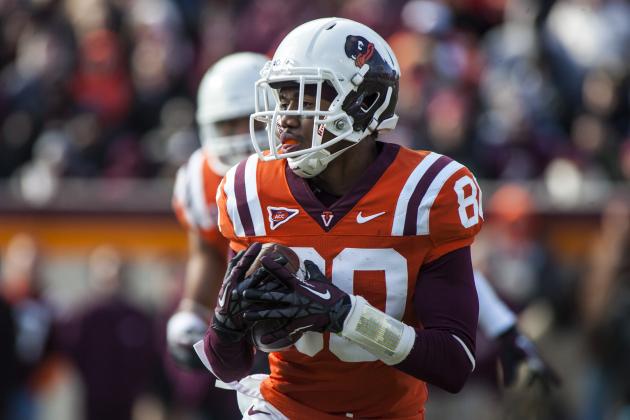 USA TODAY Sports
Demitri Knowles
2011 vs. 2012 Logan Thomas
One thing that could decide this season is whether or not the Hokies get the 2011 version of Logan Thomas or the 2012 one.
In 2011, he was one of the best dual-threat quarterbacks in the country, racking up over 3,000 yards passing and 11 touchdowns on the ground.
But in 2012, his completion percentage dipped from 59 percent to 51 percent, he threw a whopping 16 interceptions, and he was limited to just 27 total touchdowns, three less than a year ago.
If the Hokies want to win in 2013, he'll have to put up numbers reminiscent of 2011 and not 2012.
Wide Receivers
With new wide receivers coach Aaron Moorehead in town, this unit is being injected with new life.
However, the top three receivers from last year are all gone. The Hokies will have to rely on Demitri Knowles and D.J. Coles. Coles missed all of last season with a knee injury, but he'll be back this year.
Thomas is in desperate need of some help on offense. If the receivers can come together this season, though, then the Hokies could have a deadly offensive attack.
Rover Kyshoen Jarrett
Everybody knows about Jack Tyler. But Jarrett was second on the team in tackles last season with 83. He played over 900 snaps last year, including 55 on special teams, according to the Hokies' website. Jarrett will have to continue to complement Tyler if this defense wants to succeed.
But if he were to sustain an injury or have a drop-off in production, this defense could come apart at the seams.
No Road Games in October
The Hokies have three games on their schedule in the month of October, and they're all at home. On Oct. 5, Oct. 12 and Oct. 26 the Hokies face North Carolina, Pittsburgh and Duke. Those are all games that Virginia Tech should win. It's hard for any team to win in Lane Stadium, so the Hokies having a month on their schedule where they don't have to leave Blacksburg is huge.
It will be crucial for them to grab three wins to get some momentum after a tough start to the year that includes a neutral site game against Alabama and a road game against Georgia Tech.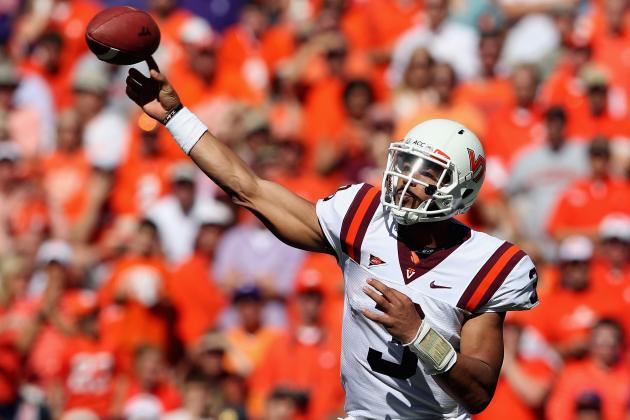 Streeter Lecka/Getty Images
Logan Thomas
Can the Hokies Improve From 2012?
Face it, this team underperformed last season. A 7-6 record is not the modus operandi for a Frank Beamer-coached team. But with Logan Thomas and Jack Tyler back, along with a plethora of new coaches on offense, this team should be reinvigorated in 2013.
One Last Go-Around for Logan Thomas
In 2011, Thomas was drawing up memories of Michael Vick in Blacksburg, as he threw for 3,013 yards and 19 touchdowns that season. He also added 69 yards on the ground while completing nearly 60 percent of his passes.
But 2012 was a down year for Thomas, one that saw him complete just 51 percent of his passes and throw 16 interceptions to just 18 touchdowns.
So he'll certainly look to turn those numbers around in 2013.
When Thomas announced his return to the Hokies for his senior season, he said he wanted to leave the program on a better note than last season.
I think I have a lot to work on. I think we can get better. Leaving a program 7-6, especially a program like Virginia Tech -- we have a legacy of winning a lot of games -- kind of left a bad taste in my mouth. I want to come back and have a better season this year.
Can This Defense Be One of the Best in the Country?
With so much experience coming back to this unit, the Hokies should have one of the best defenses not just in the ACC but in the country.
But with Antone Exum out with an injury, that undoubtedly creates a hole that will be tough to fill. But Jack Tyler is one of the best in the nation at linebacker, and this defense will hinge on his performance.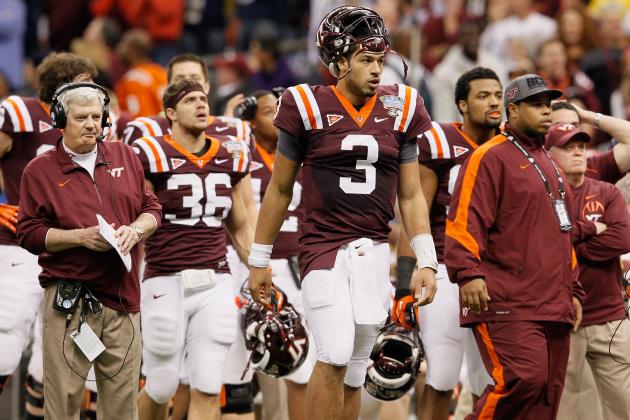 Kevin C. Cox/Getty Images

Prediction: 9-3
The Hokies will go 9-3 this season with a 6-2 record in ACC play. They'll win the Coastal Division, earning themselves a spot in the ACC title game. But there, they'll run into the Clemson Tigers, who will give Virginia Tech its fourth loss of the year.
But with nine wins, the Hokies will go to the Chick-fil-A Bowl.
Virginia Tech will also have a perfect 6-0 record at home.
Game Predictions:
Aug. 31 vs. Alabama - L
Sept. 7 vs. Western Carolina - W
Sept. 14 @ Eastern Carolina - W
Sept. 21 vs. Marshall - W
Sept. 26 @ Georgia Tech - L
Oct. 5 vs. North Carolina - W
Oct. 12 vs. Pittsburgh - W
Oct. 26 vs. Duke - W
Nov. 2 @ Boston College - W
Nov. 9 @ Miami - L
Nov. 16 vs. Maryland - W
Nov. 30 @ Virginia - W