USC Trojans Football: Week 2 Fall Practice Stock Report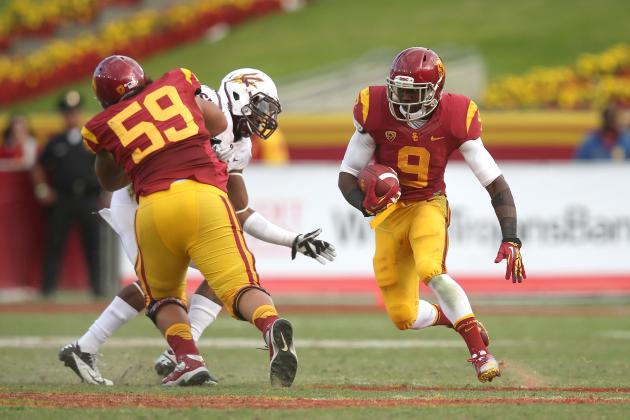 Stephen Dunn/Getty Images

With the USC Trojans now a mere two weeks away from the start of the 2013 season, their status as a football team remains murky.
Starting assignments still require clarification, as do rotations. Both of these determinations by the coaching staff are being compromised by a variety of issues, including a spate of injuries that have seen several perceived starters relegated to bench duty.
This slideshow will assess where the Trojans are two weeks into the fall practice session and where they may go from here.
Can USC get to where it needs to be before it travels to Hawaii on August 29?
Here is where the Trojans are at the halfway point of their final practice sessions leading up to the beginning of their 2013 football campaign.
Begin Slideshow

»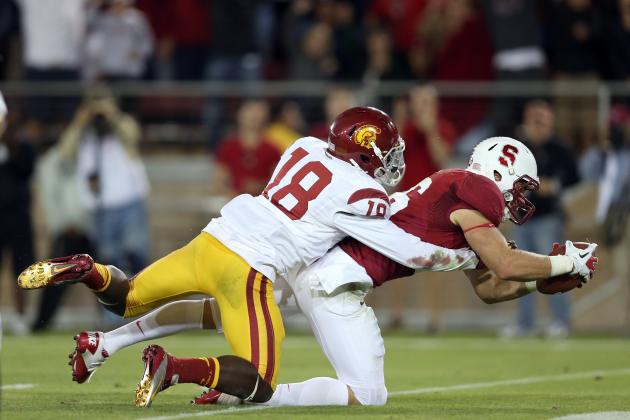 Ezra Shaw/Getty Images
Dion Bailey
As Lane Kiffin and his staff ponder how this roster will eventually look, they will have to it without the benefit of a completely healthy team.
As of this writing, the Trojans have 23 players nursing a variety of injuries. The list includes the latest to go down: safety Dion Bailey, who left Wednesday's late practice with a leg injury (subscription required).
Although for the most part, these injuries are minor, they are still preventing the coaching staff from making assessments that need to be made sooner rather than later.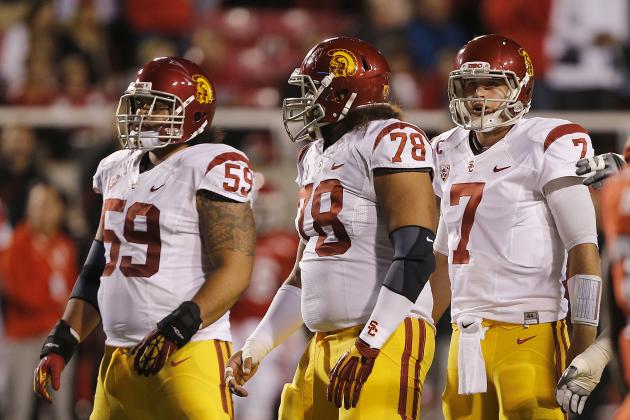 George Frey/Getty Images

One of those previously mentioned injuries belonged to left tackle Aundrey Walker, and that incident has now led to a makeover in the offensive line.
Chad Wheeler replaced Walker at left tackle, and so far, it looks like he has moved the incumbent out of his starting gig.
When Walker returned from his injury, he moved to the right guard position, where he is now sharing snaps with starter John Martinez.
Whether or not this is how the offensive line is constituted when the season opens remains to be seen, but it is possible that the tinkering in this unit isn't finished yet.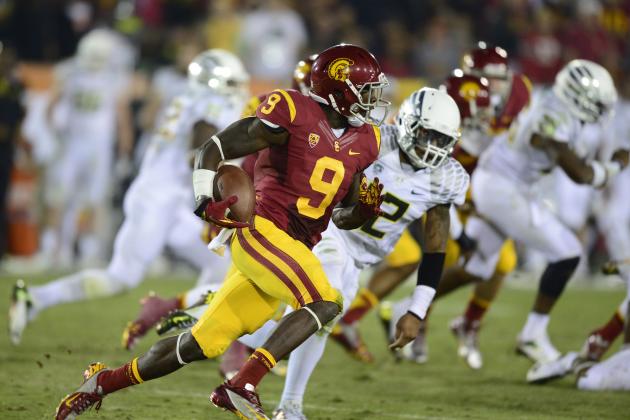 Robert Laberge/Getty Images

The Trojan family let loose a collective sigh of relief when All-American wide receiver Marqise Lee returned to the field of play after suffering an injury to his shoulder earlier in the week.
Though Lee was limited in practice, he appears to be on track to full-contact status soon.
For this, USC fans should be eternally grateful, as this is one player the Trojans need at full strength at all times.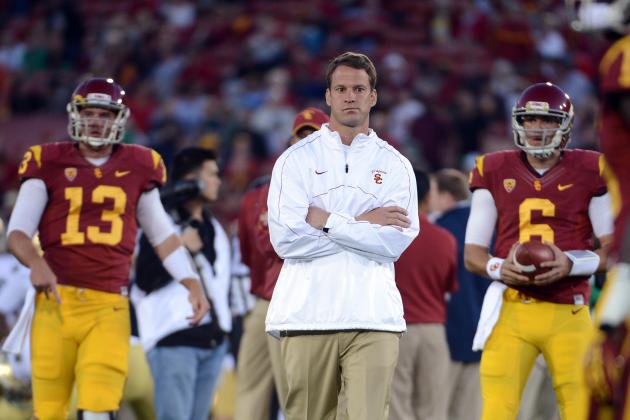 Harry How/Getty Images

Okay, so the 'ol head coach hasn't named a starting quarterback yet. But when he does, it should be Cody Kessler, although not for the reasons most people think.
Yes, Kessler has played well enough to be tabbed the starter. But there is another, perhaps more important reason that goes beyond young Cody's performance on the field of play.
You see, as most Trojan fans know, Kiffin is under a lot of pressure from the fanbase.
And that same group of people clearly favors Kessler as USC's starting quarterback, which is exactly why Kiffin is in a win-win situation if he does name him the starter.
With Kessler justifying a starting position, Kiffin can satisfy the fanbase. And if Kessler plays well, USC likely wins.
If not, Kiffin can say "Well, I tried" and offer Max Wittek a chance to right the ship.
Otherwise, Kiffin rolls the dice with Wittek under the premise that he must win or the head coach suffers even more criticism and his seat grows even hotter.
Seems like an easy decision to me...name Kessler the starter.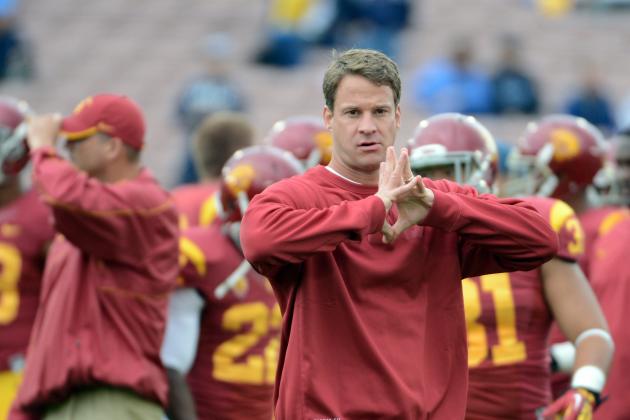 Harry How/Getty Images

With the fall practice session half over, Kiffin needs to start making some difficult decisions.
Will Wheeler be the starting left tackle, and if so, where does Walker wind up?
And with the receivers being banged up, who nails down the No. 3 spot in the pass-catching rotation? Darreus Rogers?
What about Victor Blackwell, who has played well? Or De'Von Flournoy, who has more speed and experience but can't stay healthy?
And then there is the defensive secondary, where final determinations must be made for both cornerbacks and the safeties.
And that is not all. Rotations need to be set throughout the roster, and the final depth chart must be established.
So many questions.
And time is running out for answers.