Wisconsin Football 2013 Team Program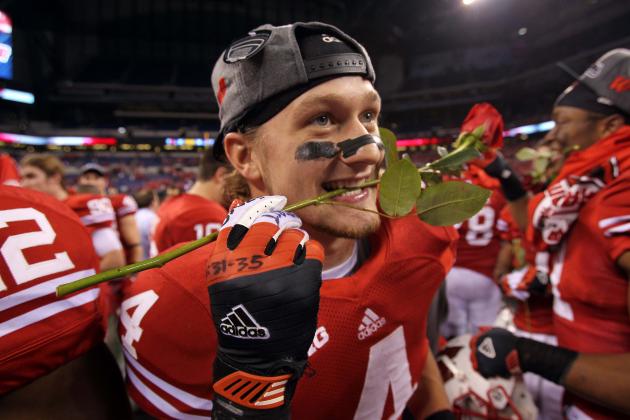 Brian Spurlock-USA TODAY Sports

Just one touchdown was all that was needed in the second half for the Wisconsin Badgers to claim their first Rose Bowl victory in 13 years. Losers of the previous two Rose Bowl games, the most unlikely of the three B1G championship teams—a team with an 8-5 record—was knocking on the door.
But just as it had over and over throughout the season, the offense squandered opportunity after opportunity. The Stanford Cardinal would hold on to win 20-14, as Wisconsin's final drive ended with an interception at midfield.
That wasn't before Bret Bielema bolted for Arkansas. Not even Barry Alvarez himself could lead the Badgers to a Rose Bowl victory.
And now, an overhauled coaching staff, a new defensive agenda and uncertainty at several positions leave us with several burning questions entering the 2013 season.
We'll do our best to answer some of those questions and set you up with information regarding depth charts, new coaches and what to watch for throughout the upcoming season as you open up and indulge Wisconsin's 2013 team program.
Begin Slideshow

»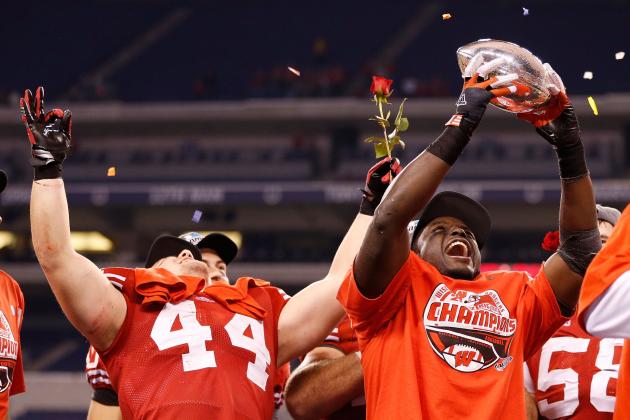 Gregory Shamus/Getty Images

The Badgers entered 2012 with a mindset that they were ready to take home another Big Ten title. Another transfer quarterback in Danny O'Brien walked into town from Maryland, Heisman finalist Montee Ball was back and both Penn State and Ohio State were ineligible for postseason play—essentially handing the Leaders Division to Wisconsin.
While the Badgers did manage to win their third straight Big Ten championship, the road to get there was anything but lined with roses. O'Brien didn't even last three games at the helm; the Badgers went through three quarterbacks and Wisconsin dropped five games along the way—three of which were in overtime.
All of that was forgotten when the Badgers marched into Indianapolis to represent the Leaders Division in the B1G title game. All Wisconsin did was drop 70 points on the Nebraska Cornhuskers, punching its ticket to Pasadena where it would face Stanford, the Pac-12 champions.
But the same problems that reared their ugly heads throughout the season returned in California. The Badgers went an entire half without scoring and struggled to move the football while the defense kept them in it.
Their 20-14 defeat to the Cardinal summed up Wisconsin's season in a nutshell—it didn't lose a single game by more than seven points. For the third straight year, the Badgers reached the Rose Bowl, only to lose in heartbreaking fashion.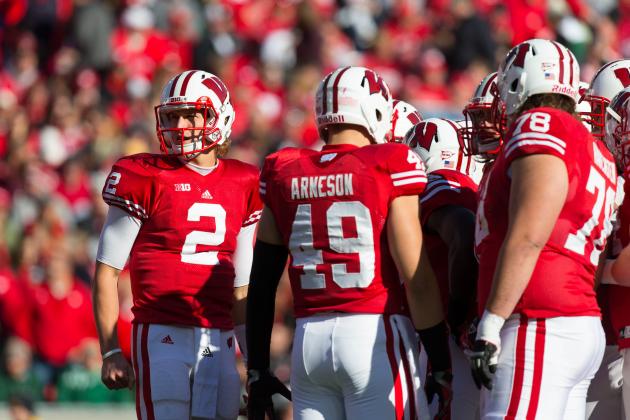 Jeff Hanisch-USA TODAY Sports

(Returning starters in Bold)
Offense:
Quarterback
1. SO Joel Stave 6'5", 225 pounds
SR Curt Phillips 6'3", 217 pounds
Running Back
1. SR James White 5'10", 195 pounds
2. SO Melvin Gordon 6'1", 207 pounds
Fullback
1. SO Derek Watt 6'2," 231 pounds
2. SO Derek Straus 6'0", 235 pounds
Tight End 1
1. SR Jacob Pedersen 6'5", 240 pounds
2. JR Sam Arneson 6'4", 254 pounds
Tight End 2
1. SR Brian Wozniak 6'4", 255 pounds
2. SR Brock DeCicco 6'5", 250 pounds
Wide Receiver 1
1. SR Jared Abbrederis 6-2, 190 pounds
2. JR Kenzel Doe 5'8", 170 pounds
Wide Receiver 2
1. SO Jordan Fredrick 6'4", 210 pounds
2. RS FR Alex Erickson 6'0", 198 pounds
Left Tackle
1. SO Tyler Marz 6'5", 321 pounds
2. FR Hayden Biegel 6'6", 281 pounds
Left Guard
1. SR Ryan Groy 6'5", 320 pounds
2. SO Ray Ball 6'7", 321 pounds
Center
1. 1. JR Dallas Lewallen 6'6", 322 pounds OR
RS FR Dan Voltz 6'3", 313 pounds
Right Guard
1. SR Zac Matthias 6'5", 318 pounds OR
JR Kyle Costigan 6'5", 315 pounds
Right Tackle
1. JR Rob Havenstein 6'8", 327 pounds
2. RS FR Walker Williams 6'7", 322 pounds
Defense (3-4):
Defensive End
1. SR Ethan Hemer 6'6", 285 pounds
2. JR Konrad Zagzebski 6'3", 278 pounds
Nose Tackle
1. SR Beau Allen 6'3", 325 pounds
2. JR Warren Herring 6'3", 294 pounds
Defensive End
1. SR Pat Muldoon 6'3", 269 pounds OR
SR Tyler Dippel 6'4", 270 pounds
Outside Linebacker
1. SR Ethan Armstrong 6'2", 225 pounds
2. SO Joe Schobert 6'2", 230 pounds
Inside Linebacker
1. JR Derek Landisch 6'0", 230 pounds
2. SR Conor O'Neill 6'0", 230 pounds
Inside Linebacker
1. SR Chris Borland 5'11", 246 pounds
2. JR Marcus Trotter 6'0", 233 pounds
Outside Linebacker
1. SR Brendan Kelly 6'6", 255 pounds
2. SO Vince Biegel 6'4" 233 pounds
Cornerback 1
1. FR Sojourn Shelton 5'9", 172 pounds
2. FR Jakarrie Washington 5'9", 180 pounds
Free Safety
1. SR Dezmen Southward 6'2", 210 pounds
2. RS FR Nate Hammon 6'1", 196 pounds
Strong Safety
1. SO Michael Caputo 6'1", 206 pounds
2. RS FR Leo Musso 5'10", 195 pounds
Cornerback 2
1. JR Peniel Jean 5'11", 187 pounds
2. SO Darius Hillary 5'11", 187 pounds (Nickel)
Special Teams:
Place Kicker/Kickoffs
1. JR Kyle French 6'1", 200 pounds
2. SO Jack Russell 6'0", 172 pounds
Punter
1. SO Drew Meyer 6'3", 185 pounds
2. SO Stephen Salata 6'2", 199 pounds
Long snapper
1. JR James McGuire 6'1" 216 pounds
2. RS FR Connor Udelhoven 5'11" 223 pounds
Holder
1. Drew Meyer
2. Stephen Salata
Kick Returner
1. Jared Abbrederis OR Kenzel Doe
2. Jordan Fredrick
Punt Returner
1. Kenzel Doe
2. SR Kyle Zuleger 5'11", 192 pounds
Jeff Hanisch-USA TODAY Sports

FB Derek Watt (Hamstring)
After exiting Wisconsin's Week 1 game against UMass with a strained hamstring, Watt was dressed for Week 2 and participated in warmups, but did not play.
LB Derek Landisch (Ankle)
The Badgers' starting middle linebacker, Landisch sprained his ankle against the Minutemen and could miss up to two weeks of action.
CB Devin Gaulden (Knee)
The junior cornerback tore his ACL in 2012 and head coach Gary Andersen doesn't think he's close to returning.
RB Vonte Jackson (Knee)
The redshirt freshman tore his ACL for the third time this summer and will miss the 2013 season.
DE Jake Keefer (Knee)
Keefer, a sophomore, left Wisconsin's Aug. 12 scrimmage with a left knee injury. He suffered a torn lateral meniscus and will miss the 2013 season.
WR Chase Hammond (Arm)
The junior wideout suffered an arm injury during practice on Aug. 12 and has been sitting out of practice with his right arm in a sling.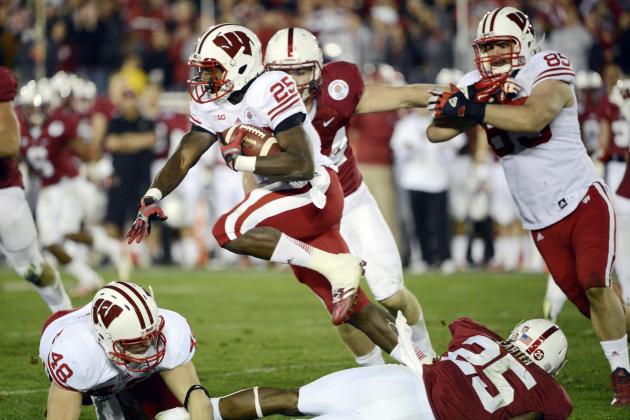 Richard Mackson-USA TODAY Sports

RB Melvin Gordon
The hype train for sophomore tailback Melvin Gordon has been gaining steam this offseason after being noticed in December following his 200-yard outburst in the B1G title game. He'll back up senior James White, but the two will split carries and Gordon's role could increase as the season wears on.
CB Sojourn Shelton
Shelton enrolled early at Madison, allowing him to participate in spring practice. He took full advantage, impressing his coaches and flying up the depth chart. He's listed as a starter entering the 2013 season despite appearing to be slated for a nickel role throughout fall camp.
OLB Joe Schobert
The walk-on sophomore is simply performing too well in practice not to earn playing time this season. He'll have to settle for a backup role due to the presence of Brendan Kelly and Ethan Armstrong, but Schobert has been receiving first-team reps with Armstrong sidelined and should have a positive impact in 2013.
WR Jared Abbrederis
He's Wisconsin's most dangerous offensive weapon. Abbrederis can stretch the field and always has big-play potential, but his success—or lack thereof—will be dependent on how well Jacob Pedersen performs and if a legitimate No. 2 receiver is able to emerge.
ILB Chris Borland
The unquestioned leader on defense, Borland will remain in the middle following Wisconsin's switch to a 3-4 defense. The change should allow Borland to roam freely and become even more of a tackling machine, and his leadership should keep the Badger defense a well-oiled machine.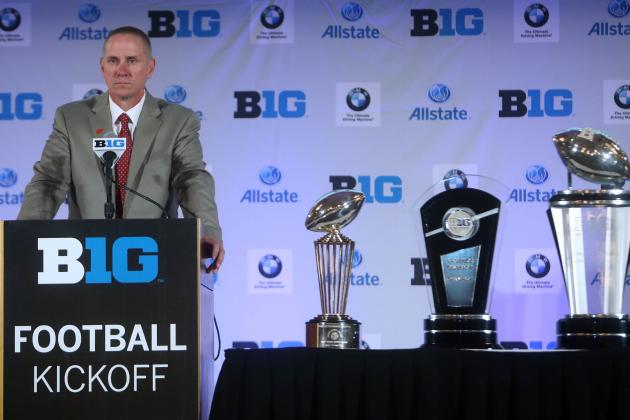 Jerry Lai-USA TODAY Sports

Head coach: Gary Andersen
Gary Andersen wasn't on anybody's radar after Bielema's departure last winter—except athletic director Barry Alvarez's. The former head honcho at Utah State accepted Alvarez's offer to become the 29th head coach at the University of Wisconsin.
In four years at Utah State, Andersen built the Aggies from the ground up, leading them to double-digit wins and the program's first bowl victory since 1993 last season. He'll bring some new philosophies to the table at Wisconsin, but Andersen believes the Badgers have an elite football program and wants to keep them there.
Offensive coordinator: Andy Ludwig
Andersen brought in former San Diego State offensive coordinator Andy Ludwig to take over the same position at Wisconsin. He will also coach the quarterbacks. Ludwig led the Aztecs to nearly 33 points a game last season and has actually studied the Badgers running attack in the past, which should make this transition almost seamless.
Defensive coordinator: Dave Aranda
Following Andersen from Utah State, Dave Aranda has already put his stamp on the Wisconsin defense. As with Ludwig, Aranda will have double duty, watching over the linebackers as well. Last season, the Aggies ranked No. 8 in the country in scoring defense.
Returning coaches in Bold:
Other coaches: Chris Beatty (wide receivers), Bill Busch (safeties), Jeff Genyk (tight ends, special teams), Thomas Hammock (assistant head coach, running backs), Chad Kauha'aha'a (defensive line), Ben Strickland (cornerbacks) and T.J. Woods (offensive line).
Significant departures: Bret Bielema (head coach), Matt Canada (offensive coordinator) and Chris Ash (co-defensive coordinator).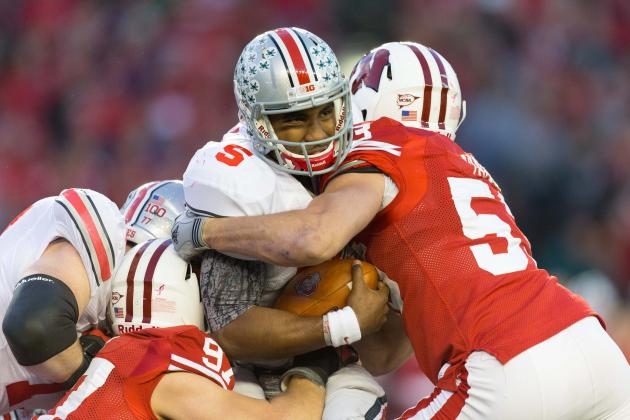 Jeff Hanisch-USA TODAY Sports

Aug. 31: Massachusetts
Sept. 7: Tennessee Tech
Sept. 14: AT Arizona State
Just like last season, when the Badgers traveled west to face Oregon State, Wisconsin will face an early test in Week 3 when they square off against the Sun Devils in Tempe.
Sept. 21: Purdue
Sept. 28: AT Ohio State
The Badgers pushed the Buckeyes to overtime in 2012 at Camp Randall and nearly ended their run at an undefeated season. Now, Wisconsin will turn around and play Ohio State in Columbus in just the second week of Big Ten play.
Oct. 12: Northwestern
This isn't your Northwestern of 2010 when the Badgers dropped a 70 spot on the Wildcats en route to their Rose Bowl appearance against TCU. Northwestern won 10 games last season and will be upset-minded when traveling to Madison in October.
Oct. 19: AT Illinois
Nov. 2: AT Iowa
Nov. 9: BYU
A rare midseason nonconference game, the Badgers will host the BYU Cougars in November. Last season when Andersen was coaching with the Aggies, BYU got the best of Utah State, winning by a field goal.
Nov. 16: Indiana
Nov. 23: AT Minnesota
The Golden Gophers have been without possession of Paul Bunyan's Axe for a decade now. Fresh off a bowl game appearance, they'll be hungry to wrestle it back from the Badgers in this late-season matchup.
Nov. 30: Penn State
As in 2012, Wisconsin closes out the regular season against the Nittany Lions. Last year, Penn State got the best of the Badgers in overtime, but this time it will have to travel to Madison with the possibility of playing spoiler.
Jeff Hanisch-USA TODAY Sports

Who will win the starting quarterback competition? And once we find out who emerges from the three-man battle, can that starter remain in place? The Badgers cycled through three quarterbacks last season because of poor performance and injury, and two of those signal callers are back—Joel Stave and Curt Phillips. Junior college recruit Tanner McEvoy is also in the mix and offers a dual-threat ability.
Can a No. 2 wide receiver emerge as a threat? We all know what Jared Abbrederis brings to the table, but last season there was an evident struggle in the passing game aside from the senior. Perhaps a true freshman like Jazz Peavy or Robert Wheelwright will step up. Or maybe last year's No. 2 Jordan Fredrick can jump out in his sophomore season.
Read-option? That's what Andersen wants to implement in the Wisconsin offense. Obviously, McEvoy's dual-threat ability would be prime for such a look, but he's struggled to throw the football with accuracy in fall camp. The read-option has taken the NFL by storm lately, and while the Badgers will stick to their power running attack, they also want to catch teams off-guard with some option looks.
Speaking of the running game, it shouldn't skip a beat despite the loss of Montee Ball. James White and Melvin Gordon should each see plenty of the field, and true freshman Corey Clement has also shown bright during fall practice. They'll just have to hope that the offensive line is up to Wisconsin standards. It faltered often in 2012 and faces depth issues entering the 2013 season.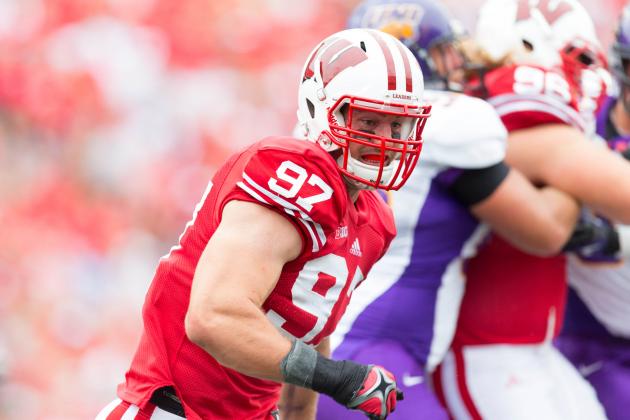 Jeff Hanisch-USA TODAY Sports

From the 4-3 to the 3-4: Defensive coordinator Dave Aranda's base defense will be the 3-4 formation, giving the Badgers an extra linebacker and only three down linemen. Out of that formation, Wisconsin's front line will try to take on as many blockers as possible while its linebackers and defensive backfield look to make plays.
An aggressive approach. Along with the switch to a 3-4 comes aggression. You'll see outside linebackers blitzing often and even players from the secondary rushing the passer, something unheard of under the tutelage of Bielema. Speaking of the secondary, corners and safeties will play more press coverage and look for opportunities to pounce.
An inexperienced secondary is easily the biggest question mark among specific positions on defense. There is only one returning starter in the defensive backfield (Dezmen Southward) and the Badgers lost two potential starters during the offseason to transfer.
Position changes. Most importantly, Brendan Kelly's switch from defensive end to outside linebacker. How the sixth-year senior is able to adapt to his new position will be something to watch, but the Badgers will look to put him in a position to succeed and use him as a pass-rusher.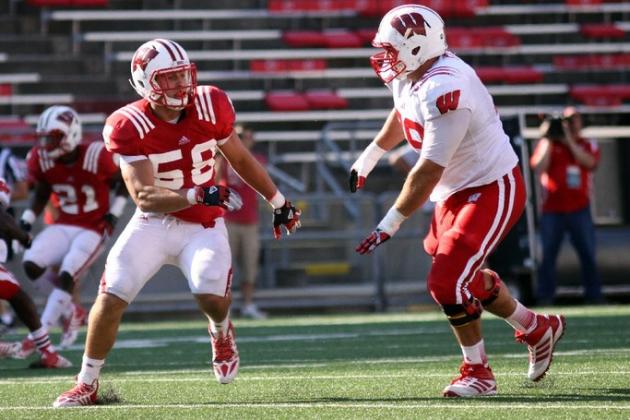 Photo courtesy of 247sports
OLB Joe Schobert
As we mentioned before, Schobert—who was listed as a safety last season—won't be a starter entering Week 1, but he will see the field thanks to his strong offseason performance. How that carries over to real football and the extent of his role in 2013 will determine just how big of an x-factor Schobert is this season.
RB Melvin Gordon
His big-play ability is what helps him crack this list. The sophomore showed that potential with multiple bursts in late-season matchups against Penn State and Nebraska. Even though he is a backup running back, Gordon will see plenty of playing time in 2013 and could even factor into the return game.
NT Beau Allen
Mr. Allen is a big boy (6'3", 325 pounds) and yet he won't receive much attention this season. However, assuming the role of nose tackle on defense he will have a vital role. How much push he creates and how many offensive linemen he's able to occupy will go a long way as far as Wisconsin's success on defense is concerned.
TE Jacob Pedersen
Pedersen not only cracks the Mackey Award watch list, which is given to the nation's top tight end, he's one of the favorites. His numbers from 2012 don't jump off the page, but with more stability expected at quarterback and Jared Abbrederis taking away some pressure, Pedersen could have a big year.
DC Dave Aranda
For as much attention as the read-option has received, Aranda is almost completely overhauling Wisconsin's defense. The 3-4 defense, more blitzing and aggressive coverages are all things to watch during the upcoming season.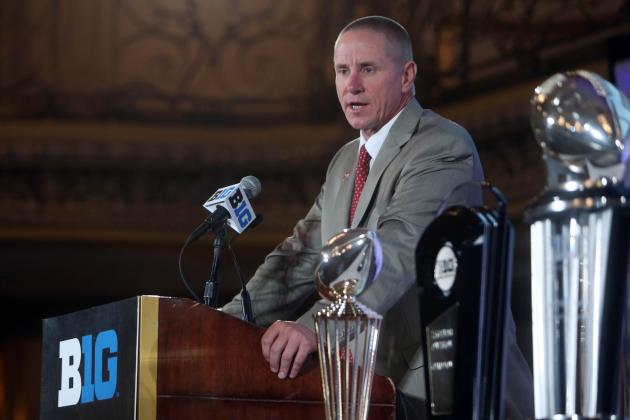 Jerry Lai-USA TODAY Sports

The Badgers' switch to a 3-4 defense. While Aranda has stated that it will be a 60/40 split between the 4-3 and the 3-4, the fact of the matter is that Wisconsin's defense is going to be dramatically different compared to years past. How well will the Badgers transition despite lacking some of the ideal personnel for this formation?
Who wins the quarterback competition? And will the winner remain the starter all season? It's impossible to determine who will win out between Stave and Phillips, but both players have starting experience. Wisconsin's woes at quarterback set it back last season and the Badgers want to get it right this time around.
Is a fourth consecutive Rose Bowl in the works? With Ohio State eligible for postseason play, the Badgers have a difficult road not only to Pasadena, but to the Big Ten Championship Game, especially with a trip to Columbus penciled in on the schedule.
Can the front seven carry an inexperienced secondary? The Badgers are loaded with experience on the defensive line and at linebacker, but the secondary only returns one starter.
Can Joel Stave run the new offense? Granted, we don't know if Stave will even start this season, and the Badgers will still primarily use a power running attack. But Stave isn't the most mobile of quarterbacks, which doesn't bode well for the read-option Andersen would like to utilize this season.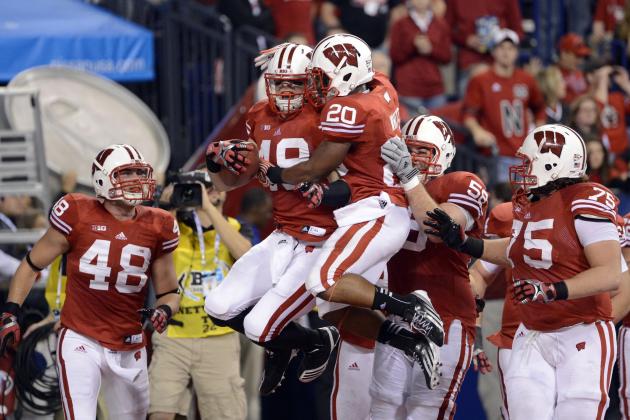 Richard Mackson-USA TODAY Sports

Who could have imagined that Wisconsin would go 8-6 last season? Even so, the Badgers enter the season ranked No. 23 in both the AP Top 25 and the USA Today Coaches' Poll.
The obvious cog in the schedule comes courtesy of Ohio State, but trips to Arizona State, Iowa and Minnesota along with games at Camp Randall Stadium against Penn State, Northwestern and BYU could all prove to be treacherous.
There is also change in the air at Madison, but just how much change there is will depend on how the personnel is able to adapt to the 3-4 defense, an aggressive approach and the read-option. Andersen won't force the issue if his players are unable to make these transitions smoothly.
There are all sorts of questions that need answering for the Badgers, but the schedule is very manageable thanks in part to the absence of Michigan, Michigan State and Nebraska.
With that being said, this is my prediction:
Final Record: 10-2 (7-1)
Bowl: Capital One
Two early season slip ups against Arizona State and Ohio State will create a bleak situation in Madison, but the Badgers will close the season out strong. Wisconsin will miss out on the B1G title game because of the Buckeyes, but with two teams making a BCS bowl, the Badgers will be rewarded with a trip to Orlando and the Capital One Bowl.
Follow Bleacher Report's Wisconsin Badgers football writer Dave Radcliffe on Twitter @DaveRadcliffe