New York Jets 2013 Schedule: Win-Loss Predictions for Every Game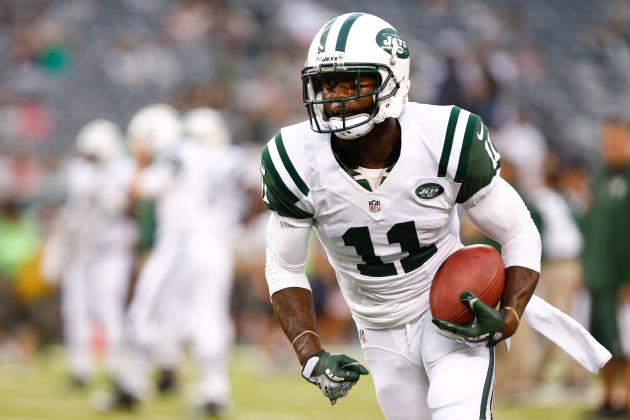 Debby Wong-USA TODAY Sports

With expectations at an all-time low for Rex Ryan's Jets, the 2013 season has taken on a unique purpose. Long shots to even be competitive for a playoff spot, this upcoming season is more about evaluating who will be a part of the future than winning games.
For Ryan, however, winning games is the only way he is going to remain as a part of the future himself. With a vastly new roster of young, inexperienced players, winning games this year will be Rex's biggest challenge as a coach to date.
Read on for predictions of all 16 regular-season games for the New York Jets.
Begin Slideshow

»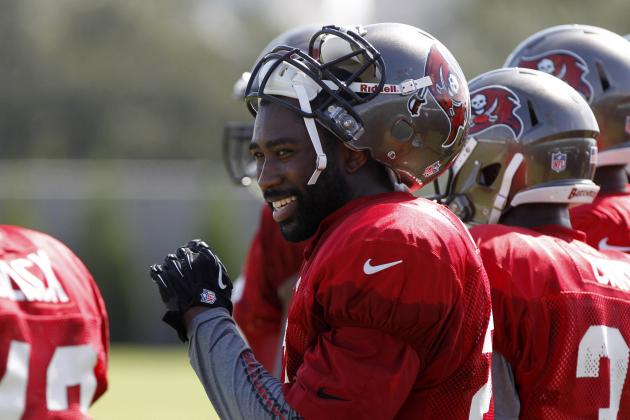 Kim Klement-USA TODAY Sports

The obvious storyline that is certain to be overhyped leading up to the game is that the Jets will face the greatest player they ever traded away, Darrelle Revis.
Acquiring Revis was clearly the biggest move made by the Buccaneers (or anyone, for that matter) this offseason, but the buck (pun intended) didn't stop there for Tampa's defensive reconstruction efforts.
After adding Dashon Goldson a year after drafting Mark Barron, Tampa Bay's pass defense could wind up as the best in football if Revis is the same player he was before his ACL injury.
No matter who opens the season for the Jets at quarterback, the Jets will have a difficult time moving the ball, especially through the air.
Rex Ryan's revamped defense should be able to keep the score down, but Tampa has too much talent on defense to be outscored by either Mark Sanchez or Geno Smith.
PREDICTION: Buccaneers 20, Jets 13 (0-1)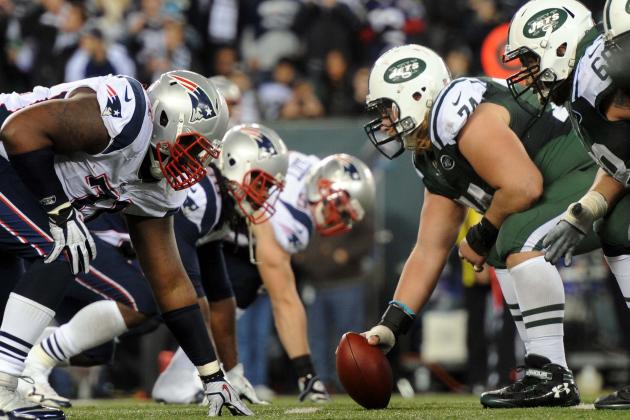 Joe Camporeale-USA TODAY Sports

There is no question that the Patriots took some hits this offseason both on and off the field, but as long as Tom Brady is on the field, the Patriots going to be favored in the vast majority of the games they play.
Despite losing Darrelle Revis, the Jets have built their defense around the sole purpose of stopping Brady and the Patriot offense. Their first two draft picks were spent on a cornerback with the size to cover tight ends (Dee Milliner) and an interior pass rusher (Sheldon Richardson) to get in Brady's face.
The big challenge for the Jets will be to stop the underrated running game in New England, led by Stevan Ridley. The Pats are known for their pass offense, but they quietly fielded the seventh-best rushing attack in the NFL last year and have the pieces in place to build on their success in the ground game.
The Jets are not going against the same paper-thin New England defense, either. The Patriots have added several new veteran pieces on defense, including Tommy Kelly and Adrian Wilson.
This game will likely be closer that most would predict, but beating New England at home is too tall of a task.
PREDICTION: Jets 17, Patriots 24 (0-2)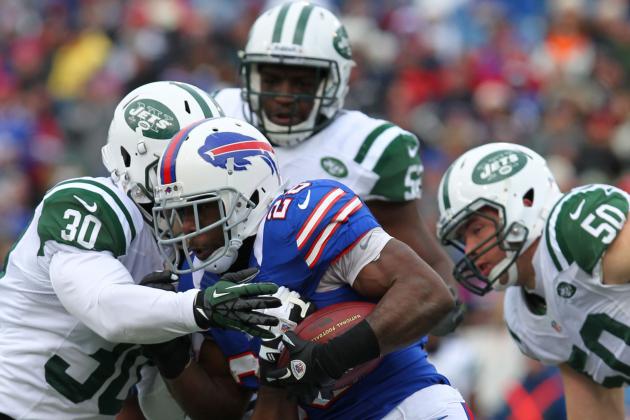 USA TODAY Sports

No matter who starts at quarterback for the Bills in Week 3, the Jets' primary concern will be to stop C.J. Spiller, who ran all over the Jets in last year's season opener.
If the Jets can contain Spiller, slowing down a quarterback by the likes of Kevin Kolb or rookie EJ Manuel should be a relatively easy task for Rex Ryan's defense.
Recent history shows that the Bills have been dreadful against the run, ranking 27th in the category last season. However, with former Jets defensive coordinator Mike Pettine running the show on defense, the Bills are sure to be much more diverse and focused on stopping the run than they have in years past in more vanilla schemes.
More frightening for the Jets is that the Bills have a brand new tandem of guards that will have to deal with Marcel Dareus and Kyle Williams. Preventing interior pressure will be key to prevent sacks and costly turnovers.
This figures to be a very low-scoring affair with both offenses struggling to move the ball through the air, but the Jets should find a way to outscore Kolb or Manuel.
PREDICTION: Jets 17, Bills 10 (1-2)
Andy Lyons/Getty Images

Like the Bills and C.J. Spiller, the Jets first order of business will be to prevent Chris Johnson from getting any explosive plays. In their last meeting, Chris Johnson was able to score on a running play that started on the 6-yard line, and the Jets cannot let Johnson break contain again.
If the Jets are going to have a big day on offense this year, it might as well be this week. The Titans have a few solid pieces on defense, including defensive tackle Mike Martin and linebacker Kamerion Wimbley, but there is no one that is capable of taking over a game on their own on their defensive roster.
As long as they are healthy, the more physical receivers like Braylon Edwards and Stephen Hill should take advantage of a thin secondary for the Titans. Meanwhile, Chris Ivory and Bilal Powell should have a strong game against an average front-seven for the Titans.
There are not many games on the schedule in which the Jets are likely to be favored, but this is one of them. If Rex Ryan wants to beat the odds and keep his job, he cannot afford to drop games like these.
PREDICTION: Jets 24, Titans 13 (2-2)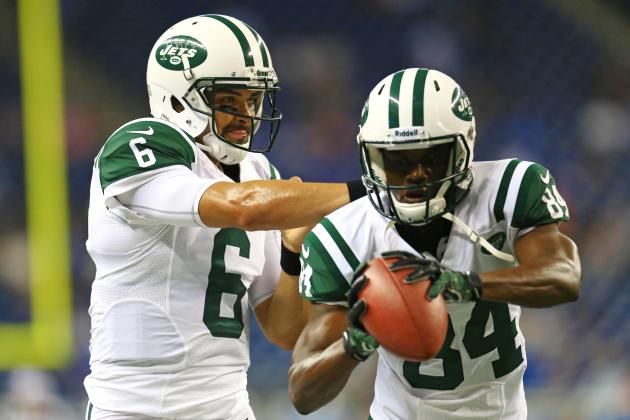 Andrew Weber-USA TODAY Sports

If there is one game that is going to expose the void left behind by Darrelle Revis, this Monday Night matchup against the Falcons is it.
A year ago, the Jets would have been able to shut down the Falcons' receiver-driven offense with their two stud cornerbacks (Revis and Antonio Cromartie), but now, the Jets will rely on Dee Milliner to hold off Roddy White—hardly an enviable task for a player who was covering LSU receivers 10 months ago.
The Jets may be able to find some success through the air against Atlanta's secondary that features a rookie starting cornerback (which is likely to be Desmond Trufant). Still, moving the ball in a loud Georgia Dome in primetime is quite a task for a young offensive roster.
In the end, however, stopping White, Julio Jones and Tony Gonzalez while keeping Steven Jackson in check is too tall of an order, especially in the Georgia Dome.
PREDICTION: Jets 19, Falcons 31 (2-3)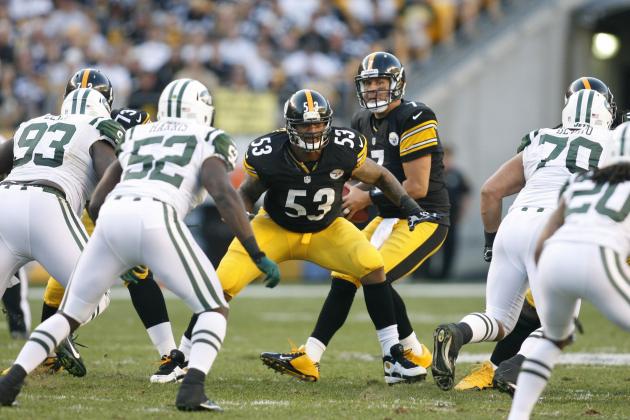 Charles LeClaire-USA TODAY Sports

The Steelers are commonly viewed as a perennial Super Bowl contender, but they are set to field one of their shallowest rosters in recent memory.
Gone are superstars by the likes of James Harrison and Mike Wallace, who will be replaced by rookies Jarvis Jones and Markus Wheaton, respectively. Their secondary has also taken a major hit after losing Keenan Lewis and Will Allen to free agency.
Defensively, the first priority for New York will be to contain Antonio Brown. Antonio Cromartie is a great cornerback, but as a long-striding runner he struggles against smaller, quick-twitch athletes like Brown.
The Jets should have some success throwing on a relatively thin Steelers secondary, but scoring in the red zone will always be a difficult task against a Dick LeBeau defense. Austin Howard will have his hands full with Lamarr Woodley in protection.
Ultimately, in what should be a closely contested game, the team with the significant advantage at quarterback pulls out the win.
PREDICTION: Jets 20, Steelers 23 (2-4)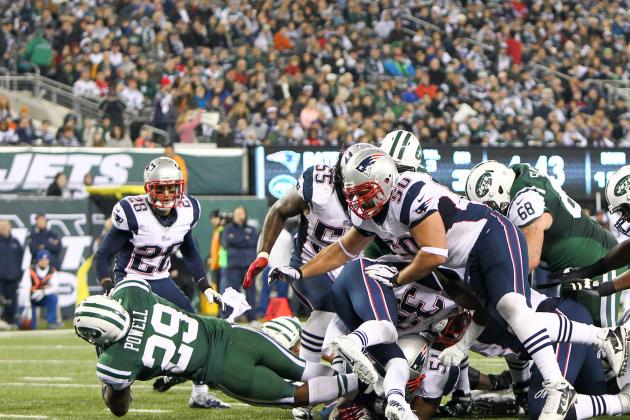 Debby Wong-USA TODAY Sports

Rex Ryan's Jets may be inferior in talent when compared to the well-oiled machine in New England, but his squads have always been able to give the Patriots a competitive and sometimes winning effort on an annual basis.
Sitting at a desperate 2-4, Rex Ryan will pull out all of the stops in what could be a game that determines his future as a head coach. No defense is too exotic, and no trick play is too risky.
If this is Rex Ryan's last season as the head coach of the Jets, he gets himself one more last signature win against his franchise's biggest rival.
PREDICTION: Jets 27, Patriots 24 (3-4)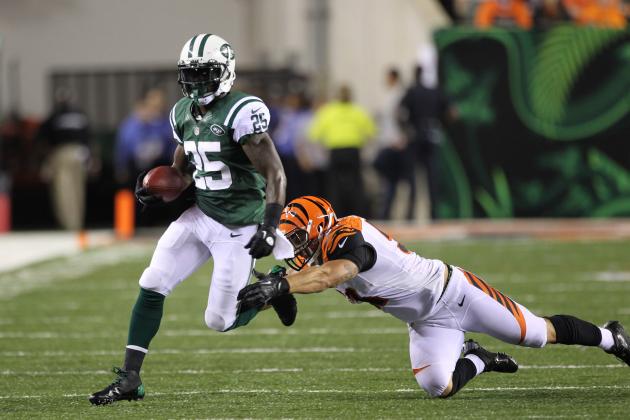 Matthew Emmons-USA TODAY Sports

On paper, the Bengals are one of the most talented teams in football. Geno Atkins and Co. will certainly give the Jets plenty of trouble up front and will make for a long day both on the ground and through the air.
On the other side of the ball, Antonio Cromartie should at least minimize the impact of A.J. Green, but dealing with the two tight end sets of Jermaine Gresham and Tyler Eifert will be a monumental task for the Jets' linebackers.
Giovanni Bernard and Andrew Hawkins will also give the slow-footed linebackers and safeties nightmares on the second and third levels of the defense.
The only advantage the Jets may have in this matchup is with their second and third receivers (Stephen going against an aging Bengals secondary—which is simply not enough to pull off a win.)
PREDICTION: Jets 13, Bengals 24 (3-5)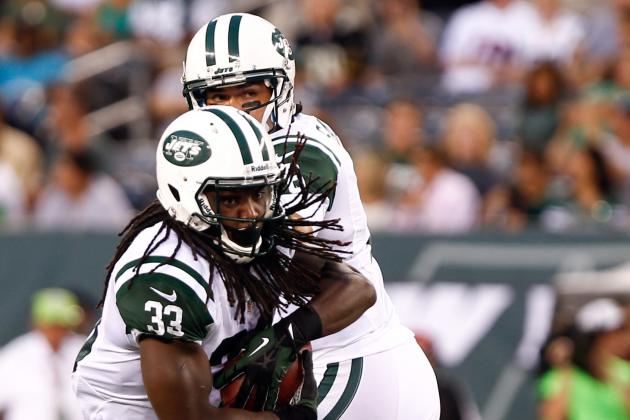 Debby Wong-USA TODAY Sports

Both the Jets and the Saints wound up with sub-.500 records in 2012, but for entirely different reasons.
While the Jets stumbled around on offense, the Saints fielded a historically bad defense that put an inordinate amount of stress on their offensive to win on a weekly basis.
With new defensive coordinator Rob Ryan running his version of a 3-4 defense, the Saints figure to at least make some improvements on the defensive side, but they are still far away from being a dominant unit. The Jets should be able to move the ball with relative ease.
Obviously, the biggest challenge for the Jets will be to slow down Drew Brees and the Saints offense. The only player the Jets have that can match up with Graham from a physical standpoint is Antonio Cromartie, who typically plays as an outside cornerback.
Ultimately, the Saints' enormous advantage at quarterback is the difference.
PREDICTION: Jets 24, Saints 28 (3-6)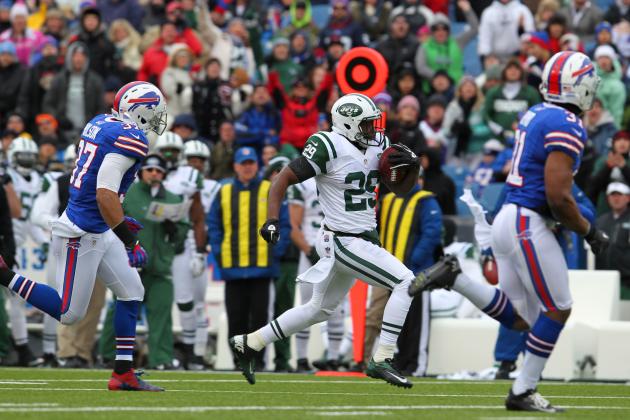 USA TODAY Sports

By this point in the season, there is a strong chance that both teams will be with brand new starting quarterbacks.
However, the game will likely be played in the same defensive realm as their last meeting, with Mike Pettine and Rex Ryan's defense trading blows against two rookie quarterbacks.
This game will essentially come down to whichever quarterback makes the least amount of disastrous mistakes. Playing on their home turf, the Bills will have the slightest edge that will help them pull off the win.
PREDICTION: Jets 10, Bills 14 (3-7)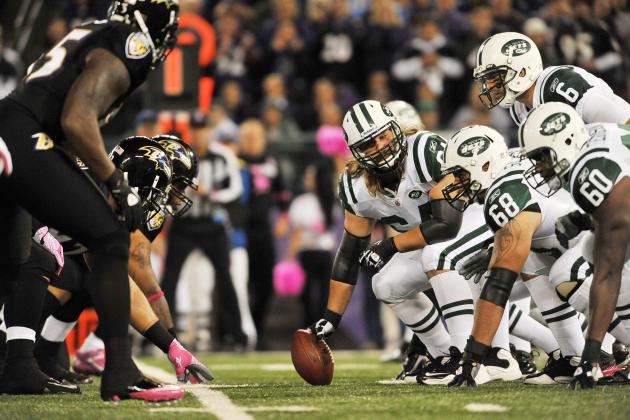 Larry French/Getty Images

Now in the most desperate of situations as he heads to Baltimore to face the defending champions, Rex Ryan is hardly in an enviable situation at this point in the season.
The good news for the Jets is that the Ravens have lost several key pieces on offense to injury or free agency, including Anquan Boldin and Dennis Pitta. As long as they can contain Ray Rice, the Jets should have little difficulty stopping the Raven offense in its tracks.
The bad news is how much younger and more dynamic the Ravens have become on the defensive side of the ball. After adding Elvis Dumervil, Michael Huff and Chris Canty, the Ravens have arguably most talented defensive roster in the league.
Both offenses will struggle mightily against two defensive powerhouses, but Joe Flacco is much easier to trust than either Mark Sanchez or Geno Smith.
PREDICTION: Jets 9, Ravens 14 (3-8)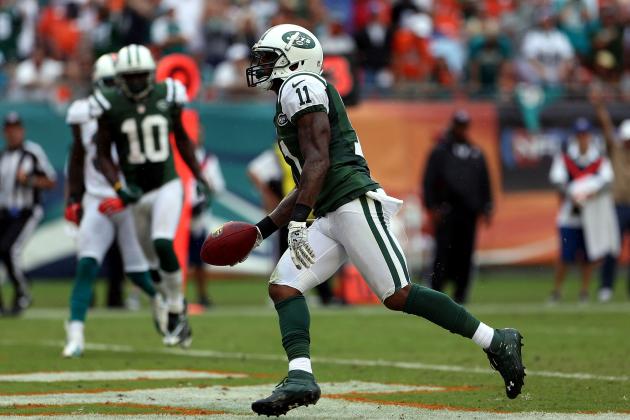 Marc Serota/Getty Images

With a .500 record being the best possible scenario for Rex Ryan's Jets, losing is simply no longer an option if Ryan wants to retain his coaching duties for one more season.
The Dolphins have made a ton of additions in free agency, but their glaring hole at offensive tackle could hold them back from reaching their potential. With Dustin Keller out for the rest of the season, the Jets should have no problem shutting down Mike Wallace and the rest of the Dolphins offense.
The Jets will certainly have their hands full trying to block Cameron Wake, but they could have some success through the air with Santonio Holmes, Jeremy Kerley and Stephen Hill working against a Dolphins secondary that lacks ideal depth at cornerback.
In the end, the Jets are able to sustain offense a bit easier than their South Beach counterparts and come away with their first win since Week 7.
PREDICTION: Jets 20, Dolphins 16 (4-8)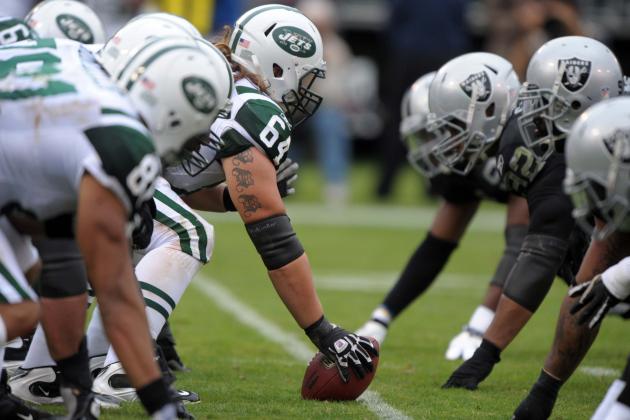 Kirby Lee-USA TODAY Sports

For the first time in months, the Jets get to face an opponent that is significantly inferior in overall talent on both sides of the ball.
The Raiders have a good chance to field to worst defense in football next year without key veterans Richard Seymour and Tommy Kelly. Even a team as offensively challenged as the Jets should have success in all areas of offense against this young and inexperienced unit.
Oakland does have some explosive weapons in place with Denarius Moore and Darren McFadden that could generate some big plays against the slower linebackers for the Jets, but it simply will not be enough against a defense as strong as New York's. This should be the easiest game the Jets play all season as they cruise to back-to-back wins.
PREDICTION: Jets 30, Raiders 10 (5-8)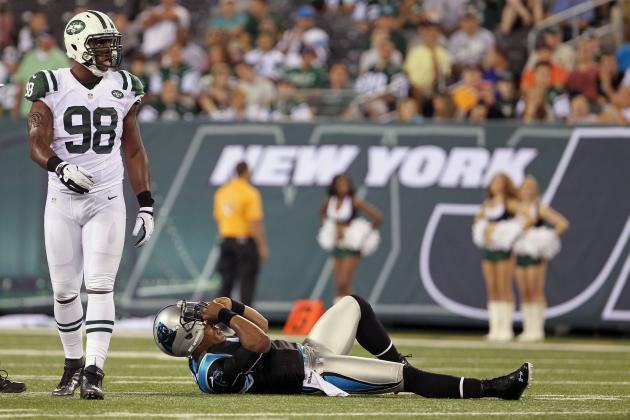 Ed Mulholland-USA TODAY Sports

On the heels of a mini-winning streak, Rex Ryan suddenly has a chance to turn in a record respectable enough to keep his job—but he must find a way to stop Cam Newton and the Panthers first.
Few teams were as inactive as the Panthers were this offseason, making few, if any significant moves in free agency. Their biggest acquisitions came during the draft after they added Star Lotulelei to fill their gaping hole at defensive tackle.
The Jets should have a decent day throwing against a thin Panthers secondary, but they will have their hands full blocking Charles Johnson, who quietly had 12.5 sacks in 2012.
Keeping Cam Newton in the pocket will be key for the Jets, who can be exposed on the edges with their slower linebackers. They should, however, have no problem shutting down Steve Smith with Antonio Cromartie and force Newton to go to his second and third options.
Despite their decisive advantage at quarterback, the Jets have even more of an edge on the defensive side of the ball to keep the score down and pull out their third straight win.
PREDICTION: Jets 17, Panthers 14 (6-8)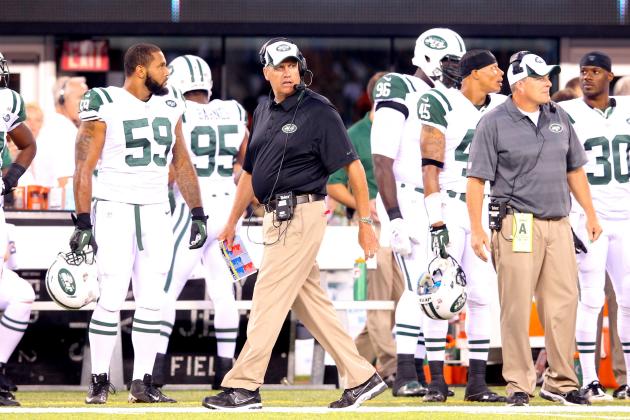 Brad Penner-USA TODAY Sports

Don't cross off the Browns as win just yet—they are actually one of the most talented teams in the conference that are just a quarterback away from playoff contention.
The Browns have one of the best offensive lines in the league that block for an immensely talented runner in Trent Richardson. Brandon Weeden has had a strong start to his preseason and receiver Josh Gordon is looking more like a future star with each passing day.
Defensively, the Browns have a strong secondary headed by cornerback Joe Hayden to go along with a revamped pass rush after adding Paul Kruger and Barkevious Mingo in the offseason.
The Browns also boast the best coordinator duo in football with Norv Turner and Ray Horton calling the shots for their respective units.
These two franchises are headed in opposite directions. With more talent on both sides of the ball, the Browns take this game on their home turf.
PREDICTION: Jets 14, Browns 24 (6-9)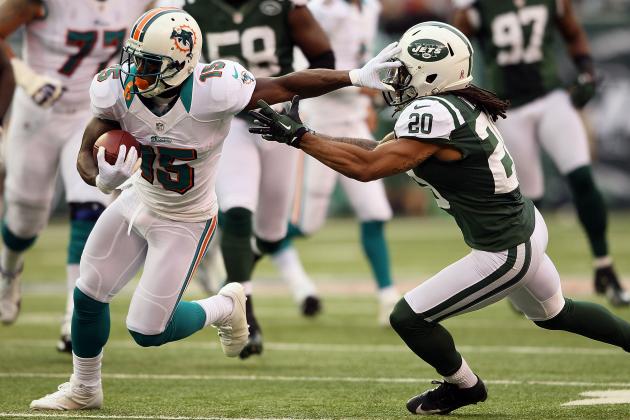 Alex Trautwig/Getty Images

Sitting one win away from an average 7-9 season, this could very be a make-or-break game for Rex Ryan as he tries to hold on to his head coaching gig for 12 more months.
Just as they were able to do earlier in the season, the Jets should be able to shut down Miami's offense. Antonio Cromartie is one of the few cornerbacks in the league who can run stride-for-stride with Mike Wallace while and the pass rush takes advantage of Miami's porous tackle situation.
As long as the Jets' offense is able to limit turnovers, they should be able to outscore Miami's struggling offense for the win. Rex Ryan caps off his team's late-season surge to get his team to a respectable record of 7-9.
PREDICTION: Jets 23, Dolphins 17 (7-9)