UFC Fight Night 26 Results: Full Winners and Analysis for Fight Card
Joe Camporeale-USA TODAY Sports

The UFC makes its long-anticipated debut on Fox Sports 1 on Saturday, Aug. 17 at TD Garden in Boston. A light heavyweight bout between Chael Sonnen (27-13-1) and Mauricio "Shogun" Rua (21-7) headlines a six-fight main card on the brand-new sports channel.
Co-headlining the card is a collision between two top-10 heavyweights looking to take the next step in contending for the title: Alistair Overeem (36-12, 1 NC) and Travis Browne (14-1-1).
As if those two bouts weren't enough to get you excited, the card also features fan favorites Urijah Faber (28-6) as he takes on Yuri Alcantara (28-4, 1 NC) in bantamweight action and Joe Lauzon (22-8) fighting against Ultimate Fighter season 12 runner-up Michael Johnson (12-8).
It figures to be an exciting night of fights and a historic night for the organization as it kicks off a new chapter of the "Fight Night" series. So be sure to check back here for the latest results, analysis and grades for each of the fighters on the main card.
Begin Slideshow

»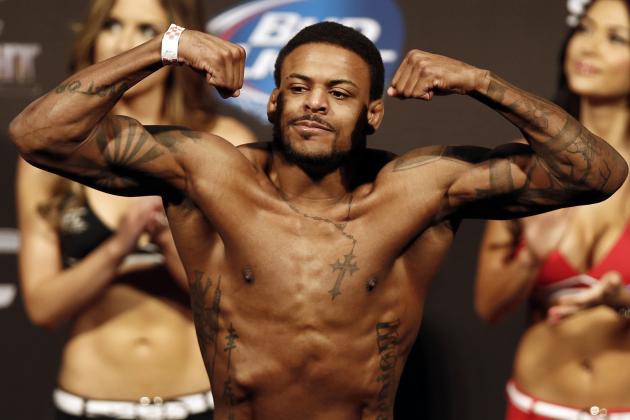 Winslow Townson-USA TODAY Sports

Kicking off the main card with a huge upset victory was Michael Johnson defeating hometown favorite Joe Lauzon via unanimous decision. The judges' scores were 30-27, 30-27 and 30-25.
The improbable win snaps a two-fight skid in which he lost to Reza Madadi and Myles Jury.
With those losses on his record and Lauzon's vast experience, it certainly looked like the UFC was sending Johnson to the slaughter. As it turns out, Joe Silva once again showed that he knows a whole lot more than we do by setting up an interesting clash of styles.
This is by far the biggest win of Johnson's career. While he's still a long way from contention, this fight probably saved his job with the UFC and showcased plenty of potential, making him an interesting fighter to watch going forward.
Johnson Grade: A-
This was easily the best version of Michael Johnson we've seen in the Octagon. We already knew that he had strong wrestling skills. He's utilized those well throughout his run in the organization.
What we haven't seen from him are the impressive striking skills he displayed against Lauzon.
He tagged his veteran opponent from the outside throughout the fight and mixed in kicks and knees at will. If he can continue this development, he's going to be a tough out.
Lauzon Grade: D
If this was the best version of Michael Johnson we've see, this may be the worst version of Joe Lauzon we've seen.
He was unable to take Johnson down and didn't have anything to offer in their stand-up exchanges. He gets props for withstanding all the punishment Johnson dished out, but he has to be disappointed in this performance.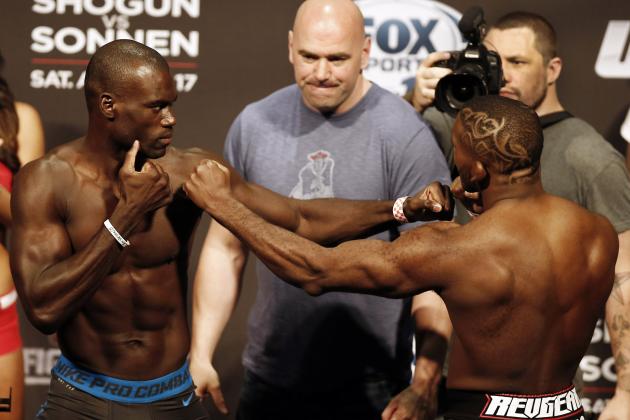 Winslow Townson-USA TODAY Sports

John Howard made his return to the UFC with a vengeance in middleweight action. He defeated Ultimate Fighter 17 finalist Uriah Hall via split decision. Howard won the fight 30-27 and 29-28 according to two judges, while another gave the nod to Hall, 29-28.
The win marked Howard's first win inside the Octagon since March 2010, when he knocked out Daniel Roberts at UFC Live: Vera vs. Jones. Howard was cut from the UFC in 2011 after losing three consecutive fights to Matt Brown, Thiago Alves and Jake Ellenberger.
Considering the sustained success of that trio and his win over an explosive prospect like Hall, it's safe to say he's earned another crack at rising up the UFC's ranks.
Hall's stock takes a huge fall with the loss.
After an excellent run the Ultimate Fighter that featured some jaw-dropping finishes, he is now officially 0-2 in his UFC career. As exciting as he can be, his future has to be in serious jeopardy with this loss.
Howard Grade: B
This wasn't the most exciting performance, but Howard got the job done. He was able to keep the explosive Hall in check and really gained the upper hand as the fight wore on. It was an impressive display of Howard's wrestling ability, but he didn't do much else.
Hall Grade: C
Hall looked strong in the first round. He almost immediately secured a takedown and showcased some impressive grappling that we haven't seen from him thus far in his career.
Still, he was ultimately out-wrestled by Howard and faded as the fight progressed.
He'll need to apply the positives he showed in this fight over the course of a full three-round fight if he wants to make the most of this experience.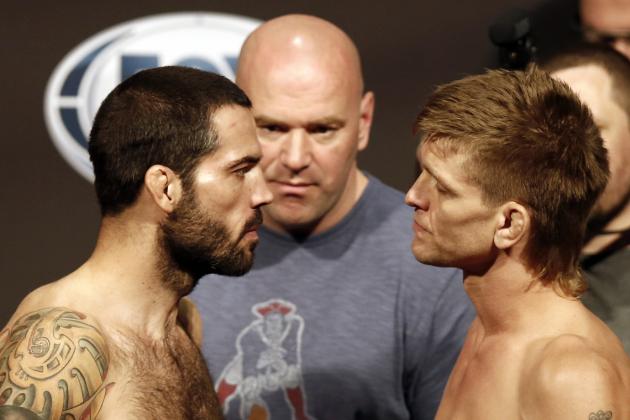 Winslow Townson-USA TODAY Sports

Matt Brown picked up an impressive first-round TKO victory over Mike Pyle in a bout between underrated welterweights.
Brown extended a surprising five-fight win streak to six after going 1-4 in his five previous fights in 2010 and 2011. With four of those five wins coming by way of TKO and Brown defeating a solid opponent in Pyle, Dana White and Co. are going to have a hard time giving him anyone outside of the top five next time out.
Pyle loses a substantial amount of momentum with the loss. The 37-year-old was 7-1 in his last eight fights, with his only loss coming to Rory MacDonald. A win would have put him in a position to take on a top-five opponent, but the loss all but guarantees he's made it as far as he's going to go up the ladder.
Brown Grade: A
There's not much one can say about Brown here other than, "Wow."
He picked up the win just 28 seconds into the fight and displayed the kind of knockout power and aggression that makes him a scary opponent for anyone who steps into the cage with him.
Pyle Grade: F
Pyle landed a leg kick, and, well, that's about it. Getting caught is a part of this sport, and he experienced that firsthand. His night was over before it ever really got started.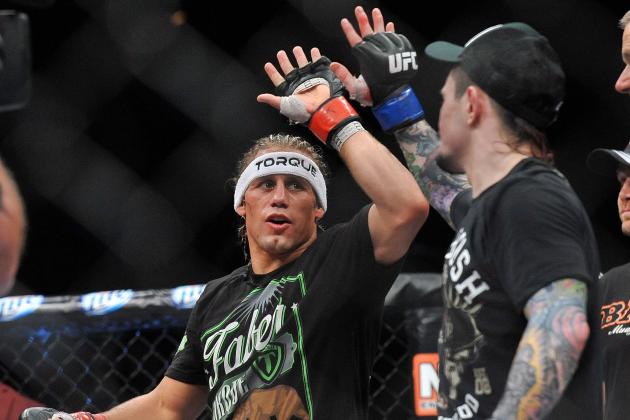 Gary A. Vasquez-USA TODAY Sports

Urijah Faber took an important step in his quest to claim UFC gold as he picked up a big win over Yuri Alcantara via unanimous decision. Judges scores were 30-27, 30-26 and 30-26.
Since dropping a unanimous decision to current interim bantamweight champion Renan Barao in July 2012 he has won three-straight fights. With wins over Scott Jorgenson, Ivan Menjivar and now Alcantara, it's tough to deny that he's the division's top contender.
Despite losses to Barao and champion Dominick Cruz, Faber remains one of the biggest draws in the division thanks to his days as the face of WEC. It would be surprising not to see him fight for the title soon.
Alcantara picked up his first loss since moving down to the bantamweight division. The former welterweight debuted in the UFC as a featherweight, but made the drop after losing to Hacran Dias. He was 1-0 with a no contest as a bantamweight.
Faber Grade: A-
As the scorecards indicated, Faber just dominated the final two rounds. However, the first round was much closer than the final score would indicate. Alcantara came out aggressively and put Faber in a few precarious positions.
However, Faber showed the resolve of a champion as he didn't panic and found a way to mount the comeback in the opening frame. His ground-and-pound looked strong as usual and this was a vintage Faber performance.
Alcantara Grade: D+
Alcantara gets a much higher grade for his first round. It looked like he was on his way to the biggest win of his career as he constantly attacked with submissions and won the battle on the ground, but he couldn't follow up on that performance in the subsequent rounds.
Much like Uriah Hall earlier in the night, he'll need to learn to put things together for three rounds before taking the next step.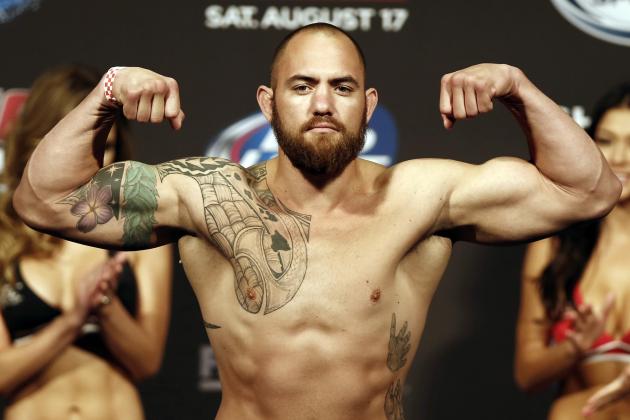 Winslow Townson-USA TODAY Sports

You can add Alistair Overeem's name to the growing list of veterans that Travis Browne has defeated in his career. The 31-year-old beat "The Reem" in the evening's co-main event with a vicious head kick.
Browne suffered the first setback of his career against Antonio Silva in Oct. 2012, but has since come back with two impressive wins since then. He knocked out Gabriel Gonzaga in the first round at the Ultimate Fighter 17 Finale in April.
With a record of 15-1-1 and plenty of exciting finishes to his name, it appears that the 6'7" Browne is ready to take on the best of the division.
It's unclear where Overeem should go from here. After thoroughly dominating Brock Lesnar in his highly anticipated UFC debut he has now lost to Browne and Silva.
Browne Grade: B+
Browne showed just how quickly heavyweight fights can turn with this one. Overeem swarmed him early on and nearly put on the finishing touches. However, Browne hung in and reaped the rewards for his toughness.
The front kick that he used to put "The Reem" down was every bit as good as the one Anderson Silva used to put away Vitor Belfort. That's a scary prospect for a man of Browne's size.
Overeem Grade: C
Well, Overeem looked like the destroyer of men that made him one of the most highly anticipated newcomers to the organization when he debuted against Brock Lesnar. Then he suffered a lapse in concentration and was on the losing end before he could even react.
That's life in the heavyweight division and something Overeem can't afford to do if he's ever going to put a run together.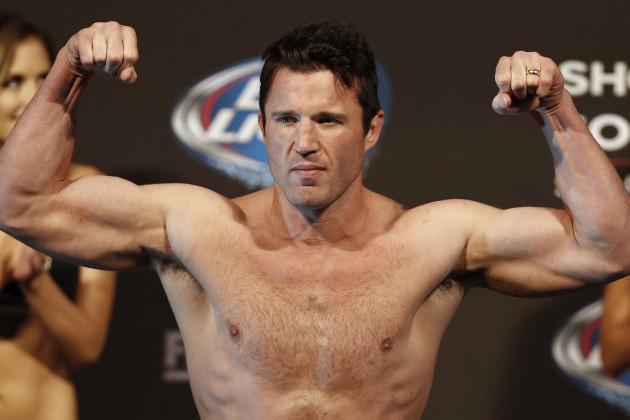 Winslow Townson-USA TODAY Sports

Chael Sonnen got his hand raised for the first time since Jan. 2012 with a first-round submission victory over Mauricio "Shogun" Rua in the night's main event.
After back-to-back losses in middleweight and light heavyweight championship fights against Anderson Silva and Jon Jones, Sonnen got the job done against a veteran in Rua. The win puts Sonnen's career record at 28-13-1 and makes him an interesting contender going forward.
Although this win came in the 205-pound division, it would appear that his future is back at 185 pounds where Silva was recently dethroned by Chris Weidman. Love him or hate him, Sonnen reminded everyone that his skills in the cage make him a tough out for anyone that isn't a UFC champion.
Rua is now 2-4 in his last six fights with the loss. After alternating wins and losses in his last seven fights, one has to wonder if retirement might be on the horizon for the former PRIDE legend.
Sonnen Grade: A
This was one of the better performances in Sonnen's entire career. Not only did he show the relentless takedowns and ground-and-pound that he's come to be known for, but he stunned everyone when he locked in the guillotine submission that ended the fight.
It's not a shocker that he won. But the method of victory was certainly unexpected.
Rua Grade: D
Shogun had his moments in the first round. At one point he was actually in the dominant position and landed some shots, but those moments were short lived. Ultimately, he couldn't hang with Sonnen on the ground and was caught off guard with the submission.