What's the Future of Women's MMA?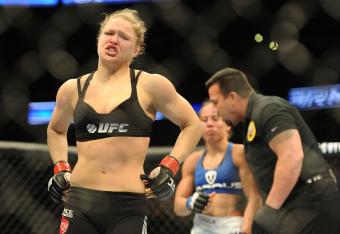 Jayne Kamin-Oncea-USA TODAY Sports
This week has been a pretty bad week for women's MMA. Considering what a landmark year female fighters have had in the sport, the momentum is certainly beginning to slow.
On Tuesday, it was revealed that the UFC had cut its first female fighter, Sheila Gaff, in what was already a pretty shallow division with only 13 fighters. Then yesterday, Bellator announced that it had scrapped its female division altogether.
Admittedly, that was just three women, but the chances of them joining the UFC are slim considering that none of them fight at 135 pounds—the only weight class the UFC has for females.
Of course, the situation is far from disastrous for women in the sport. The year that saw the UFC hold its first women's fight, a championship match as a main event no less, still has plenty in store for women's MMA. That includes its first season of TUF with female bantamweights fighting to secure a UFC contract to air in September.
The coaches of that season, 135-pound champion Ronda Rousey and her opponent Miesha Tate, are also set to fight on what could be the biggest event the UFC has ever put on—the end-of-year rematch between Anderson Silva and Chris Weidman.
Both these events could have dramatic consequences for the future of women's MMA, but that future is far from secure.
Considering the amount of prejudice female fighters have had to overcome, including accusations that healthcare for women was inadequate for their safety; that is a tragic situation. Certainly fighters, both men and women, have long complained of the health provisions for them, both during their careers as professional and after.
Healthcare for women and men has long been a concern, and to an extent still is. Just ask Jason "Mayhem" Miller who says that his career is practically over because he cannot afford the surgical operation needed to fix his knee. Women inevitably face a similar dilemma when it comes to medical insurance and health provisions.
Before embracing female mixed martial artists earlier this year, UFC president Dana White was adamant that women will never fight for his promotion, even though promotions like Strikeforce had already proved what exciting and crowd-pleasing matches the girls could put on. White contended at the time that the women's MMA just wasn't deep enough to carry even one division.
To an extent, both Gaff's dismissal and Bellator's dissolution of its female division prove that to be the case. Gaff is a natural flyweight and had to step up to a higher weight class just to compete in the UFC. The outcome of that decision has led to two extremely one-sided losses to bigger women.
All three of Bellator's women—Jessica Eye, Felice Herrig and Jessica Aguilar—also fight below 135 pounds. So they are now likely to end up at the all-female promotion Invicta, where, segregated from the big-name organisations, they are likely to languish in obscurity.
The most common women's divisions are 105, 115, 125 and 145, but with the biggest-name female fighter, Rousey, fighting at 135, these women are unlikely to find a home in the UFC any time soon.
Cristiane "Cyborg" Santos, for example, fights at 145 pounds and has refused to drop down due to health issues. Perhaps healthcare for women in the sport just isn't good enough for her to make that move.
In other words, the success of women's MMA may continue to rest on the shoulders of Rousey for some time to come.
This article is
What is the duplicate article?
Why is this article offensive?
Where is this article plagiarized from?
Why is this article poorly edited?