5 Players Who Must Excel for San Francisco 49ers to Make Super Bowl Return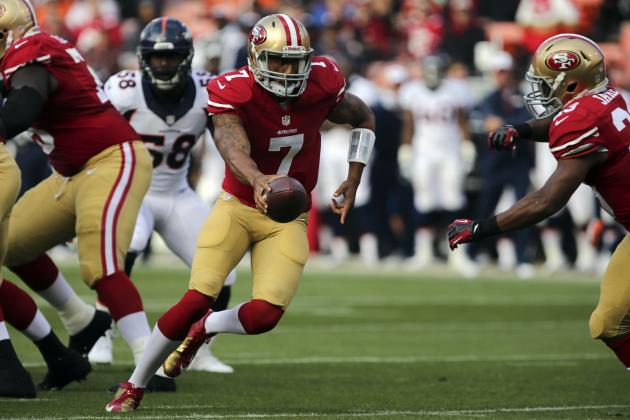 Kelley L Cox-USA TODAY Sports

Every team has players it can count on. The San Francisco 49ers are no exception.
Everyone knows Patrick Willis and NaVorro Bowman are primed to be two of the best inside linebackers in the NFL in 2013, assuming they stay healthy. And San Francisco's offensive line should, once again, have no issues opening big holes for Frank Gore and the 49ers running game.
But not all of San Francisco's players are marked with as much certainty. Some are facing major question marks or new roles they've never had to fill.
The following are five 49ers who will make or break San Francisco's season.
Begin Slideshow

»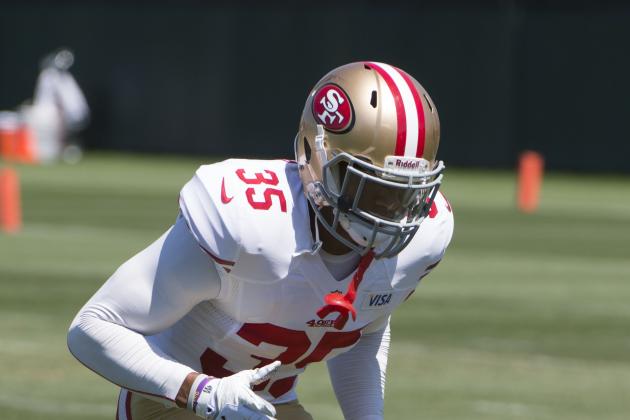 Kyle Terada-USA TODAY Sports

Eric Reid has big shoes to fill.
Dashon Goldson was an ideal last line of defense for the 49ers. Over the last two seasons, he totaled nine interceptions, 20 pass defenses and as many big hits as any free safety in the league.
The 49ers can't expect Reid to be a Pro Bowler in his rookie season, but they're going to need him to be a quality player from the get-go.
Strong safety Donte Whitner clearly lost a step in 2012. He went from the league's seventh-best safety in 2011 to the 53rd-best one in 2012, per Pro Football Focus' rankings (subscription required). His range isn't what it once was, which should put even more pressure on Reid.
Missteps by safeties tend to be magnified more than any other position on the field. If Reid constantly makes mistakes, the 49ers defense could suffer as a whole.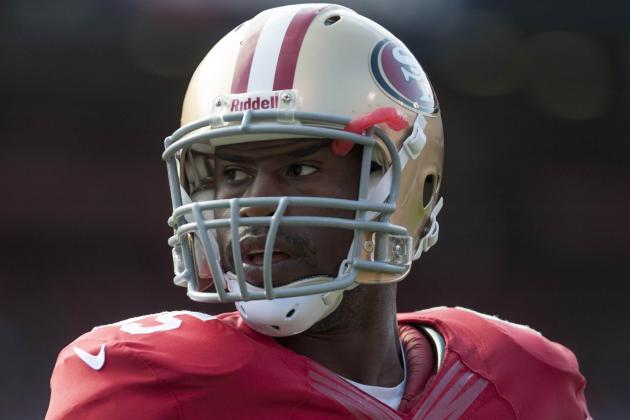 Ed Szczepanski-USA TODAY Sports

With Michael Crabtree out indefinitely and several question marks in the receiver corps, the 49ers need someone to be a capable No. 1 option.
Vernon Davis has that potential.
He had 210 receiving yards in San Francisco's last two playoff games, but he only had 61 receiving yards in the team's last six regular-season games of 2013.
With a full season of Colin Kaepernick under center, Davis has his best opportunity yet to total 1,000 receiving yards for the first time in his career. The 49ers simply can't afford for him to have a six-week run of mediocrity like he had at the end of last season.
Anquan Boldin and Davis will be heavily relied upon early in the season, and whether they deliver will have a big impact on San Francisco's regular-season success.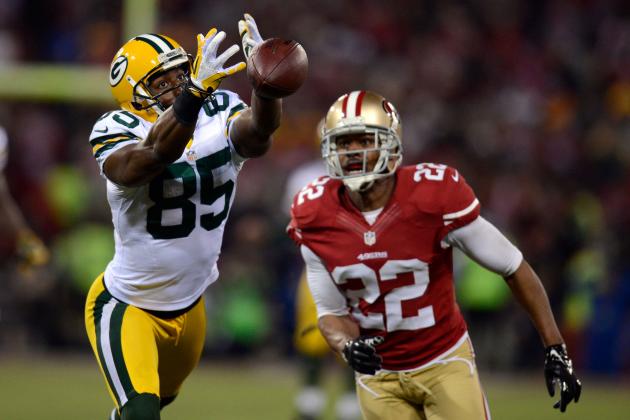 Thearon W. Henderson/Getty Images

With Chris Culliver out for the season, the 49ers are searching for answers at cornerback.
Defensive coordinator Vic Fangio has not been impressed with Nnamdi Asomugha in training camp, which prompted Trent Baalke to sign Eric Wright, per Austin Murphy of Sports Illustrated. Wright had failed a physical with the 49ers just two weeks prior.
The Culliver injury has also opened the door for Perrish Cox and Tramaine Brock, but neither has the experience or pedigree to inspire much confidence.
With so many question marks at the back-end of the cornerback depth chart, the Niners desperately need starters Tarell Brown and Carlos Rogers to play at a high level.
Brown is coming off his best season as a pro, whereas Rogers is the wild card.
Two years ago, Rogers totaled 18 pass defenses and six interceptions. Last year, he looked a step slower, finishing the season with just seven pass defenses and one interception.
Expect teams to attack Rogers early and often in 2013. If he's not up to the task, the Niners may not have a backup plan.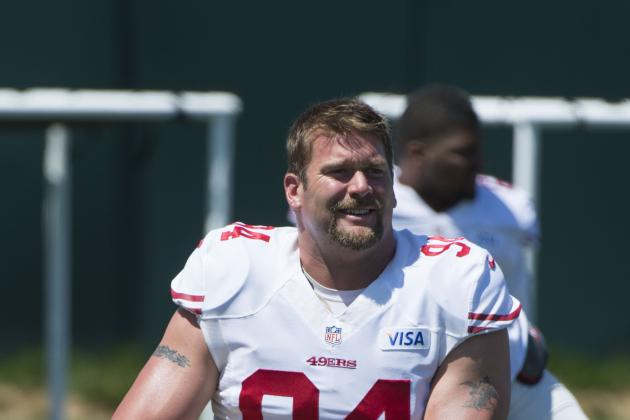 Kyle Terada-USA TODAY Sports

Before Justin Smith sustained an arm injury in Week 15 of the 2012 season, the 49ers defense was running on all cylinders.
Immediately after the injury, San Francisco struggled to stop its opponents.
Will the 33-year-old be able to find his pre-injury form in 2013?
If so, the Justin and Aldon Smith tandem figures to, once again, be unstoppable. If not, defenses will be able to focus all their attention on Aldon, thereby forcing others to bolster San Francisco's pass rush.
Though San Francisco has other pass-rushing talent, including Ahmad Brooks, Ray McDonald, Corey Lemonier and Tank Carradine, its best bet to have a top-tier pass rush is for the Smith Bros to lead the way.
For the 49ers to once again have an elite defense, they'll likely need Justin Smith to play at a Pro Bowl level.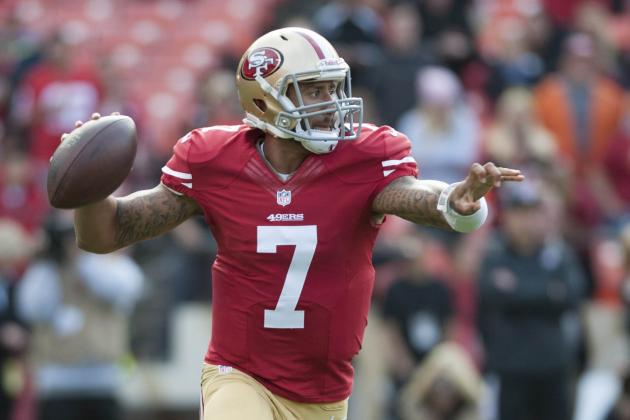 Ed Szczepanski-USA TODAY Sports

Of all San Francisco's question marks heading into the 2013 season, possibly the most important one has to do with Colin Kaepernick.
Will he hit a wall in his second season as an NFL starting quarterback?
Opposing teams have had an offseason to study Kaepernick's tendencies. If he doesn't evolve, defensive coordinators may find a way to frustrate him.
Kaepernick will also be playing part of the regular season without Michael Crabtree, his favorite target from last year.
Despite what's stacked against him, Kaepernick has looked great in training camp, per Grant Cohn of The Press Democrat, and his momentum carried over to the first preseason game where he completed all four of his passes for 38 yards. All early indications suggest he's primed for a solid season.
As mentioned on previous slides, the 49ers secondary may have some issues this season. At some point, the Red and Gold will need Kaepernick to carry the team to victory. If he shines in the big moments like he did against the Atlanta Falcons in last year's NFC Championship Game, the 49ers will have a great shot at returning to the Super Bowl.