Full Stat Predictions for New York Giants' Regular Season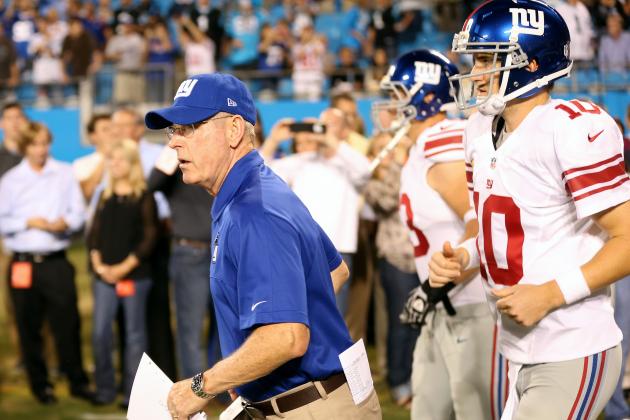 Streeter Lecka/Getty Images

In 2012, the New York Giants' offense finished 14th overall in the league, a figure that included a 14th-place finish in the running game and a 12th-place finish in the passing game.
On defense, however, the Giants finished 31st overall, with their passing defense ranked 25th and their run defense ranked 28th.
Those rankings, which are comprised of several smaller categories, simply won't do for head coach Tom Coughlin.
For the improvement to happen, though, the Giants are going to need some major production from their key players on both sides of the ball. Here's a rundown of some projected numbers each unit might be wanting.
Begin Slideshow

»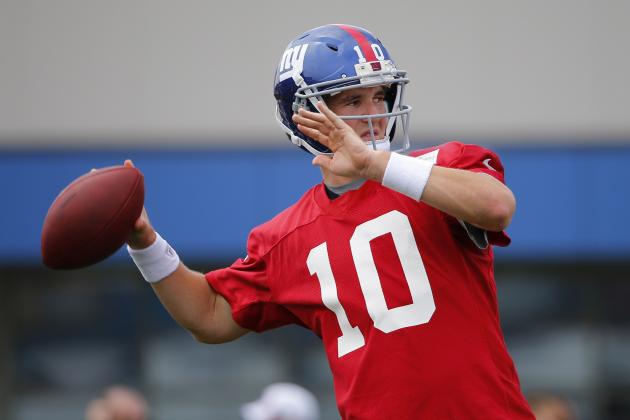 Jim O'Connor-USA TODAY Sports

Eli Manning: 5,100 Yards Passing, 35 TDs, 10 INTs, 63% Completion
Last year, Manning saw his completion percentage, total passing yards and touchdown totals dip. These drop-offs were no doubt partially due to the injuries that Hakeem Nicks, his No. 1 receiver, fought through, and the lack of having a true third receiver threat to take the pressure off Victor Cruz.
This year, Manning not only has a healthy Nicks and Cruz, he also has viable third and fourth receiver options in Rueben Randle and Louis Murphy.
These are the reasons why the 10-year veteran's best year statistically could very well be on the horizon.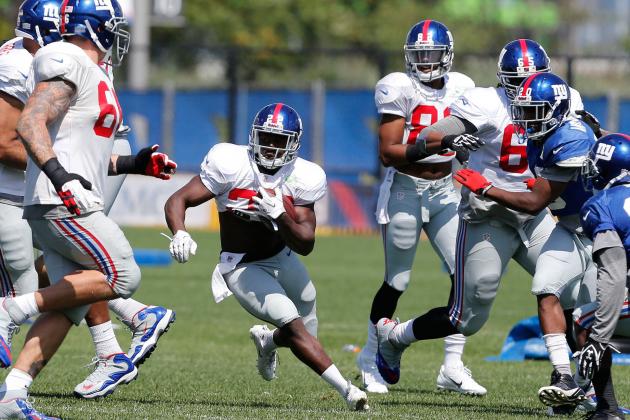 The Star-Ledger-USA TODAY Sports

David Wilson: 200 carries, 1,190 yards, 10 touchdowns; 35 receptions, 300 yards, 3 touchdowns
Wilson might be listed as the starter on the unofficial depth chart, but he'll be a part of a "by committee" in which the "hot hand" will be given the bulk of the carries each week.
Wilson, whose pass-blocking has improved this summer, could also see a number of chances as a receiver out of the backfield, something the Giants haven't really had with their running backs since the days of Derrick Ward (2004-2008).
This summer, offensive coordinator Kevin Gilbride has experimented with splitting Wilson out wide in hopes of isolating him against a linebacker in the passing game.
While it's not known if this formation will carry over into the regular season, the one thing that is for certain is that the Giants really love Wilson's explosiveness.
When he attacks holes, he has the quickness and burst to gain huge chunks of yardage.
Andre Brown: 175 carries, 1,090 yards, 12 touchdowns; 15 receptions, 125 yards, 1 touchdown
When it comes to short yardage and goal-line rushing, Brown is usually the Giants' go-to guy.
According to Pro-Football-Reference, Brown successfully converted four of the five 3rd-and-1 situations in which he was given the ball, with two of those carries going for touchdowns.
This year, Brown, who will be the second half of the Giants' "by committee" approach, is hoping to show people that his game is much more than just short yardage.
"I need some more big runs," he said. "I want to get down the field and show everyone that I do have a little bit of speed. I'm going to stay within the offense and I know my role, and if the opportunity comes, I have to seize it."
While not used much as a receiving back out of the backfield, Brown could see about a dozen or so passes thrown his way just to help keep opposing defenses honest. He'll also likely see the bulk of the snaps as the third-down back.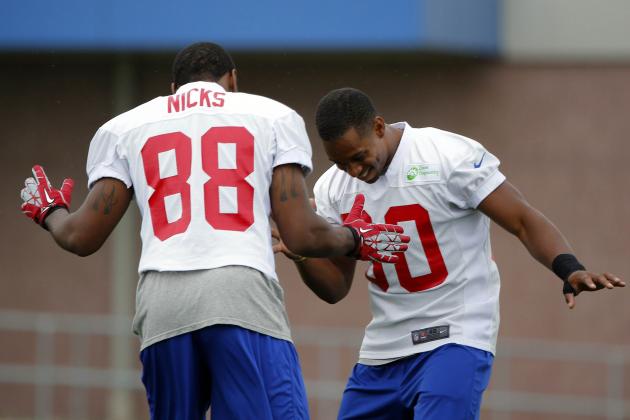 Jim O'Connor-USA TODAY Sports

Hakeem Nicks: 75 receptions, 1,250 yards, 11 touchdowns
Nicks has yet to make it through a 16-game season because of injury. Yet despite these interruptions in his regular season, his productivity has usually been solid.
In this, Nicks' contract year, don't be surprised if Eli Manning's "go-to" guy posts new career highs in both receiving yards and touchdowns.
Victor Cruz: 80 receptions, 1,500 yards, 10 touchdowns
Despite signing a new contract that makes him financially secure for life, Cruz is approaching his fourth year in the league with the very same free-agent mentality that got him this far to begin with.
While Cruz usually tends to get most of his yards after the catch—in two seasons, 34 percent of his total yardage has come after the catch, according to Pro Football Focus (subscription required). That trend should continue this year.
Rueben Randle: 35 receptions, 500 yards, 5 touchdowns
Offensive coordinator Kevin Gilbride has said in the past that Randle, who is one of the most improved players in camp, has earned more snaps this coming season.
"Oh, he is going to play--he is going to play a lot," Gilbride said back in June following the team's three-day minicamp. "He will play first and second downs. He will be an outside receiver for us. Whether he is at the 'X' or the 'Z,' he is going to play. He is looking like he deserves to be out there."
Since then, Randle has done nothing to change Gilbride's opinion during training camp; in fact, his daily battles with cornerback Prince Amukamara were one of the camp's highlights.
But with only so many balls to go around, and with Nicks and Cruz ahead of him, it remains to be seen just how many chances Randle will get.
Louis Murphy: 30 receptions, 500 yards, 2 touchdowns
Murphy might not get a chance to see the field much as the fourth receiver, but he should get a little more than two dozen opportunities throughout the year, especially if injuries to the other receivers open up a door for him.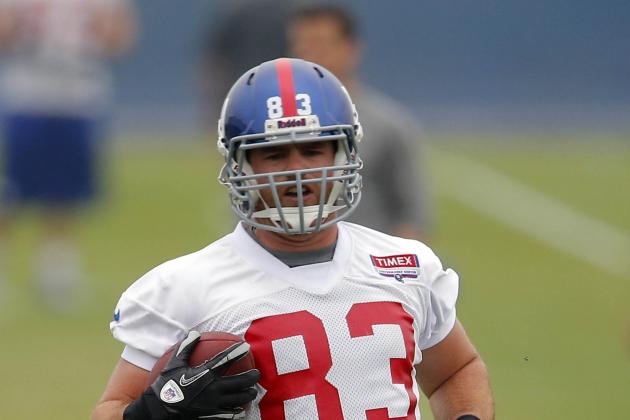 Jim O'Connor-USA TODAY Sports

Brandon Myers: 60 receptions, 714 yards, 5 touchdowns
The Giants acquired Myers as a free agent from Oakland hoping the five-year veteran might be able to provide the production the team has typically gotten from its starting tight end.
On the surface, Myers, who last year had 806 yards on 79 receptions and four touchdowns, is the right man to accomplish that. However, in an offense that looks more toward its receivers, it might be a long shot for Myers to come close to matching his career highs set last year.
Bear Pascoe: 7 receptions, 40 yards, 1 touchdown
Pascoe isn't usually much of a factor in the passing game. He is more of a blocking tight end. Still, last season the Giants did toss a few passes his way when he lined up as the H-back, so figure Pascoe might see a sprinkling of throws come his way.
Adrien Robinson: 5 receptions, 35 yards, 1 touchdown
Robinson, the second-year player, is probably going to be more of a blocker than a receiver. He may get a few passes thrown his way, but don't expect his receiving numbers to be anything significant this year.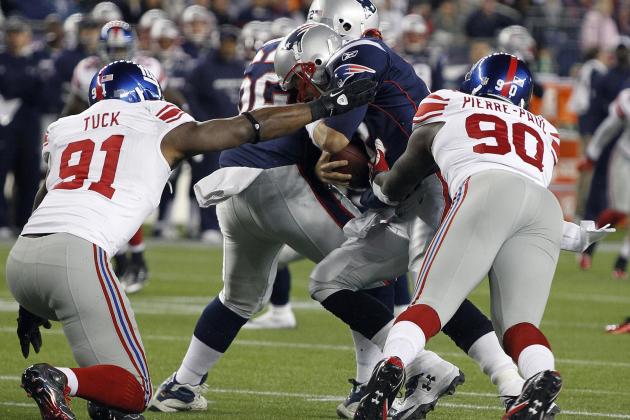 The Star-Ledger-USA TODAY Sports

Justin Tuck: 80 tackles, 8.5 sacks
The big question concerning Tuck is his health. At least two years in a row, Tuck has been bothered by assorted injuries that at times have turned him into a shell of his former dominating self.
He reportedly didn't have any offseason surgery, instead choosing to rest his ailments and work on gradually rebuilding his strength.
For all the care he took, Tuck still experienced some back spasms early in the preseason that kept him out of practice and the preseason opener. More recently, he's been dealing with a mild hamstring strain, though the latter injury didn't keep him out of action for long.
Still, if injuries become a lingering issue, that could affect his numbers this year.
Mathias Kiwanuka: 90 tackles, 11.0 sacks
Kiwanuka finally moves back to his natural defensive end position full-time after several years as the team's strong-side linebacker, a position for which he was never really the best fit.
Of the top three defensive ends on the team, Kiwanuka is perhaps the healthiest. Kiwanuka is motivated, which means he could surprise and have the best year statistically among the defensive ends.
Jason Pierre-Paul: 65 tackles, 9.0 sacks
Pierre-Paul underwent back surgery in early June in order to repair a herniated disc, with a prognosis having him ready for Week 1 of the regular season.
However, there has been some debate between general manager Jerry Reese, who has gone on the record as saying he believes Pierre-Paul will be ready for opening day, and Pierre-Paul himself, who said he's not going to rush himself back before he's ready.
Assuming he is ready to go, he'll likely have some rust that needs to be knocked off, so his production, which should be better than last year's, probably won't be quite as high as it was in 2011.
Damontre Moore: 30 tackles, 2.0 sacks
The Giants' third-round draft pick dazzled in training camp. But a shoulder contusion cost him a few practices as well as the second and third preseason games, depriving the coaches of a chance to see what this promising rookie is able to do against a higher level of competition.
The big question concerning Moore, a pass-rusher, is how well he'll hold up against the run. For this reason, his snaps might be limited at first until he can show he can handle the higher competition level as well as he did the second- and third-stringers.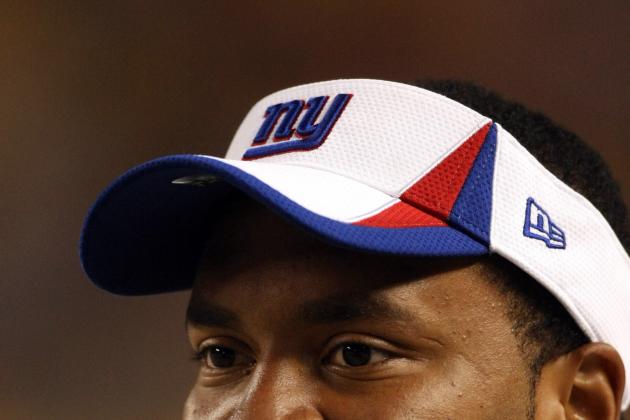 Jason Bridge-USA TODAY Sports

Cullen Jenkins: 80 tackles, 5.0 sacks
Jenkins' versatility will probably see him used at both defensive tackle and defensive end in certain packages, which should boost his projected numbers.
Linval Joseph: 50 tackles, 4.0 sacks
Joseph's primary job is to occupy multiple blockers and free things up for the other defenders. As a result, he probably won't post gaudy numbers, but that won't necessarily reflect his effectiveness in the defense this season.
Johnathan Hankins: 12 tackles, 1.0 sacks
As promising as this big space-eater has looked in the summer, the Giants probably won't activate all of their defensive ends and defensive tackles every week.
Don't be surprised if this rookie's game action is limited at first and his season stats reflect his inactivity.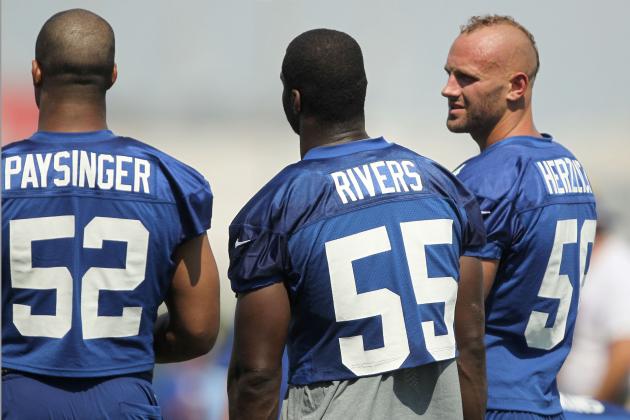 The Star-Ledger-USA TODAY Sports

Keith Rivers: 73 tackles, 3.0 Sacks
Rivers has the talent to be an every-down linebacker and the athleticism to be effective in coverage.
His problem has been two-fold: injuries and consistency.
If Rivers can play each game showing the talent that was good enough to make him a top-10 draft pick in 2008, the Giants might just have the foundation of their linebacker corps in place.
Dan Connor: 55 tackles, 1.0 Sacks
With the Giants gravitating more toward the nickel defense to keep up with the league's shift toward the passing game, the middle linebacker generally doesn't get as many snaps as he once did. Assuming Connor holds onto the starting middle linebacker job, he'll likely see he bulk of his action on first and second down while coming off the field for passing downs.
Spencer Paysinger: 38 tackles, 2.0 sacks
Entering his third season, Paysinger has gradually improved his level of play. During training camp, he worked with the starters as a weak-side linebacker. He also saw some snaps in the nickel package, which looks like it will be his main role for 2013.
Jacquian Williams: 80 tackles, 3.0 sacks
Williams had been projected to be the starting weak-side linebacker going into camp, but after missing a large part of the spring OTAs, Williams was demoted to the second string.
Still, it's hard to ignore his athleticism and his coverage skills, so if he is healthy, it probably won't be long until he takes back the starting weak-side linebacker job in addition to playing in the team's nickel package.
Mark Herzlich: 30 tackles, 1.0 sack
Herzlich will likely be the backup to Connor in the middle. He will probably be given some opportunities in certain sub packages.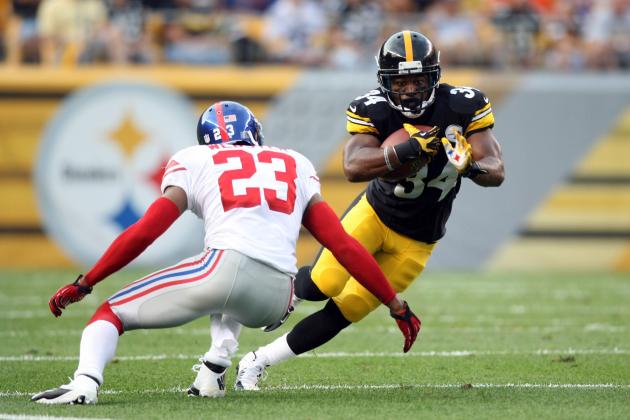 Jason Bridge-USA TODAY Sports

Corey Webster: 50 tackles, 5 pass defenses, 2 interceptions
Despite not having a strong season last year—he tried to fight through assorted injuries that included a hamstring strain and a broken hand—Webster will be given a chance to rebound and finish what could possibly be his final season as a Giant on a strong note.
Assuming his late-preseason MCL injury doesn't keep him sidelined, he should get plenty of opportunities to record some nice numbers. Last season, opponents threw at his side of the field far more than they did to Prince Amukamara's.
Expect opponents to do more of the same this year.
If Webster can rebound from last year's pedestrian showing, the Giants' defensive secondary could emerge as one of the strengths on the team.
Prince Amukamara: 45 tackles, 10 pass defenses, 4 interceptions
Despite missing three games last year, Amukamara's stock seems to be on the rise. Opposing offenses rarely chose to take advantage of his inexperience by attacking his side of the field.
This year, Amukamara has been nothing short of sensational in training camp.
He's been playing with a lot more confidence and swagger. He has started to play more aggressively up on the line and in coverage.
With defensive coordinator Perry Fewell looking to potentially move his starting cornerbacks around on the field in order to get better matchups, Amukamara could see a significant bump in his pass breakups and his interception totals this year.
Aaron Ross: 35 tackles, 3 pass defenses, 2 interceptions
After a year away at Jacksonville, Ross re-signed with his old team, where he'll likely open the season as the nickel corner.
However, defensive coordinator Perry Fewell is planning to mix and match his personnel according to the down and distance, so there could be instances where, for example, Ross plays outside for Webster, and Jayron Hosley, who's projected to play in the dime, come into the nickel.
When all's said and done, the Giants should be able to get decent numbers out of Ross thanks to his knowledge of Fewell's system.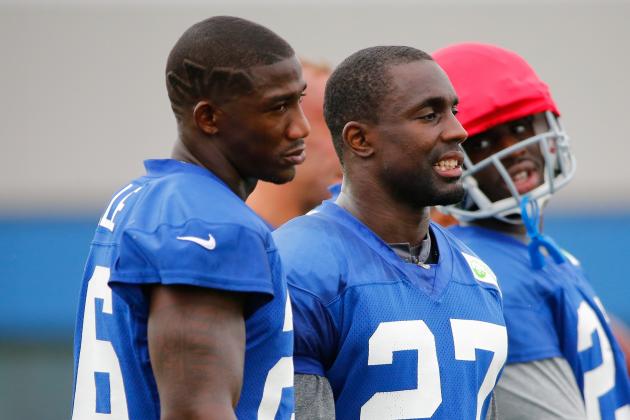 Jim O'Connor-USA TODAY Sports

Antrel Rolle: 100 tackles, 7 pass defenses, 4 interceptions
Since signing as an unrestricted free agent with the Giants in 2010, Rolle has consistently been among the top three team leaders in tackles, finishing with 96 in each of the last two seasons, the best in each year.
An every-down player, Rolle should be over the ankle sprain he suffered the week before the Giants' second preseason game. He will be looking to have another solid season.
Ryan Mundy: 55 tackles, 3 pass defenses, 2 interceptions
Mundy, who filled in for Rolle while he recovered from an ankle injury, appears to be the leading candidate for the team's third safety role.
If history is any indication, defensive coordinator Perry Fewell is likely to use that three-safety package quite a bit.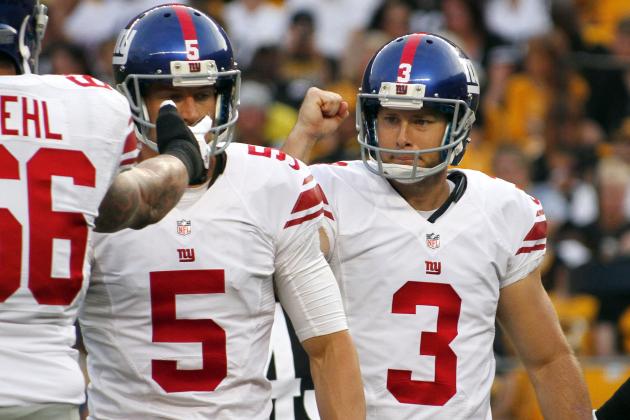 Justin K. Aller/Getty Images

Josh Brown, Kicker: 28 FGM/ 32 FG Att, 33 PATs
The Giants brought in Brown for his big leg and ability to boom his kickoffs deep into the end zone.
They're also hoping that during the season, this 11-year veteran becomes "Mr. Automatic" on field-goal attempts inside the 40-yard line.
Michael Cox, Kickoff Returner: 50 Returns, 650 yards, 1 touchdown
It's going to be very difficult to top David Wilson's 57 returns for 1,533 yards from last season, though Cox, who appears to be the leader in the kickoff return race, certainly has the speed, vision and acceleration to do it.
Jayron Hosley, Punt Returner: 25 Returns 220 yards
The top priority for the Giants' punt returner is ball security, with anything else in terms of yardage a bonus. For this reason, if Hosley wins this job, his return yardage will probably be pedestrian.
Patricia Traina is the Senior Editor for Inside Football. All quotes obtained firsthand.