Manchester City: Searching Sky Blues' Roster for This Season's on-Field Leader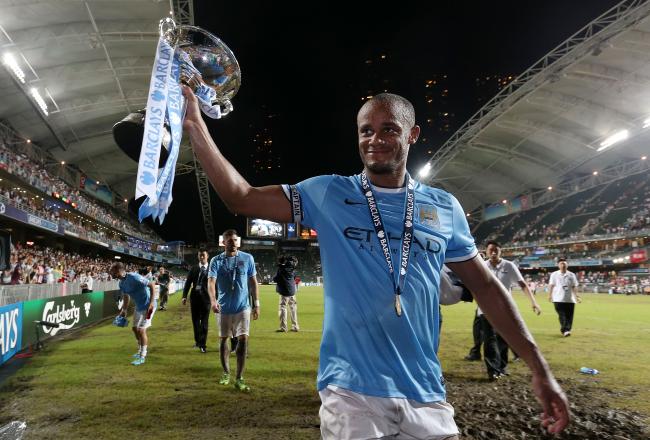 Kompany must stay healthy to retain the authenticity of his captaincy.
Chris McGrath/Getty Images
Manchester City will be led from the touchline by new boss Manuel Pellegrini this season.
On match day, Pellegrini will provide leadership in various forms.
Pellegrini will carefully choose his starting lineup. He will exhort his charges to play for club, crest and the team's fans. He will instruct his men on formation and tactics.
Ultimately, though, once the ball is put in play, Pellegrini will be able to do little more than work the officials and trust his side to execute his plans.
Which is why City, like all football clubs, needs a leader on the pitch. A player who can function as a surrogate coach with the ball in and out of play while simultaneously holding down his own position.
Vincent Kompany has been City's captain since the start of the 2011-12 season. There are no indications that Kompany's status is in jeopardy.
But Kompany is no longer the rock-solid mainstay in the lineup that he used to be.
Kompany started a remarkable (borderline insane, really) 37 out of 38 Premier League matches in 2010-11. He made a more reasonable 31 Premier League starts in City's 2011-12 title run.
Last season, though, stubborn injuries limited Kompany to 26 league appearances. And that only tells part of the story, since some of those appearances saw him limp off before the job was done.
Kompany's size and strength would make him invulnerable but for his unrelenting style of play and the unavoidable perils of being a centre-back in the Premier League.
Almost certainly, Kompany will retain the armband. But Pellegrini would be wise to scour his roster for players he can trust to lead the team on the pitch on those occasions when Kompany cannot.
Before we get to the right candidates, let's eliminate the wrong ones.
Pellegrini can dismiss the strikers out of hand. Strikers in world football are like wide receivers in American football. They are often flaky divas who have enough on their plate just keeping their egos in check.
Similarly, meaning no disrespect to Joe Hart, Pellegrini can forget about imbuing his keeper with that sort of responsibility. It is well and fine for Hart to set up the walls in front of him on corners and free kicks, but he cannot be straying from his line to deal with the nonsense that can happen anywhere on the pitch.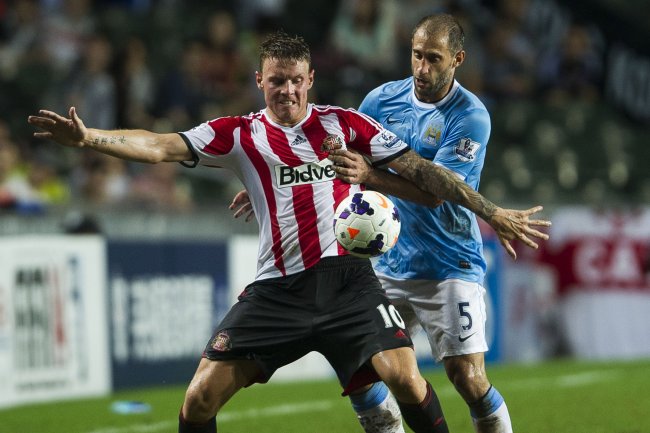 Victor Fraile/Getty Images
Pellegrini could tab another back or two to assist in this respect. As David Hirshey and Paul Kanarek of ESPN.com recently noted, "(Pablo) Zabaleta is a permanent fixture and even wears the armband when Kompany goes down."
From an age and experience standpoint, Joleon Lescott might also make sense. If he still had a starting job, that is.
In the midfield, there is one and only one possible choice to lead the club if Kompany and Zabaleta are out of the picture.
Yaya Toure is the only City midfielder with the combination of experience, skill and personality who could conceivably captain this side.
Fernandinho has not been in Manchester long enough. David Silva is a wonderful player, but he is the classic example of the reticent player who leads by example. Gareth Barry does not figure to play enough this season to ever captain the side.
And Samir Nasri is, well, Samir Nasri.
All that said, if you made an argument for James Milner in this spot, you would have a case.
Ultimately, though, Pellegrini would probably rather see Kompany seize control of his team on the pitch from Monday's opener against Newcastle and never let it go.
It worked two seasons ago, and it can work again.
This article is
What is the duplicate article?
Why is this article offensive?
Where is this article plagiarized from?
Why is this article poorly edited?

Manchester City: Like this team?