Boise State Football 2013 Team Program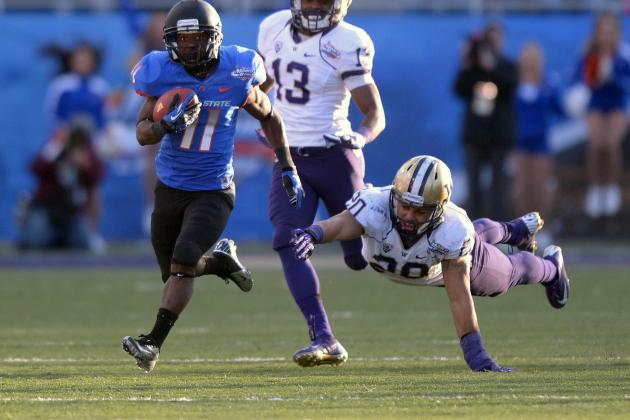 USA TODAY Sports

The Boise State Broncos enter the 2013 college football season with considerable promise, big question marks and criticism about its schedule.
In other words, it is business as usual for head coach Chris Petersen and his team.
The Broncos finished last season 11-2, and they have several key starters and backups returning on offense. However, it is the defense that has big holes to fill.
Despite the unknowns, expectations are as high as usual for Bronco Nation.
In the last year of the current BCS system, Boise State is gunning for another BCS bowl trophy.
The 2013 schedule for the Broncos is, at first glance, a simple Mountain West Conference arrangement with a couple of somewhat challenging out-of-conference games.
But, when you look deeper at the complete schedule, it is clear that Chris Petersen and his squad will have more than their fair share of challenges.
Let's look deeper at the storylines, events, players and coaches of the 2013 Boise State Broncos to determine how this season might pan out.
Begin Slideshow

»
Boise State finds itself being underestimated by many in the college football world once again. However, that is the very position head coach Chris Petersen loves for his team to be in.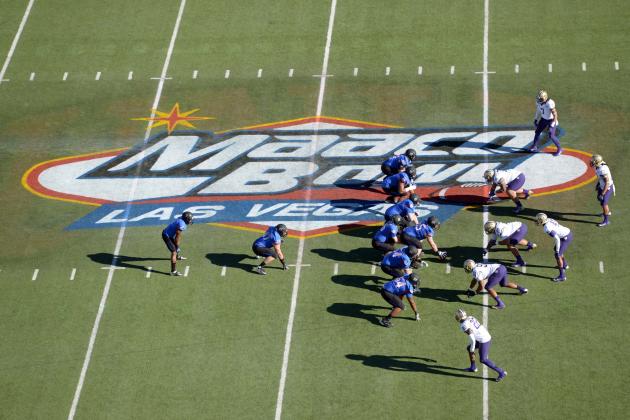 USA TODAY Sports

Off the Field
The 2012 season was supposed to be the last one for Boise State as a member of the Mountain West Conference. After all, the Broncos had agreed to begin playing football in a BCS conference starting in 2013.
Of course, that BCS conference was the Big East, and as most college football fans know, the Big East splintered, and is now a basketball only conference.
What came out of the demise of Big East football was the creation of a new conference.
The American Athletic Conference was born out of the remaining football schools from the Big East. However, Boise State didn't stick around long enough for that transition—and for good reason.
After it was announced that Rutgers would be leaving to the Big Ten and Louisville to the ACC, the minds at Boise State realized that the money and prestige wasn't going to be what they thought it would be.
Boise State then renegotiated with the Mountain West to stay in the more geographically correct conference. As part of the return, the school also negotiated a much better television deal and financial incentives for the team to remain in the conference they never officially left.
It was quite the ordeal for the school and the fans of the Broncos.
On the Field
As far as on the field, Boise State kept to its winning ways. However, it didn't start off that way.
After replacing Kellen Moore at quarterback, junior Joe Southwick struggled early, along with the rest of the offense.
After a string of opening game victories over premier opponents in recent years, Boise State fell to Michigan State in the first game of 2012. It was a game that could have been won by the Broncos, however, the offense was dismal in that contest, and Boise lost 17-13.
The defense played stellar all season, but it was the struggles with the offense and QB Joe Southwick that made the headlines early.
As the season progressed, so did Southwick. He got better and better, and he finished the year off with four-straight games that included great numbers and no interceptions.
The Broncos did stumble twice during the season. The first game against Michigan State, as previously mentioned, and an early November loss to San Diego State in Boise that caused the Broncos to miss another BCS contest.
A 21-19 loss to SDSU left fans stunned, and brought back the previous season's memory of a November loss to TCU on the same field. That game also caused the Broncos to miss a BCS game in 2011.
Still, the 10-2 regular season record in 2012 was much better than some expected.
The Broncos capped off the season with a dramatic 28-26 win over the Washington Huskies in the Las Vegas Bowl and built up a lot of confidence in the process.
That should only help as the team approaches 2013.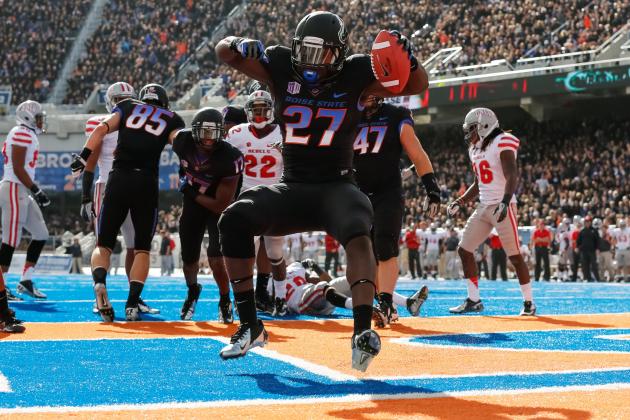 Otto Kitsinger III/Getty Images

Boise State has only nine starters returning on offense and defense combined. That usually means a rebuilding year for most teams. However, there is nothing usual about the Broncos.
They started 2012 in much the same condition, and things seemed to work out just fine. In total, five starters on offense and four on defense will be returning for Boise State in 2013.
Offense Returning Starters

Senior quarterback Joe Southwick is back, as is senior offensive tackle Charles Leno Jr. and senior center Matt Paradis. Also, wide receivers Kirby Moore and Matt Miller will be back for 2013. Moore is a senior, and Miller is a junior.

Defense Returning Starters

Returning starters on defense include junior defensive end Demarcus Lawrence, senior defensive tackle Ricky Tjong-A-Tjoe, junior safety Jeremy Ioane and sophomore safety Darian Thompson.
Depth Chart: Offense
Note: This is the depth chart released by Boise State at the Mountain West Conference media days. Players who are out for injury or suspension have been removed.
Quarterback
1. SR Joe Southwick 6-1, 202
2. JR Grant Hedrick 6-0, 200
Tailback
1. SO Jay Ajayi 6-0, 215
2. SO Jack Fields 5-9, 198
Wide Receiver
1. JR Matt Miller 6-3, 218
2. SR Aaron Burks 6-3, 200
Wide Receiver
1. SR Geraldo Boldewijn 6-4, 215
2. JR Dallas Burroughs 5-8, 171
Slot Receiver
1. SR Kirby Moore 6-3, 206
2. SO Shane Williams-Rhodes 5-6, 158
Tight End
1. SR Gabe Linehan 6-4, 238
2. SO Holden Huff 6-5, 221
Left Tackle
1. SR Charles Leno Jr. 6-4, 294
2. FR Steven Baggett 6-3, 275
Left Guard
1. SR Spencer Gerke 6-3, 297
2. FR Travis Averill 6-3, 292
Center
1. SR Matt Paradis 6-3, 293
2. SR Spencer Gerke 6-3, 297
Right Guard
1. SO Marcus Henry 6-3, 296
2. FR Mario Yakoo 6-3, 320
Right Tackle
1. SO Rees Odhiambo 6-4, 309
2. SR Jake Broyles 6-5, 299
Defense
Defense End
1. JR Demarcus Lawrence 6-3, 244
2. JR Beau Martin 6-2, 258
Defensive Tackle
1. JR Tyler Horn 6-5, 264
Nose Tackle
1. SR Ricky Tjong-A-Tjoe 6-3, 303
Stud End
1. JR Tyler Horn 6-5, 264
2. SR Kharyee Marshall 6-2, 240
Weak-Side Linebacker
1. SO Tyler Gray 6-4, 223
2. FR Ben Weaver 6-0, 233
Middle Linebacker
1. JR Blake Renaud 6-2, 249
2. JR Travis Saxton 6-1, 220
Strong-Side Linebacker
1. SR Jonathan Brown 5-10, 215
2. JR Corey Bell 5-11, 208
Cornerback
1. JR Bryan Douglas 5-9, 170
2. FR Chaz Anderson 5-10, 183
Cornerback
1. SO Donte Deayon 5-9, 151
2. JR Deon'tae Florence 5-9, 171
Safety
1. JR Jeremy Ioane 5-10, 189
2. SO Dillon Lukehart 6-0, 202
Safety
1. SO Darian Thompson 6-1, 201
2. SR Ebo Makinde 5-10, 179
Special Teams
Kicker
1. JR Dan Goodale 5-10, 193
2. SO Tyler Rausa 5-8, 191
Kickoff Specialist
1. JR Dan Goodale 5-10, 193
2. SR Trevor Harman 6-3, 207
Kickoff Returners
1. SO Shane Williams-Rhodes 5-6, 158
2. JR Dallas Burroughs 5-8, 171
Punt Returner
1. SO Shane Williams-Rhodes 5-6, 158
Holder
1. JR Matt Miller 6-3, 218
2. SR Joe Southwick 6-1, 202
Punter
1. SR Trevor Harman 6-3, 207
2. FR Sean Wale 6-1, 183
Long Snapper
1. JR Kevin Keane 6-0, 205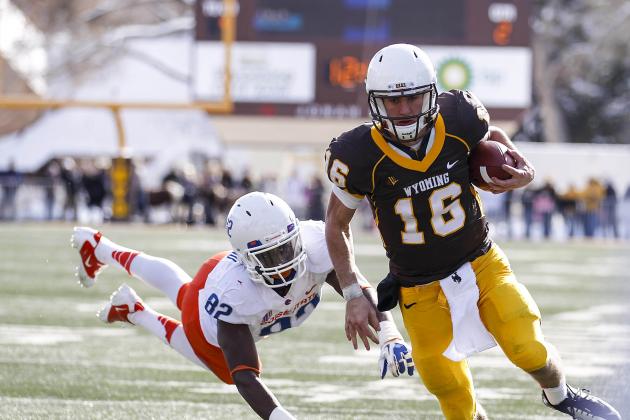 Troy Babbitt-USA TODAY Sports

Safety Chanceller James

Injuries have been small in numbers so far in fall camp for the Broncos. Redshirt freshman safety Chanceller James will miss the entire 2013 season with an injury to his ACL.
James didn't figure to be a starter, but he could have helped a defense that may have some depth issues.
Tight End Kyle Sosnowski
Redshirt junior tight end Kyle Sosnowski will miss the entire 2013 season as well. He suffered a torn patellar tendon. He looked good in the spring, and he could have been a contributor this fall.
Defensive End Sam Ukwuachu
Freshman All-American defensive end Sam Ukwuachu was let go from the team for unspecified reason. He was an incredible pass rusher and created havoc last season for the Broncos. However, he is now on the roster at Baylor after leaving Boise.
Defensive Tackle Tutulupeatau Mataele
The other player that is currently missing is JUCO transfer defensive tackle Tutulupeatau Mataele. He is out with an academic issue and there is no time table for his return.
Mataele could have taken away some of the sting of Ukwuachu leaving. However, as it stands right now, the Broncos are going to be thin on the defensive line.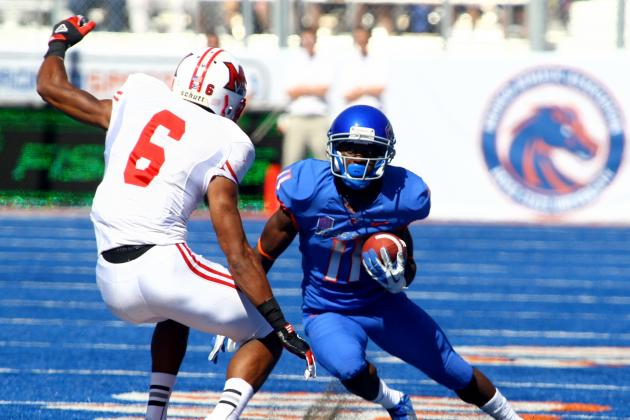 Brian Losness-USA TODAY Sports

Boise State doesn't have a lot of returning starters on the roster in 2013. However, they do have a large number of very talented players.
Returning Starters to Watch

Quarterback Joe Southwick
Southwick had a roller coaster season in 2012. He started the season rough, but by the last four games of the season it was clear he had hit his stride.
Going into 2013, Southwick seems very confident, and his teammates have noticed. He has more zip on the ball, and he is throwing with more accuracy.
This all bodes well for Southwick and the Broncos. Look for senior quarterback to have a very good season in 2013.
Wide Receivers Kirby Moore and Matt Miller
The passing game should be much improved for Boise State in 2013. Look for senior Kirby Moore and junior Matt Miller to continue to shine.
In 2013, both players, should they stay healthy, have a real chance at putting up career totals.
Defesive End Demarcus Lawrence
On defense look for junior defensive end Demarcus Lawrence to cause serious trouble for opposing quarterbacks. He led the Broncos in sacks last season, and he probably will again in 2013.
Defensive Tackle Ricky Tjong-A-Tjoe
In the middle of the defensive line there is a beast named Tjong-A-Tjoe. You wouldn't know he was someone to fear if you just listened to his press interviews. He seems like a humble, kindhearted and likable guy.
However, put him on the football field, and watch out. In 2013 look for this gentle giant to make some big waves.
Safety Jeremy Ioane
Jeremy Ioane finished off 2012 in fine fashion. He was the player who intercepted the ball from Washington quarterback Kieth Price to seal the Las Vegas Bowl victory for the Broncos.
This season, his leadership will be very important. He will need to continue to play at a high level, and be an example to a young defensive secondary that will be looking to him for leadership.
New Starters to Watch
Wide Receiver/Punt Returner Shane Williams-Rhodes
The offense is going to incorporate more of Shane Williams-Rhodes in 2013. Last season, fans of the Broncos were amazed at the moves of this young player. He changes direction in dizzying fashion, cuts like a razor blade and spins like the cartoon version of a Tasmanian devil.
Expect even more of that from Williams-Rhodes, a.k.a. SWR, a.k.a. Taz, a.k.a. Shake-n-bake in 2013 as the offense becomes even more familiar to him.
Even though he won't be a starter on offense, he is penciled in to be the key punt returner and kickoff return guy in 2013. Look for him to make a huge impact for the Broncos.
Running Back Jay Ajayi
Fans are excited to see Jay Ajayi as the starting running back for Boise State. He is in much better shape this season, and he looks like he is going to have a breakout year.
If he can duplicate his yards-per-carry from last season, which was a school record 6.68, opposing defenses are in serious trouble.
Linebacker Blake Renaud
Linebacker Blake Renaud is poised for an incredible season. As a backup linebacker in 2012, Renaud finished sixth on the team in tackles with 46.
He also dominated on special teams, and received the "Hammer Award" at the team's annual banquet, according to BroncoSports.com.
In 2013, expect Blake Renaud to bring an even bigger hammer to the field. Opposing offenses will be well aware of his presence.
New Players to Watch
Cornerback Mercy Maston
JUCO transfer cornerback Mercy Maston will no doubt find himself in the mix this season. The Broncos are in need of depth and experience in the defensive secondary.
Maston was a standout last season for Bakersfield College with a total of 68 tackles. He also had two interceptions, and his experience could go a long way for Boise State in 2013.
Defensive Tackle Justin Taimatuia
No other area on the Boise State roster needs as much help in depth as the defensive line. After losing some key players, the Broncos will need some new guys to step up.
It helps the Broncos that they have Justin Taimatuia on the roster. He is a JUCO transfer, and that experience alone should help him break into the rotation.
He is impressive, and if you watch his game film, it is easy to see why Boise State fans should be excited for Taimatuia to help out in 2013.
Freshman to Watch
There are several freshman to keep an eye on in 2013.
Linebackers Mat Boesen, Joe Martarano and Tanner Vallejo are three at the top of the list. Not that all of them will find the field, but each of them is probably talented enough to skip a redshirt season.
At cornerback look for Jonathan Moxey, Cameron Hartsfield and Dionza Blue to do all they can to get noticed.
Because of the noted need on the defensive line, fans should keep an eye on a couple of studs. Stud end, that is. There are two freshmen who could see playing time in 2013 at that position. Gabe Perez and Kamalei Correa will be a pair to watch.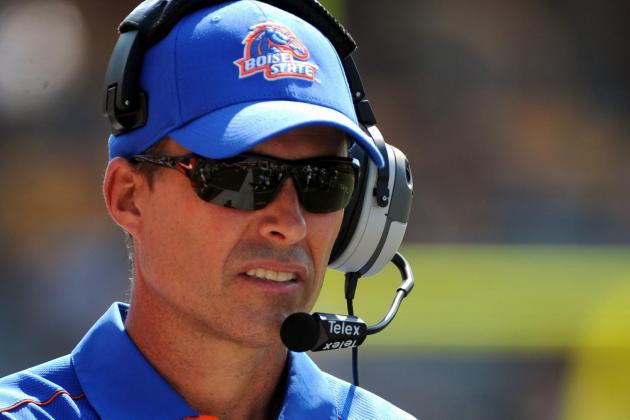 Chuck Cook -USA TODAY Sports

Head coach Chris Petersen didn't leave Boise after the 2012 season, and once again all of Bronco Nation sighed with relief.
The other thing that should help Boise State in 2013 is that almost the entire coaching staff stayed intact.
Last season, Boise State had to replace several assistant coaches, including the offensive coordinator when Brent Pease decided to take the Florida OC job.
Robert Prince, the man hand selected by coach Petersen to take over at offensive coordinator last season, has to be feeling much better this time around.
In hindsight, Prince did an absolutely amazing job building an offense after Doug Martin and Kellen Moore departed for the NFL.
By the end of the season, the Broncos looked much more efficient on offense, which should continue to produce in 2013.
Coaches
Head Coach: Chris Petersen
Assistant Head Coach/Linebackers: Bob Gregory
Defensive Coordinator: Pete Kwiatkowski
Offensive Coordinator/Wide Receivers: Robert Prince
Assoc. HC/Offensive Line/Run Game Coordinator: Chris Strausser
Defensive Line: Andy Avalos
Running Backs: Keith Bhonapha
Tight Ends/Fullbacks/Special Teams Coordinator: Scott Huff
Defensive Secondary/Defensive Pass Game Coordinator: Jimmy Lake
Quarterbacks: Jonathan Smith
Offensive Graduate Assistant: Joel Filani
Offensive Graduate Assistant: Louie Rodriguez
Defensive Graduate Assistant: Ben Thienes
Defensive Graduate Assistant: Byron Hout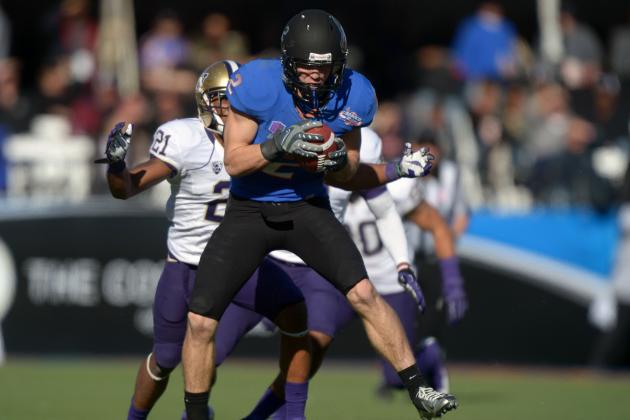 USA TODAY Sports

Boise State Broncos 2013 Schedule
| | | |
| --- | --- | --- |
| 08/31/13 | @ | Washington |
| 09/07/13 | Vs. | Tennessee-Martin |
| 09/13/13 | Vs. | Air Force |
| 09/20/13 | @ | Fresno State |
| 09/28/13 | Vs. | Southern Miss |
| 10/12/13 | @ | Utah State |
| 10/19/13 | Vs. | Nevada |
| 10/25/13 | @ | BYU |
| 11/02/13 | @ | Colorado State |
| 11/16/13 | Vs. | Wyoming |
| 11/23/13 | @ | San Diego State |
| 11/30/13 | Vs. | New Mexico |
Boise State Broncos 2013 Most Important Games
It is cliche to say that every game is most important. After all, that's just something that coaches say when they get interviewed.
However, for the Broncos, that is the simple truth.
Every game is important if Boise State wants to make it back to a BCS bowl game. In the past two seasons, it was one loss that kept them from BCS glory.
Last season it was an upset by conference foe San Diego State in Boise that killed the dream, and in 2011 it was a loss to then conference-competitor TCU on the same field.
Boise State must win every game this season to guarantee they get back to a BCS bowl game in the last season of this current system.
The Broncos could make it in with one loss—they almost did that last season—but two losses will certainly doom their BCS chances.
If one game had to be singled out for its importance, it would have to be the opener against Washington.
That game sets the tone for the season, and has the ability to create momentum and fan interest.
After the battle in Seattle, Boise State has four other games that will be tough road tests. Utah State, Fresno State, BYU and San Diego State are all going to be difficult tasks.
Otto Kitsinger III/Getty Images

The Boise State offense plans to be "extremely explosive" in 2013. And, while that might be the plan of every offense in college football, the Broncos certainly have the weapons to do it.
It starts with senior quarterback Joe Southwick, who is playing at a high level and with plenty of confidence.
Of course, he will get considerable help from a running game that should be second to none in the Mountain West.
Starting tailback Jay Ajayi is a powerful running back that has proven he can move the line of scrimmage by himself if he has to.
He will be backed up by a very talented JUCO transfer named Derrick Thomas and an extremely talented sophomore in Jack Fields.
That trio, along with redshirt freshmen Devan Demas and Charles Bertoli, and true freshman Aaron Baltazar, has to be the best stable of running backs Boise State has had in recent years—or maybe in its history.
The wide receiving corp, along with the tight ends, is probably the best group in the Mountain West as well.
Returning starters Kirby Moore and Matt Miller will lead an all-star group in 2013. Sophomore Shane Williams-Rhodes will bring some explosiveness of his own, and seniors Aaron Burks and Geraldo Boldewijn along with junior Dallas Burroughs bring the speed to stretch the field.
With Southwick throwing much more accurate, the deep ball seems to be a reality for Boise State.
Add to that mix tight ends Gabe Linehan and Holden Huff, and it makes for an incredible offensive recipe.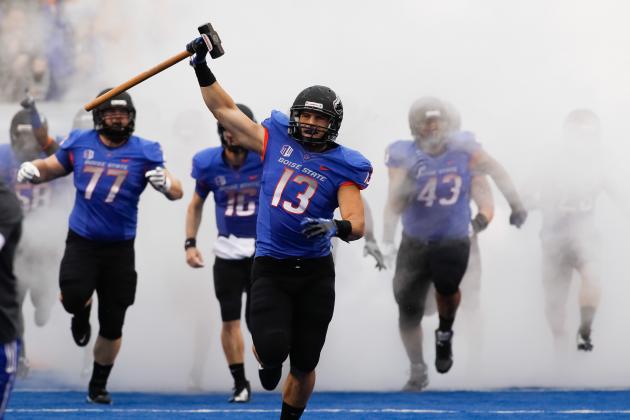 Otto Kitsinger III/Getty Images

Defense has a lot of talent as well, but much of this young group is untested.
Of course, the story of fall camp is the problem of depth on the defensive line. However, the coaching staff has a way of finding just the right combination to make sure the line is solid.
This season Boise State fans may see some new faces, but they probably will also see the same kind of results. Look for defensive end Demarcus Lawrence and defensive tackle Ricky Tjong-A-Tjoe to lead the way, but look for new talent such as defensive tackles Nick Terry and Justin Taimatuia to step up.
Also, look for veterans like defensive lineman Beau Martin and the extremely versatile defensive end or tackle Tyler Horn to elevate their game.
At linebacker look for the Broncos to dominate. This has to be one of the best groups of linebackers the Broncos have had in a while.
Blake Renaud, Tyler Gray and Jonathan Brown will lead the way. But, their backups look to be solid as well. Ben Weaver, Travis Saxton and Corey Bell are all outstanding players in their own right.
Add to that list senior Dustin Kamper, redshirt freshman Andrew Pint and a group of true freshmen that are extremely talented, and it is safe to say Boise State can be excited about what they have at linebacker.
The defensive secondary will be led by junior safety Jeremy Ioane. His leadership will be important as the Broncos will have a pair of brand new starters at cornerback and a whole group of brand new faces.
Darian Thompson will help Ioane at the other safety spot, and senior Ebo Makinde and sophomore Dillon Lukehart will be decent backups.
The corner spots are still a mystery as to who will really start come game time. However, for now the two penciled in are sophomore Donte Deayon and junior Bryan Douglas.
They will be backed up by redshirt freshman Chaz Anderson and redshirt junior Deon'tae Florence. In the mix will be JUCO transfers Cleshawn Page and Mercy Maston, along with a handful of true freshmen.
The defense will have to gel early, and with all of the new players on the roster that might be a problem.
However, it is easier to get a defense to play together early than it is an offense, so the Broncos are in a decent position going into 2013.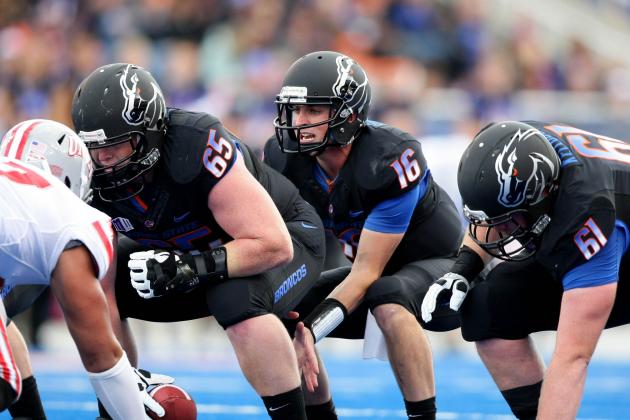 Brian Losness-USA TODAY Sports

One of the biggest helps that Boise State will get this season is with its slimmed down playbook.
With all of the weapons they have on offense, it will allow the Broncos to utilize what they have and to better prepare for opposing defenses. It also allows for faster and better adjustments.
This most certainly will help the confidence of quarterback Joe Southwick. He seems to play better when he is allowed to use his instincts more.
The other X-factor in 2013 is the fact that Robert Prince is in his second season as the offensive coordinator.
Look for Prince to have a lot of fun utilizing the weapons he has in his arsenal this year. Not only that, but it should start a whole lot better for Prince and his offense in 2013, and that will help to propel them to greater success.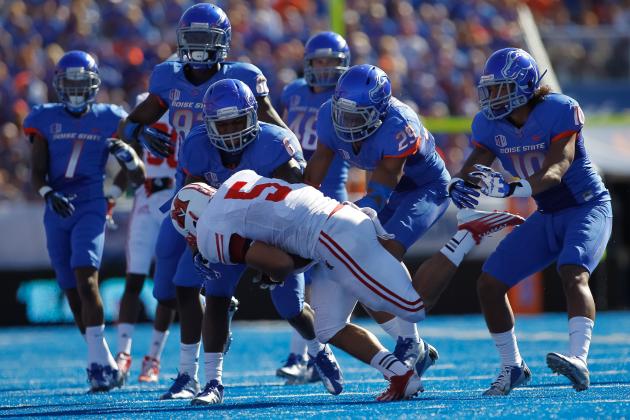 Otto Kitsinger III/Getty Images

Quarterback Joe Southwick
Last year all of Bronco Nation was buzzing about who would replace Kellen Moore. As the season started, the criticism on his replacement, Joe Southwick, was fairly harsh.
As the season rolled on, Southwick got better, and some of the negative voices went silent.
But the criticism remained.
This season, everyone knows who the starter will be. However, not every fan of the Broncos probably realizes what might be coming.
Southwick is poised for an outstanding season. Not just another average season, but something incredible.
While some might scoff at that, the truth is, he finished the 2012 campaign playing at a very high level. His last four games of 2012 included nine touchdown passes, no interceptions, 38 yards rushing on key scrambles, an amazing 71.27 percent completion rate and a 167.2 quarterback rating.
Fast forward to 2013, and he has gotten even better—a lot better.
In fall camp his throws look incredible. He has more zip on the ball, and his accuracy looks much better. He also appears to have better touch and better overall control of the ball.
Combine that with his clear elevation in confidence and the players he has around him, and folks, Boise State is about to see another breakout year for a blue and orange quarterback.
Running Backs
One thing that will help Southwick, and the rest of the offense out in 2013, is the stable of running backs he will have at his disposal.
If starter Jay Ajayi and backups Derrick Thomas and Jack Fields stay healthy, the Boise State ground game is going to be difficult to stop.
That will help the passing game open up, and overall it points to huge numbers in 2013.
The Defense
The defense has some holes to fill. If the coaching staff can figure out the right combination, and if the players step up in a big way, it could be another good defensive year.
However, the opposite is also true.
All season the depth of the defense and its performance will be something to watch.
With the offense doing what it should, the biggest obstacle for Boise State to get to another BCS bowl might be the play of the defense.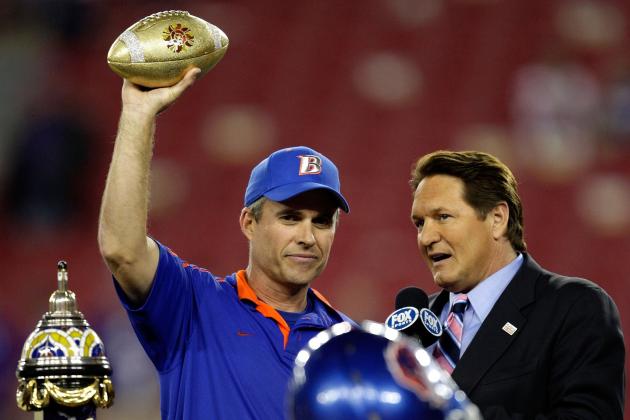 Jamie Squire/Getty Images

The Broncos always have the goal of getting to a BCS bowl game. Well, in the last season of the current BCS system, Boise State does have a legitimate shot.
The first game against Washington will be critical. It looks to be one of the most challenging games for head coach Chris Petersen and his team, but if they win it, they will be in a prime position for BCS glory.
If they lose that game, their chances will be slim. However, one loss, as we saw last season, won't doom the Broncos.
After Washington, the Broncos face key challenges from strong opponents on the road.
They will be on the road at Fresno State, Utah State, BYU and San Diego State this season. Boise State certainly has its work cut out for it with that kind of schedule.
Can they do it?
The answer is yes, and here's why.
Boise State has one of the most talented teams they have had overall in a while. They may not have the marquee names, but the talent is superb.
The offense looks to be incredible this season, and what the Broncos have done season-after-season on defense is just incredible.
They have more returning starters on defense this season than last, and last year they finished ranked No. 12 in total defense.
There is no reason to think they can't do it again.
If the defense is its usual self along with the offense playing to its potential, Boise State is a much better team than they were in 2012.
All they did in 2012 was go 11-2, beat Washington in the Las Vegas Bowl and miss a BCS bowl game by one loss late in the season.
In 2013, expect the Broncos to do even better.
Prediction
The Broncos have a legitimate shot at another undefeated season. However, with the parity in the Mountain West and the challenging road games they face, 11-1 in the regular season might be the reality.
The Broncos should make the Mountain West Conference championship game, and if that game is at home, expect a victory.
After that, a Fiesta Bowl could be in the cards. It would, after all, be a shame to see another Las Vegas Bowl with a one-loss Boise State team.