Owner Jim Buss Says Dwight Howard Was 'Never Really a Laker'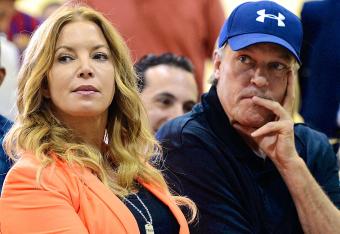 Like his sister Jeanie, Los Angeles Lakers vice president Jim Buss has a few things to say about Dwight Howard leaving for the Houston Rockets. Suffice it to say Jim apparently wasn't as close with Howard as his sister.
In a lengthy profile of the two siblings in the Aug. 23 edition of The Hollywood Reporter, Ric Bucher speaks to the most prominent Buss siblings in the Lakers organization about their relationship, coach Phil Jackson and following in the footsteps of their father, Dr. Jerry Buss.

When the subject of Howard's departure comes up, however, Jim had some pointed words for a man he erected billboards for earlier this summer.

"He was never really a Laker," Jim said. "He was just passing through."
Bucher's report also notes that those close to Howard said he could have been persuaded to stay in Los Angeles. The 27-year-old center signed a four-year, $88 million deal with the Houston Rockets, taking $30 million less than what the Lakers could have given him under the NBA's collective bargaining agreement.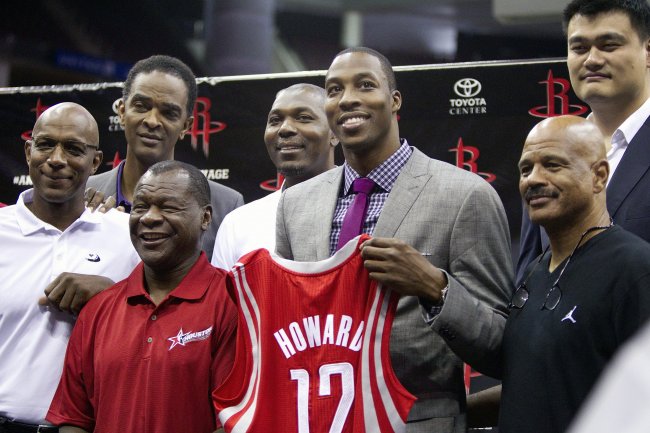 Bob Levey/Getty Images
It's that point that really sticks with Jeanie, who doesn't hold such a harsh grudge against Howard. For the second time in a week, she acknowledged disappointment he didn't come back and brought up her father's name in an uncertain time in the franchise.
"It's disappointing that Dwight isn't here," Jeanie said. "I feel like we failed [Dr. Buss]."
Jeanie first spoke at length about the Howard situation last week with Mark Willard and Mychal Thompson on ESPNLA 710, per ESPN's Ramona Shelburne. While acknowledging that she and the big man grew somewhat close during his only season in Los Angeles, Jeanie first made the point that Howard would have had a better stay in Los Angeles had her father been healthy.
"They would've probably had a better relationship if my dad hadn't been sick," Jeanie said.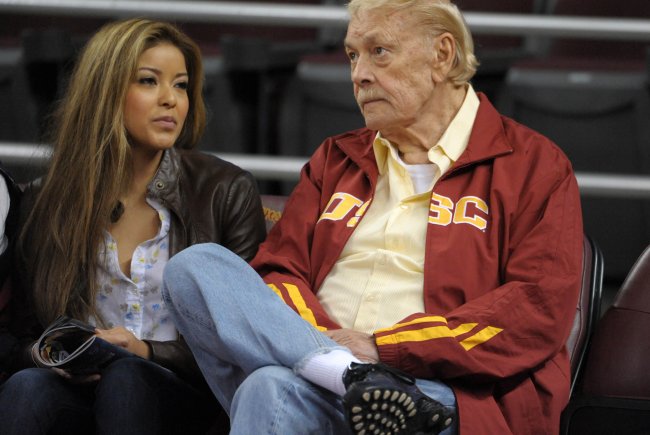 USA TODAY Sports
Dr. Buss, who died in February, is one of the most decorated owners in NBA history. He bought the Lakers from Jack Kent Cooke in 1979, and subsequently led the club on an unprecedented string of success that included 10 NBA championships. Known for cultivating relationships with stars and handling egos, Jeanie asserted Dr. Buss could have convinced Howard to stay and was the "best closer in the business."
Per Shelburne, she also scoffed at the notion the Lakers are better off without Howard—a point her brother's quote seems to refute:
I've had a few people say, 'You guys are better off without him.' But do you know who those people are? People from other NBA teams, because they don't want us to have that kind of talent. I myself believed that you always want to hold on to talent. I was disappointed that Dwight chose to leave. Certainly he was well within his rights, with free agency. I just don't agree with his decision.
Howard, coming off back surgery and dealing with a lingering shoulder problem throughout 2012-13, struggled to be the dominant, two-way force the Lakers thought they acquired from the Orlando Magic. He averaged 17.1 points, 12.4 rebounds and 2.4 blocks per game, the former two numbers being his lowest in a half-decade.
While Howard was still one of the league's best centers, his struggles to acclimate to the surrounding talent and issues with teammates became a prevailing storyline in Los Angeles. The Lakers finished a disappointing seventh in the Western Conference and were eliminated in the first round of the playoffs, amid injury issues.

Follow Tyler Conway on Twitter:
This article is
What is the duplicate article?
Why is this article offensive?
Where is this article plagiarized from?
Why is this article poorly edited?