Belgium vs. France: 6 Things We Learned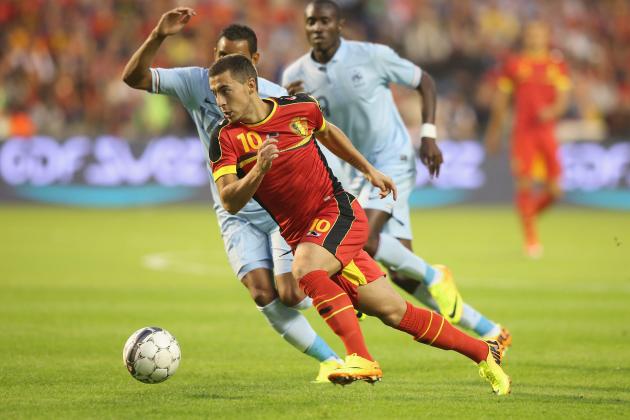 David Rogers/Getty Images

Belgium and France's 0-0 draw at the King Baudouin Stadium in Brussels on Wednesday saw neither side able to break the deadlock.
In a relatively entertaining encounter, both were guilty of not taking their best chances in game that promised much but ultimately delivered very little.
Marc Wilmots' Belgian side will be able to take more from the result and will be pleased at having looked comfortable for the majority of the match against more reputable opposition.
But Les Bleus and Didier Deschamps will be disappointed that a number of problems blighting the team, not least the lack of a natural goal scorer, remain unsolved.
The pair will be happy to have kept a clean sheet. But given the talent on show, a goalless draw did not do the matchup justice.
Here are six things we learned from the clash.
Begin Slideshow

»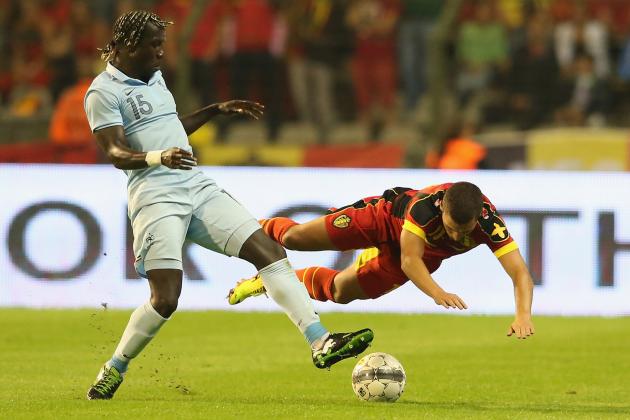 David Rogers/Getty Images

The French avoided defeat against Belgium, a traditionally difficult opponent, and continued an encouraging run of five clean sheets in six encounters with their neighbours.
However, that means very little to Deschamps' side given how rarely the two sides meet.
Instead, stemming the nasty habit of conceding late goals to opposition this year is something the 44-year-old will have been happy to achieve. Prior to the clash, France had conceded eight goals in 2013. All of those concessions have come in the second half, suggesting regular lapses in concentration.
This time, Les Bleus looked solid, organised and focused at the back and managed to keep the likes of Romelu Lukaku, Eden Hazard and Christian Benteke quiet. No easy feat.
Eric Abidal's experience also proved useful. The 33-year-old put in an encouraging performance that suggests he still has something to offer at the international level despite his well-documented health issues.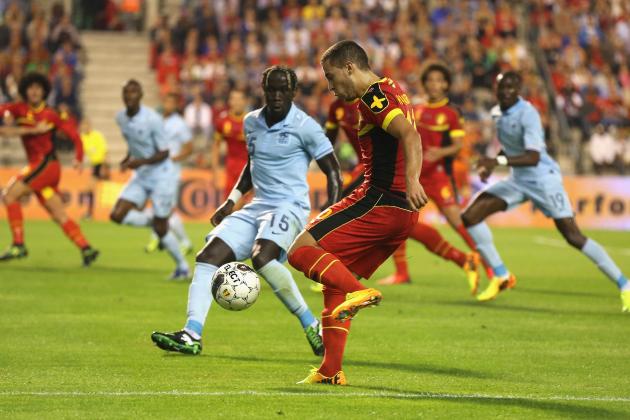 David Rogers/Getty Images

As good as France's defence were though, Belgium created by far the better opportunities in the match and really should have scored at least once.
Wilmots' side made plenty of openings for Lukaku, Hazard and Benteke, but all three missed chances. The other players sent theirs begging too.
France can't buy a goal with Karim Benzema on the pitch, but the Rode Duivels have strikers, in form and in Lukaku and Benteke, with prolific potential.
There is no doubt that Belgium have the raw talent to do something special internationally, an amazing feat for such a small country, but those striking options need refining.
Benteke especially looks lethal when in club colours; he and Lukaku need to mature with this current side in order to realise their true potential.
Big-game experience will help massively, and not just the strikers.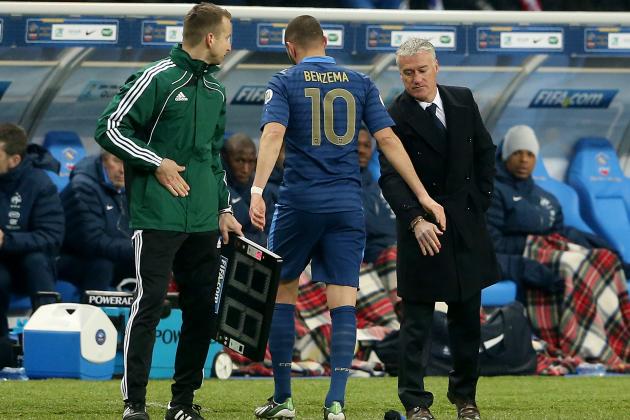 Scott Heavey/Getty Images

Benteke and Lukaku might look slightly different when representing their clubs instead of country, but France's Benzema looks a different person entirely when wearing national colours.
That is not a compliment.
His current wait for an international goal now stands at upwards of 1,156 minutes, almost 20 hours of football. Any other national coach would have benched that striker long ago.
Not Deschamps, though. Such is the dearth of striking talent in France at present, arguably with the exception of Olivier Giroud, that the former Marseille coach continues to put his faith in the Real Madrid man.
With a new crop of talent coming through the youth levels, Benzema's time is surely limited. But any youngsters will likely have to wait until after the World Cup to get their chance, meaning Deschamps has to find a solution in the meantime.
Giroud is one option who's given little or no time to prove himself. Otherwise, Deschamps might have to bring the likes of Bafetimbi Gomis and Kevin Gameiro in from the cold, the latter once he is playing regularly for Sevilla.
Alternatively, he could press on with last season's plan to introduce Jeremie Aliadiere to the setup.
Either way, the attacking situation is getting desperate, with France only scoring 11 goals in their last 14 games.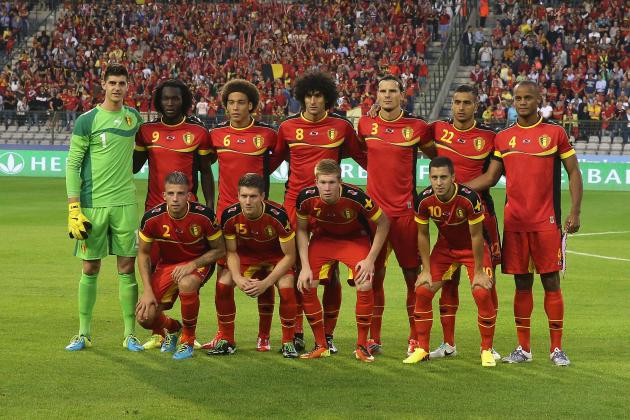 David Rogers/Getty Images

There can be little doubt that Belgium possess the individual talent at present to achieve something in international football. Indeed, some sides have done very well with much less.
However, given Belgium's poor record in qualifying for major international tournaments, there is a sense that Wilmot's side is lacking the necessary experience to overcome teams with bigger reputations.
That will only change once this current side is competing in World Cups and European Championships. Until that happens, the Belgians have no chance of profiting from this ludicrously talented group of players available for selection.
That potential success is not likely to come in Brazil. The World Cup would probably act as a taste of things to come. Instead, this generation could come to fruition in time for the next European Championship in 2016, held in France.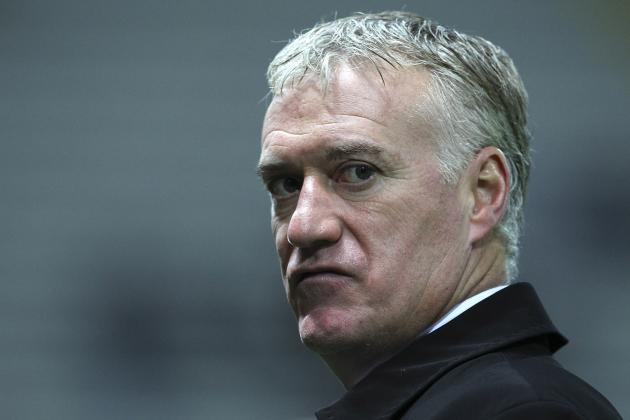 Marco Luzzani/Getty Images

Despite plenty of talent within the current squad, there is a feeling that this French generation is now lost and that the greater promise lies with the youngsters. It is difficult not to agree.
Although the match finished goalless, Belgium looked far more comfortable than France—and also looked the more established of the two nations.
For France, their current 23rd-place FIFA/Coca-Cola world ranking demonstrates just how far Les Bleus have fallen as a footballing superpower. Deschamps might still be talking about the World Cup in Brazil, but in reality he should already have an eye on 2016, when the Euros will be played on home soil.
The current problems affecting the French national team will not be solved in one year. But they must be by the time the two-time Euro winners host the competition two years later.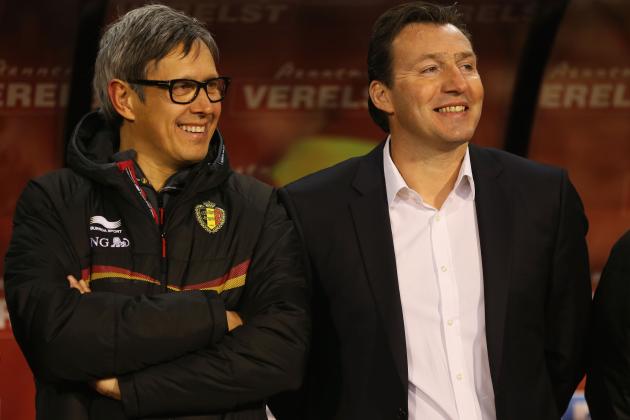 Bryn Lennon/Getty Images

Belgium's massive overhaul and drastic shift in status from qualifying also-rans to genuinely dominant group winners and potential tournament dark horses in the space of less than one year is nothing short of miraculous.
What is most impressive, though, is how they are able to hold their own against a team with the international experience of France, despite their own relative inexperience, and dominate their opponents.
Wilmots' side hardly looked like a team who have not qualified for a World Cup since 2002 and a European Championship since 1984 (2000 does not count, as they were joint hosts). They also looked relatively calm and composed against the French, not getting out of second gear for most of the match, suggesting there is plenty more to come.
The majority of that pedigree comes from the players' club activities, but should they secure World Cup qualification, this team's potential will be further unlocked as their chemistry develops further.
First they need to ensure they get there, though.