On Wednesday afternoon, the United States men's national team added to the collective soccer high that Americans have been on for almost two months now.
The high was felt all through the Yanks' dominating run and championship in the CONCACAF Gold Cup and was carried on with the news of Clint Dempsey's surprise transfer to Major League Soccer and the Seattle Sounders earlier this month.
That high was not expected to be extended by Jurgen Klinsmann's team that had plenty of outside-the-box selections for the 23-man squad that visited Sarajevo for the U.S.-Bosnia friendly Wednesday.
Once again, Klinsmann's band of players that do not have the words "give up" in their vocabulary defied the odds and came out of their match with Bosnia and Herzegovina as 4-3 victors on European soil.
However, this was just a friendly and although a win is a win, it's time to come down from that high just a bit and look back at what American fans can realistically take away from the match and carry over into the two CONCACAF World Cup qualifiers in September against Costa Rica and Mexico.
Jurgen Klinsmann Is Still Smarter Than All of Us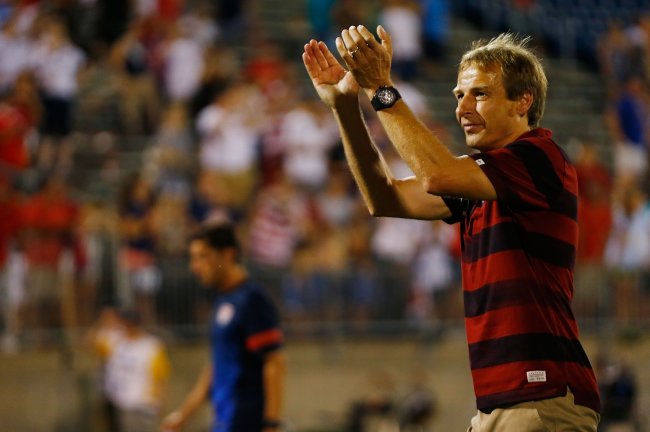 Jared Wickerham/Getty Images
After Eddie Johnson's miserable first half, which included a giveaway that led to the first Bosnian goal, basically every fan and analyst shouted for the forward's substitution from the match at halftime.
Anybody else ready to see @aronjo20 in place of Eddie Johnson? #USMNT

— American Soccer Now (@ThisIsASN) August 14, 2013
Despite the outcry for Johnson's removal, Klinsmann kept the Seattle Sounders forward on the pitch. And Klinsmann's tactical shift to a 4-4-2 that included Altidore and Johnson up front succeeded as the United States powered home four second-half goals, three of which came from Altidore.
The first of those four goals came from who else but Johnson in the 55th minute, as he finished a wonderful pass from Altidore.
WATCH: Eddie Johnson's goal for the #USMNT - http://t.co/QiyMHTe41i

— U.S. Soccer (@ussoccer) August 14, 2013
When Johnson eventually left the pitch eight minutes later, Klinsmann brought in debutant Aron Johannsson, who left American fans in awe with his 27-minute appearance, to play with Altidore.
We Need To Calm Down About the Dual Nationals
The biggest storyline that emanated throughout the American camp for the last week was the first inclusion of dual-nationals Johannsson and John Anthony Brooks.
First, it was German-American Brooks who stole the headlines on Wednesday, as he was handed a start at center-back in a partnership with Geoff Cameron.
Brooks' 6'4" frame and debut in the Bundesliga with Hertha Berlin on Saturday made him a sort of cult figure among American fans for the last week. On the pitch, Brooks was handed a tough task in marking towering Bosnian forward Edin Dzeko.
For the most part, Brooks held his own in his first appearance for the Yanks, but he did let Dzeko slip free in the 90th minute when the Manchester City forward headed home the final goal of the match.
[Insert much-too-quick conclusion on John Anthony Brooks here]

— Stars and Stripes FC (@StarsStripesFC) August 14, 2013
Playing 90 minutes against quality opposition in his first match should be considered a big deal for Brooks, but he still must fight plenty of competition in front of him at center-back if he wants to make the 2014 FIFA World Cup roster.
Johannsson also received a strong amount of hype this week, especially after his switch to the United States from Iceland was verified by FIFA on Tuesday.
Aron Johannsson's switch has been approved. He's eligible for Bosnia game: http://t.co/JgSS0uecfX

— Brian Straus (@BrianStraus) August 13, 2013
After coming on in the 63rd minute for Johnson, the 22-year-old showed flashes of brilliance that left some people wanting much more from the Alabama-born striker in the near future.
The reality about this young pair is that they do have an uphill climb to make the trip to Brazil, and if they are included for the qualifying matches in September, they will both play a reduced role.
While they did give American fans plenty of hope for the future, Brooks and Johannsson may not have an impact on the national team for a while given the stars already entrenched in front of them.
Bosnia and Herzegovina Treated This Match as a Friendly, and So Should We
Before the thrilling second half that saw American fans go from depressed to ecstatic, Bosnia and Herzegovina made four substitutions.
Captain and center-back Emir Spahic as well as playmaker Vedad Ibisevic were two of the four players taken off for the start of the second half.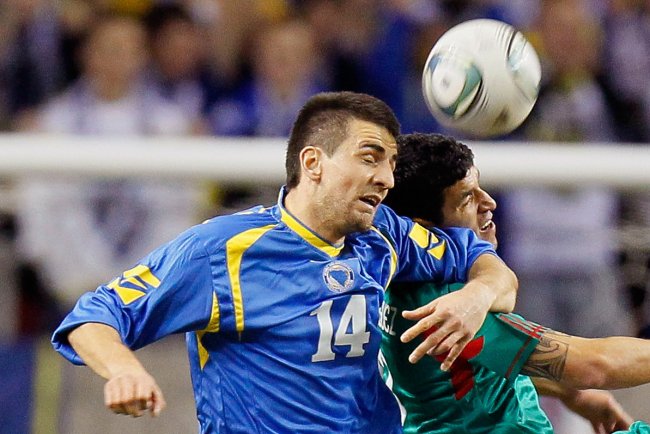 Kevin C. Cox/Getty Images
Just 17 minutes later, one of the other Bosnian stars, Miralem Pjanic, was substituted by head coach Safet Susic.
By taking three of his most important players out of the match, Susic made it clear he was treating the match as the friendly that it was, and that he was not going to risk the health of his stars for a glorified exhibition.
While the loss will hurt the pride of the Bosnian team a bit, it will most likely not affect their morale heading into UEFA World Cup Qualifying, where they currently sit atop of Group G, three points ahead of second-place Greece.
As we have learned from skeptics about the American team after the win over Germany's "B"-squad in June and the victory over Italy back in February of 2012, winning a friendly against a European team is great, but it was not in a competitive format.
Until the United States defeats a European power in a major tournament like the World Cup, they will not be taken seriously by a certain group of the American soccer-viewing public.
Because, in the end, the ultimate goal really is to beat teams like Germany, Italy and Bosnia on the world's biggest stage.
What realistic observations did you make about the United States against Bosnia and Herzegovina?
Comment below or leave me a comment on Twitter, @JTansey90.