BYU Football 2013 Team Program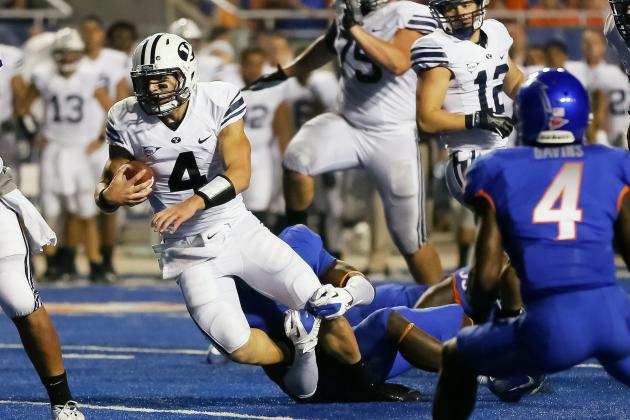 Otto Kitsinger III/Getty Images
Taysom Hill
The clock is winding down until BYU's opener at Virginia, and Cougar fans can hardly wait. Plenty of big-named teams will play in Provo this year, and head coach Bronco Mendenhall will field a solid team to compete with them.
With a tough schedule and lots of new faces on the coaching staff, the Cougars have a big challenge ahead. But if their defense is strong, and the offense picks it up, it could be a fun year.
Here is a team program for BYU, with all of the information a Cougar fan could want.
Begin Slideshow

»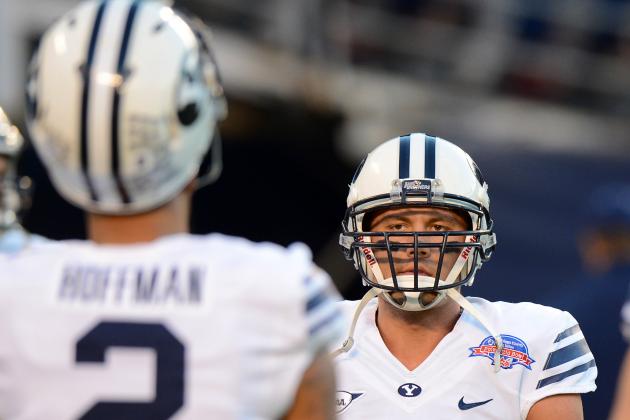 Jake Roth-USA TODAY Sports

BYU entered 2012 with plenty of preseason hype, as senior quarterback Riley Nelson and playmakers including Kyle Van Noy and Cody Hoffman returned to lead the second Cougar year of independence. The offense looked sharp, as did the defense, in the first two games against Washington State and Weber State.
Plagued by turnovers, the offense couldn't get rolling against Utah and Boise State, but the defense kept them in both games which turned out to be narrow losses. True freshman QB Taysom Hill stole the starting role for a rout of Hawaii and a close win over Utah State, but sustained a season-ending injury against the Aggies.
Hill was not the only one to be bitten by the injury bug. Starting running back Michael Alisa hung up his cleats for the season after an arm injury against the Warriors.
Nelson retook the first-string spot for back-to-back matchups against Top 10 teams, Oregon State and Notre Dame, both of which resulted in losses. Despite displeasing outcomes in the two games, true freshman running back Jamaal Williams found the spotlight as a reliable backfield option.
After blowout wins against Georgia Tech and Idaho, BYU suffered a forgettable loss to San Jose State, in which Nelson and standout receiver Cody Hoffman were injured.
BYU bounced back with a blowout win led by senior play-caller James Lark, and received a bid to play in the Poinsettia Bowl. With the offense sputtering against San Diego State in the bowl, linebacker Kyle Van Noy embraced a "Superman" role and almost single-handedly gave the Cougars a win. The team pulled it out for a 23-6 victory.
After a rough year, with its fair share of ups and downs, defensive end Ezekiel "Ziggy" Ansah was selected fifth overall in the 2013 NFL Draft, representing one of the greatest defenses in BYU history.
Unfortunately, the offense was one of the worst in recent memory.
The Cougars will look to change that this year.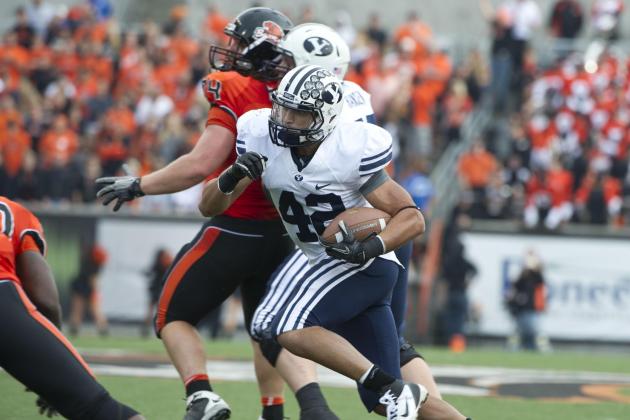 Jim Z. Rider-USA TODAY Sports
Michael Alisa
Offense
Quarterback
1. SO Taysom Hill 6-2, 221
2. SO Ammon Olsen 6-3, 209
Running Back
1. SO Jamaal Williams 6-0, 200
2. SO Adam Hine 6-1, 202
Fullback/Combo
1. SR Michael Alisa 6-1, 220
2. JR Paul Lasike 6-0, 227
X Receiver
1. SR Cody Hoffman 6-4, 210
2. SO Mitch Mathews 6-6, 206
Z Receiver
1. SR Skyler Ridley 6-0, 182 OR
1. JR Ross Apo 6-3, 207
Tight End
1. SR Kaneakua Friel 6-5, 261 OR
1. JR Brett Thompson 6-3, 220
Right Tackle
1. JR Michael Yeck 6-8, 292
2. JR De'Ondre Wesley 6-7, 330
Right Guard
1. JR Brock Stringham 6-6, 290
2. SR Manaaki Vaitai 6-3, 317 OR
2. FR Kyle Johnson 6-4, 295
Center
1. SO Terrance Alletto 6-3, 292
2. FR Brayden Kearsley 6-4, 295 OR
2. SR Manaaki Vaitai 6-3, 317
Left Guard
1. JR Solomone Kafu 6-2, 315
2. SR Manaaki Vaitai 6-3, 317
Left Tackle
1. SO Ryker Mathews 6-6, 309 OR
1. FR Brad Wilcox 6-7, 300
Defense
Left End
1. SO Bronson Kaufusi 6-7, 282
2. FR Tomasi Laulile 6-3, 270
Tackle
1. JR Marques Johnson 6-2, 308
2. FR Merrill Taliauli 6-2, 312
Right End
1. SR Eathyn Manumaleuna 6-2, 305
2. SO Remington Peck 6-4, 250
Strongside Linebacker
1. SR Spencer Hadley 6-1, 227
2. JR Alani Fua 6-5, 215
Mike Linebacker
1. SR Uani 'Unga 6-1, 233
2. SR Austen Jorgensen 6-2, 232
Buck Linebacker
1. SR Tyler Beck 6-1, 220
2. SO Manoa Pikula 6-1, 235
Weakside Linebacker
1. SR Kyle Van Noy 6-3, 245
2. SR Jherremya Leuta-Douyere 6-0, 236
Field Cornerback
1. JR Robertson Daniel 6-1, 198
2. SR Adam Hogan 5-11, 180
KAT Safety
1. SR Daniel Sorensen 6-2, 208
2. SR Skye PoVey 5-11, 200
Free Safety
1. JR Craig Bills 6-1, 205
2. SR Blake Morgan 5-11, 195
Boundary Cornerback
1. FR Dallin Leavitt 5-11, 198
2. SR Skye PoVey 5-11, 200
Special Teams
Kicker
1. SR Justin Sorensen 6-1, 243 OR
1. FR Vance Bingham 5-10, 170 OR
1. JR Trevor Samson 5-11, 172
Punter
1. JR Scott Arellano 6-1, 190
2. SO Jordan Miller 6-4, 184
Credit to ByUroster.com for the depth chart.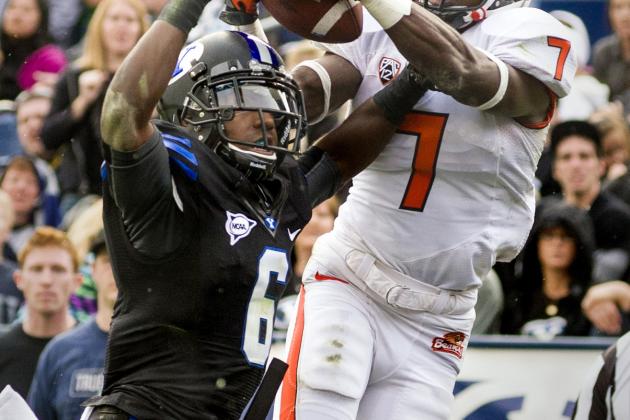 Douglas C. Pizac-USA TODAY Sports

Jordan Johnson (ACL, season): Starting cornerback Johnson injured his ACL during practice on Monday, August 12th. The injury occurred during a kickoff return (non-contact) after Johnson planted his foot incorrectly. He is out for the season.
Trent Trammell (ACL, season): Another cornerback expected to play a big role this season, Trammell, went down with an ACL injury at the beginning of spring camp. He, also, is out for the season.
Tuni Kanuch (pectoral, season): Freshman defensive tackle Kanuch went down with a pectoral tear in fall camp, and will require season-ending surgery. Kanuch was in competition for a starting role on the line.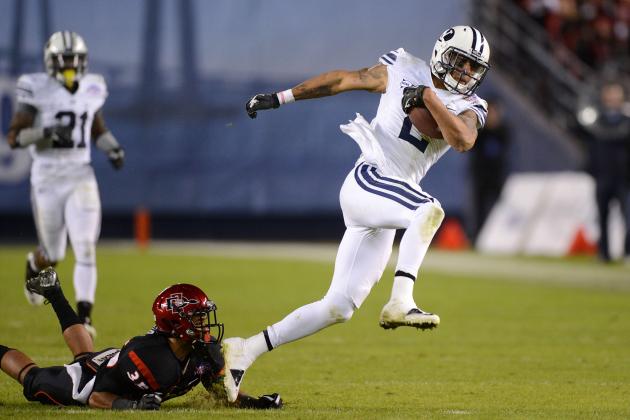 Jake Roth-USA TODAY Sports

Kyle Van Noy (OLB, SR): If there is one player on this year's Cougar roster to keep an eye on, it's linebacker Kyle Van Noy. The Reno, Nevada native has torn up offenses time after time again, and is one of the best players in the country.
Cody Hoffman (WR, SR): Taysom Hill couldn't ask for a much better target than Cody Hoffman, a 6'4" receiver who hauled in 1,248 yards and 11 touchdowns last season. With offensive coordinator Robert Anae's new offense, we could see plenty of deep throws that will put the spotlight on Hoffman.
Bronson Kaufusi (DE, SO): There are not many players on BYU's roster who are under as much pressure as Kaufusi heading into this season. A starting role in one of the nation's best defensive units is daunting enough, but trying to fill the shoes of a top-5 draft pick will be incredibly difficult.
Taysom Hill (SO, QB): Hill, a quarterback with little college experience and an entirely new offensive system, will be calling plays this year for the Cougs. With a below-average offensive line and a tough schedule, it will be interesting to see how well Hill can lead this team.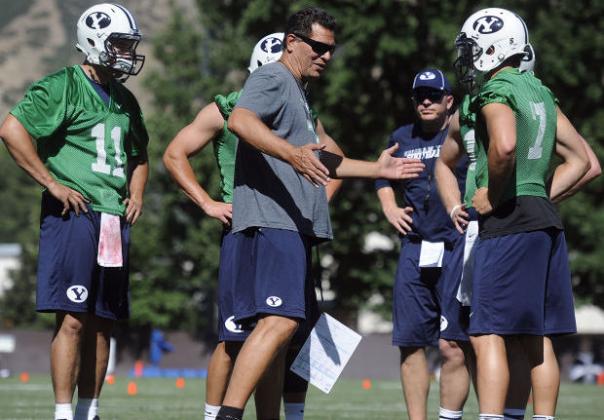 JAMES ROH/Daily Herald
Head Coach: Bronco Mendenhall is entering his eighth year at the helm of the Cougar program, and has led BYU to a 74-29 record since 2005. The Cougs have appeared in a bowl game every year under Mendenhall, and have won a program-record of four straight bowls.
Robert Anae (Offensive coordinator, assistant head coach, offensive line coach; first year)
Mark Atuaia (running backs coach; first year)
Guy Holliday (receivers coach; first year)
Jason Beck (quarterbacks coach; first year)
Garett Tujague (offensive line coach; first year)
Nick Howell (defensive coordinator, secondary; first year)
Steve Kaufusi (defensive line coach; 12th year)
Kelly Poppinga (outside linebackers coach, special teams coordinator; fifth year)
Paul Tidwell (inside linebackers coach; 14th year)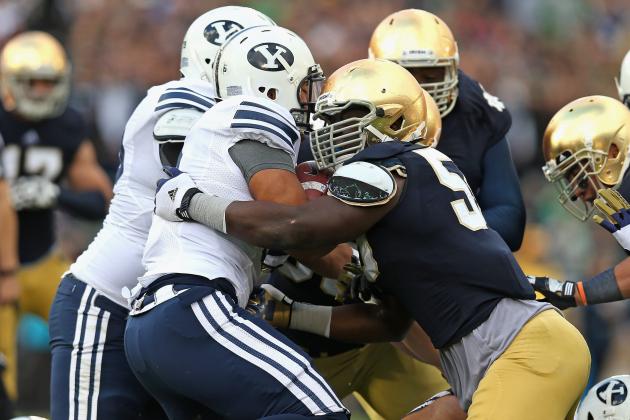 Jonathan Daniel/Getty Images

2013 Schedule
8/31 at Virginia
9/7 vs. Texas
9/21 vs. Utah
9/27 vs. Middle Tennessee
10/4 at Utah State
10/12 vs. Georgia Tech
10/19 at Houston
10/25 vs. Boise State
11/9 at Wisconsin
11/16 vs. Idaho State
11/23 at Notre Dame
11/30 at Nevada
Most Important Games
Virginia: A road win against an ACC team to start the year will do wonders for this team, as the momentum will surely be needed in Week 2 against Texas.
Utah: BYU hasn't gotten a Holy War rivalry win since 2009, and has had some close (and one UGLY) losses to the team up North since then. The Cougars need to get a win against the Utes this year, as the rivalry will take a two-year hiatus afterwards.
Boise State: A new rivalry could be forming between BYU and Boise State, and a win this year will prove that the two teams are well-balanced. After last year's frustrating loss in Boise, the Cougars will look to get revenge at home.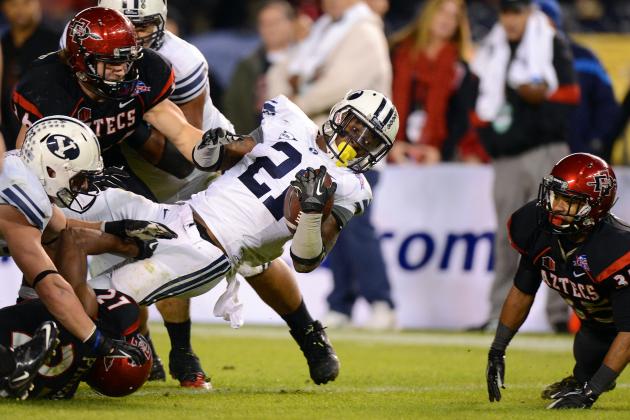 Jake Roth-USA TODAY Sports

After a terrible offensive year for the Cougars in 2012, Bronco Mendenhall refurbished his offensive staff. Perhaps the most familiar incoming face is Robert Anae, a former BYU coordinator who returned after a stint at Arizona. He brought a new system with him—a high tempo, "Go fast, go hard" approach—that should bring a whole new look to a struggling unit.
Anae has plenty of players to work with —especially in the backfield and in his receivers—but we may still see a weak offensive line lacking in depth. Key players that we will see plenty from in this unit are quarterback Taysom Hill; running backs Jamaal Williams, Michael Alisa and Adam Hine; receivers Cody Hoffman, JD Falslev, Skyler Ridley, Ross Apo and Mitch Mathews, and tight end Kaneakua Friel.
BYU has not run a certain offensive formation in recent years, and have used anything from the West Coast offense to the spread. It is not yet clear what will be installed by Anae, but we do know one thing: It will be fast, and it will be hard.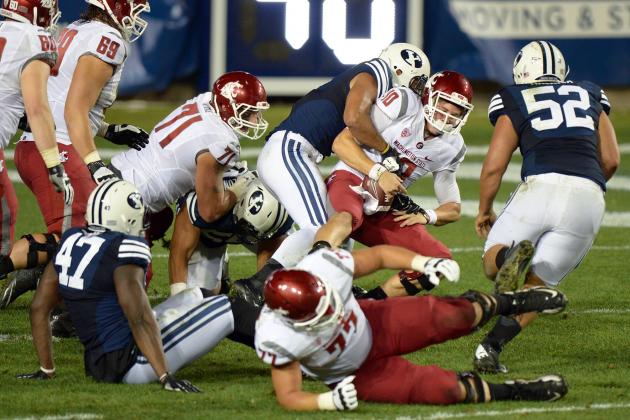 Jake Roth-USA TODAY Sports

BYU's 3-4 scheme highlights their strength—the linebacker corps. Despite being led by Kyle Van Noy and Spencer Hadley, two outside backers, it is far from a top-heavy group. There is a solid mix of upperclassmen and inexperienced players. It will be a fun group to watch.
The secondary has faced an unlikely string of injuries this offseason, and won't be very deep. There are still plenty of playmakers, including Craig Bills and Daniel Sorensen, but it won't be as good as it looked heading into spring.
Every great run-stopping defense starts with the line, and BYU's line is solid this year. Bronson Kaufusi, Eathyn Manumaleuna and Marques Johnson highlight a deep unit. Although there is no Ziggy, the drop-off from last year won't be drastic.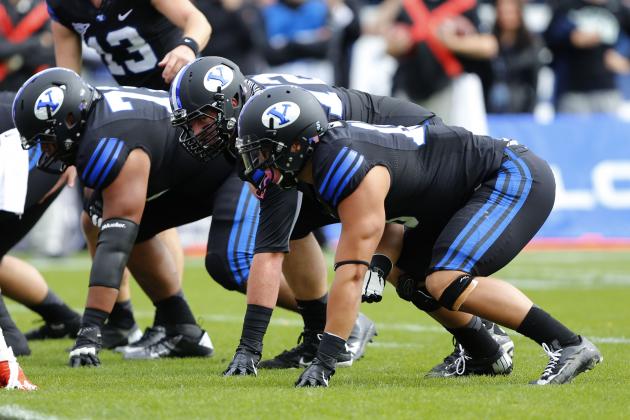 George Frey/Getty Images

Offensive line: BYU's offensive line has been far from perfect in recent years, and Anae's fast-paced offense could expose that. Unless this year's line is deep and well-conditioned, we could see lots of offensive struggles.
Schedule: This year's schedule has been cited as one of the toughest in program history, and it is hard to argue. With perennial powerhouses like Notre Dame, Wisconsin and Texas, along with others including Utah, Boise State and Virginia, BYU could have its hands full.
Secondary: The offensive line was highlighted as questionable heading into the season, but the secondary didn't become vulnerable until fall camp. With injuries mounting and the depth becoming thinner and thinner, there is definitely reason to worry.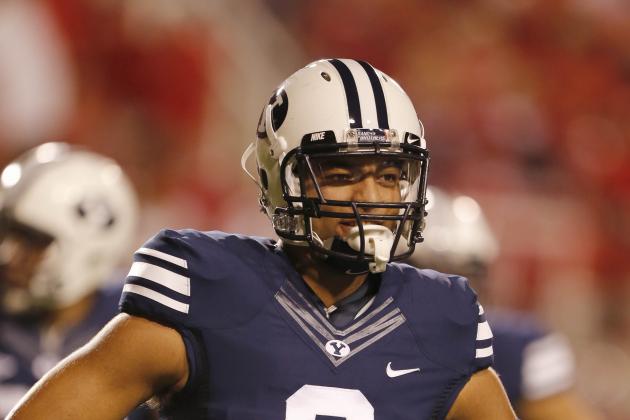 George Frey/Getty Images

The Van Noy Show: Kyle Van Noy will have his fair share of opportunities to shine on big stages with this schedule, and if he can capitalize, we could have "Jimmermania 2.0".
Will BYU's Offense be Successful?: It may be the new "hip" thing in college football to conduct a high-tempo offense, but it does't work everywhere. Will Robert Anae and the Cougars be able to pull it off?
Place-Kicking Improvement: BYU's place-kicking last year was downright awful, and with Justin Sorensen returning, along with new faces like Vance Bingham and Trevor Samson, we will have to wait and see if there is any improvement.
Taysom Time: Taysom Hill will be this year's starting quarterback, but as a sophomore, it could be a rough road. Remember, the last time a sophomore QB started at BYU, it was Jake Heaps in 2011.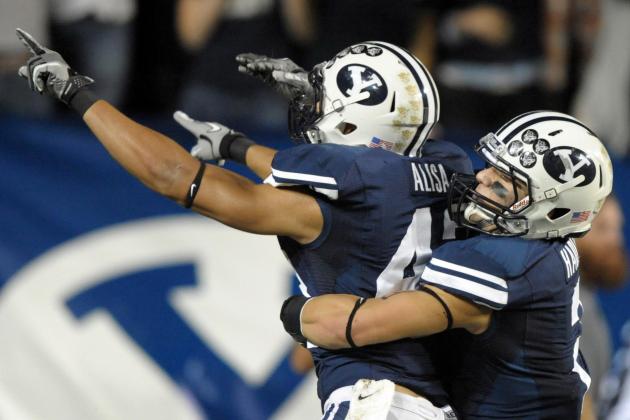 Kirby Lee-USA TODAY Sports

Record: 9-3
If fall camp has told us anything, it's that this offense still has a long ways to go. If that is true, I could see BYU getting off to a rusty start, but being ready to go by the Utah game. I'll bet that they will lose to Texas and two out of the three games against Wisconsin, Boise State and Notre Dame. That puts them at 9-3, and a bowl win could give them double-digit victories.