Rating the Spain Players in Their 2-0 Victory over Ecuador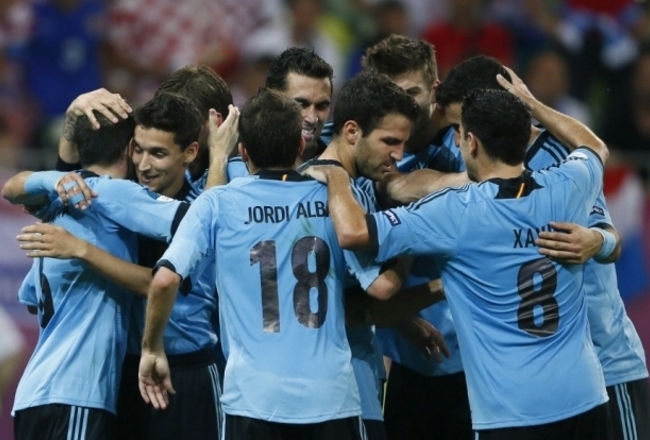 Courtesy of sportsworldreport.com

Spain eased to a 2-0 victory over Ecuador in international friendly action on Wednesday despite defensive troubles. La Roja had to do without several regular stars but did not miss a step as four Spaniards made their international debuts.
Ecuador put pressure on the Spanish throughout the match but was eventually outclassed by a stronger side. Fans got a good look at the future of Spain but may not have been happy with the effort put in by the defenders.
In this article, we will take a look at the player ratings for Spain and what they mean for the future of La Roja. Be sure to consult our handy rating system below. Shall we begin?
1—Absolutely awful
2—No production whatsoever
3—Very little production
4—Worse than average
5—Average performance
6—Above average
7—Good production
8—Very high production
9—Nearly perfect performance
10—Absolute perfection
Goalkeepers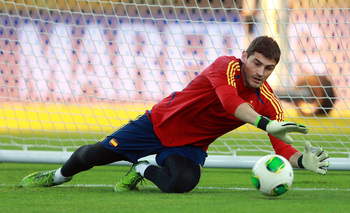 Scott Heavey/Getty Images
Iker Casillas: 8/10
Casillas began the match between the sticks as is his place. The Real Madrid man led the defense well and had only a few chances to deal with in the first half. Luckily for Spain, he made short work of those chances and bailed out his defenders.
Victor Valdes: 7.5/10
Very rarely will you see Victor Valdes score a higher rating than Casillas. The Barcelona man had a few more chances to deal with and did well to fend off balls in the air that could have cost Spain. He also came off his line to punch away chances on a few occasions before he could be tested.
Full-Backs
Clive Mason/Getty Images
Alvaro Arbeloa: 6/10
The right-back again looked to be one of the weak points in Spain's armor. He had trouble deciding when to stay forward and when to defend and was caught out of position several times. He dealt well with attackers in front of him but let too many in behind him.
Jordi Alba: 7/10
Alba did not have to do much defending on the night. His offensive contribution was outstanding as he linked up well with Cristian Tello and Andres Iniesta to create several chances. The Catalan used his speed to make up for his forward runs and did not make many mistakes.
Center-Backs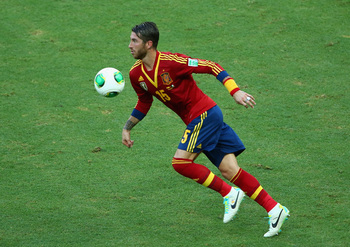 Miguel Tovar/Getty Images
Raul Albiol: 5/10
The Napoli defender showed why he does not often see the pitch for Spain. He was arguably the worst defender on the night and struggled to deal with aerial threats. His lack of effort nearly led to several goal-scoring chances had Ecuador capitalized on the mistakes.
Sergio Ramos: 6/10
Ramos, though normally at his best for Spain, was not as sharp against Ecuador. He was beat off the dribble several times and was also caught out of position beside Raul Albiol. Ramos made up for his errors with leadership, but the mistakes were odd from such a seasoned defender.
Inigo Martinez: 7/10
The Real Sociedad defender made his debut with the Spanish National Team and may have even earned his place in the squad for the future. When he came on for Sergio Ramos, he was an immediate upgrade and dealt with every chance that came his way. His rating would be higher if he had played more minutes.
Midfielders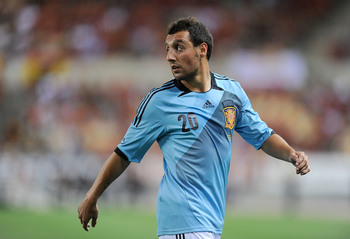 Denis Doyle/Getty Images
Javi Martinez: 7.5/10
The Bayern Munich midfielder played well by distributing the ball and providing protection in front of the defense. He was not as dominant as he usually is but performed well without a partner in the center of the pitch.
Santi Cazorla: 9/10
Not many will argue against Cazorla earning "Man of the Match" honors. The Arsenal playmaker orchestrated the first goal and then found the back of the net in the second half. He was everywhere on the pitch and the glue that held Spain together.
Andres Iniesta: 7.5/10
Though normally the most exciting midfielder on the pitch, Iniesta was overshadowed by Cazorla on the night. The Barcelona man did not play badly by any means but was much more content to link up play than attempt to push forward into the attack. He did have a shot that beat the keeper, but it struck the crossbar.
Thiago: 7/10
Thiago also made his debut for Spain when he came on at the start of the second half. The former Barcelona midfielder slotted in well with his teammates but never put his stamp on the match. He passed the ball well and didn't miss a step, but he was not the explosive Thiago whom fans are used to watching.
Koke: 6/10
Koke made his debut for Spain when he came on late in the second half to replace Santi Cazorla. The Atletico Madrid midfielder looked lively with the ball at his feet but had little time to do anything with it.
Forwards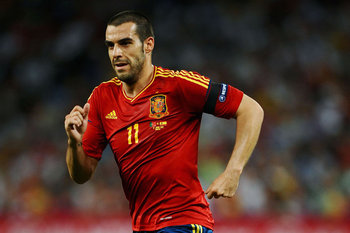 Courtesy of dailystar.co.uk
Alvaro Negredo: 7.5/10
Alvaro Negredo looked strong in the first half and opened up the scoring with terrific link-up play with Santi Cazorla. He continued to be a problem for defenders but probably should have scored more than just one goal.
Cristian Tello: 8/10
Of all the players who made their Spain debut, Tello was the only one to start the match. The Catalan winger was explosive on the left side of the pitch and linked up with Jordi Alba to create an unstoppable pair against the Ecuador defense. Tello created several chances including a back-heel assist to Cazorla. The only thing he did wrong was to fail to score a goal for himself.
David Silva: 6.5/10
Silva was a bit overshadowed by the explosiveness of Tello and did not have a big impact on the game. He did not necessarily play badly, but he also did not do much of merit either. He kept possession well but failed to create as many chances as he normally does.
Jesus Navas: 7/10
Navas was an immediate upgrade over Silva on the right wing. The Spaniard used his speed to create space between him and the defense and created many chances linking up with Santi Cazorla. Navas never looked like a goal-scoring threat, but he made others more dangerous.
Fernando Llorente: 7/10
The former Athletic Club Bilbao striker replaced Negredo at the start of the second half but did not fare quite as well. Llorente was not as proficient when passing the ball but did use his height to his advantage. He nearly added a third goal late with a glancing header, but he sent the chance just wide of the post.
How do you rate the Spain players against Ecuador? Who was the man of the match? Should Spain be worried about the defense? Leave your thoughts and comments below!
Tre' Atkinson. Follow me on Twitter for more discussions on La Roja and all Spanish football.
Keep Reading

Spain (National Football): Like this team?