Spain was dominant once again on the international level as it defeated Ecuador 2-0 in a road friendly.
This was an emotional match for Ecuador as it was the first one the team has played since the tragic death of star player Christian Benitez. The player—who wore No. 11 for the squad—was honored at the 11-minute mark, as noted by Phil Kitromilides of Real Madrid TV:
Play stops and a round of applause from players and fans in 11th minute of Ecuador-Spain in memory of Christian Benitez

— Phil Kitromilides (@PhilKitro) August 14, 2013
Once play continued, it did not take too long for Spain to take control of the action. The squad followed its usual tactic of maintaining possession, giving its opponent little chance to get an opportunity on the other end.
The visiting squad finally got on the board in the 25th minute thanks to an excellent finish by Alvaro Negredo.
After David Silva helped set up a quality shot by Santi Cazorla, which was saved by the keeper, Cazorla got the rebound and sent it on a cross to the front of the net. Negredo then used his heel to flick the ball into the goal.
Adam Hirshfield of beINSport provided a nice description of the play:
Negredo with a lovely goal for Spain vs. Ecuador. Cheekiness personified. Watch it on @ESbeINSPORT!

— Adam Hirshfield (@ahirshfield) August 14, 2013
The score remained unchanged into the second half until Spain was able to double the advantage with another quality play on the attack. A backheel by Christian Tello gave Cazorla an open look at the goal and the Arsenal man put it into the back of the net in the 63rd minute.
With a two-goal lead, the Spanish squad seemed satisfied to simply control the ball for the rest of the match. Ecuador had a few chances near the net, but were unable to get onto the scoresheet in the 2-0 loss.
Spain was playing with a short-handed lineup—most of its star players like Juan Mata, Xavi and Cesc Fabregas were kept off the roster. However, it provided an opportunity to see players who do not get much playing time.
Who was the Man of the Match?
On the other hand, Ecuador should not feel too bad after suffering a defeat to arguably the best international squad in the world.
Both teams are currently in good shape to qualify for the 2014 World Cup. After missing the 2010 tournament, Ecuador sits tied for third place in the CONMEBOL table with four teams getting a bid to Brazil.
It would be less of a surprise for Spain to qualify after winning the championship last time around but being in a group with France makes things a little tougher.
Hopefully for both teams, this friendly was enough to help prepare for the upcoming matches.
Grades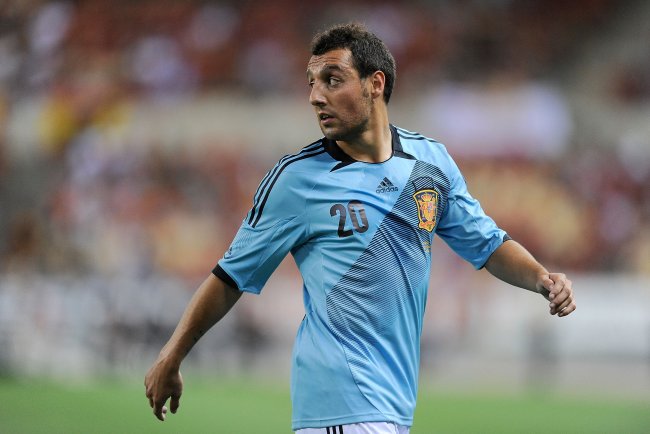 Denis Doyle/Getty Images
Santi Cazorla, Spain: A+
The fact that Cazorla struggles to crack the starting lineup for his international team is proof of how good Spain truly is. The talented midfielder showed off his ability with a goal and an assist in the match, something he does often in the Premier League.
With Andres Iniesta, Xavi, Fabregas and others in the way, playing time might be hard to come by, but Cazorla proved in this one that he deserves to get onto the pitch.
Christian Tello, Spain: A
Spain has been looking for a consistent contributor at forward, and Christian Tello did a good job of making his case against Ecuador.
The 22-year-old Barcelona player was aggressive throughout the match and had a nice assist on the second goal. The young forward has a chance to play a big role on this squad going forward if he continues to improve.
Enner Valencia, Ecuador: B+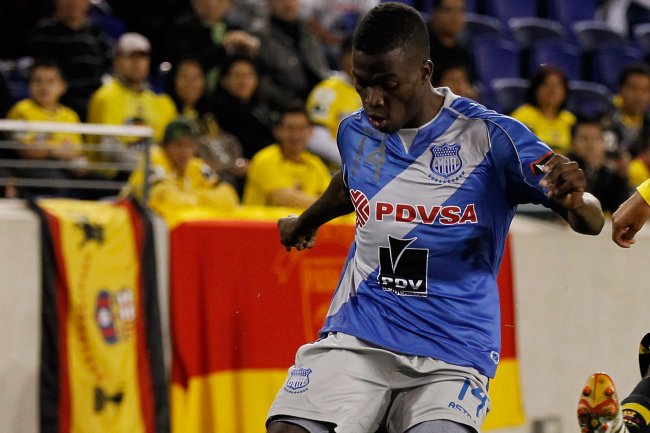 Mike Stobe/Getty Images
Ecuador had few chances throughout the match, but Enner Valencia was usually involved when something was happening.
He set up a few opportunities for others and was able to hit the post on his own shot as he almost scored an equalizer in the second half. On a team that had little action from the offense, Valencia played well.
Spain Grades

| | | |
| --- | --- | --- |
| Position | Player | Grade |
| G | Iker Casillas | B+ |
| D | Raúl Albiol | B |
| D | Sergio Ramos | A- |
| D | Álvaro Arbeloa | B |
| D | Jordi Alba | B+ |
| M | Javi Martínez | B |
| M | Andrés Iniesta | B |
| M | Santi Cazorla | A+ |
| F | Álvaro Negredo | A |
| F | Cristian Tello | A |
| F | David Silva | B+ |
| | Subs | |
| G | Victor Valdés | A- |
| D | Iñigo Martínez | B |
| M | Thiago | C+ |
| M | Koke | B |
| F | Fernando Llorente | B- |
| M | Jesús Navas | B+ |
Roster info courtesy of ESPN
Ecuador Grades

| | | |
| --- | --- | --- |
| Position | Player | Grade |
| G | Máximo Banguera | B+ |
| D | Jorge Guagua | A- |
| D | Juan Carlos Paredes Reasco | B- |
| D | Walter Ayovi | C |
| D | Gabriel Achilier | B |
| M | Joao Rojas | B- |
| M | Segundo Castillo | B+ |
| M | Pedro Quinonez | B |
| M | Enner Valencia | B+ |
| F | Felipe Caicedo | B- |
| F | Edison Mendez | C |
| | Subs | |
| M | Luis Saritama | B |
| M | Oscar Bagui | B- |
| M | Christian Noboa | A- |
| M | Renato Ibarra | B+ |
| F | Narciso Mina | B |
| F | Michael Antonio Arroyo Mina | B |
Roster info courtesy of ESPN
What's Next?
Both teams are back in action for World Cup qualifying on September 6. Ecuador will have a tough road match against Colombia, while Spain will look to get some separation in its group with a win against Finland.
Follow Rob Goldberg on Twitter for the latest breaking news and analysis.