6 Scenarios That Would Get Lane Kiffin Fired in 2013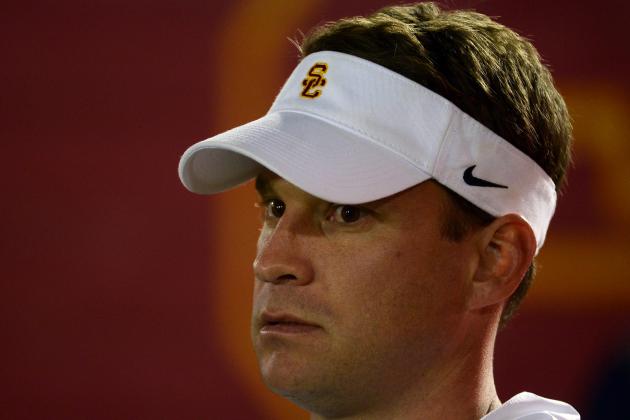 Harry How/Getty Images

After a 7-6 season in 2012, which included a loss in the Sun Bowl, it appeared USC's Lane Kiffin would be on the hot seat. Apparently, this isn't the case.
In June 2013, right before Pac-12 Media Days, USC athletic director Pat Haden expressed confidence in his head football coach via a "State of Football" video. Haden cited Kiffin's abilities as a play-caller and a recruiter as reasons why Kiffin's job is safe.
The obstacles Kiffin faced, in addition to his decent 25-13 record through three seasons considering said obstacles, could be why Haden feels he should get another opportunity to prove himself.
The Trojans were spoiled with Pete Carroll's nine seasons in charge.
2002-08 arguably was the program's best seven-year stretch ever. Every season during this span ended with a BCS bowl appearance and at worst a fourth-place finish in the Final AP Poll.
Carroll didn't leave USC without controversy, though. He's the reason why Kiffin coached the team through the bowl bans and scholarship reductions I hinted at earlier.
Naturally, there are Kiffin's (and even Haden's) doubters. After all, it's the reason why I'm writing this.
How safe is Kiffin's job? How much should we blame Kiffin, and how much should we blame Carroll?
Coaches Hot Seat thinks Kiffin has the hottest seat of any FBS head coach heading into 2013. Even though these rankings came out prior to Haden's comments, they haven't changed the list to account for the news.
I've listed six scenarios, in no particular order, that could happen to Kiffin and USC in 2013 that should make Haden think twice.
Feel free to debate in the comments section below.
Begin Slideshow

»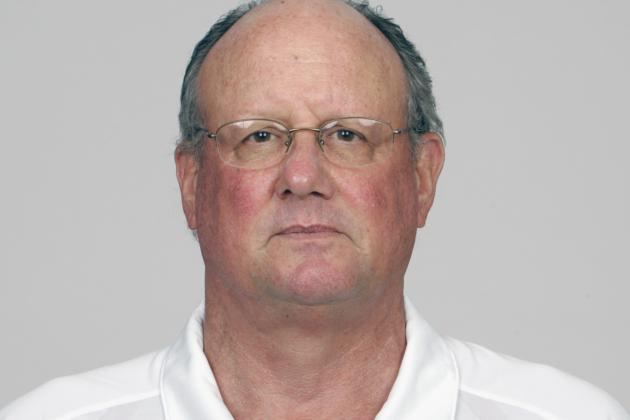 Handout/Getty Images
Paul Hackett, the last coach to lead USC to a losing season.
USC hasn't finished a season with a losing record since 2000. Then-head coach Paul Hackett was fired following that season.
Lane Kiffin could suffer the same fate with a losing 2013 campaign.
Though the Trojans are ranked 24th in the preseason Coaches' Poll, they have a difficult schedule in 2013. They play seven teams ranked in the top 42 of the preseason Coaches' Poll, including four in the Top 25: Stanford (fourth), Notre Dame (11th), UCLA (21st), and Oregon State (25th).
It won't be easy for USC to get a winning record this season. If the Trojans do lose more games than they win, don't be surprised if Kiffin gets fired.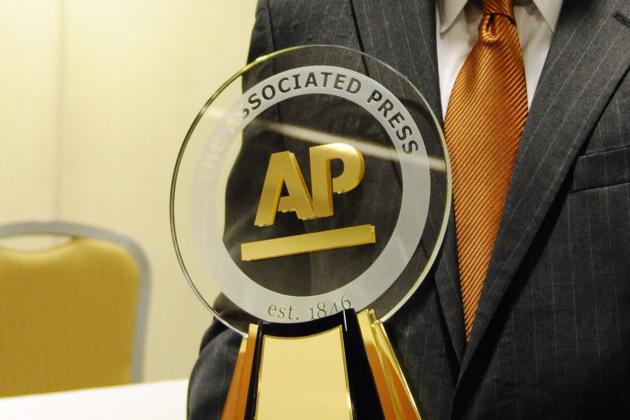 Jerry Lai-USA TODAY Sports

Since the AP Poll made its debut in 1936, there have been only five seasons where USC wasn't ranked in the preseason poll, in the final poll or any week in between: 1941, 1948, 1958, 1961, and 2001.
If this happens again in 2013, then Lane Kiffin could be fired.
Kiffin can't control where USC gets ranked in the preseason poll, which hasn't been released as of this writing. The rest of the weeks, though, are all based on performance.
The prospects of this happening are very slim, but they aren't impossible.
USC should start the 2013 season with a perfect 3-0 mark against Hawaii, Washington State and Boston College, but nothing is guaranteed. After that, it gets much harder to predict.
Lane Kiffin was known around college football as a top-flight recruiter when he was an assistant coach for Pete Carroll at USC from 2001-06. Kiffin's recruiting journeys as a head coach haven't been as successful.
It's a fair argument to say his troubles in getting highly-ranked recruiting classes have a direct correlation to the scholarship reductions at the program. There are other factors, though.
The ESPNU rankings for USC's recruiting classes with Kiffin as head coach are as follows: seventh in 2010, fourth in 2011, 13th in 2012, 14th in 2013, and 39th in 2014.
The scholarship reductions clearly hurt the Trojans with depth, but it seems the quality of players they're getting has reduced too.
Recruiting rankings don't directly correlate to on-field success, but it does gauge the kind of talent that's interested in attending a school.
The 2012, 2013 and 2014 classes, in particular, suggest players that might have considered USC in the past are going to other schools.
The Trojans have the talent-rich state of California in their backyard. The state gives them a solid recruiting base, and like other programs across the country, USC picks players from other states to fill out its classes.
Unfortunately, the top players in the West region have started to pick other schools than USC. Let's take a look.
In 2010, Kiffin's first season as head coach, many of the region's top players went to USC. Seven of the top 20 players ranked in the ESPNU Class of 2010 signed with the Trojans. In 2011, nine of the top 20 signed with USC.
Compared with USC's rankings those seasons—seventh and fourth, respectively—it's easy to see that Kiffin still got most of his top targets.
2012 told a different story.
Only five of the top 20 signed with USC, and the Trojans' top recruit in the region—Jabari Ruffin—was ranked eighth in the West as opposed to nationally. Again in 2013, only five of the top 20 went to the Trojans.
Looking at the rankings from these seasons—13th and 14th, respectively—there's also a clear trend moving out of USC.
So far in 2014, Kiffin might have the worst class. Of the nine players signed so far in the top 20 in the West region, only two have signed with USC. The program's top recruit so far, Toa Lobendahn, is only the 17th-best prospect in the West according to ESPNU.
Kiffin still has time to sign more players in the 2014 cycle, but early returns suggest this class could be the worst in his career at USC by a large margin. With that said, if recruits aren't coming to the Trojans, Pat Haden might have to bring in a new coach that will appeal to top high school talent.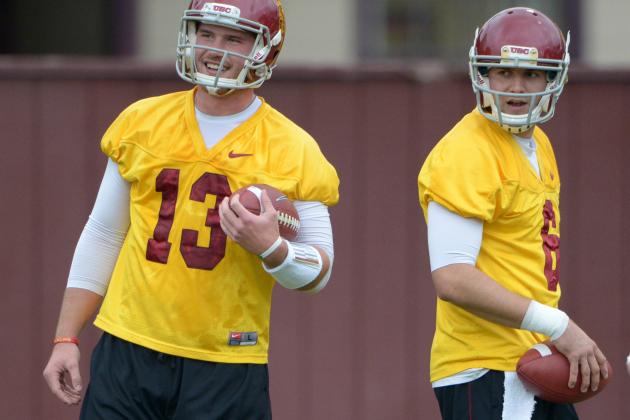 USA TODAY Sports

The USC quarterback competition has come down to Cody Kessler and Max Wittek. Max Browne was originally in the race, but Lane Kiffin took him out recently.
As a lifelong offensive coach and a quarterback at Fresno State, Kiffin should know a great deal about the position. If he picks the wrong guy to start under center, whether it is Kessler or Wittek, then it could be a long season—and Kiffin's last—at USC.
Poor quarterback play sets off a domino effect of bad things for a football team.
Neither Kessler nor Wittek have much experience playing at the college level, and now that four-year starter and record-setter Matt Barkley has moved on to the NFL, each candidate would have big shoes to fill.
If he wants to guarantee a spot on the USC sidelines in 2014, then Kiffin needs to make sure his guy makes him look like a genius.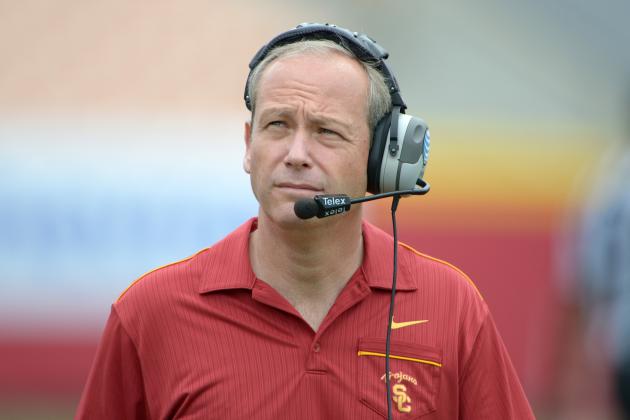 USA TODAY Sports
Clancy Pendergast
USC has some new assistant coaches in 2013, particularly on defense.
Monte, Lane's father, was the defensive coordinator last season, but he left for the same role on the NFL's Dallas Cowboys.
Clancy Pendergast takes over at defensive coordinator. He will install a 5-2 system to replace the 4-3 system Monte used. Dramatic system changes like this always bring immediate questions.
The Trojan defense will need to figure out this alignment quickly if it wants to lead the program to success in 2013. The 5-2 isn't as common as the 4-3, the 3-4 or even the 3-3-5 formations, so don't be surprised if the players experience a steep learning curve.
Though Kiffin doesn't call the plays on defense, he's indirectly responsible for the unit's success because he agreed to have Pendergast in charge after Monte left.
The same goes for the rest off the coaching staff. If any of the coaches don't allow their respective position groups to reach their potentials, Kiffin will have to take the blame.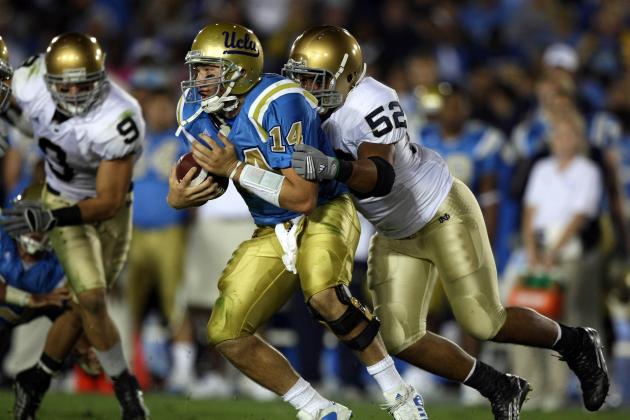 Donald Miralle/Getty Images
UCLA and Notre Dame
The two biggest rivals on USC's schedule in 2013 are UCLA and Notre Dame. A loss in both of these games could spell the end for Lane Kiffin.
In 2013, the Trojans lost to the Bruins for the first time since 2006—the first loss in the rivalry since 1998.
Also in 2013, USC lost to Notre Dame for the first time since 2010. Prior to then, the Trojans hadn't lost the game since 2001.
The Bruins and the Irish are among the top 20 teams in college football heading into 2013. That shouldn't excuse Kiffin, however, because these are both fierce rivalries.
USC of course wants to go undefeated every season, but these are two annual games that it wants to win especially badly.
If Kiffin can't handle the pressure in these contests, how would he lead USC back into the college football elite?